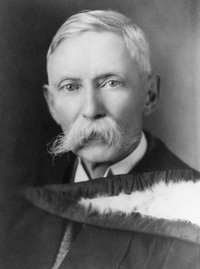 Source: Link
MEWBURN, FRANK HAMILTON, surgeon, politician, army officer, and university professor; b. 5 March 1858 in Drummondville (Niagara Falls), Upper Canada, youngest son of Francis Clarke Mewburn and Henrietta Tonge Shotter; m. 14 Dec. 1887 Louise Augusta Nelson in Lethbridge (Alta), and they had two sons and a daughter; d. 29 Jan. 1929 in Edmonton.
Frank H. Mewburn represents the fourth generation of a six-generation medical-military dynasty. His great-grandfather Francis Mewburn was apprenticed as an apothecary in 1765, practised in Whitby in Yorkshire, England, and held a commission in the volunteers when Napoleon threatened invasion. Francis's son John, who studied medicine in London and was in the Peninsular War, immigrated in 1832 to Upper Canada, where he volunteered to help suppress the rebellion of 1837-38. Francis Clarke, John's son and Frank's father, was 15 when the family arrived; following his medical licensure in 1838, he served with the Niagara coloured corps for two years and, during the Fenian raids, in 1866, with the 44th (Welland) Battalion of Infantry. Frank's son Frank Hastings Hamilton, an orthopaedic surgeon, would serve in World War I and his grandson, Robert Hamilton, whose medical studies were interrupted by World War II, would become a psychiatrist. Robert's death in 1977 brought the family's 212-year tradition to a close.
After graduation from McGill College (md, cm 1881), Frank H. Mewburn served for a year as house surgeon at the Montreal General Hospital. In March 1882 he accepted appointment as house surgeon at the Winnipeg General Hospital, a position that appears to have included all aspects of the hospital's operation. His four years there were not without the occasional controversy brought on by his quick temper and colourful vocabulary, but his work was appreciated; on resigning, he was presented with a gold watch and chain. In March 1885, with the opening salvo of the North-West rebellion, a wing of the building had been taken over as a military base hospital. Here Mewburn gained his first experience as a military surgeon, under James Kerr, and for this service he was awarded the North West Canada Medal.
In December, Mewburn visited Lethbridge on the invitation of Elliott Torrance Galt, manager of the North-Western Coal and Navigation Company Limited, and accepted appointment as its medical officer. On his arrival early in 1886 he was also made acting assistant surgeon to the local detachment of the North-West Mounted Police. Later he became chief medical officer of the Canadian Pacific Railway when it was extended through the Crowsnest Pass. On three occasions (1899, 1900, 1905) he served as mayor of Lethbridge. It was during his 27 years there that Mewburn honed his skill and established his reputation as the premier surgeon of the west. Provided with the most primitive of facilities, he was well suited to the role of a self-made surgeon. He kept up his reading of medical journals. Mewburn's first operation on an aboriginal patient, a Blood Indian from whom he removed a goitre, established his reputation with the native population and led, following similar successes, to his identification as one with special competence in thyroid surgery. He performed his first abdominal operation in 1893 (the drainage of an abscess from a perforated appendix, with the patient surviving) and his first Caesarean section in 1903. From that point, recalled his one-time medical partner Walter Stuart Galbraith, his surgical progress was "continuous." Mewburn was by nature an innovator and although not dexterous, he was painstaking in his attention to detail and patients' best interests. Those who knew him commented that all who consulted him, rich or poor, aboriginal or European, received the same dedicated care.
In 1913 Mewburn moved to Calgary, where he limited his practice to surgery. At the outbreak of World War I he offered his services to Samuel Hughes, the minister of militia and defence, who wired back, thanking him while regretting that he was too old. Sydney Chilton Mewburn remembered his cousin's reply: "Reference your wire – go to hell! I am going anyway," and he did. After travelling to London at his own expense, he was taken on strength as a major in the Canadian Army Medical Corps on 1 July 1915. Promoted lieutenant-colonel in 1916, he was posted on 11 April 1917 to the Duchess of Connaught's Canadian Red Cross Hospital (later No.15 Canadian General Hospital) at Taplow, in charge of the surgical division. On the basis of his experience there, he would publish a paper in 1919 on the management of lesions of peripheral nerves. In 1918 he was awarded the Order of the British Empire.
Mewburn's return to surgical practice in Calgary in June 1919 was brief. In 1921 he accepted the founding professorship of surgery at the University of Alberta in Edmonton. Previously students had been required to take their final two years in eastern Canada. His organization of the surgical department and surgical teaching, along with instruction in medicine, enabled the faculty to award its first degrees in 1925. He himself received honorary llds from McGill University in 1921 and the University of Alberta the following year. Through the magnetism of his personality and the stories from his past that he wove into his halting presentations in class, the Colonel (a name he did not discourage) became a favourite with his students, who made him an honorary president of their Medical Club and Osler Society. Within his profession, he served as second vice-president of the American College of Surgeons in 1927-28. In January 1929, at age 70, he developed pneumonia after walking home from the university hospital in freezing weather. He died three days later and was buried with full military honours. His name is perpetuated by the Mewburn Medal in Surgery at the University of Alberta and the cairn erected in his honour in 1937 on the grounds of the Galt Hospital in Lethbridge.
Frank H. Mewburn was short (five feet six inches) and of slight build (140 pounds). His dominant feature was his walrus moustache, which gave him a somewhat fierce appearance, but it was offset by his twinkling blue eyes. Many who knew him personally felt compelled to record their observations of a character they respected and loved. He was a study in contrasts. Impatient, irascible, and scathing when faced with what he judged to be carelessness or stupidity, he could be charming, and his humanity and dedication to his patients, profession, and the wider community were never in doubt. He has become a part of the folklore of the old west.
Frank Hamilton Mewburn wrote a biographical article about his western medical associate and friend George Allan Kennedy*, which was published as "The life and work of Dr. George A. Kennedy" in the Canadian Medical Assoc., Journal (Toronto), new ser., 21 (July-December 1929): 327-30. His "Observations on lesions of peripheral nerves; with special reference to pre-operative and post-operative treatment" appeared in Can., Medical Services of the Dept. of Soldiers' Civil Re-establishment and the Board of Pension Commissioners, Medical Quarterly (Ottawa), 1 (1919): 279-94.
AM, MG 10, B11, box 15. LAC, RG 150, Acc. 1992-93/166, box 6145-70. McMaster Univ., William Ready Div. of Arch. and Research Coll. (Hamilton, Ont.), ACC, Diocese of Niagara Arch., All Saints' Anglican Church (Niagara Falls, Ont.), RBMB, 4 June 1858. Private arch., R. A. Macbeth (Toronto), Copies of letters of recommendation written in 1883 in relation to Mewburn's application for a position in Winnipeg; Charity Mewburn (Qualicum Beach, B.C.), Papers and memorabilia; R. M. Mewburn (Qualicum Beach), Papers and memorabilia. Univ. of Alta Arch. (Edmonton), Board of governors, annual reports, 1921-22; John James Ower, diaries, 1929. Examiner (Charlottetown), 6 Jan. 1888. P. M. Campbell, "Frank Hamilton Mewburn," Calgary Associate Clinic, Hist. Bull., 15 (1950-51): 61-69. Canadian men and women of the time (Morgan; 1912). William Canniff, The medical profession in Upper Canada, 1783-1850 . . . (Toronto, 1894; repr. 1980), 511-18. F. S. Coulson, "The first surgeon in the west: Frank Hamilton Mewburn (1858-1929)," Calgary Associate Clinic, Hist. Bull., 10 (1945): 120-25. R. B. Deane, "Frank Hamilton Mewburn," Canadian Medical Assoc., Journal, new ser., 20 (January-June 1929): 306-8. Evergreen and Gold (Edmonton?), [1921-29] (copies in Univ. of Alta Arch.). Joseph Hanaway and Richard Cruess, McGill medicine (1v. to date, Montreal and Kingston, Ont., 1996-?), 129. H. E. MacDermot, Sir Thomas Roddick: his work in medicine and public life (Toronto, 1938), 55. N. T. McPhedran, Canadian medical schools: two centuries of medical history, 1822 to 1992 (Montreal, 1993), 141-42. H. E. Rawlinson, "Frank Hamilton Mewburn, o.b.e., m.d., c.m., ll.d., lt.-col., c.a.m.c., professor of surgery, University of Alberta, pioneer surgeon," Canadian Journal of Surgery (Toronto), 2 (1958-59): 1-5. Standard dict. of Canadian biog. (Roberts and Tunnell), vol.1. G. D. Stanley, "Medical pioneering in Alberta: unforgettable incidents in private practice," Calgary Associate Clinic, Hist. Bull., 10: 147-48.
© 2005–2023 University of Toronto/Université Laval
Image Gallery

Cite This Article
Robert A. Macbeth, "MEWBURN, FRANK HAMILTON," in Dictionary of Canadian Biography, vol. 15, University of Toronto/Université Laval, 2003–, accessed December 11, 2023, http://www.biographi.ca/en/bio/mewburn_frank_hamilton_15E.html.
The citation above shows the format for footnotes and endnotes according to the Chicago manual of style (16th edition). Information to be used in other citation formats:
| | |
| --- | --- |
| Permalink: | http://www.biographi.ca/en/bio/mewburn_frank_hamilton_15E.html |
| Author of Article: | Robert A. Macbeth |
| Title of Article: | MEWBURN, FRANK HAMILTON |
| Publication Name: | Dictionary of Canadian Biography, vol. 15 |
| Publisher: | University of Toronto/Université Laval |
| Year of publication: | 2005 |
| Year of revision: | 2005 |
| Access Date: | December 11, 2023 |