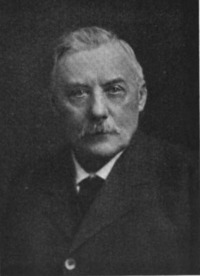 Source: Link
MILNE, JOHN, manufacturer and politician; b. 22 Jan. 1839 in Aberdeen, Scotland, son of John Milne, a blacksmith, and Elizabeth Mitchell; m. first 3 July 1862 Annie Kendall (d. 1867) in Hamilton, Upper Canada, and they had two sons; m. there secondly 1872 Mary Manson, and they had two sons; d. there 4 March 1922.
John Milne attended public schools in Aberdeen until he was 14, when he left to apprentice as an iron moulder in a local foundry. In 1854 his family immigrated to Canada and settled in Hamilton, where he continued his training in the foundry of Gurneys and Carpenter [see Edward Gurney*]. For some time he plied his trade in the United States, following the example of his father, who had moved to Illinois, but in 1860 he returned to Hamilton and began building a career.
Shortly after his first marriage, Milne entered into partnership with Thomas Haggart in a malleable-iron works. In 1864 Milne's former companion in the United States, Charles Stewart, joined forces with William Burrow to form the Hamilton Malleable Iron Works. This venture proved solider than Milne's. He joined the firm as a moulder in 1867 and became a partner in 1872. The three entrepreneurs hit their stride, and business boomed. Burrow, Stewart, and Milne's principal products were castings for harness equipment and saddlery gear such as curry-combs, but quickly their focus shifted to scales and stoves. The firm, which became famous throughout Canada for its Jewel and Victory stoves and ranges, was incorporated as a joint-stock company in 1898, with Milne as president, and by 1910 its factory occupied almost an entire block and employed approximately 300 men. As a result of periodic labour disruptions beginning in the 1870s, Milne, once a unionist, developed strong anti-labour sentiments.
Milne was not satisfied to limit his ambitions to one endeavour. He was adept at forging new business connections to ensure his prosperity. For example, his firm's heavy consumption of iron prompted him to promote the Hamilton Iron and Steel Company in 1893 and then the Hamilton Blast Furnace Company Limited, which commenced operations in December 1895. It amalgamated with Ontario Rolling Mills in 1899 to form Hamilton Steel and Iron. When this firm merged with other companies in 1910 to become the Steel Company of Canada Limited, eventually so crucial to Hamilton's economy [see Robert Hobson], Milne remained a director. A director as well of Armstrong Cartage, he was president of Grant Spring Brewery, Electric Bond and Share, Premier Trust, and Hamilton Navigation. Instrumental in establishing Hamilton's hydroelectric system, he was one of its first commissioners. In January 1906 he would be appointed to the provincial hydroelectric commission of inquiry [see Sir Adam Beck], where he met resistance from private-power interests in Hamilton. Perhaps his most interesting enterprise was the Pure Milk Company. Established in 1901 with Milne as president, it revealed his shrewdness and ability to capitalize on opportunity. Previously a plethora of small operators had handled the distribution of dairy products in Hamilton. Milne and other businessmen played on public fears of contaminated milk to ensure support for Pure Milk, which had the capital to acquire the latest machinery and technology for sterile processing. Thus Milne combined his indisputable acumen with his sense of community responsibility.
Like many of his contemporaries, Milne was a firm advocate of public libraries as a means of improving the general level of education. He served in various capacities on Hamilton's library board from 1903 to 1921, and was chairman of its building and finance committee in 1911-12, when construction began on a grand new facility. He was credited with influencing the decision of Scottish-born American industrialist Andrew Carnegie to commit $100,000 to the project - Carnegie called him his "fellow-countryman and personal friend." In addition to the library board, Milne was a member of the Barton masonic lodge, the Commercial Club, and the Twentieth Century Club (a Conservative social club), and he was deeply involved in Knox Presbyterian Church. Best known for his connection with the Hamilton Conservative Association, which he served as president for 23 years, he had become a party supporter in 1876 and was an ardent believer in the National Policy initiated by the government of Sir John A. Macdonald*. According to Milne's obituary in the Hamilton Spectator, "He believed that so long as the United States maintained a high tariff, Canada should enforce strong protection to home industries." Such logic appealed to his self-interest and accorded with his perception of the country's best advantage, and many fellow industrialists shared his point of view. Despite his staunch political affiliation, Milne did not seek public office, choosing instead to work "always in the background, but wielding far more influence than those in the limelight." In December 1915 Prime Minister Sir Robert Laird Borden*, in recognition of his service, appointed him to the Senate. An infrequent contributor, he talked about manufacturing, tariff protection, and, sometimes with references to disruptions at his foundry, the evils of unions. "Labour has now reached such a stage that there is no stopping it," he lamented in April 1920.
Milne's health began to decline in late 1921, and in March 1922 he died of gangrene complicated by pneumonia. Obituaries gave him a great deal of credit for the successful establishment of the steel industry in Hamilton. The Spectator stated baldly that "the existence of the Steel Company of Canada to-day is practically due to the untiring efforts and that spirit of aggressiveness and enterprise which characterized Mr. Milne during his lifetime," while the Hamilton Herald attributed the success of Burrow, Stewart, and Milne mainly to his "energy and business ability." His eulogists can be forgiven for their enthusiasm, since, in Milne's journey from apprentice to respected industrialist and public figure, they had the archetypal rags-to-riches story of a "self-made man who justified faith in Hamilton" and in the promise of Canada.
AO, RG 80-27-2, 82: 90. General Register Office for Scotland (Edinburgh), Aberdeen, reg. of births and baptisms, 22 Jan. 1839. Hamilton Public Library, Special Coll. Dept. (Hamilton, Ont.), Scrapbooks, Herald, vol.M6; Times, vols.B3, L3. Hamilton Herald, 4 March 1922. Hamilton Spectator, 30 Jan., 28 March 1901; 9 July 1910; 2 Dec. 1915; 4 March 1922. Can., Senate, Debates, 27 Feb. 1919; 6, 15 April 1920; 25 May 1921. Canadian annual rev., 1906: 172. CPG, 1918. DHB, vol.1. Hamilton, the Birmingham of Canada (Hamilton, 1893; copy in Hamilton Public Library). Hamilton, the electric city (Hamilton, [1906?]; copy in Hamilton Public Library). William Kilbourn, The elements combined: a history of the Steel Company of Canada (Toronto and Vancouver, 1960). Magazine of industry and daily times, Hamilton, Ont. - reviewing historically the industrial and financial interests (souvenir ed., Hamilton, 1910; copy in Hamilton Public Library). B. D. Palmer, A culture in conflict: skilled workers and industrial capitalism in Hamilton, Ontario, 1860-1914 (Montreal, 1979). Prominent men of Canada: a collection of persons distinguished in professional and political life, and in the commerce and industry of Canada, ed. G. M. Adam (Toronto, 1892). Who's who and why, 1921.
© 2005–2023 University of Toronto/Université Laval
Image Gallery

Cite This Article
Angela Graham, "MILNE, JOHN," in Dictionary of Canadian Biography, vol. 15, University of Toronto/Université Laval, 2003–, accessed September 28, 2023, http://www.biographi.ca/en/bio/milne_john_15E.html.
The citation above shows the format for footnotes and endnotes according to the Chicago manual of style (16th edition). Information to be used in other citation formats:
| | |
| --- | --- |
| Permalink: | http://www.biographi.ca/en/bio/milne_john_15E.html |
| Author of Article: | Angela Graham |
| Title of Article: | MILNE, JOHN |
| Publication Name: | Dictionary of Canadian Biography, vol. 15 |
| Publisher: | University of Toronto/Université Laval |
| Year of publication: | 2005 |
| Year of revision: | 2005 |
| Access Date: | September 28, 2023 |