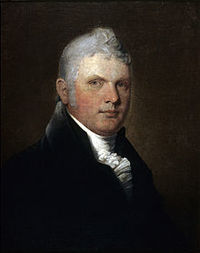 Source: Courtesy of Wikimedia Commons
MORTIMER, EDWARD, businessman, militia officer, judge, and politician; baptized 6 June 1768 in Keith, Scotland, fourth child and second son of Alexander Mortimer, excise officer, and Mary Smith; m. c. 1790 Sarah Patterson, daughter of Robert Patterson; d. 10 Oct. 1819 in Pictou, N.S.
Edward Mortimer's arrival in Nova Scotia in the late 1780s coincided with that of other Scots whose mercantile ventures gradually redirected the province's British trade north to their homeland. An employee of the Liddell firm of Halifax and Glasgow, by 1789 Mortimer had purchased land in Pictou, the principal Scottish settlement in eastern Nova Scotia. Through the 1790s he apparently continued to represent the Liddell firm while building stores and wharves, accumulating land, and investing in lucrative transatlantic shipping. At the same time he exported timber from newly opened lands, and established himself in the supply and trade of the fisheries. The Clyde connection essential to his operation was maintained by his continuing participation in the Liddell firm, initially through Andrew Liddell in Halifax but by 1805 through partnership with Andrew and William Liddell in Glasgow and John Liddell in Halifax. In his local operations Mortimer entered into partnerships not only with John Liddell but also with John Clark on the timber-rich Miramichi, River (N.B.). In 1813, all previous partnerships having been dissolved, Mortimer set up a new firm, with himself as principal and William Liddell of Glasgow and George Smith of Pictou as his associates. Nor was Mortimer's exploitation of the new land limited to the classic Maritime economy of shipping, fish, and timber: in 1818 he successfully outbid competitors for a 21-year monopolistic lease to operate the Pictou coal-mines.
Mortimer's business acumen established his mercantile pre-eminence amongst the large numbers of Scottish immigrants throughout eastern Nova Scotia and Prince Edward Island. The system by which he exchanged imported Scottish goods against future deliveries of timber, fish, and agricultural products was identical to the system prevailing in outport Newfoundland. The extensive indebtedness to his firm which this arrangement engendered made him the most powerful man in the region. Of the operations carried out by Liddell, Clark, and Mortimer prior to 1812, only those of the Pictou branch showed a profit. After Mortimer's death the debts of his associates and economic stagnation, especially in Scotland, rendered his company insolvent.
In the 1790s Mortimer established himself not only as an important local merchant but also as a leading community figure. From 1795 he was a senior officer in the Pictou militia. After Pictou became a separate judicial district in 1792, he was appointed to the Court of General Sessions and, later, to the Inferior Court of Common Pleas. Although a spasmodic attender at the Sessions, he was active in local offices and in local improvement. In 1810 he began a massive stone residence (now Norway House) for which he brought out skilled Scottish carpenters and masons; in 1812 he used these same artisans to construct a battery for the defence of the town.
Mortimer held the Scots conviction of the importance of education. He was a trustee of the Pictou grammar school from 1811 and an early, influential, and persistent advocate of the Presbyterian Secessionist scheme for establishing in Pictou an institution of higher learning where all denominations might be educated without reference to the religious tests imposed at King's College, Windsor. Mortimer was both the political father and the most generous financial backer of Pictou Academy from its founding in 1815. In keeping with his inter-denominational commitments, he was a member of the Nova Scotia Bible Society, titular president of the Pictou branch of the British and Foreign Bible Society, and an ardent supporter of efforts to gain for dissenting clergy the right of marrying by licence. As an honorary member of the Halifax Scots charitable organization, the North British Society, he solicited subscriptions for publishing a dictionary of Celtic languages. He was also an enthusiastic patron of scientific agriculture, an area where Scots led by John Young* made a particular contribution in Nova Scotia. Besides being president of the first agricultural society founded in Pictou in 1817, he was an active practitioner of new techniques on his own lands.
By 1799 population increases in the distant rural areas of Halifax County had made town control of the county seats in the House of Assembly unpopular. In that year Mortimer and James Fulton* of Colchester joined William Cottnam Tonge*, a vociferous reformer intent on overthrowing loyalist domination of the assembly, in contesting the county seats. As representatives of the "country party," they received overwhelming support in the polls outside the capital and were elected along with pre-loyalist Charles Morris*, from the town of Halifax. The electoral defeat of Provincial Treasurer Michael Wallace* in this election laid the groundwork in Pictou for political antagonism which reached a climax 30 years later. Its early stages took the form of a personal conflict between the two Scots, Mortimer's rural, Scottish, Secessionist, and business view confronting Wallace's urban, loyalist, Kirk, and government position. The two men clashed especially over issues of government appropriations, local patronage, and religious privilege. After Wallace's appointment to the Council in 1802, the opposition became institutionalized in relations between the two legislative bodies, and subsequently focused on Pictou Academy.
Easily re-elected in 1806, 1811, and 1818, Mortimer as a legislator was attentive, practical, forceful, and witty. His legislative activity was directed to the promotion and defence of issues advantageous to non-urban Nova Scotia, particularly his Pictou constituents – road and bridge appropriations, improvement in the circulation of money, aid to settlers, advancement of the fisheries, encouragement to agriculture, and religious equality. In 1818 a satiric attack on Mortimer in the Acadian Recorder led the assembly to reprimand the Recorder's editor, Anthony Henry Holland*, for breach of the privileges of the house. Mortimer's early death, which left the issue of Pictou Academy in the hands of his inexperienced successor in the assembly, George Smith, and the obdurate Reverend Thomas McCulloch*, contributed to the political and religious conflict of the 1820s.
Styled by some the "King of Pictou" and "our Oat Meal Emperor from the East," Mortimer was seen by his friends as one who "thought of Pictou and its inhabitants, almost as his own property and family, and exercised a corresponding regard over their prosperity and welfare."
The Art Gallery of Nova Scotia (Halifax) possesses a portrait of Edward Mortimer by Robert Field; a photograph of the painting is available at PANS.
Colchester County Registry of Deeds (Truro, N.S. ), Index to deeds, 1771–1870 (mfm. at PANS). GRO, Reg. of births and baptisms for the parish of Bellie, 20 Sept. 1763; Reg. of births and baptisms for the parish of Keith, 22 Nov. 1764, 7 Jan. 1766, 25 March 1767, 6 June 1768. Halifax County Court of Probate (Halifax), Book 4: 48–49 (will of Edward Mortimer) (mfm. at PANS). Halifax County Registry of Deeds (Halifax), Index to deeds, 1; Deeds, 28: ff.325–26; 42: ff.371–72 (mfm. at PANS). King's County Registry of Deeds (Kentville, N.S), Index to deeds, 1764–1859 (mfm. at PANS). PANS, MG 1, 979, L. M. Wilkins to Peleg Wiswall, 11 March 1818; RG 1, 458, docs.7, 9, 25–26, 29–30; 463, docs.8, 17–18; RG 8, 2; RG 34–318, P, 1–4; RG 36, 18–27; RG 39, C, 75–131. Pictou County Court of Probate (Pictou, N.S.), wills, 1811–1940 (mfm. at PANS). Pictou County Registry of Deeds (Pictou), Index to deeds, 1771–1840; Deeds, Book 1: ff.95–96, 124–25, 129–32, 170–71, 221–22, 233–39, 251, 277–78 (mfm. at PANS). Acadian Recorder, 7 Feb.–11 April 1818. Colonial Patriot (Pictou), 11 Jan. 1828. Halifax Journal, 20 Jan. 1812; 18 Oct., 29 Nov. 1819. North British Soc., Annals of the North British Society of Halifax, Nova Scotia, for one hundred and twenty-five years . . . , comp. J. S. Macdonald (Halifax, 1894), 88, 390. George MacLaren, The Pictou book: stories of our past (New Glasgow, N.S., [1954]). F. H. Patterson, John Patterson, the founder of Pictou town (Truro, 1955), 62–70. George Patterson, A history of the county of Pictou, Nova Scotia (Montreal, 1877), 250–55.
© 1983–2023 University of Toronto/Université Laval
Image Gallery

Cite This Article
S. Buggey, "MORTIMER, EDWARD," in Dictionary of Canadian Biography, vol. 5, University of Toronto/Université Laval, 2003–, accessed September 27, 2023, http://www.biographi.ca/en/bio/mortimer_edward_5E.html.
The citation above shows the format for footnotes and endnotes according to the Chicago manual of style (16th edition). Information to be used in other citation formats:
| | |
| --- | --- |
| Permalink: | http://www.biographi.ca/en/bio/mortimer_edward_5E.html |
| Author of Article: | S. Buggey |
| Title of Article: | MORTIMER, EDWARD |
| Publication Name: | Dictionary of Canadian Biography, vol. 5 |
| Publisher: | University of Toronto/Université Laval |
| Year of publication: | 1983 |
| Year of revision: | 1983 |
| Access Date: | September 27, 2023 |