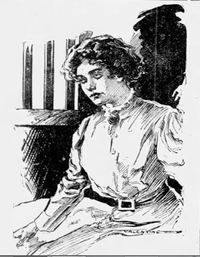 Source: Link
NAPOLITANO (Neapolitano), ANGELINA, home-maker and convicted murderer; b. c. 1883 near Naples (Italy); nothing is known of her baptismal name or parents; m. 1898 Pietro Napolitano; d. in or after 1924.
On the afternoon of Easter Sunday, 16 April 1911, in the upper flat of a house in the immigrant quarter of Sault Ste Marie, Ont., Angelina Napolitano, 28 and pregnant, killed her husband. As he slept, she struck him four times on the neck and head with an axe. After calling a neighbour to tell him what she had done, she waited for the police, hugging the youngest of her four children. Angelina had been born in a rural town near Naples and, following a seven-year stay in New York City, had come to Ontario with Pietro in 1909. They lived first in Thessalon and then moved to the Sault. Two years later Angelina was charged with murder.
At her trial in the town's district court, on 8–9 May 1911, justice Byron Moffatt Britton presided. The crown attorney was Edmund Meredith. Uriah McFadden became Angelina's lawyer only after proceedings began on the 8th and it was revealed that she had no counsel. Court was then adjourned until the next morning so a defence could be prepared. Nine witnesses testified for the crown; Napolitano was the only witness for the defence. She was convicted. The jury recommended clemency but Britton sentenced her to hang – on 9 August, to allow her time to give birth.
Why did Angelina kill Pietro? The evidence strongly suggests that she had become terrified of a violent husband bent on forcing her into prostitution. An underemployed labourer, he had wanted money to build a house. At the trial it was revealed that Angelina's face, neck, and shoulder had been disfigured in November 1910, when he knifed her nine times. Charged with assault, he had received a suspended sentence. The abuse continued, and on the fateful day he had again told Angelina to prostitute herself or, as she put it, "be a bad woman." If she did not have money for him when he woke up, he threatened to beat or kill her.
At the trial McFadden argued that Angelina had been provoked into murder by her husband's abuse, most notably when he had stabbed her the previous year. But the judge ruled such evidence inadmissible, saying that "if anybody injured six months ago could give that as justification or excuse for slaying a person, it would be anarchy complete." In an era before a history of abuse was admissible, Britton's interpretation was reasonable though not generous.
The case produced enormous debate. Among Angelina's critics were bigots who depicted the murder as proof of the danger posed by "foreigners." A columnist quoted in the Sault Star drew on contemporary racist stereotypes, calling southern Italians "hot-blooded" foreigners who "are all too ready as it is to use the knife, the pistol, or any other weapon that lies at hand, as a means of redressing real or fancied wrongs." Another article in the paper argued that Angelina deserved to die because she was immoral, making much of the fact that for a brief period when Pietro was out of town she had permitted a man to board with her.
Many people took up her cause, and a campaign was launched to have her sentence commuted to a prison term. A flood of letters and petitions arrived in the office of the federal minister of justice, Sir Allen Bristol Aylesworth*, among them lengthy petitions organized by individuals and groups from Sault Ste Marie, Toronto, New York, New Orleans, and Chicago, as well as England, Austria, and Poland. Italians in the Sault were relatively quiet – the Sault Star claimed they were against Angelina – but many in Toronto, Montreal, Chicago, and New York, especially leftists, joined the campaign. So did McFadden and other Anglo-Canadians, including a men's Bible group. Supporters asked the government to acknowledge Angelina's history of abuse and spare her life; a few even demanded a pardon. Some of the loudest voices were those of Canadian, American, and British feminists who, in agitating for the vote, had become seasoned lobbyists. Indeed, the presence of an international women's movement helps account for the sustained publicity the case received. Various feminists stressed that the beatings had constituted sufficient provocation and that Angelina had acted in self-defence. The judge's rejection of this argument, they added, revealed sexist codes. As the suffrage journal Common Cause (London) declared, the law and its administration "are both bad" for "they are exclusively masculine."
Other petitioners held Angelina up as a courageous woman who had rid the earth of a lout. "The taking of a corrupt life of her wicked husband was not even murder" but a "dreadful loathsome duty," wrote one woman from England, because it "delivers of the race from loathsome ulcers." "The world," she concluded, "needs such heroines to lift it out of the foul rut in which it lies today," for the "rut of immorality" was "a far worse crime than murder!" Such comments are best understood in the context of the sexual politics of early feminism, which subscribed to popular, though erroneous, stereotypes of the propensity among "foreign" men for violence and sexual immorality.
Some argued that Angelina should be granted clemency to save her unborn child from harm. This reasoning was based on the view, also current at the time, that a foetus could suffer psychological damage because of its mother's agitated state. The Toronto Suffrage Association warned that "every additional hour spent by her [Napolitano] in the condition of terror, anticipating her execution" would "react in a deleterious manner upon her unborn innocent child." (Tragically, the baby would die a few weeks after birth.) Others, including Arthur Cyril Boyce, the mp for Algoma West, even claimed that Angelina's pregnancy had produced temporary insanity – an extreme version of the notion that pregnancy could produce an unbalanced emotional or mental state.
On 14 July 1911 Angelina's sentence was commuted by the federal cabinet to life imprisonment. Eleven years later, on 30 Dec. 1922, she was granted parole from Kingston Penitentiary. From prison she had tried to contact her children, who had been placed in foster homes, but it remains unknown whether she ever saw them again. The trail ends after she left Kingston in the spring of 1924.
The sources for this article may be found in Karen Dubinsky and Franca Iacovetta, "Murder, womanly virtue, and motherhood: the case of Angelina Napolitano, 1911–1922," CHR, 72 (1991): 505–31
© 2005–2023 University of Toronto/Université Laval
Cite This Article
Franca Iacovetta, "NAPOLITANO (Neapolitano), ANGELINA," in Dictionary of Canadian Biography, vol. 15, University of Toronto/Université Laval, 2003–, accessed September 28, 2023, http://www.biographi.ca/en/bio/napolitano_angelina_15E.html.
The citation above shows the format for footnotes and endnotes according to the Chicago manual of style (16th edition). Information to be used in other citation formats:
| | |
| --- | --- |
| Permalink: | http://www.biographi.ca/en/bio/napolitano_angelina_15E.html |
| Author of Article: | Franca Iacovetta |
| Title of Article: | NAPOLITANO (Neapolitano), ANGELINA |
| Publication Name: | Dictionary of Canadian Biography, vol. 15 |
| Publisher: | University of Toronto/Université Laval |
| Year of publication: | 2005 |
| Year of revision: | 2005 |
| Access Date: | September 28, 2023 |