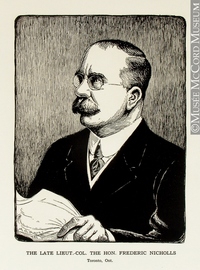 Source: Link
NICHOLLS, FREDERIC THOMAS, businessman, publisher, politician, and office holder; b. 22 Nov. 1855 in London, England, son of Thomas William Nicholls, a silversmith, and Elizabeth Pitkin; m. 29 May 1875 Florence Theresa Mary Graburn (d. 27 April 1909) in Ottawa, and they had four sons and three daughters; d. 25 Oct. 1921 in Toronto.
Little is known of Frederic Nicholls's early years. Obituaries mention that he had been "good at billiards in his youth" and received "some education" in Stuttgart (Germany), though he does not seem to have had any professional training. In 1874 he came to Montreal and shortly thereafter he located in Ottawa; at the time of his marriage to the daughter of an official in the Department of Marine and Fisheries, he was a commission merchant. Ambitious, astute, and a born salesman, in June 1880 he launched the Industrial World and National Economist; he remained its manager after his move to Toronto the following year. Retitled the Canadian Manufacturer and Industrial World in January 1882, it would continue under his direction until 1894. In 1886 he became secretary of the Ontario Manufacturers' Association (renamed the Canadian Manufacturers' Association later that year) and he held the position until 1891.
During this period the Canadian Manufacturer became the official publication of the CMA. In keeping with the association's stance and his own Conservative leanings, Nicholls supported tariff protection to foster industrial growth. About 1886, with Henry Stark Howland*, he opened offices on Front Street called the Permanent Exhibition of Manufacturers and Commercial Exchange. Named a vice-president of the Toronto Press Club in 1889, he returned to the newspaper business in 1895–99 as owner of the Evening Star, an acquisition designed to support the Toronto Railway Company and its operation on Sundays. When the CMA was reorganized in 1900, he chaired the committee charged with launching its monthly, Industrial Canada.
Nicholls's affiliation with the Canadian Manufacturer, the CMA, and the Exchange brought him into contact with leading Toronto businessmen. Looking about for new chances, he decided that the nascent electricity business would be a growth industry [see John Joseph Wright]. His organization of a syndicate that included Wilmot Deloui Matthews* led first in 1889 to the Toronto Incandescent Electric Light Company Limited. Managed by Nicholls from his Front Street offices and based on steam generation, it took over Henry Mill Pellatt*'s failing arc-light firm, Toronto Electric Light. In 1891 Nicholls became involved as well in Toronto Construction and Electric Supply. None of these firms developed proprietary products or services –they used franchises from American firms with proven technologies – but the resulting monopoly in the supply of power and lighting united the three men who were to dominate the industry in the city for the next decade: Nicholls, Pellatt, and William Mackenzie, whose Toronto Railway was the largest consumer of electricity in Ontario.
Nicholls's importance as a link between finance and engineering increased when he assumed management of Canadian General Electric, formed in 1892 to consolidate the Canadian business of Edison General Electric, Edison Electric Light, Thomson-Houston International Electric, and Toronto Construction and Electric Supply. At the same time CGE's head office was moved from Montreal to Toronto, where it supplied generators for the Toronto Railway. Engineer Edward Montague Ashworth remembered Nicholls as his "early idea of a Big Man," whose telephone summonses caused department heads to jump. Although CGE was meant to be an American-controlled subsidiary, its Canadian investors purchased majority control in 1895 and about 1900 Nicholls became second vice-president as well as manager. An eloquent champion of electricity, he was president of the National Electric Light Association of the United States in 1896–97 and brought its annual convention to Niagara Falls, Ont., in 1897.
As a result of his association with Mackenzie in the 1890s, Nicholls emerged as president of many of his railway companies in Canada and, through various syndicators and financiers, an executive officer or director of traction and power companies in South America and the Caribbean. Through Sir William Cornelius Van Horne* of Montreal, for instance, he joined the group formed to operate the Havana Electric Railway and through Mackenzie he became vice-president in 1900 of São Paulo Tramway, Light and Power and in 1904 of Rio de Janeiro Tramway, Light and Power [see Frederick Stark Pearson*]. The following year he would be listed as the president, vice-president, or director of no fewer than 30 companies.
To meet the increasing demand for electricity in Toronto, Nicholls, Pellatt, and Mackenzie looked to Niagara for a vast new supply. In 1902, with Nicholls as manager and first vice-president, they had formed the Electrical Development Company of Ontario Limited, which early the following year secured a franchise from the province for development. Designed by Edward James Lennox*, the company's ornate generating station began sending power to Toronto in 1906. The monopoly over Toronto's electricity market had already led to agitation for public control, however, and that year, through the efforts of Adam Beck and others, the Hydro-Electric Power Commission of Ontario was organized. Considerable ill will emerged between the private companies on the one hand and the City of Toronto, Hydro, and the Niagara Falls Parks Commission on the other. Beck, for instance, refused in 1909 to accept the lowest tender for equipment, from CGE, because he wanted nothing to do with Nicholls. Ultimately, Hydro was ordered to arrange a contract that divided its business between CGE and Westinghouse. In 1922 years of wrangling ended when the hydro commissions of Ontario and Toronto purchased the power assets of Nicholls, Mackenzie, and Pellatt.
Nicholls negotiated a major reorganization of CGE in 1913, when it acquired the manufacturing and sales rights in Canada for the milling and mining equipment of Allis-Chalmers-Bullock (an American company) and formed Canadian Allis-Chalmers. He became president of both Canadian firms, CGE's plant in Peterborough was expanded, the Canada Foundry Company in Toronto was added, and the Stratford Mill Building Company was taken over for the production of some Allis-Chalmers lines. As president of CGE, Nicholls no longer enjoyed the obscurity of working through syndicates, and his hostility to organized labour and his reluctance to cooperate with the Imperial Munitions Board during wartime were exposed. Named a fellow of the Royal Colonial Institute in London in 1911, he was made an honorary lieutenant-colonel in October 1914 and served on the general council of the Canadian Patriotic Fund and the executive committee of the Toronto branch of the Canadian Red Cross Society. His long-time support of the Conservatives stood him in good stead with the government of Sir Robert Laird Borden*, which on 20 Jan. 1917 appointed him to the Senate, where he chaired a special committee on post-war trade. He continued to run CGE until the spring of 1921, when he stepped down to chair its board. In 1923, after his death, American General Electric repurchased most of CGE's common stock.
An inveterate worker, Nicholls had been accustomed to 16-hour days in the 1880s but he enjoyed more leisure later in life. Readily recognizable by his stockiness, glasses, and moustache, he had a summer home near Shanty Bay on Lake Simcoe and a farm north of Toronto, was apparently an expert rose gardener, and enjoyed the comforts of numerous clubs. In religion, he belonged to the Church of England and served on the boards of Trinity University and Havergal Ladies' College in Toronto and Ridley College in St Catharines. As well, he was a justice of the peace for York County, vice-consul for Liberia from 1887, and consul for Portugal from 1906.
Frederic Nicholls died in October 1921 at his home on St George Street. He had probably known of his cancerous condition: he had had an operation and, in addition to an estate valued at $112,450, he left life-insurance policies worth more than $344,550. By the time of his death, he was a highly regarded spokesperson for the manufacturing and hydroelectric industries.
Frederic Nicholls's speech of 19 Jan. 1905 to the Empire Club in Toronto was published as Niagara's power: past, present, prospective . . . ([Toronto?, 1905?], reproduced as CIHM, no.78710). A number of his other speeches are in his Conservation of Canadian trade (Toronto, 1918). An oil portrait of Nicholls by Robert Harris* is in the Univ. of Toronto Art Coll.
AO, RG 22-305, nos.21978, 44052; RG 80-5-0-48, no.1678; RG 80-8-0-360, no.2726; RG 80-8-0-804, no.6460. GRO, Reg. of births, Whitechapel (London), 22 Nov. 1855. Globe, 26 Oct. 1921. Monetary Times (Toronto), 27 Sept. 1913. Ottawa Free Press, 31 May 1875. World (Toronto), 28 April 1909. E. M. Ashworth, Toronto Hydro recollections (Toronto, 1955). Michael Bliss, A Canadian millionaire: the life and business times of Sir Joseph Flavelle, bart., 1858–1939 (Toronto, 1978). Canadian annual rev., 1901–17. Canadian Manufacturers' Assoc., The Canadian Manufacturers' Association ([Toronto, 1890?]); Souvenir, 1893 (Toronto, 1892). Canadian men and women of the time (Morgan; 1898 and 1912). Cyclopædia of Canadian biog. (Rose and Charlesworth), vol.3. Merrill Denison, The people's power: the history of Ontario Hydro ([Toronto], 1960). Directory, Toronto, 1882–1913. Encyclopaedia of Canadian biography . . . . R. B. Fleming, The railway king of Canada: Sir William Mackenzie, 1849–1923 (Vancouver, 1991). Industrial Canada (Toronto), August, October 1913. Herbert Marshall et al., Canadian-American industry: a study in international investment ([Toronto], 1976). Middleton, Municipality of Toronto. James Naylor, The new democracy: challenging the social order in industrial Ontario, 1914–25 (Toronto, 1991). R. T. Naylor, The history of Canadian business, 1867–1914 (2v., Toronto, 1975). H. V. Nelles, The politics of development: forests, mines & hydro-electric power in Ontario, 1849–1941 (Toronto, 1974). Ontario Manufacturers' Assoc., Report of the proc. of the . . . annual meeting ([Toronto?]), 1886–91. G. A. Seibel, Ontario's Niagara parks, 100 years: a history, ed. O. M. Seibel (Niagara Falls, Ont., 1985).
© 2005–2023 University of Toronto/Université Laval
Image Gallery

Cite This Article
Christopher Andreae, "NICHOLLS, FREDERIC THOMAS," in Dictionary of Canadian Biography, vol. 15, University of Toronto/Université Laval, 2003–, accessed December 7, 2023, http://www.biographi.ca/en/bio/nicholls_frederic_thomas_15E.html.
The citation above shows the format for footnotes and endnotes according to the Chicago manual of style (16th edition). Information to be used in other citation formats:
| | |
| --- | --- |
| Permalink: | http://www.biographi.ca/en/bio/nicholls_frederic_thomas_15E.html |
| Author of Article: | Christopher Andreae |
| Title of Article: | NICHOLLS, FREDERIC THOMAS |
| Publication Name: | Dictionary of Canadian Biography, vol. 15 |
| Publisher: | University of Toronto/Université Laval |
| Year of publication: | 2005 |
| Year of revision: | 2005 |
| Access Date: | December 7, 2023 |