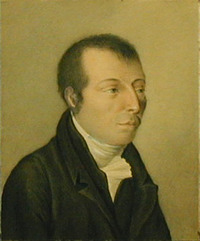 Source: Courtesy of Wikimedia Commons
PANET, PIERRE-LOUIS, lawyer, notary, seigneur, office holder, politician, and judge; b. 1 Aug. 1761 in Montreal (Que.), son of Pierre Panet and Marie-Anne Trefflé, dit Rottot; m. there 13 Aug. 1781 Marie-Anne Cerré, daughter of Jean-Gabriel Cerré; d. there 2 Dec. 1812.

Pierre-Louis Panet was the seventh in a family whose first six children had died in infancy. On 26 June 1779, before he was even 18, he obtained a lawyer's commission, following the example of his father, who had chosen a career in law. On 19 Dec. 1780 he was admitted into the notarial profession. Combining the two functions had been allowed since 1765 to enable those who took advantage of the situation "to deal fully with the affairs of their clients," since they were "able to serve them in their dual capacity"; but the practice was beginning to be questioned by Governor Haldimand. Notaries were not, however, prohibited from acting as lawyers or clerks of law courts until an ordinance of 30 April 1785. Whether Panet practised as a lawyer cannot be confirmed; he did act as a notary in Montreal from 1781 until 1783, and then at Quebec until 1785.
On 22 Sept. 1783 Panet was appointed French language clerk of the Court of Common Pleas in the District of Quebec, replacing Nicolas-Gaspard Boisseau. His wife, who was then pregnant, had left for Quebec with their first child late in the spring. Panet himself remained in Montreal to liquidate their property. On 1 June 1783 he wrote to his wife that he hoped to join her in ten days or so, but on 27 August he was still in Montreal and had not yet succeeded in selling their house. He complained that people were haggling about the price and he very much feared he would be "losing a lot of money." During the months when he was on his own he resided with Thérèse-Amable Viger, the widow of Jean Orillat*, and attended to settling the estate of the latter, for whom Pierre Panet, his father, had acted as notary for 20 years.
Panet also secured appointment as clerk "for Canadian matters" in the Prerogative Court on 25 Jan. 1785. Having had to give up practising as a notary that year, he was reduced to the sole occupation of court clerk, which provided little satisfaction. In a letter written to the seigneur Louis Couillard Des Islets around this time, he compared the splendour of a seigneur's life with the sadness and disgust that life as a court clerk brought him. He even considered giving up his position: in 1787 he wrote to Boisseau (the very person he had replaced in the Court of Common Pleas), offering to surrender the office to him for "300 louis at the going rate as compensation"; he was determined, he said, to retire to the seigneury of Argenteuil, which he had bought in February 1781. Late in the summer of 1790 Panet's wife decided to visit her parents in St Louis (Mo.). She went off with their son Léon, leaving her husband at Quebec with their 18-month-old daughter Louise-Amélie. The separation, which apparently was not unconnected to an already tense relationship between them, lasted a whole year.
At the time of the 1792 elections Panet first announced that he would run in the riding of Quebec, but soon changed his mind and switched to that of Cornwallis, where he was elected on 10 July along with Jean Digé. Throughout the sessions of this first parliament in Lower Canada Panet attracted attention by his almost unbroken solidarity with the English party. For example, he opposed the choice of his cousin Jean-Antoine Panet as speaker of the house; according to him this office required that the person holding it be able to "express himself in the English language when he addresses the representative [of the] sovereign." Furthermore he declared it was "absolutely necessary in the long run for Canadians to adopt the English language, the only way to dissipate the repugnance and suspicions that diversity of language would always foster between two peoples united by circumstances and compelled to live together." He was also the sole Canadian, along with François Dambourgès, who voted for the bill to make the English text of parliamentary laws and debates the only official one. In the 1793 session he introduced a bill on the abolition of slavery, but his colleague Pierre-Amable De Bonne succeeded in keeping the assembly from voting on its third reading.
The judicial reform of 1794 led to the abolition of the Court of Common Pleas and the Prerogative Court and their replacement by the Court of King's Bench, to which Panet on 11 Dec. 1794 was appointed protonotary and French-language clerk for the District of Quebec. On 8 May 1795 he became judge of this court for the District of Montreal, after Jean-Antoine Panet had refused the office. He must have greeted the new appointment with relief, for it put an end to his monotonous career as a court clerk, assured him of an annual salary of £500, and enabled him to move closer to his seigneury of Argenteuil, where he hoped some day to live. He was eager to develop this property, on which there were already several new dwellings, some gardens, and two mills in operation.
Kept busy by his duties as a judge, Panet stopped participating in the work of the assembly and did not run in the 1796 elections. Four years later he decided to return to politics, though with considerable reluctance since he thought "it did not befit him as a judge to be a candidate." Yielding to the pleas of constituents in Montreal East, he resolved that he "would do nothing to secure his election." He left Montreal to go on the assizes and was not present on any occasion when voting took place. None the less he was elected on 28 July 1800 and carried out his duties as a member assiduously, despite the annoyance that his long stays at Quebec caused him. As he had done during his first term, Panet continued to support the English party, from whom he hoped to obtain further patronage. On 18 March 1802 he wrote to his wife that he was "surrounded . . . by envious people who are vexed to see that the governor and his wife continue to show me the same consideration." The lieutenant governor, Robert Shore Milnes*, had indeed recommended in October 1800 that Panet be made an honorary member of the Executive Council and this appointment was approved on 7 Jan. 1801 by the Duke of Portland, the Home secretary. No remuneration was attached to the office. By 1 Oct. 1800, however, Panet's salary as a judge had been raised to £750 a year as a result of a petition that the puisne judges of the Court of King's Bench had addressed to Milnes on 17 Oct. 1799. According to the lieutenant governor the salary increase was justified to ensure the recruitment of suitable people for the judiciary, since at a salary of £500 a year only second-rate lawyers would be willing to give up their profession to become judges. In August 1809 and again in October 1810 Panet joined with his colleagues on the court to ask for another increase, pleading the continual rise in the cost of living and the growing volume of judicial matters, but the request met with a refusal from Lord Liverpool, the Colonial secretary.
Panet seldom missed an opportunity to display his loyalty to the British authorities. In May 1803, for example, he passed on to Herman Witsius Ryland*, the lieutenant governor's secretary, excerpts from two incriminating letters which his father had received from a former compatriot then living in France; in substance these said that the writer had presented a memoir to Napoleon urging that Canada be given back to France. Panet feared that a "surprise attack" would be successful "if the French were favoured by the Canadian population," and he suggested that the province be equipped with a "military force sufficient to contain those who might be disaffected and to encourage the friends of the government."
Panet served as a judge and member of the Executive Council until his death, but he gave up his seat in the assembly after 1804. He is said to have declared frequently that judges should not stand for election and that "the equality of the members and the freedom of debates [in the assembly] often damaged a judge's reputation." In 1812 Panet presided at the trial of some men from Lachine who were charged with riotous assembly when the militia was called up. The accused were found guilty by a jury and were given one to two years in prison and fines of up to £100. Before pronouncing sentence Panet dwelt upon the seriousness of what each of the rioters had done and drew a parallel between the period when "under the former rule of the French . . . the country groaned in poverty and difficulty" and the years since the conquest when prosperity had prevailed. In conclusion he declared, "And you would like to destroy the government that creates happiness for you. You would be so ungrateful as not to recognize its benefits."
Both during his years at Quebec and after his return to Montreal Panet engaged in numerous real estate transactions. In 1792 his father had given him as an advance portion of his inheritance a piece of land near the Rivière Saint-Charles, which he sold the following year. Panet often took advantage of forced sales to buy properties cheaply, in both Quebec and its suburbs. He resold them when he had to move to Montreal. On 18 Oct. 1796 he bought an immense property in the faubourg Québec in Montreal, on a street that now bears his name. He went to live there with his family and retained it until 1810, when he sold it to judge James Reid. In 1802 he purchased in addition an imposing house beside the Château Ramezay. He regretted having made this acquisition which was "beyond his means," and hastened to sell it to Andrew McGill the following year. In 1800 he had also sold his seigneury of Argenteuil and bought the seigneuries of Ailleboust and Ramezay; in addition he obtained a grant of 1,000 acres in Chatham Township the following year.
Pierre-Louis Panet died suddenly of a stroke on 2 Dec. 1812. At that time only 5 of his 12 children were still living. His widow tried in vain to obtain a grant of several thousand acres in Ascot and Aston townships. In 1826 she asked for a pension of £150 in recognition of the services rendered by her husband, but the assembly turned down her request.
Pierre-Louis Panet's minute-book for the years 1781 to 1783 is kept at the ANQ-M as CN1-309 and, for 1783 to 1785, at the ANQ-Q as CN1-209.
ANQ-M, CN1-363, 11 août 1781. ANQ-Q, CN1-230, 21 août 1792; 18 oct. 1793; 30 avril, 22 juill. 1794; 24 juill., 3 août 1795. AUM, P 58, U, Panet à Cerré, 1er juin, 27 août 1783; 27 sept. 1790; 27 avril, 12, 26 mai, 29 juin, 24 juill. 1791; 18 mars 1802; 10, 17 févr. 1803. PAC, MG 11, [CO 42] Q, 71-1: 98; 72-1: 16; 84: 172, 177; 85: 209; 87-1: 5. Bas-Canada, chambre d'Assemblée, Journaux, 1792–96; 1801–4; 1809, app.23. Montreal Herald, 5 Dec. 1812. Quebec Gazette, 20 Dec. 1792. F.-J. Audet, Les députés de Montréal, 47–63. Fernand Ouellet, "Inventaire de la Saberdache de Jacques Viger," ANQ Rapport, 1955–57: 69. P.-G. Roy, Inv. concessions, 3: 221–22; 5: 29, 33; Les juges de la prov. de Québec, 421. Caron, La colonisation de la prov. de Québec, 1: 189–91. Neatby, Administration of justice under Quebec Act, 62, 351. P. -G. Roy, La famille Panet (Lévis, Qué., 1906), 163–96. Trudel, L'esclavage au Canada français, 296. André Vachon, Histoire du notariat canadien, 1621–1960 (Québec, 1962). Wallot, Un Québec qui bougeait, 107–41. Hare, "L'Assemblée législative du Bas-Canada," RHAF, 27: 371–73, 376. É.-Z. Massicotte, "Brève histoire du Pare Sohmer," Cahiers des Dix, 11 (1946): 97–117; "Quelques maisons du vieux Montréal," 10 (1945): 239.
© 1983–2023 University of Toronto/Université Laval
Image Gallery

Cite This Article
André Morel, "PANET, PIERRE-LOUIS (1761-1812)," in Dictionary of Canadian Biography, vol. 5, University of Toronto/Université Laval, 2003–, accessed December 11, 2023, http://www.biographi.ca/en/bio/panet_pierre_louis_1761_1812_5E.html.
The citation above shows the format for footnotes and endnotes according to the Chicago manual of style (16th edition). Information to be used in other citation formats:
| | |
| --- | --- |
| Permalink: | http://www.biographi.ca/en/bio/panet_pierre_louis_1761_1812_5E.html |
| Author of Article: | André Morel |
| Title of Article: | PANET, PIERRE-LOUIS (1761-1812) |
| Publication Name: | Dictionary of Canadian Biography, vol. 5 |
| Publisher: | University of Toronto/Université Laval |
| Year of publication: | 1983 |
| Year of revision: | 1983 |
| Access Date: | December 11, 2023 |