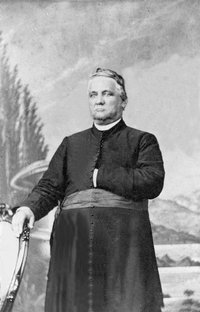 Source: Courtesy of Wikimedia Commons
PAQUET, JOSEPH-MARIE, priest; b. 21 Nov. 1804 at Quebec, son of Joseph Paquet and Marie-Josephte Gagnon; d. 28 July 1869 at Montreal, and buried 13 August at Caraquet, N.B.
Joseph-Marie Paquet was still young when his father, described by Bishop Joseph-Octave Plessis* as a "brutal, drunken and jealous" man, deserted the family; his sickly mother had to bring up the family on her own. Young Paquet was entrusted to his maternal uncle Abbé Antoine Gagnon*, a parish priest and vicar general in New Brunswick, who sent him to the Séminaire de Québec. Here he completed classical studies (1816–25) and theology (1825–28). He was ordained priest on 28 Sept. 1828.
The following year he was appointed parish priest of Shemogue, N.B., a mission for which his uncle was responsible. Abbé Paquet's stay there was scarcely a happy one. The Acadians of New Brunswick disliked these "Canadian priests" who came to proselytize among them as though they were pagans. Indeed Abbé Gagnon, in a letter to the archbishop of Quebec, spoke of his parishioners as "Acadian fools" who "live in disorder . . . being a racial mixture of Indian, Negro, French, Spanish and even Italian, with all the natural and moral and intellectual defects of their origin."
After a year at Shemogue, Abbé Paquet became parish priest of Richibucto-Village where he remained until 1840. Like other missionaries on the east coast of New Brunswick he complained of the authoritarianism of his uncle and protector, Abbé Gagnon. The first confrontation between the two men occurred in 1831, when a plan for building a seminary at Grande-Digue was proposed by the provincial legislature and by the bishop of Charlottetown, Bernard Angus MacEachern*, whose jurisdiction included the Catholics of New Brunswick. Gagnon, the local parish priest, wanted the title-deeds of the land and the future building in his own name. Abbé Paquet, the other missionaries, and the Acadians of Kent and Westmorland counties were offended by this. Gagnon, however, was unable to tolerate the idea of having to take orders from laymen and of being obliged to "bow and scrape to win their good will," and decided in 1832 to move to Barachois and to build a school there, on one of his many properties. Meanwhile Paquet openly supported the representative of the Acadians, Pascal Poirier. At a stormy meeting in September 1833 which was attended by the bishop of Charlottetown, and by those affected by the plan, including the spokesmen for the Acadians of Grande-Digue, Cocagne, Barachois, Buctouche, and Richibucto, Paquet angered his uncle "by opposing [him] in the presence of the bishop and numerous people." Gagnon then asked the archbishop of Quebec to recall or move Paquet, "in order to be freed of this harpy." In the end both plans for a seminary fell through.
From 1840 to 1848 Paquet was parish priest of Saint-Louis. In 1842 he again had to tackle his uncle, when a bishop was to be appointed for New Brunswick. Two candidates had been proposed, the vicars general Gagnon and William Dollard*, and at the request of Rome a meeting was called at Chatham to choose between them. When each obtained six votes in the ballot Paquet, as chairman, had to decide the issue, and declared in favour of Dollard. It is possible that the Irish clergy promised to support Paquet's own candidature as bishop in the event of Dollard's death, although Paquet never did obtain the mitre: Thomas Connolly* was appointed bishop of Saint John in 1852, after Dollard's death, and in 1860, when the diocese of Chatham was formed, James Rogers* was selected over Paquet who was then parish priest of Caraquet and later became Bishop Rogers' vicar general.
At Saint-Louis Paquet antagonized many of the parishioners when he decided to build a new church on the site of the old one. These parishioners wanted the church erected in a more central place and were fiercely opposed to Paquet's plan. When the church was dedicated, one of the malcontents got up in the middle of the sermon, and, leaving his place, "marched out, singing the hymn 'Au sang qu'un Dieu va répandre.'" The incident compromised Paquet and made his position at Saint-Louis untenable.
In his last months at Saint-Louis in 1848, Paquet had witnessed the general hostility among the tenant-farmers of Kent and Westmorland counties towards Vicar General Gagnon which led to the affair of the "rebels of Grand-Digue" [see Antoine Gagnon]. Because Abbé Hector-Antoine Drolet, the parish priest of Caraquet, had taken sides against Abbé Gagnon and Bishop Dollard, he was deprived of his office. When Paquet left Saint-Louis and went to Caraquet in September 1848 to take over the parish, he brought the bishop's order to withdraw from Drolet "all powers if he persisted in wishing to remain at Caraquet." The latter agreed to leave, and Paquet took over the charge, holding it without incident until his death in 1869.
AAQ, 311 CN, I, 77, 80, 82, 87, 89, 144; III, 59; V, 80, 85, 87, 139–40. Archives of the Diocese of Saint John, N.B., Bishop MacEachern to Antoine Gagnon, 22 July 1832; lettre de Monseigneur Plessis à Antoine Gagnon, 28 nov. 1815. Centre d'études acadiennes, Université de Moncton (Moncton, N.-B.), 1.65-15 (Fonds Placide Gaudet, Placide Gaudet à Mgr C.-O. Gagnon, août 1895). Allaire, Dictionnaire, IV, 341. P.-F. Bourgeois, Vie de l'abbé François-Xavier Lafrance . . . (Montréal, 1913), 35. L.-C. Daigle, Histoire de Saint-Louis-de-Kent: cent cinquante ans de vie paroissiale française en Acadie nouvelle (Moncton, N.-B., 1948), 94. J.-U. Demers, Histoire de Sainte-Rose, 1740–1947 ([Montréal], 1947).
© 1976–2023 University of Toronto/Université Laval
Image Gallery

Cite This Article
Régis Brun, "PAQUET, JOSEPH-MARIE," in Dictionary of Canadian Biography, vol. 9, University of Toronto/Université Laval, 2003–, accessed September 26, 2023, http://www.biographi.ca/en/bio/paquet_joseph_marie_9E.html.
The citation above shows the format for footnotes and endnotes according to the Chicago manual of style (16th edition). Information to be used in other citation formats:
| | |
| --- | --- |
| Permalink: | http://www.biographi.ca/en/bio/paquet_joseph_marie_9E.html |
| Author of Article: | Régis Brun |
| Title of Article: | PAQUET, JOSEPH-MARIE |
| Publication Name: | Dictionary of Canadian Biography, vol. 9 |
| Publisher: | University of Toronto/Université Laval |
| Year of publication: | 1976 |
| Year of revision: | 1976 |
| Access Date: | September 26, 2023 |