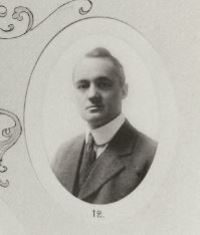 Source: Link
PEARSON, GEORGE FREDERICK, lawyer, newspaperman, political éminence grise, and university governor; b. 5 Oct. 1876 in Truro, N.S., eldest child and only son of Benjamin Franklin Pearson* and Julia Reading; m. first 20 Dec. 1900 Ethel Rebecca Belcher Miller (d. 5 Feb. 1912) in Halifax County, and they had one daughter; m. there secondly 30 April 1913 Agnes Crawford (d. 1966), and they had one daughter and one son; d. 21 Sept. 1938 in Halifax.
George Frederick Pearson was born to the Liberal purple. From 1806 to 1818 his paternal great-great-grandfather had served as a member in Nova Scotia's House of Assembly, and his grandfather had been elected the Liberal mp for Colchester in 1870. His father, a lawyer and businessman, would become a minister in the cabinet of Premier George Henry Murray*. Benjamin Franklin Pearson's success in business enabled G. Fred, as he was usually known, to study at the Dalhousie law school in Halifax, where he took his degree in 1900. Called to the bar on 24 March of that year, he articled with his father's law firm, Pearson and Covert, and later became its head. He worked for one of his father's newspapers as well, becoming managing director and editor (afterwards proprietor and publisher) of the Halifax Morning Chronicle, which included morning and evening dailies and a weekly. During the 1840s the Chronicle had been edited by Reformer Joseph Howe*, who was greatly admired by Benjamin, and in 1909 the family's Chronicle Publishing Company issued a massive two-volume new edition of The speeches and public letters of Joseph Howe. That year the younger Pearson founded the Eastern Press Association, whose members included daily papers in the Maritimes. He would oversee its merger with other associations into Canadian Press Limited [see John Ross Robertson*] in September 1917, when centralized cooperative newsgathering effectively got its start in Canada. He served as the first vice-president of the organization (reincorporated as the Canadian Press in 1923) until 1926. Owing to illness or financial woes, he then sold his newspapers to his brother-in-law, businessman Fleming Blanchard McCurdy*.
Pearson became active in charitable work during World War I and took a leading part in Halifax's efforts to assist Belgium. His role in the dispatch of the steamer Tremorvah, the first North American vessel carrying supplies to reach the occupied country, was recognized by a grateful nation when he was made an officer of the Order of the Crown of Belgium on 14 Nov. 1919. He assisted his own community by chairing the Reconstruction Committee in the immediate aftermath of the devastating Halifax explosion on 6 Dec. 1917. He also presided over the Massachusetts–Halifax Health Commission, set up in 1919 to manage the disbursal of funds provided by American donors, the Halifax Relief Commission, and the city to address long-term public-health issues resulting from the disaster. After ten years the commission concluded its activity, and Pearson, who had become chair of Dalhousie's board of governors late in 1927, transferred the balance of the money to the university's Public Health Clinic, which provided free medical services to those in need.
Unlike his father, Pearson had no particular interest in business, though in other ways he followed in his father's footsteps, building assiduously on the family's political credentials. The conscription crisis of 1917 [see Sir Robert Laird Borden] split the provincial as well as the federal Liberals, and Pearson was among the few who rose above the divisions and worked to reunify the party. For the rest of his life he was the most powerful unelected Liberal in Nova Scotia, confidential adviser to George Henry Murray during his later years as premier and William Stevens Fielding* during his second tenure as federal minister of finance. The overwhelming defeat of the Liberals in the provincial election of 1925 came as a blow. Pearson threw himself into rebuilding and saw his efforts rewarded with the triumph of Angus Lewis Macdonald* in the 1933 provincial election and the Liberal sweep of Nova Scotia's 12 seats in the federal election two years later.
Pearson's chief interest beyond politics was Dalhousie University, where he was a member of the board of governors for almost 16 years, vice-chair for eight, and chair for four and a half. He successfully managed Dalhousie's 1920 Million Dollar Campaign, which led to the development of the Studley campus, and was also responsible for attracting money from the Rockefeller Foundation and the Carnegie Corporation of New York. He pushed for the federation of Maritime universities; such an amalgamation would have brought badly needed financing (primarily from the Carnegie Corporation) to the region's institutions of higher learning. The University of King's College found a new home on the Dalhousie campus in 1923, but sectarian concerns and the other schools' reluctance to relocate and unite under the Dalhousie name defeated the plan's larger ends. Pearson's dominance in university affairs came to a disagreeable end in 1932. As chair, he had played a key role in the board of governors' decision to appoint Carleton Wellesley Stanley to succeed Arthur Stanley Mackenzie as president after Charles Vincent Massey* had declined the honour. Within months of the appointment, however, Pearson realized that Stanley, who had a Toronto and Oxford background, envisioned an imperial, if not papal, presidency in which the senate and governors had no role except to approve decisions and raise funds. At a board meeting on 6 June 1932, Pearson moved to have Stanley's administration investigated, but the other governors did not support him and he was effectively forced to resign.
Famous for his advocacy of infrastructure, especially roads and housing, in 1934 Pearson became inaugural chair of the Nova Scotia Housing Commission. His last years were devoted to planning slum clearance and developing affordable accommodation for low-income families. His research and proposals led to the gasoline industry being placed under the control of the Board of Commissioners of Public Utilities; the Gasoline Licensing Act of 1934 would survive for 60 years. Utilities promotion and regulation were the only areas of law and business that interested him, his father and the Pearson law firm having been instrumental in establishing the board, the Maritime Telegraph and Telephone Company, and the Nova Scotia Tramways and Power Company (later Nova Scotia Power) – all in the years from 1909 to 1914. Pearson held few directorships other than that of MT&T, of which he was elected vice-president in 1936.
G. Fred Pearson was the very model of elite lawyer as exemplary public citizen. A low-church evangelical Anglican and a progressive Liberal with a sensitive social conscience, he was able to combine disinterested public service with intense political partisanship behind the scenes.

Barry Cahill and Philip Girard

Many sources give George Frederick Pearson's year of birth as 1877, but the earlier date cited in this biography is supported by both his baptismal and death records. Only a handful of his papers are known to have survived. Most were destroyed either by Pearson himself or by his widow, who survived him by 28 years. He is the author of Statistical studies of the colleges situated in the Maritime provinces (Halifax, 1923).
DUA, UA-1 (Board of Governors of Dalhousie Univ. fonds), 1916–32. NSA, Churches, St John's Anglican (Truro, N.S.), RBMB (mfm.); MG 1, vol.748 (G. Fred Pearson papers); vol.1190, folder 3 (Hector McInnes papers, Dalhousie Board of Governors file); vols.1406–9 (W. S. Fielding fonds); MG 2, vols.423, 425–84, 488, 493–502, 504–41, 784–90 (W. S. Fielding fonds); "Nova Scotia hist. vital statistics," Halifax County, 1938: www.novascotiagenealogy.com (consulted 20 Feb. 2013). W. J. Buxton, "Private wealth and public health: Rockefeller philanthropy and the Massachusetts–Halifax Relief Committee/Health Commission," in Ground zero: a reassessment of the 1917 explosion in Halifax Harbour, ed. Alan Ruffman and C. D. Howell (Halifax, 1994), 183–93. W. [D.] March, Red line: the "Chronicle-Herald" and the "Mail-Star," 1875–1954 (Halifax, 1986). Mass.–Halifax Health Commission, Final report … with appendices: October 1919 to October 1929 (Halifax, 1932). M. E. Nichols, (CP): the story of the Canadian Press (Toronto, 1948). N.S. Housing Commission, Report (Halifax), 1935–38. P. B. Waite, The lives of Dalhousie University (2v., Montreal and Kingston, Ont., 1994–98), 2.
© 2015–2023 University of Toronto/Université Laval
Cite This Article
Barry Cahill and Philip Girard, "PEARSON, GEORGE FREDERICK," in Dictionary of Canadian Biography, vol. 16, University of Toronto/Université Laval, 2003–, accessed October 2, 2023, http://www.biographi.ca/en/bio/pearson_george_frederick_16E.html.
The citation above shows the format for footnotes and endnotes according to the Chicago manual of style (16th edition). Information to be used in other citation formats:
| | |
| --- | --- |
| Permalink: | http://www.biographi.ca/en/bio/pearson_george_frederick_16E.html |
| Author of Article: | Barry Cahill and Philip Girard |
| Title of Article: | PEARSON, GEORGE FREDERICK |
| Publication Name: | Dictionary of Canadian Biography, vol. 16 |
| Publisher: | University of Toronto/Université Laval |
| Year of publication: | 2015 |
| Year of revision: | 2015 |
| Access Date: | October 2, 2023 |