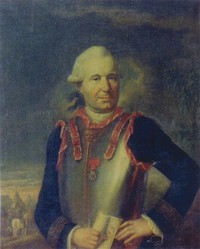 Source: Link
PLANTAVIT DE LAPAUSE DE MARGON, JEAN-GUILLAUME, army officer and author; b. 14 Aug. 1721 in Pézenas, France, son of Henri Plantavit de Lapause de Margon and Grâce Maudon; d. unmarried 9 March 1804 in his home town.
Jean-Guillaume Plantavit de Lapause de Margon began his military career as an ensign in the Régiment de Guyenne on 16 May 1745. He attained the rank of lieutenant on 14 Aug. 1746, was appointed adjutant the following year, and then in 1751 was promoted captain. He arrived at Quebec on 23 June 1755 with the regular troops under the command of Jean-Armand Dieskau*.
In the summer of 1756 Lapause took part in the expedition led by Louis-Joseph de Montcalm* against the fortified base of Oswego (Chouaguen) (N.Y.). According to his own statement, he was carrying out the responsibilities of adjutant general and chief of staff, and his task was to help set up the siege of Oswego by reconnoitring the forts with François-Charles de Bourlamaque* and some engineers to determine the best tactics for the attack. He was also responsible for officering the Canadians who had come as reinforcements for the regular troops, fitting out the boats, and dispatching artillery and rations. On 14 August, after some bombardment and a short, three-day siege, the British surrendered. Following the victory Lapause was delegated to drawing up the terms and conditions of surrender and planning the evacuation. Some days later Montcalm wrote to François de Lévis*: "I cannot praise too highly my aides-de-camp, Lapause [and] Malartic [Anne-Joseph-Hippolyte de Maures* de Malartic]; I would have collapsed under the task without them, and Lapause is a sublime man who has greatly eased my burden." In addition Montcalm appointed him adjutant general, and he was also granted a pension of 300 livres from the royal treasury. Lapause's duties were essentially of two kinds: on the one hand he was to attend to matters of practical organization of the army, taking all decisions about rations, supply, returns of men, arms, ammunition, and equipment of every sort; on the other hand he was to carry out reconnaissance missions.
In September 1756 Lapause went with the Régiment de Guyenne to Carillon (near Ticonderoga, N.Y.), where in accordance with his duties he closely examined the situation of the post and made several suggestions for improving its security, including having extensive clearing done around the fort to prevent a surprise attack by Indians. He spent the rest of 1756 in the Quebec region, where the troops took up winter quarters. The following May the Régiment de Guyenne was ordered to do work on Fort Chambly. In July it received instructions to leave for Carillon, where Montcalm was assembling troops for the siege of Fort George (also called Fort William Henry; now Lake George, N.Y.). Lapause inspected the troops and artillery, and also gave his views on the strategic situation, some of which were adopted by Montcalm and Lévis.
At the end of June 1759 Lapause was sent to Île aux Noix, on the Richelieu, to assist in fortifying it. Then on Montcalm's orders he went to join Lévis, who was responsible for defending the frontiers of the Government of Montreal. In July Lapause took part in reconnaissance near Lake Champlain. After the fall of Fort Niagara (near Youngstown, N.Y.) in July, Governor Vaudreuil [Rigaud*] on 9 August sent him, with François-Marc-Antoine Le Mercier* and Lévis, to complete the construction of Fort Lévis (east of Prescott, Ont.), in order to meet the threat of a British invasion. In April 1760 Lapause was sent by Lévis on reconnaissance to the Rivière Jacques-Cartier, near Quebec. When Vaudreuil dispatched Lévis to recapture Quebec, Lapause was sent on ahead of the army to make preparations for its arrival and to reconnoitre the enemy's positions. Lévis instructed him to draw the army up in battle order upon arrival and to assign each battalion to its specific position, a heavy responsibility if ever there was one.
After the failure of the attempt to retake Quebec and the surrender of New France, Lapause sailed on the same ship as Lévis, reaching La Rochelle, France, on 27 Nov. 1760 and arriving in Paris on 5 December. That same year he received the cross of Saint-Louis. While in New France Lapause had written reports in which he gave his opinion on a variety of subjects, such as the causes of the food shortage in 1757. He thought Quebec's situation vulnerable and considered it desirable for France to continue to support the colony. Lapause had also kept a diary about his adventures in which he described his various missions and the course of operations during the Seven Years' War.
For Lapause there had never been any question of settling permanently in New France. He was first and foremost a career soldier. On 10 Feb. 1761 he was promoted colonel of infantry and received a gratuity of 3,000 livres for his services. Lévis had warmly recommended this promotion, and earlier Montcalm had asked for it with the utmost insistence. Both of them had spoken very highly of Lapause, as had André Doreil*, the financial commissary of wars in New France. Like many officers who though meritorious came from the gentry and had no fortune, he depended on the king's favour. Lévis said of him: "I think it for the good of the service to put him in the way of the most important posts and not leave him idle, since he is fit for any employment for which he may be wanted. He has the experience, abilities, and birth to merit a regiment, but not the means to buy one." In April 1761 Lapause was made an additional supernumerary colonel. In 1770 he became a brigadier and received a pension of 1,000 livres from the order of Saint-Louis. He seems to have ended his career in an organizing capacity, since he was posted in 1780 to Saint-Omer, France, as assistant chief of army staff to engage in work on the canal.
Some years later Lapause would seem to have received the title of count and the rank of major-general; he then retired to his estates, dividing his time between his property at Beaune and his house at Pézenas, where he died on 9 March 1804.
The ANQ's Rapport has published the manuscripts of Jean-Guillaume Plantavit de Lapause de Margon in three parts: "Les 'mémoires' du chevalier de La Pause," 1932–33: 305–97; "Mémoire et observations sur mon voyage au Canada," 1931–32: 3–46; and "Les 'papiers' La Pause," 1933–34: 65–231. Arch. municipales, Pézenas, France, État civil, Pézenas, 14 août 1721. AD, Hérault (Montpellier), État civil, Pézenas, 9 mars 1804. [L.-A.] de Bougainville, "Le journal de M. de Bougainville," A.[-E.] Gosselin, édit., ANQ Rapport, 1923–24. Coll. des manuscrits de Lévis (Casgrain), vols. 1–7, 10–12. [André] Doreil, "Lettres de Doreil," Antoine Roy, édit., ANQ Rapport, 1944–45. "Mémoire du Canada," ANQ Rapport, 1924–25. Thomas Chapais, Le marquis de Montcalm (1712–1759) (Québec, 1911).
© 1983–2023 University of Toronto/Université Laval
Image Gallery

Cite This Article
Jeannine Pozzo-Laurent, "PLANTAVIT DE LAPAUSE DE MARGON, JEAN-GUILLAUME," in Dictionary of Canadian Biography, vol. 5, University of Toronto/Université Laval, 2003–, accessed September 26, 2023, http://www.biographi.ca/en/bio/plantavit_de_lapause_de_margon_jean_guillaume_5E.html.
The citation above shows the format for footnotes and endnotes according to the Chicago manual of style (16th edition). Information to be used in other citation formats:
| | |
| --- | --- |
| Permalink: | http://www.biographi.ca/en/bio/plantavit_de_lapause_de_margon_jean_guillaume_5E.html |
| Author of Article: | Jeannine Pozzo-Laurent |
| Title of Article: | PLANTAVIT DE LAPAUSE DE MARGON, JEAN-GUILLAUME |
| Publication Name: | Dictionary of Canadian Biography, vol. 5 |
| Publisher: | University of Toronto/Université Laval |
| Year of publication: | 1983 |
| Year of revision: | 1983 |
| Access Date: | September 26, 2023 |