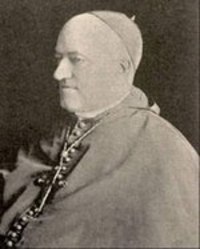 Source: Courtesy of Wikimedia Commons
POWER, THOMAS JOSEPH, Roman Catholic bishop; b. 10 Dec. 1830 near New Ross (Republic of Ireland), son of Martin Power, a publican, and Catherine Sutton; d. 4 Dec. 1893 in St John's.
Thomas Joseph Power was born into a prosperous family from Rosbercon near New Ross in County Wexford. He received his education at the monastery school of St Patrick's at Tullow, Carlow College (1843–53), the University of London (where he received a ba in 1850), and the Irish College in Rome (1853–55). He was ordained deacon in Rome on 4 June 1854 and priest six days later. The young cleric was present at the definition of the dogma of the Immaculate Conception on 8 December that year. He served for a few months as a chaplain to Dr Charles McNally, the bishop of Clogher, and then in June 1855 accompanied Paul Cullen, archbishop of Dublin, back to Ireland. On 10 August Power became a chaplain in the Dublin penitentiary and on 5 February the following year one of the assistants at the pro-cathedral on Marlborough Street. Upon the death of Canon Thomas Pope in July 1856, Power succeeded him and was charged with performing marriages and baptisms in the large urban parish. On 9 Aug. 1859 he was appointed president of the new Holy Cross seminary at Clonliffe (Dublin), a position he held until his consecration as bishop in 1870.
After the death of Bishop John Thomas Mullock* in March 1869, the see of St John's, Nfld, had remained vacant for more than a year. The Irish Franciscans lobbied hard to continue their unbroken line as vicars apostolic and bishops of Newfoundland since 1784, but Power, a secular priest and protégé of Cardinal Cullen, was elected to the see on 8 May 1870. He was consecrated as third regular bishop of St John's on 12 June in Rome by the Irish cardinal. The next day the new bishop took his seat in the first Vatican Council, and on 18 July he voted for the dogma of the infallibility of the pope. Cullen urged Power to leave soon for Newfoundland in order to correct what the cardinal perceived to be intolerable conditions among the clergy there, conditions that had developed because of the absence of episcopal leadership in St John's. After a brief visit to Dublin, Power arrived in Newfoundland on 9 September.
Throughout his episcopate the bishop was not as strongly engaged in politics as his predecessors Michael Anthony Fleming* and Mullock because responsible government had been granted to Newfoundland in 1855, thus fulfilling their ambitions for their Irish flock, who now were more securely represented and had greater access to elected office and the power that came with it. Also Power's irenic character inclined him less to controversy. Whereas the first three Roman Catholic vicars apostolic and titular bishops in Newfoundland, James Louis O'Donel*, Patrick Lambert*, and Thomas Scallan*, had sought to appease the British colonial administration at any cost, and their successors, Fleming and Mullock, had been motivated by a nationalist fervour to achieve responsible government through the Liberal party, the episcopate of Power can best be characterized as the rule of a benign ultramontane who sought to secure the presence of the Roman Catholic Church on the island by solidifying it internally. Power himself, he records in his diary, voted in the 1873 election for the government of Protestant Charles James Fox Bennett*. He entered into public discussions on only two occasions. On the first, in 1873–74, he tried unsuccessfully to obtain the appointment of Irish-born lawyer James Gervé Conroy* as magistrate of St John's. Then in 1878 Power publicly exonerated Roman Catholics after a Catholic-Orange disturbance, the so-called Kelligrews soirée, and protested to Governor Sir John Hawley Glover* about police inactivity during the fracas. He did maintain an interest in the economic development of the island but without political agitation.
Power's significance lies almost entirely in the ecclesiastical field. In 1875 the bishop brought the Irish Christian Brothers to Newfoundland and placed them in charge of St Bonaventure's College [see John Luke Slattery*] and the schools of the Benevolent Irish Society. Under his episcopate the religious congregations of the Sisters of Mercy and Presentation Sisters expanded and were introduced to parishes outside St John's. In religious matters, while staying well within the confines of 19th-century other-worldly piety, Power showed a great veneration for St Francis de Sales and had been known since student days in Ireland for his rhetorical abilities and exquisite taste in all matters liturgical. It was less the anti-Protestant fervour of St Francis de Sales than his vision of a union of the contemplative with the active life that shaped Bishop Power's piety. During his episcopate the cathedral (now a basilica) in St John's, the demonstrable presence of Roman Catholicism in the island, was renovated; a monastery for the Christian Brothers, Mount St Francis, erected; and two orphanages, Belvedere for girls and Villa Nova for boys, as well as many churches and schools, built.
Although the bull accompanying Power's consecration in 1870 had expressed the intention of the Holy See to establish Newfoundland soon as a separate ecclesiastical province, this promise remained unfulfilled during his lifetime. St John's and Harbour Grace continued to be only bishoprics, under the immediate supervision of Rome. Though free from any suffragan obligations to Quebec or Halifax, their bishops were required to attend the synods of the archdiocese of Halifax, an obligation largely ignored by the Newfoundland episcopate. During Power's administration two prefectures apostolic, those of St George's and Placentia, were established in 1870. Placentia was placed under the care of the bishop of St John's but became defunct in 1891, whereas St George's was elevated to a vicariate apostolic the following year, when its prefect, Michael Francis Howley*, became a titular bishop.
In 1893, the year of his death, Power received Thomas Brennan as auxiliary bishop. Brennan, the urbane first bishop of the diocese of Dallas, Texas, had been removed for cause on account of financial mismanagement. That he would not succeed Power in Newfoundland was made certain by a note of protest sent to Rome by the local clergy, who were aware of the reasons for Brennan's removal from Dallas. After Bishop Power's death from complications associated with severe bronchitis, the see of St John's remained vacant for a year. It was filled, immediately after the disastrous bank crash and near collapse of the Newfoundland economy in 1894, by Howley, Power's one-time secretary and the island's first native-born bishop. Under Howley the diocese in 1904 finally became an archiepiscopal see and Newfoundland an independent ecclesiastical province.
[Primary sources for Thomas Joseph Power's life and thought include his diary for 1877–78 (especially the autobiographical "Memoranda" which he drew up on 22 Nov. and 1 Dec. 1877), his pastoral letter of 10 July 1871, and his Lenten epistles of 1881 and 1893, all in his papers at the Arch. of the Archdiocese of St John's. Among his correspondence, the following letters and other documents deserve special mention: Cyrus Field to Power, 30 May 1873; Power to Glover, 22, 24 Jan., 16 Feb. 1878; Glover to Power, 23 Jan. 1878; S. J. Hill to Power, 7 May 1883; Frank Evans to Power, 10 Aug. 1887, all in Power's papers at the archdiocesan archives; and, at PANL, GN 1/3/A, Power to Glover, 10 Jan. 1874; Glover, notes of interview with Bishop Power, 26 Jan. 1878; and GN 1/3/A, 1878, file 19, 15 Feb. 1878. Power's association with Paul Cardinal Cullen is documented in Paul Cullen and his contemporaries: with their letters from 1820–1902, ed. Peadar MacSuibhne (5v., Naas, Republic of Ire., 1961–77), 3: 160–61; 4: 160; 5: 100, 111–12, 116.
A printed compilation by the Congregatione de Propaganda Fide of documents concerning the Roman Catholic Church in Newfoundland, Nota di archivio: sul reggime ecclesiastico dell'isola di Terra Nova (Rome, 1870; copy available at the Arch. of the Archdiocese of St John's), furnishes the administrative context of Power's episcopate. Contemporary newspaper accounts concerning him include the Newfoundland Colonist (St John's), December 1887, and the Newfoundlander, 9 Sept. 1870, 31 March 1871, 9 Dec. 1873, 2 April 1876; obituaries appear in the Evening Telegram (St John's), 4–6, 8 Dec. 1893, and the Times and General Commercial Gazette (St John's), 6, 9 Dec. 1893.
Secondary literature on Power is scant. The only general appreciation which deserves mention is J. G. Higgins, "Right Reverend T. J. Power, D.D., bishop of St. John's, 1870–1893" in The Basilica-Cathedral of St. John the Baptist, St. John's, Newfoundland, 1855–1980, ed. J. F. Wallis et al. (St John's, 1980), 125–32. A brief entry appears in Canadian R.C. bishops, 1658–1979, comp. André Chapeau et al. (Ottawa, 1980). The influence of the Christian Brothers, the Presentation Sisters, and the Sisters of Mercy on Newfoundland education is examined in M. P. Penney, "A study of the contributions of three religious congregations to the growth of education in the province of Newfoundland" (phd thesis, Boston College, 1980). Power's relationship with the Benevolent Irish Society is covered in Centenary volume, Benevolent Irish Society of St. John's, Newfoundland, 1806–1906 (Cork, [Republic of Ire., 1906?]), 127–66. h.r.]
© 1990–2023 University of Toronto/Université Laval
Image Gallery

Cite This Article
Hans Rollmann, "POWER, THOMAS JOSEPH," in Dictionary of Canadian Biography, vol. 12, University of Toronto/Université Laval, 2003–, accessed November 29, 2023, http://www.biographi.ca/en/bio/power_thomas_joseph_12E.html.
The citation above shows the format for footnotes and endnotes according to the Chicago manual of style (16th edition). Information to be used in other citation formats:
| | |
| --- | --- |
| Permalink: | http://www.biographi.ca/en/bio/power_thomas_joseph_12E.html |
| Author of Article: | Hans Rollmann |
| Title of Article: | POWER, THOMAS JOSEPH |
| Publication Name: | Dictionary of Canadian Biography, vol. 12 |
| Publisher: | University of Toronto/Université Laval |
| Year of publication: | 1990 |
| Year of revision: | 1990 |
| Access Date: | November 29, 2023 |