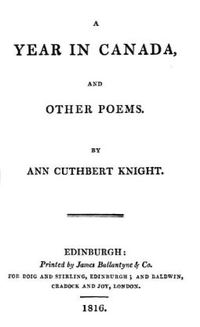 Source: Link
RAE, ANN CUTHBERT (Knight; Fleming), author and schoolteacher; b. 1788 near Aberdeen, Scotland, eldest child of John Rae and Margaret Cuthbert; m. first 3 July 1810 James Innes Knight; m. secondly 8 May 1820 James Fleming; d. 15 March 1860 in Abbotsford, Lower Canada.
The multiple names borne by Ann Cuthbert Rae during her lifetime are more concealing than revealing. Eventually, only male connections reveal her whereabouts: her merchant father in Aberdeenshire; her political economist, schoolmaster, and adventurer brother John Rae* in Upper Canada; her first husband, James Innes Knight, a merchant in Portsoy, Scotland, and possibly in Montreal; and finally her second husband, James Fleming, also a merchant in Montreal, himself overshadowed by his brother John*, a prominent businessman and author. The relative wealth of Ann's male connections may also have saved her from historical oblivion.
Ann was educated privately, as befitted a daughter of the middle class, and well, as Scottish Presbyterians seem to have demanded. Her emotional and intellectual attachment to her governess lasted into her adult years and was publicly admitted in the dedication of her second book of poetry, A year in Canada, and other poems, published in Edinburgh in 1816. This work and its predecessor, Home, which appeared in 1815 (not to be confused with a poem of the same title attributed to John Blackwood Greenshields, published in 1806), had both been inspired by a year-long trip to the Canadas commencing in June 1811. Was her husband on business or had the young couple decided to emigrate? Was it a delayed honeymoon or was Ann anxious to be away from her squabbling parents? With her six-week-old son, Robert, and perhaps a nursemaid, Ann set out to enjoy, observe, and record the seasons and regions of the Canadas. Both books of poetry were polished while she was back in Scotland in 1813 and 1814. In June 1815, leaving a year-old daughter, Jessie, in Scotland, Ann, her husband, and Robert crossed the Atlantic again with every intention, it would seem, of settling in Montreal.
Within four months of her arrival Ann had opened a school, one of the few paying occupations available to educated women in the early 19th century. Was the family in financial difficulties or did Ann already know of the illness that would claim her husband in June 1816? Her poem Home speaks movingly of the death of a spouse as a prime cause of domestic unhappiness. Or perhaps housewifery did not command her full attention and Montreal's lack of schools may have provided her with an opportunity. Not that she was an early advocate of women's rights: the few notes of scorn in Home are reserved for Mary Wollstonecraft, daring to rival "the rights of man."
As a young widow, Ann kept a boarding-school on Rue Saint-Vincent for at least four years, teaching "plain and fancy Needle Work, the English language, writing, arithmetic, geography and drawing" to some rather well-connected young ladies of Montreal. Jane Porteous received Home as a prize and the two Misses McDonald cost their fur-trading father, John*, £29 8s. 0d. in order to be housed, fed, educated, bonneted, shod, and laundered for three months. Perhaps the bonnets and shoes came from the dry-goods store of James Fleming near by on Rue Notre-Dame? Possibly Ann already knew Fleming; they were both from Aberdeenshire and the Scottish community in Montreal was quite small. That community, including schoolmaster Alexander Skakel*, who taught Ann's son, favoured her school with "flattering and liberal support" and in the spring of 1817 it moved to a larger house on the same street. There, more boarders were accommodated, an "Assistant from Britain" joined the existing staff, and history, music, and dancing were added to the program. But in 1820, when Ann married James Fleming in the Anglican garrison church at Chambly, the school seems to have disappeared, and Ann fades from view.
Ann's interest in teaching, however, appears to have been irrepressible. In the 1830s Mrs Fleming was again summoning students to class, this time at her seminary on Rue Saint-Jacques. There, presumably, she developed a series of school-books for young people and their teachers, with primers, readers, grammars, and teachers' guides to accompany them. She may even have tried the lessons out on her own children: a daughter may have been born in 1821; a boy, John Ramsay, later a lawyer in Aylmer and protonotary of the Superior Court of Lower Canada in Hull, was born in 1824; and an infant death may have occurred in 1832. Certainly the books – First book for Canadian children; Views of Canadian scenery, for Canadian children; The prompter; and Progressive exercises on the English language, to correspond with "The prompter" – were tested in theory and practice long before their publication in the 1840s. The teaching of grammar particularly intrigued Ann Fleming. In 1836 she had convinced a number of prominent people, including Anglican archdeacon John Strachan*, that her innovative method, concentrating on verbs, "will make it pleasant and agreeable to children, instead of being dull and irksome, as is at present too frequently the case." In 1843 she travelled to Hamilton and Kingston, Upper Canada, possibly at the instigation of her brother John, then headmaster of the Gore District Grammar School in Hamilton, to display her methods by teaching recalcitrant eight-year-old boys the delights of English grammar for a period of six weeks. She also spoke with educators, publicized her pedagogical innovations, and solicited favourable opinions of them. The Literary Garland (Montreal) assisted her by quoting the recommendations the First book had already received and by pointing out that the governor, Sir Charles Theophilus Metcalfe*, had subscribed for a number of copies of The prompter.
Whether Ann achieved the public acclaim she seems to have sought is unknown. With the exception of petitions presented to the Legislative Council and the Legislative Assembly in 1845 for financial aid to publish additional textbooks, and a brief tale published in the Literary Garland the same year, there is no further trace of her. Her adopted home inspired in her some of its earliest English-language poetry in the female voice and it provided her with an opportunity to earn her living, whether by necessity or by choice, in a manner additional to that of wife and mother. It coaxed out of her an early recognition that schoolbooks needed Canadian content. And perhaps it gave her the same type of life which she claimed for an old grandfather in one of her readings for young people, a life in "this country where he is now so much more comfortable than he would have been if he had remained in the land he was born in."
[The author wishes to express her appreciation to R. W. James and Brian Whittle of Ottawa for their assistance. s.m.t.]
Ann Cuthbert Rae is the author of Home: a poem (Edinburgh, 1815); A year in Canada, and other poems (Edinburgh, 1816); First book for Canadian children (Montreal, 1843); Views of Canadian scenery, for Canadian children (Hamilton, Ont., 1843); The prompter, containing the principles of the English language, and suggestions to teachers, with an appendix, in which are stated the opinions of different grammarians on disputed points (Montreal, 1844); Progressive exercises on the English language, to correspond with "The prompter" (Montreal, 1845); and of "The first ewe," Literary Garland (Montreal), new ser., 3 (1845): 460–62. Reviews of her works also appeared in Literary Garland, new ser., 2 (1844): 144, 366.
ANQ-M, CE1-65, 8 mars 1820; CE2-23, 17 mars 1860. ASQ, Fonds Viger–Verreau, Sér.O, 01-C. GRO (Edinburgh), Aberdeen, reg. of births and baptisms, 4 Jan. 1789; reg. of marriages, 3 July 1810. McCord Museum, John McDonald of Garth, accounts. PAC, RG 31, A1, 1831, 1842, 1851, Montreal. Can., Prov. of, Legislative Assembly, Journals, 1844–45; Legislative Council, Journals, 1844–45. Montreal Gazette, 9 Oct. 1815, 5 Jan. 1836. Montreal Herald, 1 March 1817. Montreal directory, 1819, 1843–44. Morgan, Bibliotheca Canadensis, 125. R. W. James, John Rae, political economist; an account of his life and a compilation of his main writings (2v., Toronto, 1965). Lit. hist. of Canada (Klinck et al.; 1965). V. B. Rhodenizer, Canadian literature in English ([Montreal, 1965]).
© 1985–2023 University of Toronto/Université Laval
Image Gallery

Cite This Article
Susan Mann Trofimenkoff, "RAE, ANN CUTHBERT," in Dictionary of Canadian Biography, vol. 8, University of Toronto/Université Laval, 2003–, accessed December 5, 2023, http://www.biographi.ca/en/bio/rae_ann_cuthbert_8E.html.
The citation above shows the format for footnotes and endnotes according to the Chicago manual of style (16th edition). Information to be used in other citation formats:
| | |
| --- | --- |
| Permalink: | http://www.biographi.ca/en/bio/rae_ann_cuthbert_8E.html |
| Author of Article: | Susan Mann Trofimenkoff |
| Title of Article: | RAE, ANN CUTHBERT |
| Publication Name: | Dictionary of Canadian Biography, vol. 8 |
| Publisher: | University of Toronto/Université Laval |
| Year of publication: | 1985 |
| Year of revision: | 1985 |
| Access Date: | December 5, 2023 |