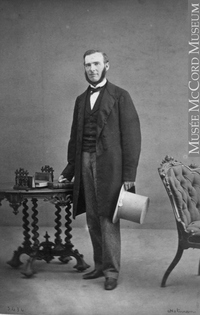 Source: Link
RENFREW, GEORGE RICHARD, businessman; b. 9 Feb. 1831 at Quebec, son of Thomas Renfrew, a grocer, and Mary Ann Jane Henderson; m. there 27 March 1855 Eliza Jane Tweddle, and they had three sons and three daughters; d. 4 Sept. 1897 in Shipley, England.
In 1852 George Richard Renfrew became a partner of John Henderson, a Montreal businessman who had started out as a hatter and furrier at Quebec around 1843 and then joined forces with his brother William Simpson to open a store on Rue Buade, under the name of W. S. Henderson and Company. When William withdrew from the business in 1852, John, now its sole financial backer, brought Renfrew and V. H. Marcou into partnership. In March 1862 the firm became Henderson, Renfrew and Company. In anticipation of his retirement Henderson progressively transferred his interests to Renfrew and Marcou. Between 1864 and 1867 his partners became the chief shareholders of the enterprise, which took the name Renfrew and Marcou. In 1871 it had a fixed capital of $100,000 and a production worth $300,000. With 65 employees, it was larger than its closest competitors, such as Jean-Baptiste Laliberté. Between 1875 and 1878 Marcou withdrew and the firm became known as George Richard Renfrew and Company. Renfrew's principal partner at that time was his cousin John Henderson Holt, who had been hired as a clerk in 1867.
In July 1876 Renfrew's personal fortune was estimated at $184,000 and he had invested $80,000 in his business. His financial portfolio was highly diversified. He held $22,000 in shares in the Bank of Montreal and $11,500 in those of the Stadacona Bank. He also held $5,000 worth of shares in the furniture factory of William Drum. In addition, he had invested in shipping, mainly in the Quebec and Gulf Ports Steamship Company and the Quebec and Levis Ferry Company. Later he had interests in public utilities, including the Montreal Telegraph Company, and in the industrial sector, for example $18,000 in shares in the Pullman Palace Car Company.
During the 1880s and 1890s Renfrew made new investments. He was especially interested in the textile industry and in 1881 had a hand in founding the Canada Worsted Company, a cotton and woollen mill. In 1883 he contributed to the subscribed capital of the Riverside Worsted Company, a woollen mill, and he became a member of its board of directors in 1886, when the firm was renamed the Quebec Worsted Company; the factory was destroyed by fire in 1891. At the time of his death he held 15 shares in the Montmorency Cotton Mills Company, a textile plant built on the site of George Benson Hall*'s old sawmill at Beauport.
Renfrew's investments in utilities constituted a substantial part of his portfolio. At the end of his life he owned 400 shares in the Montreal Gas Company, 155 in the Sherbrooke Gas and Water Company, 131 in the Montmorency Electric Power Company, 82 in the Quebec and Levis Ferry Company, 44 in the Quebec Steamship Company (formerly the Quebec and Gulf Ports Steamship Company), and 21 in the Quebec Gas Company. The remainder of his holdings consisted of securities in banking and insurance: 346 shares in the Quebec Bank, 25 in the Caisse d'Économie Notre-Dame de Québec, and 150 in the Quebec Fire Assurance Company.
Renfrew also speculated in personal loans. Between 1879 and 1888, for example, he lent $11,900 to private individuals. This activity increased during the last years of his life. From 1890 to 1897 he advanced a total of $62,300 to various people including Ernest Pacaud* and Charles-Antoine-Ernest Gagnon*.
George Richard Renfrew and Company began a period of spectacular growth early in the 1880s. The company's assets soared from an estimated $75,000 to $100,000 in 1878 to between $400,000 and $500,000 by 1893. There were several reasons for this growth: the enterprise had integrated its production and distribution activities, and it controlled both the sources of supply in furs and the wholesale and retail sales of its products. Renfrew obtained furs from a number of countries, including Russia, but he also bought direct from hunters and trappers in Labrador and along the north shore of the St Lawrence. His success stemmed mainly from the system of sales promotion he had developed as well as from the outlets he had secured. He presented his collections of furs at various exhibitions, especially the one held at London, England, in 1886, and that year he became a purveyor by appointment to the royal family. At the same time he found a much wider clientele for his products, which he sold not only in Great Britain and Canada but also in the United States. This growth led to the enlargement of his shop and to the opening of a store in Toronto in 1889, no doubt to consolidate the company's position in the Canadian and American markets. Although economic conditions were difficult in the 1890s, the company remained financially sound; in 1896 its capital was valued at between $400,000 and $500,000. It was only after Renfrew's death that the firm showed a decrease in assets, which had fallen to between $250,000 and $300,000 by 1899.
When he died, Renfrew's estate was sizeable, if a short item in La Semaine commerciale placing it at $1,250,000 is to be relied upon. But, according to L'Événement, its value was close to $600,000, while the Monetary Times believed it would be worth no more than $300,000. Apart from the securities already described, Renfrew left his family some $30,700 in accounts at the Quebec Bank and the Caisse d'Économie de Notre-Dame de Québec. He left various properties as well, including his shop, a residence on Rue Sainte-Anne purchased in 1895, a farm in Markham Township in Ontario, and a few properties in Manitoba. He also bequeathed $30,000 to each of his six children, as well as substantial sums to anglophone charitable institutions in Quebec.
George Richard Renfrew's son Allan Edmund and John Henderson Holt took over the management of George Richard Renfrew and Company shortly after the death of its founder. They invested $300,000. Holt was the general manager and Renfrew was manager of the Toronto branch. In 1900 the firm became Holt, Renfrew and Company. During the first decade of the 20th century it had four clothing factories located at Quebec, Montreal, Toronto, and Winnipeg. The head office in Quebec alone occupied an area of 65,000 square feet and had 200 employees. The company's total work-force was estimated at more than 500. It continued to import some of its furs directly from Russia and Germany but preferred local supplies, which came from its silver-fox farm on the outskirts of Quebec and from trappers and hunters of the north shore. Its market was international, since the company was represented in London by prestigious shops. It was also extremely popular at Quebec, where it had set up a public zoo in the park at Montmorency Falls. In 1908 its authorized capital was raised to $1,000,000 when it was incorporated by the federal government. At this time John Henderson Holt became president and Allan Edmund Renfrew vice-president.
AC, Québec, Minutiers, William Bignell, 27 sept. 1843; 23 sept. 1868; 10 janv. 1876; 14 févr. 1878; 21 mai 1879; 27 Oct. 1880; 31 janv., 27 déc. 1884; 12 févr. 1886; E. G. Meredith, 26 janv. 1888; 17 févr. 1892; 7 févr. 1895; 24, 29 sept. 1897; 28 févr. 1898; 21 mars 1899; L.-P. Sirois, 7 oct. 1890; 2 oct. 1891; 9 mars, 18 août 1892; 5 janv., 17 août 1893; 10 janv., 6 mars, 17 déc. 1894; 24 janv., 8–9 mai, 1er août 1895; 5 juin, 3 juill. 1896; 11 févr. 1897. ANQ-Q, CE1-68, 27 mars 1831, 27 mars 1855. Baker Library, R. G. Dun & Co. credit ledger, Canada, 8: 3, 262. Holt, Renfrew and Co. Arch. (Quebec), "Holt Renfrew milestones." Holt, Renfrew and Co. Arch. (Toronto), "Register of events (1886–1901)." NA, RG 31, C1, 1871, Quebec. Bradstreet Commercial Report, ed. John Bradstreet (New York), 1864, 1867, 1875, 1878, 1883, 1885, 1887, 1889, 1891, 1893, 1896, 1899. L'Électeur, 13–14 févr. 1891. L'Événement, 21 Oct. 1897. Monetary Times, 10 Sept. 1897, 26 Aug. 1898, 9 March 1900. La Semaine commerciale (Québec), 10 sept., 22 oct. 1897. Jean Benoit, "Le développement des mécanismes de crédit et la croissance économique d'une communauté d'affaires; les marchands et les industriels de la ville de Québec au XIXe siècle" (thèse de phd, univ. Laval, Québec, 1986). The book of Montreal, a souvenir of Canada's commercial metropolis (Montreal, 1903). Québec, Canada (Québec, [1911]). The storied province of Quebec; past and present, ed. William Wood et al. (5v., Toronto, 1931–32), 3: 6. Al Palmer, "Holt Renfrew encompasses old and new with Place Ville Marie branch," Gazette (Montreal), 26 Oct. 1962: 22.
© 1990–2023 University of Toronto/Université Laval
Cite This Article
Jean Benoit, "RENFREW, GEORGE RICHARD," in Dictionary of Canadian Biography, vol. 12, University of Toronto/Université Laval, 2003–, accessed October 2, 2023, http://www.biographi.ca/en/bio/renfrew_george_richard_12E.html.
The citation above shows the format for footnotes and endnotes according to the Chicago manual of style (16th edition). Information to be used in other citation formats:
| | |
| --- | --- |
| Permalink: | http://www.biographi.ca/en/bio/renfrew_george_richard_12E.html |
| Author of Article: | Jean Benoit |
| Title of Article: | RENFREW, GEORGE RICHARD |
| Publication Name: | Dictionary of Canadian Biography, vol. 12 |
| Publisher: | University of Toronto/Université Laval |
| Year of publication: | 1990 |
| Year of revision: | 1990 |
| Access Date: | October 2, 2023 |