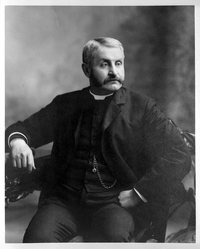 Source: Link
REXFORD, Elson Irving, teacher, Anglican clergyman, educational administrator, and office holder; b. 17 June 1851 in Bolton Township, Lower Canada, son of Orrin Rexford and Eliza Dimond; m. 13 Sept. 1882 Louisa Norris in Montreal, and they had five sons and three daughters; d. 21 Oct. 1936 in Westmount, Que.
The Rexfords were originally from New England and settled in the Eastern Townships of Lower Canada in 1794. Elson was raised on the family farm at South Bolton (Bolton-Est). His father was a partial invalid owing to problems with his knee, and from an early age Elson became increasingly responsible for the farm work. When the Church of England in Canada established a place of worship in the town in the 1860s, the family formally became members.
Elson's education began in the local school, which was located on the Rexford property, and his mother, who had received some teacher training, occasionally filled in as the instructor. He then attended schools in West Brome (Lac-Brome), Mansonville (Potton), and Knowlton (Lac-Brome) before entering Montreal's McGill Normal School in 1866. The next year he received an elementary diploma, and in 1868 he was awarded a model-school diploma, graduating first in his class.
In 1868–69 Rexford served as assistant teacher at a school on Rue Panet in Montreal, which was run by the city's Protestant Board of School Commissioners, and the following academic year he was named head teacher, with an annual salary of $900.
Rexford left his job to enter the arts course at McGill College in 1871, though he would teach Sunday school during his time as a student. He earned a ba in 1876 with first-class honours in mental and moral philosophy. In the same year he received a licentiateship in theology from the Montreal Diocesan Theological College, whose principal was Joseph Albert Lobley*. The college was established in 1873, and he had entered the institution as one of its first students. He was ordained a deacon in 1876 and assigned to St Luke's Church in Montreal the following January. After serving there for nearly two years, he developed unexplained knee trouble, which forced him to walk with crutches for the next two. Finding it difficult to make his way about his parish, he soon gave up active ministry to pursue a career in education. His association with the Church of England in Canada would be lifelong, however, and an emphasis on the importance of religious and moral instruction, which he considered synonymous, would become a hallmark of his work as an educator.
In 1878 Rexford was appointed junior master of the High School of Montreal, where he taught primarily mathematics. The following year he became assistant headmaster, a post he would hold until 1882. During this period he forged a reputation as an articulate and forceful speaker on education. He read papers at meetings of a local association of teachers and of the Provincial Association of Protestant Teachers, remaining involved with the latter for the rest of his life.
By the time Rexford moved to Quebec City in 1882 to succeed Henry Hopper Miles* as English secretary of the Department of Public Instruction, he was one of the best-known English educators in the province. Thus began his administrative career – one of founding, organizing, and systematizing. When he took up the position, standards for teacher training were low, external examinations did not exist, and there were no compulsory or recommended texts. Rexford established a course of study for all Protestant schools in 1884, along with suggested books (including moral instruction). Starting in 1887, he set up regular inspections and provincial examinations for superior schools. He believed that organization was of no avail if instructors were poorly trained. Instructors became increasingly qualified thanks to bursaries and improved teacher education. Five-day summer courses at normal schools were notably effective in this regard. Rexford was particularly concerned about rural education; he believed that, in addition to receiving adequate schooling, farm children should learn the place of agriculture in the life of the community. He endeavoured to consolidate small rural schools into larger schools because he was concerned that small ones could not offer the optional subject of French. He also worked to establish minimum salaries for teachers in rural areas. In 1888 he oversaw the revision and systematization of educational statutes and the codification of the regulations set by the Protestant committee of the Council of Public Instruction. An amendment two years later required Protestant schools to provide half an hour of non-denominational instruction per day in morals and scriptural history. By the end of Rexford's tenure as English secretary, in 1891, Protestant education in Quebec had been standardized.
Rexford left his post in Quebec City that year to become rector of the High School of Montreal, where he oversaw about 300 boys and received an annual salary of $3,000. He continued his association with the Department of Public Instruction as a member of the Protestant committee. It was a particularly difficult time for the high school: its building had been destroyed by fire on 28 Nov. 1890, and the controversy over the type of education to be offered, whether classical, scientific, or commercial, was in full spate. Rexford favoured offering all three options in the upper forms. In a speech delivered before the Dominion Educational Association on 8 July 1892, he declared: "The final end of education is the making of men and women.… We are educators to make men fit to be anything that they may be called upon to be." His main concern, however, was with the role of moral and religious instruction, which he insisted must be central. During his rectorship the high school became a very modern institution that reflected its leader's ideals. He made sure that lessons on morals and religion were given during each day's mandatory half-hour. Since he believed that physical well-being contributed to moral and mental health, he set up a physical-training program and sports teams. He also established an orchestra. Little was overlooked, and his methodical approach ensured that all aspects of school life received due attention, with discipline and school spirit among his chief preoccupations. He printed programs for assemblies and gave meticulous instructions to students, parents, and educators, even about such minor matters as the disposal of chalk ends. Although Rexford's position freed him from any regular teaching, he frequently sat in on classes and occasionally filled in for instructors, which helped him keep his finger on the school's pulse. Owing to his success, in 1896 he was also put in charge of the High School for Girls, which he headed until the end of his tenure as rector in 1903.
Rexford continued his own religious education during his rectorship, and in 1894 he was ordained a priest in the Church of England in Canada. Two years later he attended the conference of the International Sunday School Association in Boston, and he would serve on its lesson committee for 29 years. He also found time to complete his ma, awarded in the spring of 1903 by McGill University.
Rexford left his job at the high school in 1903 to become principal of the Montreal Diocesan Theological College, a position that he would hold from 1904 until 1928. He took a leading role in two developments of particular importance. The first was the establishment of the Joint Board of the Theological Colleges Affiliated with McGill University (Anglican, Congregational, Methodist, and Presbyterian) in 1912. This pioneering experiment gave theological education in Montreal and at McGill a distinctive character. Such ecumenical cooperation among theological schools would not become widespread in Canada, or throughout much of the English-speaking world, until the 1970s. Despite the academic nature and purpose of the joint board, the prime movers in its formation and ongoing activities were mostly laymen. The second important development at the college came in 1925, when it was given degree-granting powers by the Quebec legislature (it had previously been governed by those of the synod of the ecclesiastical province of Canada from 1891). Rexford had been a vigorous proponent of the measure, along with John Cragg Farthing*, the Anglican bishop of Montreal. Rexford's long experience in education enabled him to shepherd the bill to its successful conclusion.
Towards the end of the First World War the Khaki University was established in Britain by the Canadian government and the Young Men's Christian Association to assist soldiers in resuming their studies. As part of the project a theological college was established at Ripon, and the joint board was asked to provide the necessary faculty. Rexford was named dean and was joined by five other professors, two from the joint board. Granted leave from the Montreal Diocesan Theological College, he worked in England from November 1918 until the summer of 1919.
When Rexford returned to Canada, he fought tirelessly, but unsuccessfully, to expand the role of religious education through the Protestant committee until 1922, when it rejected a manual he had written on the topic, largely owing to the impracticalities of teaching religion. Although the formal program in Quebec's Protestant schools still included a half-hour per day of moral and religious instruction, educators had been given a great deal of leeway as to how they used the time, and many felt inept at teaching the topic, especially to groups of students from different denominations and, in some cases, faiths. As a result, by the early 1920s teaching religion had fallen almost completely out of practice in the Protestant system.
From 1916 to 1930 Rexford successfully opposed the nomination of Jewish commissioners to the Montreal Protestant school board [see Maxwell Goldstein]; although he welcomed Jewish students in schools, he was concerned that the Protestant nature of the board would be diluted if Jews became members.
Rexford retired from the Montreal Diocesan Theological College in 1928 with the title of principal emeritus. He continued to serve as a member of the Protestant committee until the year of his death. One of the first Protestants to be appointed to the province's Order of Scholastic Merit in 1931, he was awarded its third and highest class and a diploma of distinguished merit. He also continued his long association with councils of the Church of England in Canada and was a delegate to both the provincial and general synods. After serving as the first chairman of the church's General Board of Religious Education from 1918 to 1925, he continued on as a special adviser. He received honorary degrees from McGill University (lld, 1904), Bishop's College (dcl, 1910) in Lennoxville (Sherbrooke), and the Presbyterian College of Montreal (dd, 1917). In 1913 Bishop Farthing named Rexford an honorary canon of Montreal's Christ Church Cathedral.
Rexford died at his home in Westmount at the age of 85, having spent 68 years actively engaged in education in Quebec. Of all his contributions as an educator and organizer within the Protestant school system, he was no doubt proudest of his efforts, however unsuccessful, to promote moral and religious instruction.
Elson Irving Rexford is the author of Manual of the school law and regulations of the province of Quebec … (Montreal, 1890); "Our educational past and present," Educational Record of the Province of Quebec (Quebec), 10 (1890): 311–29; and Our educational problem: the Jewish population and Protestant schools (Montreal, [1923?]). He is the co-author, along with Isaac Gammell and A. R. McBain, of The history of the High School of Montreal ([Montreal, 1950]).
Ancestry.com, "Web: Montreal, Canada, non-Catholic marriage index, 1766–1899": www.ancestry.ca (consulted 20 March 2019). FD, Anglican Church (Knowlton, Que.), 21 Oct. 1936; Methodist Church (Bolton, Que.), 17 June 1851. J. I. Cooper, The blessed communion: the origins and history of the diocese of Montreal, 1760–1960 ([Montreal], 1960). G. E. Flower, "A study of the contributions of Dr. E. I. Rexford to education in the province of Quebec" (ma thesis, McGill Univ., Montreal, 1949). Oswald Howard, The Montreal Diocesan Theological College: a history from 1873 to 1963 (Montreal, 1963).
© 2023– University of Toronto/Université Laval
Image Gallery

Cite This Article
Richard Virr, "REXFORD, ELSON IRVING," in Dictionary of Canadian Biography, vol. 16, University of Toronto/Université Laval, 2003–, accessed December 6, 2023, http://www.biographi.ca/en/bio/rexford_elson_irving_16E.html.
The citation above shows the format for footnotes and endnotes according to the Chicago manual of style (16th edition). Information to be used in other citation formats:
| | |
| --- | --- |
| Permalink: | http://www.biographi.ca/en/bio/rexford_elson_irving_16E.html |
| Author of Article: | Richard Virr |
| Title of Article: | REXFORD, ELSON IRVING |
| Publication Name: | Dictionary of Canadian Biography, vol. 16 |
| Publisher: | University of Toronto/Université Laval |
| Year of publication: | 2023 |
| Year of revision: | 2023 |
| Access Date: | December 6, 2023 |