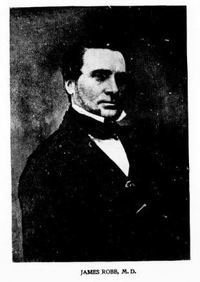 Source: Link
ROBB, JAMES, educator and scientist; b. 2 Feb. 1815 in Laurencekirk, Scotland, son of Dr Charles Robb and Elizabeth Paterson; d. 2 April 1861 in Fredericton, N.B.
Little is known of James Robb's early life. After his father died, the family moved to Stirling, and from there he entered the University of St Andrews. In 1831 he enrolled in medicine at the University of Edinburgh, but never seems to have engaged in regular practice after graduation. In 1835 he attended lectures in natural history at the University of Paris and he visited several famous seats of learning in France, Germany, Switzerland, and Italy, making himself known to eminent scientists in these places. He also began a collection of minerals, fossils, plants, and shells at this time. In 1836, on the recommendation of Thomas Thomson, Regius professor of chemistry in the University of Glasgow, he was appointed lecturer at King's College, Fredericton, and in September 1837 arrived at that institution as its first professor of chemistry and natural history, teaching botany, zoology, physiology, anatomy, geology, and mineralogy, as well as chemistry.
In order to acquaint himself with New Brunswick's natural history, Robb set out, soon after arrival, on a long journey by foot and canoe through the wilderness of the province. Geological, mineralogical, and other data were collected on this and later excursions, and before long he was able to describe and interpret their own natural environment to his students at the college.
Robb was the first person in the province to attempt a systematic botanical collection, which, although classified on Linnean principles, was valuable for its extent and accuracy. Soon after his arrival in New Brunswick he combined his own geological, mineralogical, and botanical specimens with a collection donated by Abraham Gesner to create a museum at King's College, which grew to be the finest in the Atlantic provinces. His willingness to undergo hardship in securing data and his painstaking methods of work brought him an enviable reputation as a scientific investigator. Before long he was considered a possible successor to Sir William Jackson Hooker in the chair of botany at Glasgow, but he felt that his engagements in New Brunswick prevented him from accepting.
In contrast with the intellectual ferment Robb left behind in Scotland, he found in Fredericton little interest in scholarly pursuits. Some decline in its intellectual tone had occurred as the older generation of loyalists passed away and the materialism of the timber trade came to predominate. In the college the students preferred cricket to chemistry, but gradually the "pestilent spirits" were weeded out, and the remaining students were brought up to the level of the best in Scotland.
Robb became a founder and first president of a learned society, the Fredericton Athenaeum, to which he contributed papers on literary, historical, and scientific subjects. He served as president of the Fredericton St Andrew's Society from 1848 to 1852, 1854 to 1856, and 1858 to 1861. Although a deeply religious Presbyterian, he was far from being a sectary. In 1840, after his close friend Archdeacon George Coster*, president of the college, had persuaded him of the rightness of episcopacy, Robb joined the Church of England, an event which enabled him to sit as a member of the college council. On 17 Dec. 1840 he married the archdeacon's daughter, Ellen, and they had eight children. Although Robb and the family into which he married moved in the highest circles in the colony and he occasionally took part in musical evenings at Government House, his duties and interests left him little leisure for recreation. He gave several encaenial addresses at King's College, as well as popular lectures to the vice-regal set, the judiciary, members of the legislature, and other officials. A course in mineralogy was requested by the citizens of Saint John for the Christmas recess of 1841. The college library had to be organized. The new lieutenant governor, Sir William Colebrooke, asked for a report on the recently invented electro-magnetic telegraph. The report, which Robb co-authored, resulted in telegraphic communication between the capital and Saint John. Finding the populace ill-informed, he published in 1849 the New-Brunswick almanac, with much useful information not otherwise obtainable. He kept records of temperatures and precipitation in Fredericton and other New Brunswick towns, and gave a course of lectures on agricultural chemistry under the patronage of Lieutenant Governor Sir Edmund Walker Head. When Fredericton became a city in 1848, he was appointed to the first city council, declining, however, to be reappointed in 1850.
Robb, like many others, was concerned about the crisis resulting from the repeal of the imperial timber duties and, in 1849, of the Navigation Acts, and recognized that too great a dependence on this single extractive industry had been responsible for a marked neglect of agriculture and domestic manufactures. The province was consequently vulnerable to sudden and devastating fluctuations in the imperial market. To investigate how these circumstances might be offset, the government engaged a British agricultural scientist, J. F. W. Johnston*, whom Robb accompanied as guide and adviser on a 2,000-mile journey over the province; to Johnston's 1850 report he contributed an important geological map which represented an advance over the work of his contemporary, Abraham Gesner, New Brunswick's provincial geologist. Despite some errors, Robb established the true stratigraphic position of the red saliferous and gypsiferous rocks covering large areas of New Brunswick, and confirmed Sir Charles Lyell's contention that such formations were older than the coal measures. Although he rarely entered into public controversy, Robb was able, through his expert knowledge, to support Gesner in a famous unsuccessful lawsuit in 1852 concerning the identity of the mineral albertite, contending correctly that it was not coal.
Believing that Johnston's report did not give a fair estimate of agricultural possibilities, Robb took a leading part in forming the New Brunswick Society for the Encouragement of Agriculture, Home Manufactures, and Commerce; he became the first president in 1850, and then for some years its corresponding secretary. He encouraged farmers all over the province, disseminating accurate scientific information through the society's publications and himself contributing several important papers, including one on manures indicative of a thorough acquaintance with the advanced scientific practices of other countries. He believed farming to be the true foundation of civil society, but he also urged the diversification of industry to render New Brunswick more nearly self-sufficient.
While thus occupied Robb carried on his work at the college, corresponded with other scientists in America and Europe, and attended the great railway convention in Portland, Maine, in 1850 [see John Alfred Poor*] and, whenever possible, the meetings of the American Association for the Advancement of Science.
Partly as a result of his work with agricultural societies, he concluded that the people of the province must acquire both a knowledge of the conditions of their existence and a pride in local initiative if prosperity and progress were to be ensured. Accordingly he secured authorization in 1854 from Joseph Marshall* d'Avray, the chief superintendent of education, to prepare a history of New Brunswick for use in the schools. He gathered information on the languages and traditions of the Indians, as well as copies of many documents relating to the French régime, but he died before completing the work. In 1856 he published Agricultural progress: an outline of the course of improvement in agriculture . . . with special reference to New Brunswick, and saw a provincial Board of Agriculture established, a measure for which he had long contended. Robb was appointed secretary of the board and issued in 1861 a report which embodied practical proposals as well as something of his social philosophy.
By the mid 1850s King's College was threatened with extinction by a faction in the assembly that wished to divert its funds to sectarian colleges [see Edwin Jacob]. In his encaenial address of 1856 Robb made an able plea for the maintenance of the college. But the college was reconstituted as the University of New Brunswick in 1859 and there is good reason to believe that, had he lived, he would eventually have been offered the presidency of the university. He had now become so closely identified with the practical affairs of the province that his chances of suitable employment elsewhere had lessened, and his concern for his family beclouded his last years.
The multiplicity of tasks Robb undertook exceeded his strength and despite his substantial achievements and the esteem in which he was held, hardships persisted throughout his life. It was barely possible to marry on his meagre salary, and he never altogether lost the feeling of isolation from other scholars working in the fields in which he was most deeply interested. Sir John William Dawson* paid tribute to Robb's competence as a geologist. At his death, from pneumonia, he was widely mourned, and William Brydone Jack*, a colleague and the man who knew him best, referred to his death as a public calamity.
[The principal primary source is UNBL, RG 62 (James and Ellen Robb, letters); there are also useful references in the College Council of King's College, minute book, II. Robb's own publications include Agricultural progress: an outline of the course of improvement in agriculture considered as a business, an art, and a science, with special reference to New Brunswick (Fredericton, 1856); papers and reports in the N.B. Soc. for the Encouragement of Agriculture, Home Manufactures, and Commerce, Journal (Fredericton), 1850–52; Oration delivered at the encænia in King's College, Fredericton . . . (Fredericton), 1839, 1849, 1852, 1856; and he helped compile N.B., Board of Agriculture, Annual report (Fredericton), 1861; and New-Brunswick almanac, 1849. The only published biographical sketch, by his successor as professor of chemistry and natural history, L. W. Bailey*, is "Dr. James Robb, first professor of chemistry and natural history in King's College, Fredericton, a sketch of his life and labours," N.B. Natural History Soc., Bull. (Saint John), no.XIV (1898–1904), 1–15. See also L. W. Bailey, The study of natural history and the use of natural history museums: an address delivered at the encænia of the University of New Brunswick, June 27th, 1872 . . . (Saint John, N.B., 1872); and New Brunswick Courier, 6 July 1861. An interesting reference to Abraham Gesner and the controversy over albertite is to be found in J. W. Bailey, Loring Woart Bailey; the story of a man of science (Saint John, N.B., 1925), 81–82. There is much valuable material in Frances Firth (Gammon), "The history of higher education in New Brunswick" (unpublished ma thesis, University of New Brunswick, Fredericton, 1945). The nature and occurrence of the mineral albertite are dealt with in L. W. Bailey, "On some modes of occurrence of the mineral albertite," RSC Trans., 2nd ser., VII (1901), sect.iv, 77–83. For the context of Robb's work see R. A. Jarrell, "Science education at the University of New Brunswick in the nineteenth century," Acadiensis, II (1972–73), no.2, 55–79. a.g.b.]
© 1976–2023 University of Toronto/Université Laval
Image Gallery

Cite This Article
Alfred G. Bailey, "ROBB, JAMES," in Dictionary of Canadian Biography, vol. 9, University of Toronto/Université Laval, 2003–, accessed October 4, 2023, http://www.biographi.ca/en/bio/robb_james_9E.html.
The citation above shows the format for footnotes and endnotes according to the Chicago manual of style (16th edition). Information to be used in other citation formats:
| | |
| --- | --- |
| Permalink: | http://www.biographi.ca/en/bio/robb_james_9E.html |
| Author of Article: | Alfred G. Bailey |
| Title of Article: | ROBB, JAMES |
| Publication Name: | Dictionary of Canadian Biography, vol. 9 |
| Publisher: | University of Toronto/Université Laval |
| Year of publication: | 1976 |
| Year of revision: | 1976 |
| Access Date: | October 4, 2023 |