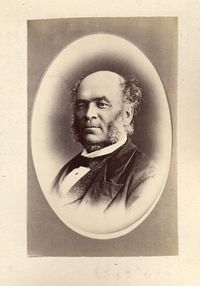 Source: Courtesy of Bibliothèque et Archives Nationales du Québec / 52327/1955701
ROLLAND (Roland), JEAN-BAPTISTE, printer, bookseller, businessman, municipal councillor, and senator; b. 2 Jan. 1815 at Verchères, Lower Canada, son of Pierre Roland, a farmer, and Euphrasine Donay; m. 7 Oct. 1839 Esther Boin at Saint-Laurent, near Montreal, Lower Canada, and they had four daughters and four sons; d. 22 March 1888 in Montreal.
Jean-Baptiste Rolland began life in modest circumstances. About 1828 his family moved to Saint-Hyacinthe where he received the rudiments of his education. In 1832 he left Saint-Hyacinthe and, according to tradition, made his way on foot to Montreal, arriving there virtually penniless. He succeeded, however, in finding a position as an apprentice typographer at La Minerve. In 1836 he went to the Morning Courier, also of Montreal, where he worked for four years as a journeyman. He then decided to become a printer and with John Thompson founded the firm of Rolland and Thompson, but in 1843 he separated from his partner to concentrate on the book trade.
It was really as a bookseller that Rolland made his mark. He had opened his first shop, on Rue Saint-Vincent in Montreal, in 1842 and had built up a market selling books door-to-door in the countryside. Seeking to broaden his field of endeavour, he began to publish numerous works, in particular school texts and religious books. This activity led him to attach a printing and binding establishment to the bookshop. Among other things, he printed L'Écho du Cabinet de lecture paroissial (Montreal) from 1861 to 1864, and then from 1880 to 1884 the Journal de l'Éducation (Montreal), undertaken with a view to carrying on the work of the Journal de l'Instruction publique (Quebec and Montreal), the official organ of the provincial department of education which had ceased publication in 1879 [see Pierre-Joseph-Olivier Chauveau]. Although Rolland benefited from an annual government subsidy of $500, he was forced to give up the journal when the income from the publication proved insufficient.
Moreover, by the mid 19th century a bookstore was not confined to selling books. Rolland developed an extensive business in paper and stationery items, some of which came from France. He also manufactured account books of all sizes, and he sold imported objects such as clocks, jewellery, and perfumes. At the beginning of the 1860s he described himself in directories as a "bookseller, printer, binder and importer of goods from France and Germany."
Thus during the 1850s Rolland became a prosperous businessman, with a good reputation. This period also marked an important stage in the expansion of his undertakings. Around 1855, finding his premises too cramped, he moved his bookshop into a much larger building on Rue Saint-Vincent. Four years later he formed a partnership with his eldest son, Jean-Damien, and the firm became known as J.-B. Rolland et Fils. Rolland brought his other sons successively into the partnership when they became old enough to join it. At the end of the 1850s he moved to a house he had built on Rue Saint-Denis, on Viger Square. At that time his assets, including his business and his properties, were appraised at $100,000.
His enterprises continued to develop during the next two decades. In order to ensure a better supply of paper, the Rollands decided in 1881 to manufacture it themselves. The family thus provides a good example of the businessman turning industrialist. They chose Saint-Jérôme as the site for their future mill and the town granted them an exemption from municipal taxes for a period of 25 years. Set up in 1881 as the Rolland Paper Company, the mill began the following year to produce fine quality paper which the family had previously had to import from Europe. This paper soon acquired an excellent reputation, and in 1885 the company won a silver medal at the international exposition in Anvers, Belgium. Rolland, who was already elderly when the firm was established, entrusted its management to two of his sons, Jean-Damien and especially Stanislas-Jean-Baptiste; the latter, who had settled at Saint-Jérôme, ran the factory.
In addition to his book and stationery business, and its extension, the manufacture of paper, Rolland took an active interest in land development and house building. He began to acquire holdings and to build dwellings on them in the 1850s and in time became increasingly interested in this kind of operation. He had rows of houses constructed on Saint-Denis and Berri, and helped make Viger Square a select place of residence for the French-speaking bourgeoisie around the middle of the century. He also owned other dwellings and some shops in the east end of Montreal. In addition, he made himself known as a real estate developer and builder in Hochelaga, a suburban Montreal municipality where his son Jean-Damien and his son-in-law Raymond Préfontaine* in turn held the office of mayor from 1876, and then that of municipal councillor after the annexation of Hochelaga to Montreal in 1883. Nor did Rolland ignore the financial world. He was on the board of directors of the Citizens' Insurance and Investment Company, and during the 1870s was one of the shareholders of the Banque Jacques-Cartier.
Rolland's involvement in politics was mainly at the local level. For some ten years he sat on the municipal council of Montreal as representative for the East Ward. First elected in 1861, he retained his seat until 1867; four years later he returned to council in place of Jacques-Alexis Plinguet, who had resigned, and he remained on it until 1875. In 1879, as a member of the Conservative party, he was given the responsibility of reorganizing the finances of La Minerve, the party's organ in Montreal. That year the federal government appointed him to the Montreal Harbour Commission, upon which he served for the rest of his life. The peak of his political career was his appointment to the Senate on 22 Oct. 1887. There he represented the division of Mille-Îles, succeeding Louis-Adélard Senécal, who had died 11 days earlier. Rolland was an officer of the militia for a period, and among other responsibilities to which he devoted himself were those of churchwarden of the parish of Notre-Dame at Montreal, president of the Association Saint-Jean-Baptiste of Montreal in 1879, and member of the Council of Arts and Manufactures of the province of Quebec from 1880 to 1883.
Rolland, a self-made man, illustrates well a type of social ascent characteristic of the 19th century. He began as a merchant, and later gained distinction by investing in manufacturing and by ensuring the continuance of his interests through his sons' association in them.
[The records of the Rolland Paper Company, held at the company's head office in Montreal, were being organized when this biography was being prepared. They will be opened to researchers in 1982 when the company will celebrate its centenary. p.-a.l.]
ANQ-M, État civil, Catholiques, Saint-François-Xavier (Verchères), 3 janv. 1815; Saint-Laurent, 7 oct. 1839. Baker Library, R. G. Dun & Co. credit ledger, Canada, 5: 3; 6: 244. Can., Parl., Doc. de la session, 1872–82 (reports from Canadian chartered banks). La Minerve, 23 mars 1888. La Presse, 22 oct. 1887, 22 mars 1888. Beaulieu et J. Hamelin, La presse québécoise, I: 57, 221. Borthwick, Hist. and biog. gazetteer, 441–42. Canadian biog. dict., I: 100–2. Dominion annual register, 1879: 356; 1880–81: 373; 1885: 166. C. E. Goad, Atlas of the city of Montreal from special survey and official plans showing all buildings & names of owners (2nd ed., 2v., Montreal, 1890). Montreal directory, 1853–64; 1881–88. Germain Cornez, Saint-Jérôme (2v., Saint-Jérôme, Qué., 1973–77), II: 15–16, 38, 213. Histoire de la corporation de la cité de Montréal depuis son origine jusqu'à nos jours . . . , J.-C. Lamothe et al., édit. (Montréal, 1903), 215–24, 757–59. André Labarrère-Paulé, Les laïques et la presse pédagogique au Canada français au XIXe siècle (Québec, 1963), 130–38, 144–47, 152–55. P.-A. Linteau, "Histoire de la ville de Maisonneuve, 1883–1918" (thèse de phd, univ. de Montréal, 1975).
© 1982–2023 University of Toronto/Université Laval
Cite This Article
Paul-André Linteau, "ROLLAND, JEAN-BAPTISTE," in Dictionary of Canadian Biography, vol. 11, University of Toronto/Université Laval, 2003–, accessed June 7, 2023, http://www.biographi.ca/en/bio/rolland_jean_baptiste_11E.html.
The citation above shows the format for footnotes and endnotes according to the Chicago manual of style (16th edition). Information to be used in other citation formats:
| | |
| --- | --- |
| Permalink: | http://www.biographi.ca/en/bio/rolland_jean_baptiste_11E.html |
| Author of Article: | Paul-André Linteau |
| Title of Article: | ROLLAND, JEAN-BAPTISTE |
| Publication Name: | Dictionary of Canadian Biography, vol. 11 |
| Publisher: | University of Toronto/Université Laval |
| Year of publication: | 1982 |
| Year of revision: | 1982 |
| Access Date: | June 7, 2023 |