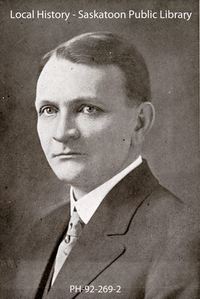 Source: Link
RUTHERFORD, WILLIAM JOHN, educator and civil servant; b. 7 Jan. 1868 in Potsdam, N.Y., son of John A. Rutherford and Esther Gray; m. 6 Dec. 1904 Anna Christena Bow in Winchester Township, Ont., and they had two daughters and a son; d. 1 June 1930 in Saskatoon, Sask.
In 1878, two years after the death of his Canadian-born mother, William Rutherford moved with his Scottish father and family from upstate New York to a farm in Dundas County, Ont., where he received his primary schooling. He graduated from the collegiate in Morrisburg, taught school for a time, and in 1901 enrolled at the Ontario Agricultural College in Guelph [see James Mills*]. There he served as dean of residence and in 1903 was awarded the bachelor of agricultural science degree. That same year he accepted a professorship in the department of animal husbandry at the Iowa State College of Agriculture and Mechanic Arts in Ames; in 1906 he became professor of agriculture at the Manitoba Agricultural College near Winnipeg.
In November 1908 Rutherford was named deputy commissioner (later deputy minister) of agriculture for Saskatchewan. In this capacity he took a major role in giving shape the following year to the newly established University of Saskatchewan at Saskatoon. His assessment of soil quality was the deciding factor in the selection of land for the campus, which included over 1,000 acres for working and experimental farms. In August 1910 his minister, William Richard Motherwell*, released him to become the university's first dean of agriculture and professor of animal husbandry. Rutherford's initial duties in organizing the college of agriculture consisted of developing its curriculum, advising on facilities and equipment, designing and stocking the working farm, and selecting additional instructors. He chose them with great care, insisting upon strong undergraduate training, research at the graduate level, and practical experience. Nor were moral character and leadership qualities overlooked.
The dean also assumed responsibility for the agricultural extension services previously provided by the province's Department of Agriculture. This work was designed to acquaint farmers with the latest in equipment and practices. Although he supported the application of machinery, he opposed the growing tendency to abandon horses in favour of purely mechanized farming. In addition to ploughing matches and demonstrations, Rutherford oversaw the "Better Farming Train" – a university on rails – which toured rural Saskatchewan annually during the summers of the late 1910s and early 1920s. He was particularly proud of the associate course instituted in 1914 to provide practical, non-degree training for youth seeking careers in farming. When John Walter Grant MacEwan*, who would later join Rutherford's department, visited the province's legislature while attending the Farm Boys' Camp at the Regina exhibition, he was mightily impressed by a speech given by the dean on the topic "The boy increased in wisdom and stature and in favour with God and man." At the university, MacEwan also recalled, Rutherford "knew his students and followed them in rugby and hockey and so on." Though frail-looking and crippled by a boyhood accident, he was himself an ardent curler and lawn bowler in Saskatoon.
Rutherford also undertook to improve the quality of livestock throughout Saskatchewan by importing various breeds of sheep, cattle, and horses, not only for the university but also to make purebred sires and dams available to breeders. This program met with great success. Rutherford was particularly noted for the Clydesdale stallions and mares he imported from Scotland, beginning in 1920. These horses and many of their offspring won prizes at Canadian and American expositions (Rutherford himself was a "fearless" judge at major international horse shows). So strong was his fondness for Clydesdales that the Canadian Percheron Horse Breeders' Association accused him of unfair bias in 1919.
Recognized as the founder of agrarian education in Saskatchewan, Rutherford, according to the Western Producer, had a "profound influence in shaping agricultural educational policies throughout the Dominion." His expertise was sought by professional associations, and he was appointed to a number of commissions of inquiry, including the Saskatchewan commissions on agricultural and industrial education (1912), farming conditions (1920), and grain (1928), and the wide-ranging but largely ineffectual federal investigation of the grain trade, including the Winnipeg Grain and Produce Exchange (1923).
In November 1929 Rutherford fell ill with a throat infection. After several recoveries and relapses, he was released from hospital a week before his death. On 1 June 1930 he suffered a fatal haemorrhage of the lungs. His funeral was held in Knox Presbyterian Church on the 5th and he was interred in Saskatoon's Woodlawn Cemetery. Expressions of sympathy, many of them acknowledging debts of gratitude, flooded in to his wife and children and the university. At its first meeting following Rutherford's death, the university's board of governors recognized "his deep sympathy with the children of the farmers in their ambition for a better education; his profound knowledge and understanding of the difficulties which the farmers have faced in their pioneering; his foresight and comprehensive grasp of the large issues involved in the transportation, marketing and financing of Canadian wheat as it moved to the markets of the world; his love of animals and his keen interest in breeding and improvement of livestock; and above all his integrity, sound judgment, loyalty and deep interest in everything pertaining to the well being of his fellow citizens." His son, John Bow, would have a distinguished career with the Dominion Bureau of Statistics and the United Nations. In 1972 W. J. Rutherford was posthumously inducted into the Saskatchewan Hall of Fame.
AO, RG 80-5-0-329, no.17904. Saskatchewan Arch. Board (Saskatoon), Clippings files, Biogs. Univ. of Sask. Arch. (Saskatoon), 2001.1 (president's office fonds), file B.99; RG M-1 (board of governors minutes), 14 June 1930. Leader-Post (Regina), 2 June 1930. Saskatoon Star-Phoenix, 2, 5 June 1930. Western Producer (Saskatoon), 13 Feb. 1930. Canadian annual rev. Canadian men and women of the time (Morgan; 1912). Canadian who's who, 1948. John Hawkes, The story of Saskatchewan and its people (3v., Chicago, 1924). Michael Hayden, Seeking a balance: the University of Saskatchewan, 1907–1982 (Vancouver, 1983). A. [G.] Levine, The Exchange: 100 years of trading grain in Winnipeg (Winnipeg, 1987). [J.] G. MacEwan, Heavy horses: highlights of their history (Saskatoon, 1986); The sodbusters (Toronto, [1948]). A. S. Morton, Saskatchewan: the making of a university (Toronto, 1959).
© 2005–2023 University of Toronto/Université Laval
Image Gallery

Cite This Article
Stanley D. Hanson, "RUTHERFORD, WILLIAM JOHN," in Dictionary of Canadian Biography, vol. 15, University of Toronto/Université Laval, 2003–, accessed June 9, 2023, http://www.biographi.ca/en/bio/rutherford_william_john_15E.html.
The citation above shows the format for footnotes and endnotes according to the Chicago manual of style (16th edition). Information to be used in other citation formats:
| | |
| --- | --- |
| Permalink: | http://www.biographi.ca/en/bio/rutherford_william_john_15E.html |
| Author of Article: | Stanley D. Hanson |
| Title of Article: | RUTHERFORD, WILLIAM JOHN |
| Publication Name: | Dictionary of Canadian Biography, vol. 15 |
| Publisher: | University of Toronto/Université Laval |
| Year of publication: | 2005 |
| Year of revision: | 2005 |
| Access Date: | June 9, 2023 |