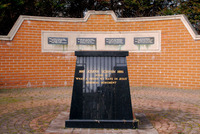 Source: Courtesy of Wikimedia Commons
SCRIVEN, JOSEPH MEDLICOTT, preacher and hymnist; b. 10 Sept. 1819 in Banbridge, County Down (Northern Ireland), son of John Scriven and Jane Medlicott; d. unmarried 10 Aug. 1886 near Bewdley on Rice Lake, Ont.
Joseph Scriven attended Addiscombe Military College near London, England, from 1837 to 1839, preparing for service in India. He withdrew for reasons of health, but in 1842 he received a ba from Trinity College, Dublin. About this time he adopted the faith of the Plymouth Brethren, to which his parents had earlier been converted: the group believed in the priesthood of all male believers and the sufficiency of grace for justification and redemption. In 1845 he joined Plymouth Brethren friends in Woodstock, Canada West. He taught there and later at Brantford, where for two or three years in the early 1850s he conducted a private school. He also held religious services and preached throughout the district, and evidently it was here that his famous hymn, "What a friend we have in Jesus," was first drafted.
From 1855 he lived in Huron County near what is now Clinton, going frequently to read the Bible to the men engaged in building the Grand Trunk Railway to Goderich, "getting small thanks for his pains." "A big man, of pleasant countenance," he was deeply respected locally for his charity, piety, lack of concern for his own needs, and adherence to truth. About 1857 he moved to Bewdley, near Port Hope, joining the household of a retired naval officer, Robert Lamport Pengelly, as tutor. He became engaged to Pengelly's niece, Eliza Catherine Roach, who became ill and died in August 1860.
Scriven gathered around himself a Plymouth Brethren congregation, making converts by his preaching and manner of life and "acting as a sort of spiritual adviser to numerous families." He distributed poems and tracts of his own in the neighbourhood, including his Hymns, printed for that purpose. In the late 1860s or early 1870s he left the Pengellys for a cottage in Port Hope, preaching in the streets and in the taverns where workmen lunched. He was dismissed by some as "only old Joe," but to many of the poor with whom he more and more spent his time he became known as "the good man" – a name still used for him 35 years after his death. His preaching style, with simple language and quiet, unassuming delivery, was remembered, and still more so his charities, though they were silently performed. For years he tended the cow of a Port Hope widow and carried the milk to her customers; he sawed wood for those who could not pay; he sold his watch, brought from Ireland, to replace someone's lost cow; and more than he could well spare he gave to the needy, while his family in Dublin, somehow informed, first changed their remittances into useful articles and then stopped them altogether. From facts such as these the legends grew.
His last days were clouded with ill-health and despondency. James Sackville, his friend and fellow-believer, found Scriven ill and brought him to his house. One hot night in 1886 Scriven left his bed without disturbing anyone, probably to drink at a nearby spring: some hours later, presumably having fainted or fallen, he was found dead in the spillway of Sackville's grist-mill, a few feet from the spring. He was buried in the Pengelly burial-ground in an unmarked grave between Eliza Roach and Commander Pengelly. In 1920, owing largely to the concern of his future biographer Lewis Frederick Clarry, a monument was erected over his grave, a mile south of Bewdley, under the patronage of Sir Robert Laird Borden*, Newton Wesley Rowell*, and William Lyon Mackenzie King*, and was unveiled by Ontario Premier Ernest Charles Drury*.
"What a friend" had appeared first, unsigned, in Horace Lorenzo Hastings' Social hymns: original and selected (1865), and with Charles Crozart Converse's tune was popularized by Ira David Sankey. It was first ascribed to its author in a further Hastings collection of 1886, the year of his death. In 1869 Scriven had published in Peterborough his Hymns and other verses, 115 in all, which did not include "What a friend." Seven of his texts, including four from Hymns, appear in What a friend we have in Jesus and other hymns by Joseph Scriven, with a sketch of the author, published by the Reverend James Cleland in 1895. In 1919 Edward Samuel Caswell* printed an early version of "What a friend" with the title "Pray without ceasing." Hymnbooks have followed the text taken by Cleland from a manuscript Scriven had given to Sackville, until the hymn book of the Anglican and United churches in Canada was published in 1971, in which the last stanza is somewhat altered.
Called by Caswell in 1919 "beyond question the best-known piece of Canadian literature," "What a friend" seems the only one of Scriven's hymns to have circulated widely – ironically, as almost all of his others are more firmly constructed, without emotional softness, and developed from biblical texts. They show him to have been a moderately capable writer in a fine tradition, though one that was dying in his day. He gave away at least three manuscript copies of "What a friend," but excluded it from the work he chose to publish: chance, by bringing the poem separately into print and then matching it with the tune titled from it "Friendship," has preserved for us an uncharacteristic representation of the work of this devoted and courageous man.
Joseph Medlicott Scriven's hymns can be found in his Hymns and other verses (Peterborough, Ont., 1869) and his What a friend we have in Jesus and other hymns by Joseph Scriven, with a sketch of the author, ed. James Cleland (Port Hope, Ont., 1895), as well as in Canadian singers and their songs: a collection of portraits, autograph poems and brief biographies, comp. E. S. Caswell ([3rd ed.], Toronto, 1925), 12, 186–87, 262; H. L. Hastings, Social hymns: original and selected (Boston, 1865); and The hymn book of the Anglican Church of Canada and the United Church of Canada ([Toronto], 1971). For information on Scriven and "What a friend we have in Jesus," see Protestant Episcopal Church in the United States of America, Joint Commission on the Revision of the Hymnal, The hymnal 1940 companion (3rd ed., New York, [1956]), 266, 554–55.
MTL, Biog. scrapbooks, XII: 77, E. M. Lindsay, "Reminiscences of Joseph Scriven." UCA, L. F. Clarry, "Joseph Scriven" (typescript).
Revisions based on:
Ancestry.com, "Dublin, Ireland, probate record and marriage license index, 1270–1858," Jane Medlicott and John Scriven, 1816: www.ancestry.ca (consulted 15 May 2019).
© 1982–2023 University of Toronto/Université Laval
Image Gallery

Cite This Article
Jay Macpherson, "SCRIVEN, JOSEPH MEDLICOTT," in Dictionary of Canadian Biography, vol. 11, University of Toronto/Université Laval, 2003–, accessed October 2, 2023, http://www.biographi.ca/en/bio/scriven_joseph_medlicott_11E.html.
The citation above shows the format for footnotes and endnotes according to the Chicago manual of style (16th edition). Information to be used in other citation formats:
| | |
| --- | --- |
| Permalink: | http://www.biographi.ca/en/bio/scriven_joseph_medlicott_11E.html |
| Author of Article: | Jay Macpherson |
| Title of Article: | SCRIVEN, JOSEPH MEDLICOTT |
| Publication Name: | Dictionary of Canadian Biography, vol. 11 |
| Publisher: | University of Toronto/Université Laval |
| Year of publication: | 1982 |
| Year of revision: | 2020 |
| Access Date: | October 2, 2023 |