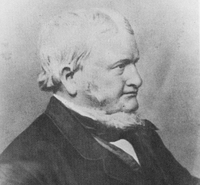 Source: Link
SEAMAN, AMOS PECK, industrialist, merchant, and agriculturalist; b. 14 Jan. 1788 in Sackville, N.B., the son of Nathan Seaman and Zena (Zeniah) Thomas; m. on 12 May 1814 Jane Metcalf, and they had seven sons and four daughters; d. 14 Sept. 1864 at his home in Minudie, N.S.
Amos Peck Seaman, an astute, turbulent, warm-hearted son of pre-loyalist settlers, came to Minudie in Cumberland County in 1796, "a barefooted runaway boy, in an old birch bark canoe with a hole in the bow." His mother had given him the rudiments of an education in their poor hut in the parish of Sackville. Not until he grew to manhood was he able, with his wife's help, to further his education in night school. Little is known about Seaman's early life. By 1810, with his brother Job as business partner, he began trading with Boston merchants. Taking advantage of the economic boom of the wartime period, he was soon carrying goods between Nova Scotia, New England, and the West Indies in vessels built in his own small shipyards.
In 1823 Seaman became a tenant on the Minudie estate which had been granted to Joseph Frederic Wallet DesBarres*, in 1765. Acting as agent for the DesBarres family, Seaman collected rents for the lands during 1825 and 1826. On the property, in addition to rich, fertile marshlands called the Elysian Fields, were excellent sandstone deposits for the production of grindstones; between 1826 and 1834 Seaman and his partner, William Fowler, leased all the quarries on the estate. However, the squatters, tenants, and trespassers on this land were used to the old, erratic ways of the absentee proprietor DesBarres. Hostility from rivals and tenants did not end when Seaman purchased the 7,000-acre estate in 1834, and he was involved in legal and extra-legal wrangles for many years. The principal point at issue was Seaman's claim to the valuable grindstone deposits on Ragged Reef, below the highwater mark. Shrewd and obstinate, he appealed his case to the highest authorities. Eventually the intervention of the colonial secretary, Lord Glenelg, in 1838 led to the confirmation of Seaman's claim.
Every year thousands of high-priced stones were shipped to American markets by Seaman's Atlantic Grindstone Company, and by other producers who leased quarry lots from him. By 1843 more than 100 men were employed in his quarries and stone factory alone, in addition to those in his ships and mills. In 1843 he built at Minudie the first steam-powered grist mill in Nova Scotia. Early in the 1840s coal mining also began on the Seaman estate. In 1847 Seaman boasted in his remarkable diary that he also had a "steam saw mill in full operation cutting 150 logs a day." Through the purchase of more land, as well as the reclamation of some 1,500 acres from the sea with dikes, he amassed what may have been the largest estate in the province.
From his mansion, Seaman watched over the largely Acadian community with the paternalistic eye of a semi-feudal lord, winning for himself the title of "king" of Minudie. He held numerous posts in local government, constructed a schoolhouse and two churches, one Protestant, one Catholic, for the Minudie people, and helped establish the first freemason's lodge in Cumberland County. In 1850, reporting to a commission of inquiry into the state of the Bay of Fundy fisheries, he called for the early completion of a railroad to the Canadas to make accessible the market "now shut to us by circuitous navigation."
It seems only a little arrogant for Seaman to have dropped his middle name, Peck, as being too small a measure for his capacities. Increased wealth and leisure made it possible for him to travel in Great Britain and the United States. His children, after home tutoring, were sent to King's College in Windsor or to English schools. Three of Seaman's children – one a lawyer and secretary to Charles Tupper* – predeceased him. Saddened by their loss, and by the apparent greed of other members of his family, Seaman complained in 1864:
I am Striving hard to Save the Ship.
abandend by more than half my Crew.
. . . the Stores I leve to others may do them harm
for as the[y] fall out by the way
what the End may be its hard to Say.
Within a few months the old "king" was dead. He left behind him a fiendishly complicated will. Designed to assure a fair and equitable division of his property, it caused a long succession of lawsuits which contributed to the decline of his business empire and of the Minudie community.
In re Seaman estate (n.p., 1866) (copy in N.S. Legislative Library, Halifax). M. H. Perley, Report upon the fisheries of the Bay of Fundy (Fredericton, 1851). G. N. D. Evans, Uncommon obdurate: the several public careers of J. F. W. DesBarres (Salem, Mass., and Toronto, 1969). C. B. Fergusson, "The old king is back": Amos "King" Seaman and his diary (PANS Bull., 23, Halifax, 1972). "The grindstone king," Amherst Daily News (Amherst, N.S.), 1 May 1963. "Smokestack on Ragged Reef," Family Herald and Weekly Star (Montreal), 23 March 1961.
© 1976–2023 University of Toronto/Université Laval
Image Gallery

Cite This Article
A. A. MacKenzie, "SEAMAN, AMOS PECK," in Dictionary of Canadian Biography, vol. 9, University of Toronto/Université Laval, 2003–, accessed October 3, 2023, http://www.biographi.ca/en/bio/seaman_amos_peck_9E.html.
The citation above shows the format for footnotes and endnotes according to the Chicago manual of style (16th edition). Information to be used in other citation formats:
| | |
| --- | --- |
| Permalink: | http://www.biographi.ca/en/bio/seaman_amos_peck_9E.html |
| Author of Article: | A. A. MacKenzie |
| Title of Article: | SEAMAN, AMOS PECK |
| Publication Name: | Dictionary of Canadian Biography, vol. 9 |
| Publisher: | University of Toronto/Université Laval |
| Year of publication: | 1976 |
| Year of revision: | 1976 |
| Access Date: | October 3, 2023 |