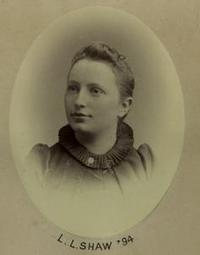 Source: Link
SHAW, LORETTA LEONARD, teacher, missionary, lecturer, and author; b. 19 July 1872 in Saint John, daughter of Arthur Neville Shaw, a carriage manufacturer, and Margaret E. Hilyard; d. there unmarried 29 July 1940.
Loretta Leonard Shaw was raised in Saint John, where she attended Victoria School, graduating with honours. From 1890 to 1894 she studied at the University of New Brunswick in Fredericton, and specialized in modern languages. She was awarded the J. D. Hazen Prize in English in 1891. In her senior year she received the Douglas Gold Medal for an English composition and a first-class honours ba in English, French, and German.
Shaw went to the Training School for Teachers in Cambridge, Mass., in 1895 and completed the course the following year, obtaining the highest marks achieved to that date in the Boston Board of High School Examinations. Although her certificate made her eligible for the principalship of a Boston high school, she taught at grammar schools in Cambridge until her return to Saint John in 1904.
Once home, Shaw explored ways to fulfil her desire for missionary work. Her family belonged to the Wesleyan Methodist Church, but it was the Missionary Society of the Church of England in Canada that accepted her for service in Japan, and she left the same year. By the following April she was stationed in Ōsaka, where she was appointed to the Bishop Poole Memorial School for girls. Before taking up her teaching duties she learned Japanese, finishing the course in one year instead of the usual two. The school, which accepted both boarders and day pupils, was said to have "a record of splendid success." Bishop Poole's enrolment increased from 50 to 500 students during Shaw's periods of service (1905–19, 1923–32) although education for girls was considered relatively unimportant in Japanese society. In the early 1920s she noted that "under the influence of the old ideals of the inferiority and subjection of women, they [Japanese men] arranged the curriculum on the assumption that girls have not the same mental capacity, power of development, or incentive to study as boys." She condemned the "unfair idea of lower standards for girls" as "unwise and unmoral."
In 1919 Shaw's career in Ōsaka had been interrupted for three years when she was loaned to the Church Missionary Society to work in the diocese of Mid-Japan. After her father's death in 1923 she returned to Canada on furlough. In Saint John she became very involved with the St Luke's Anglican Church branch of the Woman's Auxiliary of the Missionary Society to the Church of England in Canada [see Roberta Elizabeth Odell*]. She offered advice on matters such as study classes, and received donations from both St Luke's and St John's (Stone) Church, a common means of subvention for missionaries, who were often poorly paid.
Shaw was committed to representing Japanese society to Canada through lectures and articles and letters in publications that included the Mission World and the Living Message. During her Canadian furloughs she was in great demand as a speaker. In Saint John, she addressed organizations such as the United Women's Missionary Societies and the Natural History Society of New Brunswick, and delivered talks to groups in other provinces, among them the Canadian Club in Montreal. She expressed a desire "to bring greater friendship and greater understanding between the people of her own country and that of her adopted country." Her knowledge of politics, social concerns, and economic issues is evident in her many writings on current affairs in Japanese society, and on such specific issues as the advancement of women. In her book Japan in transition (1922), she stated that "the women of Japan owe a great debt of gratitude to the missionary societies" for their contribution to female education, and consequently to graduates' earning power. Historian A. Hamish Ion has argued that missionary teachers demonstrated to their students that there were options other than marriage: "Women could lead fulfilling lives as single individuals and … teaching was a worthwhile and pleasant occupation."
Shaw offered examples of Japanese culture to Canada through her donations to the Natural History Society of New Brunswick and to its successor, the New Brunswick Museum. These gifts included works of art, costumes, accessories, textiles, dolls, models, toys, coins, books, and photographs. In January 1924 some 150 of her objects, along with other Asian artifacts, were featured in a successful Oriental Exhibition in Saint John. This event was fundamental to establishing the society's collection of Asian material. The New Brunswick Museum holds more than 400 of the items acquired by Shaw. Most are of Japanese origin, but others came from countries that she visited when she was travelling between Japan and Canada. She stayed for several months in the Holy Land, and went to Manchuria (People's Republic of China), Russia, Norway, Germany, France, and England. Cumulatively, it is believed, she went around the world twice.
In 1932 Shaw was offered an opportunity to introduce Japan to western writing when she became head of the department for women's and children's literature at the Christian Literature Society of Japan. This was an ecumenical organization based in Tokyo that published "good wholesome" works intended for young people and distributed Christian magazines to counteract "translations of the worst European and American literature" with which, Shaw asserted, Japan was being flooded. During her residence in Tokyo, which lasted until 1939, a small act of generosity had far-reaching consequences. She gave a copy of Lucy Maud Montgomery*'s novel Anne of Green Gables to Hanako Muraoka, who had been a student at Tōyō Eiwa Jo Gakkō, the school for girls founded by the Woman's Missionary Society of the Canadian Methodist Church. Muraoka's translation of the book, published in 1952, engendered Japan's enduring fondness for the Canadian classic.
Early in 1939, in poor health and, like other foreign missionaries, conscious of the growing threat of war, Shaw returned to her homeland. On 29 July 1940 she died of cancer at the age of 68. She was buried in Saint John's Fernhill Cemetery, and remembered as a kind, understanding, and sympathetic person, esteemed, the Evening Times-Globe commented, "as a statesman in her knowledge of international relations and her ability to present clearly the causes underlying trends in international affairs in the East."
Loretta Leonard Shaw's most significant work is Japan in transition, (London, 1922; New York, [1922]). A Canadian edition was published in Toronto in 1923. Between 1905 and 1937 she also wrote many articles for Church of England publications, particularly the New Era (Toronto), Letter Leaflet (Toronto) and its successor, Living Message (Petrolia, Ont.), and Mission World (Toronto). A complete bibliography of Shaw's works is held in the Shaw file at the DCB offices.
The author wishes to acknowledge the significant contribution to this biography of Nicole Brouillet, curatorial assistant, N.B. Museum (Saint John). Special thanks are also due to the Univ. of N.B. Library, Arch. & Special Coll. (Fredericton), PANB, Anglican Church of Can., General Synod Arch. (Toronto), and Cambridge Hist. Soc. (Cambridge, Mass.).
PANB, RS 141 C5, F 19360, no.27845 (mfm.). Private arch., Andrea Kirkpatrick (Saint John), Dorothy Kealey, "Handwritten biographical notes, General Synod Archives" (n.d.). Univ. of N.B. Library, Arch. & Special Coll., MG H113. "Amazing progress in modernization of Japan described: Saint John woman, 20 years a missionary, gives fine address here," Telegraph-Journal (Saint John), 16 Dec. 1930. "By Japanese artists of note," Saint John Globe, 1 Feb. 1924. "Miss L. L. Shaw passes away in 69th year," Evening Times-Globe (Saint John), 30 July 1940. Biographical review … of leading citizens of the province of New Brunswick, ed. I. A. Jack (Boston, 1900). A. H. Ion, The cross and the rising sun (3v., Waterloo, Ont., 1990–99), 1. "Mie Muraoka's speech at the reception held by the Dept. of Tourism Parks in PEI in 1989": club.pep.ne.jp/~r.miki/speech_j.htm (consulted 5 Nov. 2012).
© 2014–2023 University of Toronto/Université Laval
Cite This Article
Andrea Kirkpatrick, "SHAW, LORETTA LEONARD," in Dictionary of Canadian Biography, vol. 16, University of Toronto/Université Laval, 2003–, accessed November 28, 2023, http://www.biographi.ca/en/bio/shaw_loretta_leonard_16E.html.
The citation above shows the format for footnotes and endnotes according to the Chicago manual of style (16th edition). Information to be used in other citation formats:
| | |
| --- | --- |
| Permalink: | http://www.biographi.ca/en/bio/shaw_loretta_leonard_16E.html |
| Author of Article: | Andrea Kirkpatrick |
| Title of Article: | SHAW, LORETTA LEONARD |
| Publication Name: | Dictionary of Canadian Biography, vol. 16 |
| Publisher: | University of Toronto/Université Laval |
| Year of publication: | 2014 |
| Year of revision: | 2014 |
| Access Date: | November 28, 2023 |