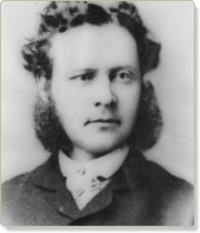 Source: Courtesy of Wikimedia Commons
SIMPSON, ROBERT, businessman; b. 16 or 17 Sept. 1834 in Speymouth, Scotland, son of Peter Simpson, general store owner, and Jane Christie Parmouth; m. 29 March 1859 Mary Anne Botsford in Newmarket, Upper Canada, and they had a daughter; d. 14 Dec. 1897 in Toronto.
Educated at a Scottish grammar school until the age of 16, Robert Simpson then apprenticed with an Elgin storekeeper. Upon arriving in Upper Canada in 1854, he worked as a clerk in the general store of D. Sutherland and Sons in Newmarket, a town which only recently had acquired the services of a railway. In October 1858, following the sale of the Sutherland business to William McMaster, Simpson and a fellow clerk, William Trent, son of a local farmer of some means, opened a small store there, retailing dry goods, groceries, hardware, boots, and shoes. To cope with excessive competition at a time of economic depression, the partners offered the lowest possible prices and, following a North American trend, announced they would do business only in cash. However, indications, including their purchase of local farm produce, suggest that most transactions continued on a credit basis. The partnership was dissolved in March 1862 and two months later Simpson entered another, with M. W. Bogart, who was regarded locally as a poor businessman. Bogart's involvement was underwritten by his father.
On 6 Dec. 1862 Simpson was afflicted by the first of several fires which throughout his career would damage or destroy his premises. The $1,000 loss on this occasion was covered by insurance and business resumed almost immediately. A second fire, on 19 Feb. 1864, however, inflicted greater damage and necessitated relocation in temporary quarters. This fire triggered the withdrawal of Bogart from the partnership on 9 March although his departure was largely due to his earlier business problems. Using the funds received from the insurance payment, Simpson liquidated the bulk of his debts with his long-time supplier, Thompson, Claxton and Company of Montreal, and independently re-established himself in Newmarket.
The 1860s, years of economic growth, were witness to something of a revolution in the urban retail industry and allowed even a rural merchant such as Simpson to claim an annual sales volume in 1866 of $60,000. In April 1867 he moved into what he considered "the largest and finest shop north of Toronto." By imaginative advertisements and handbills and flyers distributed throughout the countryside, he not only kept up with competition but improved his credit standing. The move by retailers during this period to obtain merchandise directly from suppliers and manufacturers in Great Britain may have been responsible for his visit to Scotland in the winter of 1868–69, his first since his arrival in Canada. Despite Simpson's obvious success, his health during his latter years in Newmarket appears to have given cause for concern and may have been related to a drinking problem.
A store fire of 29 Oct. 1870 destroyed stock valued at $40,000, most of it on consignment and much of it not covered by insurance. The Monetary Times criticized Simpson for irresponsibility and for carrying a stock vastly out of proportion to his annual volume of sales. According to the Times' report of the bankruptcy proceedings, there was "a most culpable carelessness in the conduct of his business": the journal stressed his heavy dependence on the credit system, for which the wholesalers received a large share of the blame. His accounting methods were slack but, as a local merchant stated, his "books were in no worse condition than those of any other retail trader throughout that section of the country."
After settling with his creditors for barely a third of his obligations, Simpson reopened his store almost immediately, first in rented quarters and later at his old stand. He continued operations until the summer of 1872, when he sold his stock-in-trade to his cousin James Simpson and moved with his family to Toronto. Some time in the winter of 1872–73 he opened a small dry-goods store with a staff of three clerks at 184 Yonge Street, just north of Queen, an area of the city beginning to attract the custom of those who normally shopped on King Street. Simpson's business in Toronto seems to have been conducted in partnership with his brother-in-law, Charles Botsford, at least until July 1879.
The increasing urbanization and industrialization of Toronto aided the steady progress of Simpson's retail store despite the fact that few advertisements appeared in Toronto newspapers. To augment this success, in the winter of 1879–80 Simpson, in partnership with his cousin James Simpson and another Scot, James Robertson, established a wholesale dry-goods business on Colborne Street. Whether this move was a response to tariff increases implemented under the federal government's National Policy is not known. At about the same time Timothy Eaton* also established a wholesale business in Toronto, both merchants thus following a trend to move from retail to wholesale business. However, because retailers were seeking direct channels of supply in Great Britain and Europe, they entered the wholesale industry at a time of diminishing returns. Simpson's wholesale venture met with only limited success; by 1885 it was operated as a retail as well as a wholesale outlet. Robertson withdrew from the partnership in 1886 and the death of James Simpson in November 1889 brought the enterprise to a swift end. Robert Simpson was then able to devote his attention to his original retail store, which in 1881 had moved into larger premises, at 174–76 Yonge Street, adjacent to Eaton's store.
In the summer of 1883 Eaton, needing larger premises, moved north to 190 Yonge but, indicative of the competition between these two men, he kept his old store locked and vacant for more than six months to ensure that Simpson could not move in and take advantage of the Eaton connection. Simpson was about the only store owner mentioned by Eaton in letters to his brother, which suggests that Eaton regarded him with perhaps more seriousness than some of his smaller competitors. Though competition was rampant among all dry-goods merchants in the 1870s and 1880s and though the two founders differed dramatically in personality (Eaton being a strict Methodist teetotaller, Simpson reportedly a heavy drinker), there is no indication of the intense rivalry that later existed between their stores. Both Eaton and his son John Craig* attended Simpson's funeral, and the flags of Eaton's store flew at half-mast that day.
Simpson's store, which by 1885 offered a growing variety of merchandise and employed nearly 60 clerks, was by the early 1890s operating as a full-fledged department store, retailing everything from dry goods to groceries and from patent medicines to furniture. Its success was largely a product of aggressive selling techniques and the adoption of a cash, one-price-only system at a time of increased demand for consumer goods.
In 1894 continued success allowed for the erection of a large, six-storey building, designed by Edmund Burke*, on the southwest corner of Yonge and Queen. One year later the third of the three catastrophic fires that ravaged Toronto's downtown completely destroyed this new building and temporary quarters had to be found. Early in 1896 the present building, a replica of the old but with several fireproof features, opened for business. The staff by this time comprised some 500 employees serving in 35 departments, a restaurant, and a well-organized mail-order department. In May the store was formed into a joint-stock company, the Robert Simpson Company Limited, with its founder as president. His sudden death on 14 Dec. 1897, at the age of 63 with no son to inherit the business, placed a heavy burden on his wife and his daughter, Margaret. The business was therefore sold in March 1898 for $135,000 to a syndicate of three Toronto businessmen, Harris Henry Fudger, Joseph Wesley Flavelle*, and Alfred Ernest Ames*.
AO, MU 307, Simpson to Buell, 15 April 1867. Baker Library, R. G. Dun & Co. credit ledger, Canada, 26: 195; 27: 136. CTA, RG 5, F, 1867–1900. GRO (Edinburgh), Speymouth, reg. of births and baptisms, Robert Simpson, record of birth, 17 Sept. 1834, recorded 1854. Daily Mail and Empire, 1867–1900. Evening News (Toronto), 3 April 1884; 17 Feb., 3 March 1885; 3 Jan., 1, 17 Feb. 1888. Globe, 1867–1900. New Era (Newmarket, Ont.), January 1855–December 1872. Toronto directory, 1867–1900. Merrill Denison, This is Simpson's; a story of Canadian achievement told in celebration of the 75th anniversary of one of her great institutions ([Toronto, 1947]). Hist. of Toronto.
© 1990–2023 University of Toronto/Université Laval
Image Gallery

Cite This Article
Joy L. Santink, "SIMPSON, ROBERT," in Dictionary of Canadian Biography, vol. 12, University of Toronto/Université Laval, 2003–, accessed November 29, 2023, http://www.biographi.ca/en/bio/simpson_robert_12E.html.
The citation above shows the format for footnotes and endnotes according to the Chicago manual of style (16th edition). Information to be used in other citation formats:
| | |
| --- | --- |
| Permalink: | http://www.biographi.ca/en/bio/simpson_robert_12E.html |
| Author of Article: | Joy L. Santink |
| Title of Article: | SIMPSON, ROBERT |
| Publication Name: | Dictionary of Canadian Biography, vol. 12 |
| Publisher: | University of Toronto/Université Laval |
| Year of publication: | 1990 |
| Year of revision: | 1990 |
| Access Date: | November 29, 2023 |