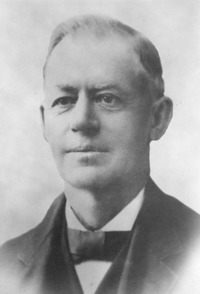 Source: Link
SLEEMAN, GEORGE, brewer, sportsman, and politician; b. 1 Aug. 1841 in St Davids, Upper Canada, son of John Sleeman and Ann M. Burrows; m. 7 Sept. 1863 Sarah Hill in Guelph, Upper Canada, and they had seven sons and five daughters; d. there 16 Dec. 1926.
John Sleeman immigrated from Cornwall, England, in 1836 and moved to Guelph in 1847. Educated in St Davids and Guelph, George Sleeman always had "big plans" for his father's small Silver Creek Brewery, which he joined in 1859 as general manager. Named a partner in 1865, he increased production by introducing steam power, adding a malthouse, and building a storage cellar; distribution was extended through a sales outlet in Dundas operated by his brother William. He added a porter to his father's ale and sold both at lower prices than their chief competitor, Thomas Holliday's Guelph Brewery.
By 1868, after Sleeman had taken over ownership following his father's return to St Davids, Silver Creek dominated the Guelph market. Sleeman's genius lay in innovation, such as his introduction of bisulphate of soda (a stabilizer and preservative) in 1874 and his invention that year of an attemperator that allowed greater control of the brewing process, lowered labour costs, and enabled him to make lager. As well, he vertically integrated all aspects of production and distribution. By 1890 he was the most highly capitalized brewer in Ontario, with outlets in 15 cities and towns from Sault Ste Marie to Quebec. Such development was enhanced by the province's growing population, the rise in beer consumption from 2.5 gallons per person in 1871 to 5.1 in 1893, and the spread of railways. In 1900 Sleeman, his wife, and three sons incorporated the operation as the Sleeman Brewing and Malting Company Limited.
George Sleeman was just as entrepreneurial in sports. He loved baseball, taking it up as a pitcher for the Maple Leaf Base Ball Club when the game was introduced to Guelph in 1863. The team quickly became a source of civic pride, with hundreds of fans following it to competitions in southern Ontario and the United States [see Thomas Goldie*]. In 1869 the Maple Leafs won the Canadian championship, defeating teams from Ingersoll and Woodstock in a three-day tournament in London. They would remain the dominant team in Ontario for another seven years. As a chief organizer and financial backer of the club – he was elected its president in 1874 – Sleeman was one of the earliest managers to import Americans to play; he kept them happy by giving them a share of the end-of-season surplus. These developments marked the beginning of professional team sports in Canada. Such a strengthened Maple Leaf team won a tournament in 1874 in Watertown, N.Y., which its organizers called "the non-professional championship of the world." Two years later Sleeman began to pay players salaries and encourage others to do the same in the newly formed Canadian Association of Base Ball Players, of which he was president. Ironically, these steps paved the way for the Americanization of the game and the competitive decline of the small-town clubs. After 1886, when Toronto and Hamilton joined the International League, Sleeman's team lost money and was disbanded. In 1999 he would be inducted into the Canadian Baseball Hall of Fame and Museum in recognition of his contributions.
Beyond baseball, Sleeman was prominent in the Guelph Turf Club, the Guelph Bicycle Club, and the Guelph Rifle Association, serving each as president, and he helped found the Royal City Curling Club in 1888. One of the first to link beer to sports, in the 1870s he sponsored (and occasionally pitched for) an amateur baseball team named after his brewery, the Silver Creek Club. He advertised that "Sleeman's lager is the best on the continent" in the turf club's racing programs and donated trophies to the curling club, the rifle association, and the Thanksgiving Day road races.
Ambition, the recognition that sports brought, and the need to protect his market against Prohibition propelled Sleeman into local politics. In 1876 he was elected a councillor for South Ward. When the town became a city in 1880 he was its first mayor, a position he held until 1882 and again in 1892 and 1905–6. As mayor he contributed to Guelph's growth as an industrial centre and was a strong proponent, during his third term, of bringing Ontario Hydro to Guelph [see Sir Adam Beck]. Though respected as a quiet, efficient financial manager, he could be flamboyantly combative when his business interests were at stake. In 1877, 1885, and 1889 he had led the forces against campaigns that sought to ban the local sale of alcohol. After a resounding victory in the referendum of 1877, the antis paraded behind a float bearing a man dressed as Gambrinus, the Greek god of beer. Sleeman danced along with a broom, proclaiming the sweep of the Prohibitionists out of Wellington County. Such displays, along with sports and politics, were not his only forums for recognition: he was prominent too as an Anglican, a numismatist, and a treasurer of the Oddfellows' Progress Lodge.
Sleeman's civic attachment and love for technology almost cost him his brewery. In 1894, on his own, he started an electric streetcar operation, the Guelph Railway Company, to emulate services installed in Berlin (Kitchener) and Brantford. In its first year he installed five miles of track and though he planned to run the line to other towns, no one else was prepared to invest; the system never realized enough revenue to pay off the costs of construction. In 1902 the banks took over not only the railway but also Sleeman's house and Silver Creek plant. The following year the family started a small, rival operation, the Springbank Brewery. The banks, however, discovered that they could not run the big brewery, now unionized, without him, and in 1906 they sold it back to George Sleeman and Sons Limited. He promptly merged the two breweries and operated them until Prohibition forced him to stop making beer in 1916.
Following an operation for an obstructed bowel, Sleeman died on 16 Dec. 1926, two weeks after the election of a provincial government committed to the controlled sale of alcohol. At the end of a month of frenzied trading in Toronto of brewery and distillery interests, Sleeman's Springbank Brewery Company Limited was sold to a Toronto law firm and a son, Henry Oscar, resumed its operations. In 1933 the company was purchased by the Jockey Club Brewery Limited, and the Sleeman brand was discontinued. The brewery became inactive in 1939. In 1985 a great-grandson, John Warren Sleeman, reincorporated it and reintroduced Sleeman's Cream Ale, brewed according to George's 19th-century recipe.
AO, RG 22-318, no.10989; RG 80-8-0-1047, no.36030; RG 80-27-2, 79: 120. Ontario Heritage Foundation (Toronto), Wellington County files, "Baseball in Ontario and the Guelph Maple Leafs.". Univ. of Guelph Library, Arch. and Special Coll. (Guelph, Ont.), Sleeman coll. Guelph Mercury, 16 Dec. 1926. Gordon Hogarth, "When Maple Leafs first faced curves of pitcher Cummings," Evening Telegram (Toronto), 31 Oct. 1923: 31. Lisa Bowes, "George Sleeman and the brewing of baseball in Guelph, 1872–1886," Historic Guelph: the Royal City (Guelph), 27 (1987–88): 44–57. Canadian annual rev., 1906. Canadian men and women of the time (Morgan; 1912). Cyclopædia of Canadian biog. (Rose and Charlesworth), vol.1. B. M. Durtnall, "Brewing beer and ale: working at Sleeman's and Holliday's," Historic Guelph: the Royal City, 38 (1999): 35–50. William Humber, Diamonds of the north: a concise history of baseball in Canada (Toronto, 1995). L. A. Johnson, History of Guelph, 1827–1927 (Guelph, 1977). Harold Koch, "George Sleeman as I remember him," Guelph Hist. Soc., Pubs. ([Guelph?]), 14 (1974), no.3: 1–2. Ontario Gazette (Toronto), 1900: 371. Jarrett Rudy, "Sleeman's: small business in the Ontario brewing industry, 1847–1916" (ma thesis, Univ. of Ottawa, 1994). Tony Shaman, "Guelph's master brewers and mal[t]sters," Historic Guelph: the Royal City, 38: 23–32. Sleeman Brewing and Malting, The family scrapbook (Toronto, n.d.). "The Sleeman family," Guelph Hist. Soc., Pubs., 14, no.2: 1–2. Steve Thorning, "Streetcars in Guelph: the history of the Guelph Radial Railway," Historic Guelph: the Royal City, 22 (1982–83): 4–40.
© 2005–2023 University of Toronto/Université Laval
Cite This Article
Bruce Kidd, "SLEEMAN, GEORGE," in Dictionary of Canadian Biography, vol. 15, University of Toronto/Université Laval, 2003–, accessed June 4, 2023, http://www.biographi.ca/en/bio/sleeman_george_15E.html.
The citation above shows the format for footnotes and endnotes according to the Chicago manual of style (16th edition). Information to be used in other citation formats:
| | |
| --- | --- |
| Permalink: | http://www.biographi.ca/en/bio/sleeman_george_15E.html |
| Author of Article: | Bruce Kidd |
| Title of Article: | SLEEMAN, GEORGE |
| Publication Name: | Dictionary of Canadian Biography, vol. 15 |
| Publisher: | University of Toronto/Université Laval |
| Year of publication: | 2005 |
| Year of revision: | 2005 |
| Access Date: | June 4, 2023 |