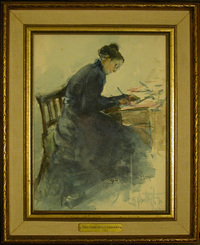 Source: Link
Smithers, Charlotte (Learmont), social reformer; b. 25 Aug. 1845 in Waterford (Republic of Ireland), daughter of Charles Francis Smithers and Martha B. Sherman; m. 6 Dec. 1882 Joseph Bowles Learmont (d. 1914) in Montreal; they had no children; d. there 2 July 1934 and was buried in Mount Royal Cemetery in Outremont (Montreal).
Charlotte Smithers immigrated to Montreal with her family in 1847. Her father, an accountant with the Bank of British North America, provided a comfortable life for his wife and children. Seven years after their arrival he became a branch manager in Brantford, Ont., and after two and a half years there, they moved to Saint John. Charlotte received her early schooling in these locations. In 1858 Charles joined the Bank of Montreal and the Smithers family returned to that city where Charlotte attended Hannah Willard Lyman's young ladies' academy. Lyman, later principal of Vassar College in Poughkeepsie, N.Y., would be known for her commitment to fostering independence in privileged young women while ensuring that they maintained the standards of propriety that were expected of them. Charlotte's education was completed in New York City, most likely in 1862–63 when her father headed the bank's agency there. In the mid 1860s the family again spent several years in Montreal before they returned to New York City, where Charles set up as a private banker. By 1870 the family, with 11 children ranging from Charlotte, aged 24, to the youngest, aged 1, was living there with two servants. Charlotte presumably went back to Montreal with her parents and siblings when her father became general manager of the Bank of Montreal in 1879.
In 1882, at age 37, Charlotte Smithers married widower Joseph Bowles Learmont, who had an 8-year-old son, Holton Hamilton. A native Montrealer, Learmont was a partner in Caverhill, Learmont and Company Limited, a large and lucrative wholesale hardware business. His first wife, Amelia Jane Holton, a daughter of businessman and mp Luther Hamilton Holton*, had died in 1875, two years after their marriage. As his wealth and status had grown through fortunate business ventures and his marriage, Learmont became involved in numerous charitable endeavours and was a director of several organizations that served the community, including the Montreal General Hospital.
Charlotte and Joseph Learmont would have no children together. Freedom from many parental responsibilities and an elevated social position provided her with the time and the financial means to engage in a wide range of voluntary philanthropic activities. Judging traditional charities to be stopgap solutions to the symptoms of poverty, social reformers of the late 19th century were committed to the transformation of these bodies into efficient organizations that addressed the causes of societal problems through education and prevention. Maternal feminists such as Charlotte Learmont justified their social activism by arguing that if ever society was to achieve redemption, it needed what they considered to be women's natural nurturing ability and superior morality.
Active in Montreal's Young Women's Christian Association, Learmont was treasurer, vice-president, and president. Her long years of service would earn her the position of honorary treasurer by 1899; by 1930 she was honorary president. One of her special contributions to the association was the creation of the Montreal Day Nursery in 1888 to care for the children of working mothers. She was involved in the formation of the Montreal Local Council of Women in 1893, and was its vice-president for many years. In 1900 the Local Council substituted a "presidential board," a group of four or five women, for the position of president. Learmont sat on the first of these boards in 1900–1. In the late 1890s she and her husband had begun to play important roles in the Montreal branch of the Victorian Order of Nurses for Canada, she as chair of the ladies' committee and he as a director. In 1900 both were among the incorporators of the Charity Organization Society, established to coordinate relief work in the city, and they would serve on the board of directors. In 1904 she founded the Montreal branch of the Needlework Guild of Canada, which provided clothing for the needy. That same year she was one of the prominent citizens who obtained the incorporation of the Parks and Playgrounds Association of Montreal. Her quest for a healthy and beautiful city led her to accept the vice-presidency of the City Improvement League, founded in 1909. She was also a member of the Themis Club, one of the first women's social clubs in Canada, and of the Royal Montreal Golf Club.
Learmont was involved in the conceptualization and realization of two major expositions in Montreal. The first, the Montreal Tuberculosis Exhibition, was held from 18 to 29 Nov. 1908 and was visited by approximately 55,000 people, many of whom were children. The 12-day presentation was designed to educate through experience, with demonstrations, lectures by medical professionals, and many images related to tuberculosis. Visitors, who were admitted free of charge, could view three storeys of interactive displays which informed them that tuberculosis was both preventable and curable. A section explained the spread of the disease through an extensive collection of pathological specimens and X-rays, while the top floor was dedicated to life-size representations of healthy and unhealthy housing. In his opening address, Dr John George Adami, chairman of the exhibition committee, credited Learmont with being "the actual leader of this movement." The following year the Montreal League for the Prevention of Tuberculosis affiliated with the newly established Royal Edward Institute, and Learmont became a director of the institute.
The second exposition, the Child Welfare Exhibit, which was much larger in scope, opened on 8 Oct. 1912 and continued for two weeks. Visited by close to half a million individuals and billed by the Gazette (Montreal) as the "greatest event of its kind ever attempted in the Dominion," the CWE was the project of various social-welfare organizations, including the Victorian Order of Nurses, the Local Council of Women, the City Improvement League, and the Fédération Nationale Saint-Jean-Baptiste. Like the earlier exposition, it sought to educate the working classes on hygiene, housing, discipline, nutrition, and work. When Adami declared that the City Improvement League (of which he was president) was responsible for the success of the event, members of the Local Council of Women, including Learmont, were indignant. They took particular offence at Adami's insinuation that, because the LCW represented only one sex, it could have produced only a "partial success" in such an endeavour. They responded by sending a letter to the press, claiming that the exhibit was the LCW's idea and demanding an acknowledgement of the project's cooperative nature.
With her husband, Learmont worshipped at Emmanuel Congregational Church, where he was superintendent of the Sunday school for two decades. After living on Mackay Street during the early years of their marriage, the couple commissioned prominent Montreal architect Edward Maxwell* to design a home for them in 1892. Erected in 1893–94 on McGregor Street (Dr Penfield Avenue), it was notable for Joseph's library, considered one of the most sophisticated and diverse personal collections in Canada. He took a special interest in Canadian art and history and also had numerous valuable prints; his books and prints would be auctioned in 1918, after his death. In 1913 he purchased Quebec House in Westerham, England, the birthplace of James Wolfe*, with the intention of donating it to the Canadian government as a museum, but he died before the transaction was completed. Five years later Charlotte donated it to England's National Trust and endowed it with a fund of $20,000 for the upkeep and another of $30,000 to acquire artefacts related to Wolfe and his life.
A talented, inspired, and productive woman, Charlotte Learmont was an extraordinary worker. Describing her personal motivation in the 1920s, she explained that she had "always been interested in the moral and spiritual betterment of humanity, through education and other uplifting influences, and particularly in preventive measures against disease." She strongly believed in "the importance of training the young in the care of their health, morality, and in Love to God and their fellow creatures, which will make for the good of this and future generations." She died in her home seven and a half weeks short of her 89th birthday.
BANQ-CAM, CE601-S91, 6 déc. 1882; P32, S1, SS1, D55; P653. LAC, R2866-0-6; R2915-0-7. Mount Royal Cemetery Company (Outremont [Montreal]), Burial reg. "Les écoliers à l'exposition," La Presse, 19 nov. 1908. Gazette (Montreal), 3 July 1934. "School children take possession of the exhibition," Montreal Daily Star, 19 Nov. 1908. "The voice of the child cries out against you," Montreal Daily Star, 19 Oct. 1912. W. H. Atherton, Montreal, 1534–1914 (3v., Montreal, 1914), 2, 3. Canadian men and women of the time (Morgan; 1912). Terry Copp, The anatomy of poverty: the condition of the working class in Montreal, 1897–1929 (Toronto, 1974). Merrill Denison, Canada's first bank: a history of the Bank of Montreal (2v., Toronto and Montreal, 1966–67). Directory, Montreal, 1850–95. Micheline Dumont et al. (Le Collectif Clio), L'histoire des femmes au Québec depuis quatre siècles (éd. rév., Montréal, 1992). Valerie Minnett, "Disease and domesticity on display: the Montreal Tuberculosis Exhibition, 1908," Canadian Bull. of Medical Hist. (Waterloo, Ont.), 23 (2006): 381–400. Prominent people of the province of Quebec, 1923–24 (Montreal, n.d.). François Rémillard and Brian Merrett, Mansions of the Golden Square Mile, Montreal, 1850–1930, trans. Joshua Wolfe (Montreal, 1987). The storied province of Quebec: past and present, ed. W. [C. H.] Wood et al. (5v., Toronto, 1931–32), 3: 14. Robert Sweeny, "Building for power: the Maxwell practice and the Montreal business community": cac.mcgill.ca/maxwells/essay/04.htm (consulted 1 Feb. 2012). Mariana Valverde, The age of light, soap, and water: moral reform in English Canada, 1885–1925 (Toronto, 1991). Women of Canada (Montreal, 1930).
© 2018–2023 University of Toronto/Université Laval
Image Gallery

Cite This Article
Elizabeth Kirkland, "SMITHERS, CHARLOTTE (Learmont)," in Dictionary of Canadian Biography, vol. 16, University of Toronto/Université Laval, 2003–, accessed September 28, 2023, http://www.biographi.ca/en/bio/smithers_charlotte_16E.html.
The citation above shows the format for footnotes and endnotes according to the Chicago manual of style (16th edition). Information to be used in other citation formats:
| | |
| --- | --- |
| Permalink: | http://www.biographi.ca/en/bio/smithers_charlotte_16E.html |
| Author of Article: | Elizabeth Kirkland |
| Title of Article: | SMITHERS, CHARLOTTE (Learmont) |
| Publication Name: | Dictionary of Canadian Biography, vol. 16 |
| Publisher: | University of Toronto/Université Laval |
| Year of publication: | 2018 |
| Year of revision: | 2018 |
| Access Date: | September 28, 2023 |