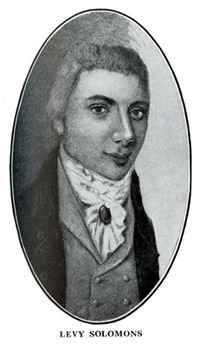 Source: Link
SOLOMONS, LUCIUS LEVY, merchant and fur-trader; b. 1730 in England; father of one child by his first marriage and 11 by his second, to Rebecca Franks on 31 May 1775; d. 18 May 1792 at Montreal (Que.).
Lucius Levy Solomons was living in the province of New York as early as 1755. During the Seven Years' War he entered a partnership with his cousin Ezekiel Solomons, Chapman Abraham, Benjamin Lyon, and Gershom Levy to supply the British army. After the fall of New France in 1760 the consortium became involved in the Canadian fur trade, and since under British rule the settlement of Jews in Quebec was legal, Solomons eventually moved his headquarters from Albany to Montreal. The partners had financial support in England and were connected with Hayman Levy of New York City, who was active in the fur trade of the Hudson valley. With such good backing they were able to do business on a larger scale than was usual in the trade at the time.
Ezekiel Solomons took a load of trade goods to Michilimackinac (Mackinaw City, Mich.) in 1761, preceding even the British troops who arrived in September to take over the post from its acting commandant Charles-Michel Mouet de Langlade. Levy Solomons was at Fort Niagara (near Youngstown, N.Y.) in 1762. During the Indian uprising of 1763 [see Pontiac*] four of the partners, including Levy Solomons, were captured and large quantities of goods taken from them. All eventually reached safety but they were ruined financially. Their total loss was estimated at £18,000. In 1764 a fur sale was held for their creditors, but they remained in debt. Attempts to get government compensation failed, and some of their creditors refused to agree to their declaring bankruptcy. They attempted to avail themselves of an English law that would have enabled them to go into bankruptcy nonetheless, but the British government ruled that this law did not apply in the colony [see George Suckling].
The exact outcome of their financial difficulties is not known. The partnership broke up but the members continued to be involved in the fur trade. In 1767, when the trade began to pick up, Gershom Levy provided security for two Canadian traders at Michilimackinac. In 1769 Chapman Abraham had a licence to take goods valued at £189 to the pays d'en haut; in 1770 Benjamin Lyon had one for £1,300. Licences granted to Ezekiel Solomons increased from £750 in 1770 to £2,050 in 1774. Levy Solomons had licences for seven canoes in 1771 with a total value of probably over £3,000; he also acted as a fur buyer, purchasing from independent traders. Although Benjamin Lyon, writing in 1770, may have exaggerated when he claimed that Levy Solomons had received the greatest part of the furs passing through Montreal that year, Solomons was undoubtedly important in the trade.
Solomons signed a petition in 1773 requesting a legislative assembly for Quebec. When the Americans captured Montreal in 1775 he cooperated with them, providing supplies to the troops and establishing three hospitals. Large quantities of his goods destined for the fur trade were appropriated by the invaders. After the Americans were driven out Solomons remained but was in great disfavour. The British turned him out of his house and threatened those who helped him. He survived, however, and remained in business until 1782. In 1784, still in Montreal, he unsuccessfully petitioned Congress to reimburse him for his losses.
In December 1768 Levy and Ezekiel Solomons were among the founders of the Shearith Israel congregation in Montreal. Levy Solomons was apparently lay leader of the congregation in 1782 and appeared as the defendant that year when the reader, Jacob Raphael Cohen*, went to the courts to collect his salary. The case was appealed and finally settled in 1784. Solomons died in Montreal eight years later.
Pa. Hist. and Museum Commission, Division of Public Records (Harrisburg), Baynton, Wharton and Morgan coll. Wis., State Hist. Soc. (Madison), Canadian archives, Abstracts of Indian trade licenses in Canadian archives, 1767–76. Johnson papers (Sullivan et al.), III, 671.Maseres, Maseres letters (Wallace). Mass. Hist. Soc., Commerce of Rhode Island, 1726–1800 (2v., Boston, 1914–15), II, 309–11. "Memorials presented to the Continental Congress," ed. Herbert Friedenwald, American Jewish Hist. Soc., Pubs. ([New York]), II (1894), 119–27. "A suit at law involving the first Jewish minister in Canada," ed. B. G. Sack, American Jewish Hist. Soc., Pubs., XXXI (1928), 181–86. "Items relating to the Solomons family, New York," [comp. J. J. Lyons], American Jewish Hist. Soc., Pubs., XVII (1920), 376–78. W. S. Dunn, "Western commerce, 1760–1774" (unpublished phd thesis, University of Wisconsin, Madison, 1971). J. R. Marcus, The colonial American Jew, 1492–1776 (3v., Detroit, 1970); Early American Jewry (2v., Philadelphia, 1951–53). Peckham, Pontiac. Peter Wiernik, History of the Jews in America, from the discovery of the New World to the present time (2nd ed., New York, 1931). I. I. Katz, "Chapman Abraham: an early Jewish settler in New York," American Jewish Hist. Soc., Pubs., XL (1950–51), 81–86. Louis Rosenberg, "Some aspects of the historical development of the Canadian Jewish community," American Jewish Hist. Soc., Pubs., L (1960–61), 121–42.
© 1979–2023 University of Toronto/Université Laval
Image Gallery

Cite This Article
Walter S. Dunn Jr, "SOLOMONS, LUCIUS LEVY," in Dictionary of Canadian Biography, vol. 4, University of Toronto/Université Laval, 2003–, accessed October 2, 2023, http://www.biographi.ca/en/bio/solomons_lucius_levy_4E.html.
The citation above shows the format for footnotes and endnotes according to the Chicago manual of style (16th edition). Information to be used in other citation formats:
| | |
| --- | --- |
| Permalink: | http://www.biographi.ca/en/bio/solomons_lucius_levy_4E.html |
| Author of Article: | Walter S. Dunn Jr |
| Title of Article: | SOLOMONS, LUCIUS LEVY |
| Publication Name: | Dictionary of Canadian Biography, vol. 4 |
| Publisher: | University of Toronto/Université Laval |
| Year of publication: | 1979 |
| Year of revision: | 1979 |
| Access Date: | October 2, 2023 |