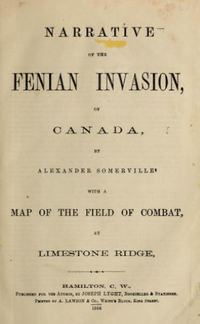 Source: Link
SOMERVILLE, ALEXANDER, soldier, journalist, and author; b. 15 March 1811 in Oldhamstocks (Lothian), Scotland, eleventh child of James Somerville and Mary Orkney; m. 10 Jan. 1841 Emma Binks, and they had six children; d. 17 June 1885 in Toronto, Ont.
Alexander Somerville recounts his early life as a schoolboy, ploughman, sawyer, labourer, drainer, and quarryman in his memorable Autobiography of a working man (London, 1848). In 1832, while serving in the 2nd Dragoons (Scots Greys), he received 100 lashes as punishment for publishing a letter revealing the Reformist sympathies of fellow soldiers and their unease at the measures being used to control demonstrators during the Reform Bill crisis. There was an outcry in the press and parliament; £300 was collected on his behalf and those responsible for his flogging were officially rebuked. After purchasing his discharge he was involved in Chartist and Owenite agitations in London before serving bravely in the auxiliary legion in Spain from 1835 to 1837; he later sold a History of the British Legion and war in Spain for £100.
Back in England and worried once more about confrontations between agitators and the military, he published Warnings to the people on street warfare. He became Richard Cobden's agricultural adviser and was also the general agent for placing items favourable to Cobdenism in Fleet Street; under the nom de plume of the "Whistler at the Plough" he reported for various newspapers on the sufferings of Irish tenantry as seen on frequent trips and wrote on economic questions.
Somerville expressed his disenchantment with Cobden's pacifism in 1854 in Cobdenic policy the internal enemy of England. This split, coupled with mismanagement or fraud by his literary agents and publishers, caused Somerville's financial ruin despite his attempts at recovery by the frantic writing of articles on trade unions, electromagnetism, witchcraft, and folk customs and by a brief return to Scotland to act as an editor in Edinburgh. In 1857 he finally collapsed in delusions of persecution and conspiracy; his Workingman's witness against the London literary infidels cried his distress. In May 1858 he sailed with his family for Canada, "driven to America against my desire."
After this melodramatic career in the United Kingdom his life in Canada has seemed to some observers a "long decline." In fact he contributed in several important ways to Canadian journalism. Despite the devastating loss of his wife soon after arriving in Quebec, he nevertheless published analyses of the Canadian administrations, comments on conservatism, and a rehash of the 1832 Reform Bill crisis in the local newspapers. Living in abject poverty, he wrote Conservative science of nations . . . being the first complete narrative of Somerville's diligent life dealing with free trade, strikes, banking, and military history as well as adding to his earlier Autobiography and giving a penetrating report on Irish affairs.
Somerville, with his six children, drifted into Canada West in 1860, travelling through Brockville to Perth and Arnprior. The next year he moved through Kingston to Windsor and Detroit, then back to Brantford. In later newspaper articles he reported on all these communities in detail. After arriving at Hamilton in 1862 he wrote Canada, a battle ground, on the growing hostility towards the United States and the possible routes of American invasion. The Canadian Illustrated News, founded in Hamilton in 1862 and edited by Somerville, offered commentaries on military and business history, Canadian scenery, photography, agriculture, and immigration. When the journal changed owners in 1864 and moved to Toronto, Somerville stayed in Hamilton. In 1866 he covered the Fenian disturbances on the Niagara and Lake Erie frontiers; his vivid and earthy Narrative of the Fenian invasion, of Canada was published that year. Its account of the battle at Ridgeway (now part of Fort Erie, Ont.) was extremely critical of Alfred Booker*; as Somerville later had to admit, it was commissioned by officers who were Booker's enemies and "blind to fair play." Much of his sympathy for the cause of reform in Ireland disappeared after the Fenian experience.
Intending to return to England, he left Hamilton in 1868 with testimonials from the mayor, local members of parliament, and prominent citizens. Unfortunately the trip was thwarted by the assassination of Thomas D'Arcy McGee*, who had promised Somerville money for an "emigrant's handbook." He then moved through Ottawa to Montreal, where a new version of the Canadian Illustrated News was launched by George-Édouard Desbarats* in 1869. Until 1872 Somerville lodged at St Andrew's Society Home writing articles and editorials for the News, but Desbarats's affairs became tangled and when the journal was sold Somerville returned to Hamilton. In 1873 he moved to Toronto as editor of the Church Herald. For two years this Anglican journal featured vigorous articles by Somerville on political and economic topics, including pieces on American imports and Louis Riel. Financial problems forced amalgamation with an American church paper and Somerville's position dwindled into that of "Canadian Editorial Correspondent." He continued his duties, which included travelling to Nova Scotia to do articles, until June 1875 when the paper ceased publication. Somerville remained in Toronto as a literary correspondent to various English, Welsh, Irish, and Scottish publications, and also wrote immigration propaganda for the Department of Agriculture, which awarded him a pension in 1876. Dominion handbooks for 1877 and 1883 bear marks of his graphic style, particularly in the chapter entitled "Why emigrate?" By the 1870s Somerville was elderly, mountainous (he weighed 300 lbs), and eccentric. Books and clippings from the British newspapers to which he wrote weekly letters filled his rooms at the City Hotel and later at a York Street boarding-house. He moved finally into a woodshed, living on cold porridge flavoured with bits of raw onion; from 1880 to 1885 he apparently wrote 5,000 pages of memoirs which have never been found.
Diligent, articulate, obsessed with his own importance, Alexander Somerville kept a sense of his significance as a public figure "instrumental in securing the abolition of flogging in the British Army," as a maker of opinion on Ireland in his "Whistler at the Plough" articles, and as an exposer of the dangers of pacifism. He took pride also in his contribution "to the utilitarian literature of British North America" by his outspoken and realistic reporting. "My life has been a battle," he wrote in the Narrative of the Fenian invasion, "and my battle has been the rights of man."
Alexander Somerville's writings include: The autobiography of a working man (London, 1848; repub., ed. John Carswell, 1951; repr. 1967); Canada, a battle ground; about a kingdom in America (Hamilton, [Ont.], 1862); Cobdenic policy the internal enemy of England; the Peace Society, its combativeness; Mr. Cobden, his secretiveness; also, a narrative of historical incidents . . . (London, 1854); Conservative science of nations, (preliminary instalment), being the first complete narrative of Somerville's diligent life in the service of public safety in Britain (Montreal and Toronto, 1860), also published under the title: Narrative of an eventful life: a contribution to the conservative science of nations (Hamilton, 1863); History of the British Legion and war in Spain, from personal observation and other authentic sources . . . (London, 1839); Narrative of the Fenian invasion, of Canada . . . (Hamilton, 1866); Warnings to the people on street warfare; a series of weekly letters . . . (7 pts., London, 1839); The whistler at the plough; containing travels, statistics, and descriptions of scenery & agricultural customs in most parts of England . . . (3v., Manchester, 1852–53), of which vols. II and III are titled Free trade and the League: a biographic history . . . and Workingman's witness against the London literary infidels (n.p., 1857). Other works are listed in British Museum general catalogue.
Canadian Illustrated News (Hamilton), 1862–64. Canadian Illustrated News (Montreal), 1869–72. Church Herald (Toronto), 1873–75. Morning Chronicle (Quebec), June 1859. Quebec Mercury, 1859. DNB. Dominion annual register, 1885. Morgan, Bibliotheca Canadensis, 355. W. J. Rattray, The Scot in British North America (4v. , Toronto, 1880–84). W. M. Sandison, "Alexander Somerville," Border Magazine (Edinburgh), 18 (1913): 49–55.
© 1982–2023 University of Toronto/Université Laval
Cite This Article
Elizabeth Waterston, "SOMERVILLE, ALEXANDER," in Dictionary of Canadian Biography, vol. 11, University of Toronto/Université Laval, 2003–, accessed October 2, 2023, http://www.biographi.ca/en/bio/somerville_alexander_11E.html.
The citation above shows the format for footnotes and endnotes according to the Chicago manual of style (16th edition). Information to be used in other citation formats:
| | |
| --- | --- |
| Permalink: | http://www.biographi.ca/en/bio/somerville_alexander_11E.html |
| Author of Article: | Elizabeth Waterston |
| Title of Article: | SOMERVILLE, ALEXANDER |
| Publication Name: | Dictionary of Canadian Biography, vol. 11 |
| Publisher: | University of Toronto/Université Laval |
| Year of publication: | 1982 |
| Year of revision: | 1982 |
| Access Date: | October 2, 2023 |