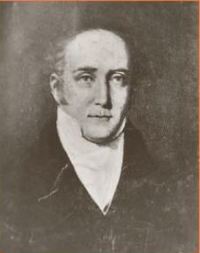 Source: Link
STEPHENSON, JOHN, physician and educator; b. 12 Dec. 1796 in Montreal, youngest of five sons of John Stephenson, tobacconist, brewer, and merchant, and Martha Mair; m. there 26 July 1826 Isabella Torrance, and they had several children, of whom only one survived infancy; d. there 2 Feb. 1842.
John Stephenson attended school in his native town, notably at the Petit Séminaire de Montréal, and began his medical training with William Robertson on 29 Dec. 1815, the apprenticeship fee being £50. In 1817 he enrolled at the University of Edinburgh, and he graduated in medicine in 1820. His thesis, entitled "De velosynthesi," describes one of the first successful repairs of a cleft palate, written by Stephenson not as the surgeon but as the patient. Although otherwise healthy, Stephenson had been born with an anomaly of his palate. After the operation, performed in Paris by Joseph-Philibert Roux in September 1819, his voice was more nearly normal and his problems in eating and drinking disappeared. That year he was made a member of the Royal College of Surgeons of London.
Stephenson returned to Montreal in 1820. He received his licence to practise in October 1821, his examiners being Daniel Arnoldi and Robertson. Soon after, he and Andrew Fernando Holmes*, with whom he had studied in Scotland, joined the medical staff of the Montreal General Hospital; Stephenson lectured on anatomy and physiology at the hospital from 1822.
Along with Holmes and the other medical officers of the Montreal General Hospital, Robertson and William Caldwell*, Stephenson became convinced that formal instruction in medicine should be made available to Lower Canadian students. In November 1822 Stephenson and Holmes drew up a memorandum recommending the creation of a medical school. After it received the approval of their colleagues, the memorandum was sent to the governor-in-chief, Lord Dalhousie [Ramsay]. It was accompanied by a letter suggesting that the medical examiners for the district of Montreal be the physicians of the hospital. Dalhousie approved of both plans. The hospital staff (which now included Henry-Pierre Loedel) was thus given the unusual prerogative of issuing licences to graduates from their own school. The arrangement was not looked upon with favour by some of the other physicians in Montreal [see Arnoldi]. Classes at the new school, called the Montreal Medical Institution, began in the autumn of 1823, and Stephenson was professor of anatomy, physiology, and surgery. He was also appointed secretary to the faculty, a position of considerable influence in the ensuing years. As teaching proceeded, the institution applied for a royal charter. Its request was refused because it had no affiliation with an educational establishment.
At this time, the bequest by James McGill* of money and property for the creation of a university or college in Montreal was in danger of being lost. A royal charter, obtained in 1821, would be rescinded if McGill College did not begin teaching. But that body had been unable to form a faculty in any discipline. The dilemma was resolved in 1829, when negotiations were concluded which permitted the Montreal Medical Institution to become the medical faculty of McGill College. Stephenson continued to teach anatomy, physiology, and surgery. His role in assuring the establishment of McGill was considered of prime importance by businessman Peter McGill*, who reputedly described Stephenson as "the man above all others to whom we owe McGill College." In 1831, for example, Stephenson forwarded a memorial to the governor, Lord Aylmer [Whitworth-Aylmer], petitioning on behalf of McGill College for the right to confer degrees. As Stephenson pointed out, McGill graduates acquired "Medical Honors" without difficulty from foreign countries; it was unfair that they had to travel outside Lower Canada to obtain them. Before degrees could be granted, however, the institution's statutes required royal approval. The statutes proposed by Stephenson were accepted with only slight alteration. McGill received the authority to confer degrees in medicine in July 1832. As registrar of the school, Stephenson had considerable influence until his death in 1842.
In 1820 or 1821 Stephenson had been appointed physician to the Sulpicians in Montreal and he maintained a busy general and surgical practice throughout his short career. He had the reputation of being well liked by his patients, although at least one of his students, Aaron Hart David, considered him not over courteous. Joseph Workman*, another student, did not share this opinion and soon after Stephenson's death wrote of his mentor in highly laudatory terms. Workman also wrote with approbation of Stephenson's method of treating uterine haemorrhage with large doses of a substance known as sugar of lead, "with unvarying success"; unfortunately, Workman's enthusiasm seems to have been misplaced.
A portrait of Stephenson was destroyed by fire in 1907 but, using a photograph, Andrew Dickson Patterson painted another in 1920 which now hangs in the McIntyre Medical Sciences Building of McGill University.
John Stephenson's thesis was published as De velosynthesi (Edinburgh, 1820). A translation by W. W. Francis has appeared as "Repair of cleft palate by Philibert Roux in 1819: a translation of John Stephenson's De velosynthesi," intro. L. G. Stevenson, Journal of the Hist. of Medicine and Allied Sciences (New York), 18 (1963): 209–19.
ANQ-M, CE1-126, 10 janv. 1797, 26 juill. 1826; CE1-130, 5 févr. 1842. PAC, RG 4, A1; B28, 49: 858. Toronto Patriot, 15 Feb., 22 March 1842. List of the graduates in medicine in the University of Edinburgh from MDCCV to MDCCCLXVI (Edinburgh, 1867). Abbott, Hist. of medicine. J. J. Heagerty, Four centuries of medical history in Canada and a sketch of the medical history of Newfoundland (2v., Toronto, 1928). H. E. MacDermot, A history of the Montreal General Hospital (Montreal, 1950). M. E. [S.] Abbott, "An historical sketch of the medical faculty of McGill University," Montreal Medical Journal, 31 (1902): 561–672. A. H. David, "Reminiscences connected with the medical profession in Montreal during the last fifty years," Canada Medical Record (Montreal), 11 (1882): 1–8. B. R. Tunis, "Medical licensing in Lower Canada: the dispute over Canada's first medical degree," CHR, 55 (1974): 489–504. William Whiteford, "Reminiscences of Dr. John Stephenson, one of the founders of McGill medical faculty," Canada Medical & Surgical Journal (Montreal), 11 (1883): 728–31.
© 1988–2023 University of Toronto/Université Laval
Cite This Article
Charles G. Roland, "STEPHENSON, JOHN," in Dictionary of Canadian Biography, vol. 7, University of Toronto/Université Laval, 2003–, accessed November 28, 2023, http://www.biographi.ca/en/bio/stephenson_john_7E.html.
The citation above shows the format for footnotes and endnotes according to the Chicago manual of style (16th edition). Information to be used in other citation formats:
| | |
| --- | --- |
| Permalink: | http://www.biographi.ca/en/bio/stephenson_john_7E.html |
| Author of Article: | Charles G. Roland |
| Title of Article: | STEPHENSON, JOHN |
| Publication Name: | Dictionary of Canadian Biography, vol. 7 |
| Publisher: | University of Toronto/Université Laval |
| Year of publication: | 1988 |
| Year of revision: | 1988 |
| Access Date: | November 28, 2023 |