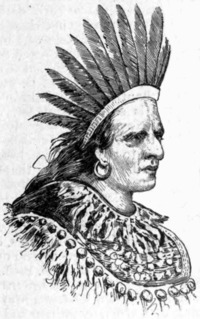 Source: Courtesy of Wikimedia Commons
SWATANA (an abbreviation of Onkiswathetami, "he causes it to be light for us"; Ungquaterughiathe, cited in one document, is an alternative expression of the same idea; Shikellimy, variously spelled, is an Algonkian equivalent), an Oneida chief of the Bear clan, resident near and at Shamokin (now Sunbury, Pa.), an Iroquois supervisor of the Shawnees and a key figure in Indian-English relations; first mentioned in official records in 1728; d. at Shamokin on 6 Dec. 1748.
The naturalist John Bartram, who met Swatana in 1743 and also obtained information from his son, recorded that "Shickcalamy . . . was of the six nations, or rather a Frenchman born at Mont-real, and adopted by the Oneidoes, after being taken prisoner." Nothing more is known of his origin, though Indian relatives (presumably by adoption) are mentioned in contemporary records. His children were, like their mother, of the Cayuga nation and the Turtle clan.
The date of Swatana's appointment by the Iroquois to oversee the Shawnees, who had begun before 1700 to settle on the Delaware and Susquehanna rivers, is unknown. His first known residence in Pennsylvania was, until sometime after 1737, adjacent to a Shawnee village about 12 miles north of Shamokin. Swatana's initial visit to Philadelphia was in 1728; soon after, Pennsylvania officials became aware of his official status and possible usefulness to the province. He was invited back to Philadelphia; official condolences were sent on the death of a son in 1729; and "Shekallamy, . . . a trusty good Man & a great Lover of the English," was sent to invite the Six Nations to a council in 1732, at which the gratified chiefs recommended further meetings, to be arranged by Swatana and the Pennsylvania interpreter Conrad Weiser. The negotiations bore fruit in two deeds, dated 11 and 25 Oct. 1736 (signed by "Shekalamy" or "Shykelimy," among others), releasing all claims by the Six Nations to land in southeastern Pennsylvania. Six years later Swatana participated in another council at Philadelphia when the Six Nations denied that the Delawares had rights to any remaining land in Pennsylvania; subsequently Pennsylvania oriented its Indian policy towards the Iroquois until about 1755, employing Swatana and Weiser as its agents.
By 1742 Swatana had left the Shawnee village, whose residents had migrated westward, and had moved to Shamokin, an important Indian town and trading place and home of the Delaware "king," Allumapees (Sasoonan). Here in September 1744 Weiser supervised the building of a house, 49 1/2 feet long by 17 1/2 wide and roofed with shingles, in which Swatana was host to the Presbyterian missionary David Brainerd, who visited Shamokin twice in 1745, and to a succession of Moravian missionaries, whose mission was established in the town in the latter year. On other occasions, Indian warriors staged their dances in the house.
Swatana's associations with the Moravians had begun in 1742, when Count von Zinzendorf met him at Shamokin and envisioned "King Shikellimy" as one of the agents for conversion of the Indians. The diplomat and the missionaries established a congenial relationship. The missionaries' attention and behaviour pleased the chief, and the blacksmith whom the Moravians maintained at Shamokin after 1747 was a practical help to the Indians. The Moravians considered Swatana a follower but did not baptize him because, as he told them, a priest had baptized him as a child.
In 1737, 1743, and 1745 Swatana journeyed to the Iroquois council fire at Onondaga (near Syracuse, N.Y.) with Weiser, whom the governor of Virginia employed on these occasions to negotiate peace between the Iroquois and their southern enemies, Catawbas and others. In these negotiations Swatana and Weiser did not serve in their usual capacity as representatives of the Six Nations and Pennsylvania, respectively; rather, Swatana appeared as Pennsylvania's sponsor of the Virginia agent, Weiser. On the second of these trips, the ambassadors were accompanied by the cartographier Lewis Evans and John Bartram, who documented the journey in a map published in 1749 and a journal printed in 1751. On the third trip they were accompanied by two Moravian missionaries, Bishop Joseph (Spangenberg) and David Zeisberger*.
In 1747 the Indians at Shamokin suffered severely from malaria. Among the casualties were the Delaware king and several members of Swatana's family, including his wife. Swatana himself was very sick but recovered with the help (one trusts) of medicine sent by the government and administered by Conrad Weiser. In the spring of 1748 he performed his final service for Pennsylvania, cautioning against too hasty support of the Indians who, led by Orontony, had committed hostilities against the French, and warning the colony that the report of a Six Nations declaration of war against the French on this occasion was erroneous. He was well enough by April 1748 to travel to Moravian headquarters at Bethlehem, Pennsylvania, and to Philadelphia, and he paid another visit to Bethlehem in November. On 6 Dec. 1748 he died.
In contemporary accounts Swatana appears as an able and intelligent man, dignified but pleasant, courteous, unruffled, industrious, and dependable. Of the many anecdotes concerning him, one tells how he came to call on the missionaries sometime in 1747 and, finding the smithy idle, asked them if it was Sunday. Assured that it was, he went home, put on his "kingly robes," and then returned to continue his visit. A rare departure from his usual composure was recorded in 1734, when Mme Montour [Elizabeth Couc], who had been employed by Pennsylvania as an Indian interpreter, belittled a party of visiting Oneidas and was denounced by Swatana as "a certain Woman, whose old Age only protects her from being punished for such Falsehoods."
Sometime before his final illness Swatana took a new wife, a Tutelo woman, who returned to her own people after his death. He was also survived by three sons and two daughters. Two sons had previously been killed in raids on the Catawbas. As supervisor of the Shawnees, Swatana was in effect succeeded by another Oneida chief, Scarroyady, resident on the upper Ohio, where most of the Shawnees had resettled. As Pennsylvania's adviser in Indian affairs, Swatana was followed by his oldest son John (John Shikellimy, John Logan) until about 1755, when provincial policy was altered by the Seven Years' War and by William Johnson*'s appointment as superintendent of northern Indians.
Moravian Church Archives (Bethlehem, Pa.), Bethlehem Diary; Indian missions, box 121, Shamokin; Personalia, box 225. John Bartram, Observations on the inhabitants, climate, soil, rivers, productions, animals, and other matters worthy of notice, made by Mr. John Bartram, in his travels from Pensilvania to Onondago, Oswego and the Lake Ontario, in Canada; to which is annex'd a curious account of the cataracts at Niagara, by Mr. Peter Kalm, a Swedish gentleman who travelled there (London, 1751). Pennsylvania, Colonial records, III–V. Pennsylvania archives, 1st ser., I, II. "Spangenberg's notes of travel to Onondaga in 1745," ed. J. W. Jordan, Pennsylvania Magazine of History and Biography (Philadelphia), II (1878), 56–64. Conrad Wiser [sic], "Narrative of a journey from Tulpehocken, Pennsylvania, to Onondaga, in 1737 . . . ," in H. R. Schoolcraft, Historical and statistical information respecting the history, condition and prospects of the Indian tribes of the United States (6v., Philadelphia, 1851–57), IV, 324–41. David Zeisberger, Zeisberger's Indian dictionary . . . (Cambridge, Mass., 1887). L. H. Gipson, Lewis Evans . . . (Philadelphia, 1939). P. A. W. Wallace, Conrad Weiser, 1696–1760, friend of colonist and Mohawk (Philadelphia, London, 1945).
© 1974–2023 University of Toronto/Université Laval
Image Gallery

Cite This Article
William A. Hunter, "SWATANA," in Dictionary of Canadian Biography, vol. 3, University of Toronto/Université Laval, 2003–, accessed June 7, 2023, http://www.biographi.ca/en/bio/swatana_3E.html.
The citation above shows the format for footnotes and endnotes according to the Chicago manual of style (16th edition). Information to be used in other citation formats:
| | |
| --- | --- |
| Permalink: | http://www.biographi.ca/en/bio/swatana_3E.html |
| Author of Article: | William A. Hunter |
| Title of Article: | SWATANA |
| Publication Name: | Dictionary of Canadian Biography, vol. 3 |
| Publisher: | University of Toronto/Université Laval |
| Year of publication: | 1974 |
| Year of revision: | 1974 |
| Access Date: | June 7, 2023 |