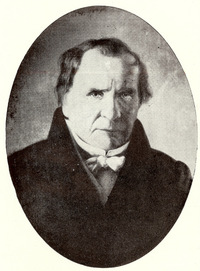 Source: Courtesy of Wikimedia Commons
TESTARD DE MONTIGNY, CASIMIR-AMABLE (he usually signed C.T. de Montigny), businessman, colonizer, and politician; b. 2 June 1787 at Montreal, son of Louis-Étienne Testard de Montigny, a lawyer, and Louise-Archange Gamelin, dit Gaucher, and great-grandson of Jacques Testard* de Montigny; m. first 9 Jan. 1815, at Sainte-Anne-de-Mascouche (La Plaine), Marthe Godon, and secondly, 30 Jan. 1855, at Saint-Jérôme, Marie-Louise Allaire; d. 10 Jan. 1863 at Saint-Jérôme, Canada East.
Casimir-Amable Testard de Montigny spent his youth in Montreal and completed his studies under the Sulpicians, for the first year at the Séminaire de Notre-Dame, then at the newly built Petit Séminaire from 1806 to 1808. Apparently he then took up trading in furs with the Indians of Lac-des-Deux-Montagnes, working from a small trading post on the Rivière du Nord, some 30 miles north of Montreal; around 1814 he established himself there permanently, thus creating a small centre of settlement. Around the 1830s, this settlement moved north to the present site of Saint-Jérôme. Testard de Montigny took an active part in all the events connected with the beginnings of Saint-Jérôme, the starting-point of the great colonization movement to be directed by the parish priest François-Xavier-Antoine Labelle* in the 1870s.
There are few documents through which we can determine the salient points of Testard de Montigny's career. He was the representative for the county of Effingham in the assembly of Lower Canada from 28 Aug. 1824 to 5 July 1827, but he initiated nothing worthy of mention in the political records of that period. Some ten years later, his hostility towards the Patriotes gave him cause for anxiety on more than one score. A major in the militia, member of the local élite, and firm supporter of the government, he was appointed commissioner of small causes for Saint-Jérôme on 5 April 1837. His attitude was particularly displeasing to several of his fellow citizens, who supported the claims of the Patriotes. Early in December 1837 Testard de Montigny went so far as to hold a public meeting at his house to persuade his compatriots to abstain from taking part in the rebellion movement; on that occasion "the address of the Magistrates of the City of Montreal," recommending the maintenance of peace and respect for law and order, was read to the gathering. A few days later, on 9 December, Testard de Montigny had to flee, since a number of Patriotes had decided to arrest him. They caught up with him a few miles north of Saint-Jérôme. He offered a ransom for his liberty, but the Patriotes demanded that he invite the villagers publicly to join the rebellion. The commissioner of small causes refused and was taken a prisoner to the camp at Saint-Eustache. Set free a few days later, he nonetheless continued to receive statements of witnesses denouncing friends and neighbours who had publicly uttered threats against the government or risen against the British army. He himself incriminated several fellow citizens, including Dr Léandre Dumouchel, and especially those who had initiated his arrest. His support of the government enabled him to keep his position as commissioner of small causes during these months of disturbances, even though his son-in-law, the notary André Bouchard, dit Lavallée, was arrested as a Patriote on 8 Feb. 1838 and imprisoned at Montreal; Montigny's commission was renewed on 22 Dec. 1838.
The rebellion over, Testard de Montigny continued his agricultural, commercial, and political activities. In 1846 and 1847 he managed to obtain grants of more than 400 acres of land in the township of Abercromby, and for two years, from 1849 to 1851, he represented the village of Saint-Jérôme, which then numbered 500, on the municipal council of Terrebonne County. During these years he made numerous financial transactions, particularly loans or the purchase, sale, or exchange of small pieces of land. Moreover, from 1820 on his name regularly appeared at the bottom of petitions about the development of Saint-Jérôme which were addressed either to civil or to religious authorities.
Casimir-Amable Testard de Montigny, considered the founder of Saint-Jérôme, withdrew from active life in 1859. Having already made ample provision for his other children he now made over the remainder of his assets to his son Benjamin-Antoine, who thus received three pieces of land under cultivation, four houses, and three barns, the contents of these buildings, as well as his accounts receivable and payable, notes and mortgages. Testard de Montigny, his second wife, and the children born of this marriage, were from then on supported by Benjamin-Antoine. Casimir-Amable died four years later, on 10 Jan. 1863, at Saint-Jérôme.
ANQ-M, État civil, Catholiques, Notre-Dame (Montréal), 3 juin 1787. ANQ-Q, QBC 9, 27, f.33; 28, f.167; 29, ff.8, 47, 72, 112; QBC 25, Événements de 1837–1838, nos.562, 567, 574–75, 636. Archives judiciaires, Terrebonne (Saint-Jérôme, Qué.), Greffe d'André Bouchard, dit Lavallée, 1834–78; Greffe de J.-A. Hervieux, 1856–82; Greffe de Melchior Prévost, 1840–97; Greffe de J.-B.-L. Villemure, 1851–84 [The most important legal document is found in the greffe of J.-A. Hervieux: Testard de Montigny's deed of gift to his son. The deed, however, does not contain the details of Testard de Montigny's fortune, for Hervieux gave the donee the donor's schedule of notes and mortgages; that document has not been found. m.p.]; Registre d'état civil, Sainte-Anne de Mascouche, 9, 30 janv., 7 juin 1815, 28 avril, 28 août 1817, 1er févr. 1821, 18 août 1823, 8 janv., 8 nov. 1824, 10 juin 1826, 5 janv. 1829, 17 oct. 1835; Registre d'état civil, Saint-Jérôme, 27 oct. 1838, 25 nov. 1854, 30 mai 1855, 13 juin 1856, 26 janv., 20 juin 1857, 19 juin 1859. Almanac de Québec . . . , 1820, 95. Ivanhoë Caron, "Inventaire des documents relatifs aux événements de 1837 et 1838, conservés aux Archives de la province de Québec," ANQ Rapport, 1925–26, 176, 179. Desjardins, Guide parlementaire, 129. Fauteux, Patriotes, 290. Langelier, List of lands granted. Tanguay, Dictionnaire, VII, 285. É.-J.[-A.] Auclair, Saint-Jérôme de Terrebonne (Saint-Jérôme, Qué., 1934) (a portrait of Testard de Montigny is reproduced in this work but the original has not been located). Olivier Maurault, Le collège de Montréal, 1767–1967, Antonio Dansereau, édit. (2e éd., Montréal, 1967), 150–51, 202. [B.-A.] Testard de Montigny, La colonisation, le nord de Montréal ou la région de Labelle (Montréal, 1895), 46–78.
© 1976–2023 University of Toronto/Université Laval
Image Gallery

Cite This Article
Michel Paquin, "TESTARD DE MONTIGNY, CASIMIR-AMABLE," in Dictionary of Canadian Biography, vol. 9, University of Toronto/Université Laval, 2003–, accessed March 31, 2023, http://www.biographi.ca/en/bio/testard_de_montigny_casimir_amable_9E.html.
The citation above shows the format for footnotes and endnotes according to the Chicago manual of style (16th edition). Information to be used in other citation formats:
| | |
| --- | --- |
| Permalink: | http://www.biographi.ca/en/bio/testard_de_montigny_casimir_amable_9E.html |
| Author of Article: | Michel Paquin |
| Title of Article: | TESTARD DE MONTIGNY, CASIMIR-AMABLE |
| Publication Name: | Dictionary of Canadian Biography, vol. 9 |
| Publisher: | University of Toronto/Université Laval |
| Year of publication: | 1976 |
| Year of revision: | 1976 |
| Access Date: | March 31, 2023 |