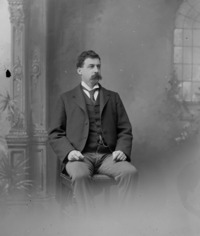 TURRIFF, JOHN GILLANDERS, farmer, entrepreneur, politician, and civil servant; b. 14 Dec. 1855 of Scottish Presbyterian ancestry in Petit-Métis (Métis-sur-Mer), Lower Canada, son of Robert Turriff and Jane Gillanders; m. first 1 Oct. 1884 Eva Louise Bartlett-Buchanan (d. 7 Oct. 1897) in Carlyle (Sask.), and they had three daughters and one son; m. secondly 1 March 1900 Catherine Mary Wilson in Chicago; they apparently had no children; d. 10 Nov. 1930 in Ottawa.
Little is known of John G. Turriff's early years. Educated at Petit-Métis and Montreal, he moved to Manitoba in 1878 and homesteaded near Morden. Evidently this experience was not a great success, and he set up as a general merchant and notary public at Carlyle in the North-West Territories, just as settlement was beginning on a substantial scale in the early 1880s. Subsequently he moved to Alameda (Sask.), where he dealt in grain and farm implements and operated a store. In addition, he had stock in a grain merchant business, from which he also drew a salary. From all these sources he made enough to support his family comfortably. Over the years he became involved in a number of milling, mining, and financial businesses; at his death he would be president of the Western Trust Company of Winnipeg.
Elected to the Council of the North-West Territories for Moose Mountain in 1884 and again in 1886, Turriff was a vigorous supporter of territorial rights, particularly the creation of a mostly elective assembly. When the assembly was granted by Ottawa in 1888, Turriff was returned as a Liberal in Souris. He chose not to stand in 1891, but opposed Minister of the Interior Edgar Dewdney* in Assiniboia East in the federal election of that year. Dewdney represented for him the repressive policies of Ottawa. Turriff lost, and provided Liberal leader Wilfrid Laurier* with a frank and perceptive analysis of factors influencing this outcome.
This astute analysis reflected his organizing ability. He met a kindred spirit in Clifford Sifton, among other things the chief organizing force in Thomas Greenway*'s Liberal government in Manitoba. His admiration for Sifton was revealed in his naming his only son Robert Sifton, and the friendship was mutual and lifelong. After Sifton joined the Laurier government as minister of the interior in 1896, organization amongst Manitoba's provincial Liberals fell on hard times. In late 1897 Sifton recommended Turriff as a man who could bring a new vigour to a tired local government. But Turriff had recently lost his wife, and felt that "it is necessary I should be at home as much as possible." There were other factors: no financial inducement, Sifton's absence, the expectation that his Conservative partners in the grain business would "work against my interests in the Coy," and the fact that he saw himself as "a North Wester" who would lose influence if he worked in Manitoba.
The following year Sifton made Turriff commissioner of dominion lands in the Department of the Interior, his appointment dating from 8 July. No doubt Turriff carried out his duties in adjudicating land claims quite competently. However, his main task was to be a principal organizer for the Liberal party in the prairie west; the great majority of the surviving correspondence between the two men is related to this subject. Early in 1904 Turriff resigned in order to run in Assiniboia East in the upcoming federal election. He was successful, and retained his seat (Assiniboia from 1907) in three subsequent elections, until he was appointed to the Senate on 23 Sept. 1918.
In parliament Turriff never was a prominent leader, but he was an able and active mp and senator. In his early years in the House of Commons he was called upon repeatedly to defend his record, and that of Sifton, with respect to the administration of dominion lands. Even opposition leader Robert Laird Borden* commented after one of Turriff's speeches in 1907 that "he has made a very strong defence."
Turriff also became a champion of western interests. He supported the construction of what became the Hudson Bay Railway and argued for legislation to force railway companies to build within a reasonable time the branch lines for which they held charters. He was a critic of the grain inspection system, and of any tariff increases which would work to the disadvantage of the western farmer. A constant advocate of economy in government, he wanted any wage increases for civil servants tied to longer hours of work. He backed reciprocity in 1911 because "it is the will of the people" and because "a new era of prosperity will dawn for Canada." Denying that there was any urgent need to make a financial contribution to the Royal Navy in 1913, he argued in favour of Laurier's policy of creating a Canadian navy. During World War I he had relatively little to say about the war, but did support calls for Prohibition and for women's suffrage.
Like many Liberals, Turriff by 1916 believed that corruption in the Borden government and its mismanagement of the war effort would result in a Liberal victory if an election was held. Unhappily, on 15 Sept. 1916 his son was killed in the battle of Courcelette; as he despondently told Sifton, "My chief hope in life is gone." Perhaps this loss, as well as the changing circumstances of the war, turned Turriff in the summer of 1917 away from 30 years of loyalty to Laurier, instead to advocate conscription and coalition government. He rejected the Laurier solution of putting conscription to a referendum, believing that it would be beaten and that "there are times when the majority should not rule." Yet his association with the Borden government and the Unionist Liberals in 1917 was reluctant. He did not think that naturalized "enemy aliens" should be deprived of the vote, nor did he agree with special concessions to farmers as a class in the matter of conscription, maintaining that the tribunals set up to adjudicate individual exemptions would recognize the importance of agricultural operations to the war effort.
Borden's appointment of Turriff to the Senate in 1918 was a reward for his support. It was also merciful for Turriff, who had become a pariah among many of his former Liberal friends in the House of Commons. Increasingly, however, Turriff found the government's policies repugnant to his western sensitivities. In 1921 he crossed the floor to sit "as a supporter of the Progressives or Farmers' party." His was a lone voice in the Upper Chamber. The move enabled him to criticize all other parties, though he sided with the Liberals under William Lyon Mackenzie King* more consistently as Progressive fortunes ebbed later in the decade.
Turriff had been in declining health for some years when he died at his Rockcliffe Park home in Ottawa in 1930. The Toronto Globe recalled his marked Liberal partisanship when first elected to the House of Commons, but noted that "his views were subsequently modified." "His chief claim to recognition probably was his earnest devotion to the interest of the residents of the Prairie Provinces."
NA, MG 26, G; J; MG 27, II, D15. Globe, 12 Nov. 1930. Manitoba Free Press, 11 Oct. 1884, 11–12 Nov. 1930. Ottawa Citizen, 3 March 1900, 11 Nov. 1930. Ottawa Morning Journal, 11 Nov. 1930. Alameda, Sask., History Committee, A history of Alameda and district ([Alameda, 1955]). Can., Dept. of the Secretary of State, The civil service list of Canada . . . (Ottawa), 1899; House of Commons, Debates, 1905–18; Parl., Sessional papers, 1898–1905; Senate, Debates, 1919–31. Canadian directory of parl. (Johnson). Canadian men and women of the time (Morgan; 1912). CPG. L. H. Thomas, The struggle for responsible government in the North-West Territories, 1870–97 (2nd ed., Toronto, 1978).
© 2005–2023 University of Toronto/Université Laval
Image Gallery

Cite This Article
David J. Hall, "TURRIFF, JOHN GILLANDERS," in Dictionary of Canadian Biography, vol. 15, University of Toronto/Université Laval, 2003–, accessed November 29, 2023, http://www.biographi.ca/en/bio/turriff_john_gillanders_15E.html.
The citation above shows the format for footnotes and endnotes according to the Chicago manual of style (16th edition). Information to be used in other citation formats:
| | |
| --- | --- |
| Permalink: | http://www.biographi.ca/en/bio/turriff_john_gillanders_15E.html |
| Author of Article: | David J. Hall |
| Title of Article: | TURRIFF, JOHN GILLANDERS |
| Publication Name: | Dictionary of Canadian Biography, vol. 15 |
| Publisher: | University of Toronto/Université Laval |
| Year of publication: | 2005 |
| Year of revision: | 2005 |
| Access Date: | November 29, 2023 |