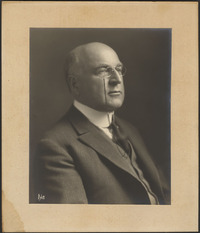 VOGT, AUGUSTUS STEPHEN, organist, choral conductor, music educator, composer, and author; b. 14 Aug. 1861 in Washington, Upper Canada, son of John George Vogt and Marianna Zingg; m. 19 Aug. 1891 Georgia Adelaide McGill (d. 1 Nov. 1922) in Bowmanville, Ont., and they had a daughter and a son; d. 17 Sept. 1926 in Toronto.
Augustus S. Vogt's German father had come to Upper Canada to escape the revolutionary turmoil of 1848. His Swiss mother had immigrated with her parents in the 1830s. Vogt grew up in Elmira, Ont., in a household where the children followed their mother's Lutheranism. Their Roman Catholic father, a hotel-keeper, also built organs, including one locally for St James Lutheran Church, which appointed Augustus organist at age 12. After studying in Hamilton, in 1878 he became organist of First Methodist Church in St Thomas. He completed his musical training at the New England Conservatory of Music, Boston, in 1881–84 and at the Leipzig Conservatory in Germany in 1885–88, during which time the gifted youth composed a prelude and fugue for organ. On his return to Toronto in 1888, he established himself as organist-choirmaster of the prestigious Jarvis Street Baptist Church, a position he would hold until 1906. His conversion to the Baptist faith may have caused a rift with his father. Active as secretary of a short-lived college of organists in 1889–92 and as a teacher of piano, organ, and theory at the Toronto College of Music [see Frederick Herbert Torrington*], in 1892 he secured a similar post at the Toronto Conservatory of Music (Royal Conservatory of Music). He would later be named a fellow of the Royal College of Organists.
Throughout his career, Vogt had to negotiate the politics of Toronto's musical scene. The conservatory tested its own students, and staff who sat as examiners received fees. In the late 1890s Vogt and others opposed the use in Canada of the examinations of the Associated Board of the Royal Academy of Music and the Royal College of Music in London, England. Such external testing was unnecessary, they argued, with much invective and national huffiness over this "traffic in certificates." In response to Vogt's insults, the board's local representative, Samuel Aitken, shot back in 1899 that if the conservatory were to have "sweated" Vogt for half his fees, "he might not now be putting up a new palatial residence in Bloor St." Furthermore, he found it amusing that exception to "foreign" examination should be taken "by a gentleman who spells his name V O G T." Vogt, a self-described "native Canadian and a loyal subject," retorted that the board's president, the Prince of Wales, owned a family name (Saxe-Coburg-Gotha) "which is equally suggestive of such dainties as sauerkraut, limburger and lager." Despite this objection, board examination continued for several more decades.
When a student in Leipzig, Vogt had been a regular listener to the choral singing at the famed Thomaskirche. In Toronto, a stickler for rehearsal, he strove for excellence in the unaccompanied singing of his choir at Jarvis Street Baptist, a standard that enhanced his local reputation as a choral director. In 1894 he founded the Toronto Mendelssohn Choir (now the oldest mixed-voice choir in Canada), and through his work with it he would attract international acclaim. Its initial membership of 75 was drawn largely from his church choir and the repertoire was mostly sung a cappella. At the inaugural concert in the Massey Music Hall on 15 Jan. 1895, there were 167 choristers, of whom 106 were women, all of them unmarried. Among the long-time members was Vogt's wife, whom he had conducted in a choir before their marriage. Vogt broke up the Mendelssohn Choir in 1897 only to reinstate it, astutely, in 1900; under its new constitution it would disband annually and, to keep standards high, each chorister would audition anew. Vogt expanded its repertoire to include works with orchestra and he showcased these pieces in annual festivals, beginning in 1902. The choir collaborated with the Chicago and Pittsburgh orchestras, among others, and its tours in the United States were unprecedented for any Canadian musical organization. The Mendelssohn quickly gained critical acclaim. "Choral music is a branch of the art in which Canadians seem to excel," Vogt explained to the Musical Times (London). Ernest Alexander Campbell MacMillan* later noted in an appreciation that "the wonderful feeling for musical colour which never failed to appear in Vogt's performances, was compounded of an exceptional sense of rhythm and an almost uncanny sensitiveness to vocal tone."
After a year's trip to Europe, in 1913 Vogt succeeded Edward Fisher* as musical director of the Toronto Conservatory, then situated on College Street. He resigned from the Mendelssohn Choir in 1917 owing to the exigencies of his new duties. As meticulous and visionary in administration as he was in conducting, he enlarged the student base and the number of local centres across Canada for the graded examinations of the conservatory. Vogt himself went west as an examiner until 1921. In 1914 a resident program in performance was introduced. Among the accomplished staff attracted by Vogt was James Healey Willan*, first as head of theory and then as vice-principal. Aided by Sir Byron Edmund Walker, who chaired the boards of both the conservatory and the University of Toronto, which awarded Vogt a d.mus. in 1906 – an honour Vogt cherished – he forged a strong liaison with the university, becoming first dean of its faculty of music in 1918 in addition to being principal of the conservatory. Under his tenure, the conservatory became part of the university through provincial legislation in 1919, and in 1924, with university approval, it took over another recognized local school, the Canadian Academy of Music.
Beyond his work as a conductor and administrator, Vogt wrote articles for Edwin Rodie Parkhurst's Musical Canada (Toronto) and for Musical Life and Arts (Winnipeg). He was a music critic for Saturday Night (Toronto) in the 1890s under the name of Moderato, and he contributed other pieces and letters in 1891, 1912–13, and 1922. His choral compositions included An Indian lullaby for women's voices and Crossing the bar in 1906 and The sea in 1911, and he prepared arrangements of The Lord's Prayer and Rule Britannia. He is best known for his Modern pianoforte technique (Toronto, 1900), his widely used Standard anthem book (2v., Toronto, 1894–c. 1909), and, with Willan, School and community song book (Toronto, 1922).
In 1918 Vogt began suffering from heart problems. Four years later his wife died of breast and liver cancer. He nevertheless carried on with his demanding dual position, but, he told his daughter in August 1926, "the almost deadly nature of my job about kills me." The next month, while suffering from influenza, he died of a heart attack. In 1929 a memorial window commissioned by the Mendelssohn Choir was placed in St Paul's Anglican Church in Toronto, where he had been a member for many years.
AO, RG 22-305, no.55454; RG 80-5-0-188, no.8478; RG 80-8-0-858, no.6219; RG 80-8-0-1018, no.6042. Univ. of Toronto, Faculty of Music, Rare Books and Special Coll., MUS, MSS pam 004 (Vogt papers). UTA, A1973-0026/487(64). Canadian Statesman (Bowmanville, Ont.), 19, 26 Aug. 1891. Globe, 18 Sept. 1926. Toronto Daily Star, 18 Sept. 1926. An account of the Canadian protest against the introduction into Canada of musical examinations by outside musical examining bodies, ed. Canadian Protesting Committee (Toronto, 1899). Samuel Aitken, The case of the Associated Board ([n.p., 1899?]). Canadian men and women of the time (Morgan; 1898 and 1912). Canadian who's who, 1910. Dominion Musical Journal (Toronto), new ser., 1 (1891–92): 19, 25. Encyclopedia of music in Canada (Kallmann et al.), 1378–79. G. G. Jones, "'Exam wars' and the Toronto territorial connection," Canadian Univ. Music Rev. (Toronto), 11 (1991), no.2: 51–67. National encyclopedia of Canadian biography, ed. J. E. Middleton and W. S. Downs (2v., Toronto, 1935–37). Saturday Night, 1891–1926. Standard dict. of Canadian biog.(Roberts and Tunnell), vol.1. Who's who in Canada, 1925/26.
© 2005–2023 University of Toronto/Université Laval
Cite This Article
Gaynor G. Jones, "VOGT, AUGUSTUS STEPHEN," in Dictionary of Canadian Biography, vol. 15, University of Toronto/Université Laval, 2003–, accessed November 28, 2023, http://www.biographi.ca/en/bio/vogt_augustus_stephen_15E.html.
The citation above shows the format for footnotes and endnotes according to the Chicago manual of style (16th edition). Information to be used in other citation formats:
| | |
| --- | --- |
| Permalink: | http://www.biographi.ca/en/bio/vogt_augustus_stephen_15E.html |
| Author of Article: | Gaynor G. Jones |
| Title of Article: | VOGT, AUGUSTUS STEPHEN |
| Publication Name: | Dictionary of Canadian Biography, vol. 15 |
| Publisher: | University of Toronto/Université Laval |
| Year of publication: | 2005 |
| Year of revision: | 2005 |
| Access Date: | November 28, 2023 |