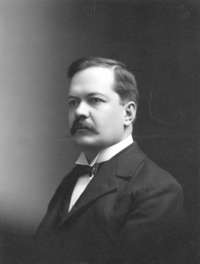 Source: Link
WADE, FREDERICK COATE, newspaper editor, lawyer, office holder, and agent general for British Columbia; b. 26 Feb. 1860 in Bowmanville, Upper Canada, second son of William Wade, a bank clerk, and Harriet Coate; m. 1 Sept. 1886, in Toronto, Edith Mabel Read (d. 1932), daughter of David Breakenridge Read*, and they had a son and a daughter; d. 9 Nov. 1924 in London, England.
A man of keen intellect and brash outspokenness, Frederick Wade received his early education in the public schools of Ottawa and Owen Sound, Ont. In 1879 he entered the ba program at the University of Toronto and he graduated in 1882. While there, he became an editor of the Varsity, the student journal. A strong Liberal, he also obtained an editorial position with the party's organ, the Globe. In 1883 he began legal studies with David Breakenridge Read. Later that year he moved to Winnipeg and continued his studies, probably with his uncle Charles Rann Wilkes, a lawyer in the city. In February 1884 Wade became a founding member of the Winnipeg Legal Club, which promoted the study of law, public speaking, and essay writing. In 1886 he was made the first president of the Young Liberal Association of Winnipeg, an office to which he was re-elected the following year.
Although Wade had been called to the Manitoba bar in 1886, he did not immediately practise; he became an editorial writer for William Fisher Luxton*'s Manitoba Free Press. Wade's first editorial, "The bell wether," depicted the supporters of the Conservative government of John Norquay* as sheep "who did not understand what legislation was about and cared less." The vigorous writings of Wade and Luxton did much to ensure the defeat of the Norquay government in late December 1887 and the arrival of a Liberal administration under Thomas Greenway* in mid January 1888.
Sometime earlier in 1887 Wade had left the Free Press to practise law with Wilkes. In one of his first cases he represented the United States in the inquiry into the compensation claims made by trader Jean-Louis Légaré* for provisions he had furnished to the Dakota under Sitting Bull [Ta-tanka I-yotank*]. The following year he joined Archer Evans Stringer Martin* to form Wade and Martin. From 1891 to 1894 he practised with Anson Whealler. In addition, he found time to prepare The revised statutes of Manitoba, 1891 (Winnipeg, 1892).
Wade devoted much time to developing English-language public education in Manitoba; in 1889 he had served on the Board of Education of Manitoba, the council of the University of Manitoba, and the Winnipeg School Board. With Attorney General Joseph Martin, he was a strong defender of the provincial Liberal government's policy in the Manitoba school question [see Greenway]. He wrote two pamphlets, National schools for Manitoba (Winnipeg, 1892) and The Manitoba school question (Winnipeg, 1895), in support of the government's position. In February 1897 he was appointed the commissioner to investigate charges laid against officers of the Stony Mountain Penitentiary. His obituary in the Province would claim that his report, dated 1 Sept. 1897, led to "considerable improvement" in conditions there.
On 26 Aug. 1897, in anticipation of the establishment of the Yukon Territory, Wade was nominated registrar of lands by the federal government. He arrived in Dawson in March 1898 and soon became disappointed with the administration of the territory. In a letter to Clifford Sifton, minister of the interior, he criticized the actions of various government officials. His own conduct as registrar was controversial. In the House of Commons opposition member Sir Charles Hibbert Tupper charged that Wade had enriched himself by imposing extra fees for the registration of lands and gold claims. On 7 July 1898 he was dismissed as registrar and appointed legal adviser to the Yukon Council. The following February he was made crown prosecutor. An able lawyer, he handled cases speedily and effectively. After his arrival in Dawson, he had established a private practice with Orange H. Clark and Herbert G. Wilson that was dissolved in May 1899. Wade then formed a partnership with James Allan Aikman and later one with Frederick Tennyson Congdon* that lasted until 1903. In private practice he again found himself in controversy. In 1899 he was severely criticized by local officials when he served as defence counsel for several mining firms that were being prosecuted by him as crown prosecutor. The federal administration responded with an order in council forbidding government officials to engage in private practice.
Wade left the Yukon in July 1901 and travelled abroad for several months. On 23 April 1902 he was appointed a kc. Later that year he became a member of the National Liberal Club of London, England. In early 1903 he was chosen to serve as one of the counsel for the British side in the Alaska boundary dispute [see Sir Wilfrid Laurier*]. He spent six months in England working on the case. Although the final decision of the Alaska Boundary Tribunal did not favour Canada, Sifton, who had been appointed British agent to draw up and present the Canadian position, praised his skilful preparation of the case. After moving to Vancouver in the summer of 1904, Wade formed a law partnership with Ernest John Deacon and William Stearne Deacon. In 1909 he established a firm with Whealler, his former partner, and William Garland McQuarrie, which would be known as Wade, Whealler, McQuarrie, and Martin when George Edgar Martin joined in 1911.
In the provincial election of 1909 Wade had been an unsuccessful Liberal candidate for Vancouver City. He dissolved his law partnership in 1912 and became one of the founders of the Vancouver Sun, which soon claimed to be "the official organ of the Liberal Party." As its editor and president of its publishing company, he led one of the most effective opposition newspapers in the province during the Conservative regime of Sir Richard McBride* and was noted for his unswerving support of the Liberal party.
In August 1918 Wade was appointed to succeed John Herbert Turner as agent general of British Columbia in London, England. On his arrival, one of his first actions was to provide beds in British Columbia House for Canadian soldiers on leave. An effective advocate for British Columbia and Canada, he held the position until he died in London from "muscular rheumatism" in 1924.
Frederick Coate Wade believed that one of his most important accomplishments had been the establishment in 1906 of a fund for the erection of a monument to Major-General James Wolfe* in Greenwich Park (London). The statue would be unveiled in 1930. He had been a competent but controversial journalist, lawyer, and civil servant, whose skills had been best displayed in the case before the Alaska Boundary Tribunal and perhaps worst employed during the Manitoba school question.
[The authors would like to thank Ronald Greene for his assistance. In addition to the works mentioned in the text, Frederick Coate Wade was the author of numerous pamphlets, some of which originated as lengthy letters to newspapers. A list of these publications can be found in CIHM, Reg. b.r.m. and c.j.p.h.]
AO, RG 80-5-0-147, no.14161. BCA, GR-1415, file 10216; GR-2951, no.1932-09-470476; VF155, frames 3013–29. City of Vancouver Arch., Add. mss 44 (Wade family fonds). LAC, MG 26, G. Daily Colonist (Victoria), 14–15 Aug. 1918; 11, 14 Nov. 1924; 6 Aug. 1967 (Islander Magazine). Daily Klondike Nugget (Dawson, Y.T.), 15 July, 7 Oct., 11 Dec. 1901. Dawson Daily News (Dawson), 17 Oct. 1899–22 June 1901. Klondike Nugget (Dawson), 27 July 1898; 3 May, 3 June 1899. Manitoba Free Press, 12 Feb. 1885, 19 April 1898, 26 June 1909. Vancouver Daily Province, 12 April, 13 Aug. 1902; 16–1 7 June, 17 Sept. 1909; 14 Aug. 1918; 11 Nov. 1924; 20 May 1932; 15 Dec. 1934. Vancouver Sun, 14 Aug. 1918, 11 Nov. 1924, 4 March 1958. Victoria Daily Times, 10 Jan. 1903, 14 Aug. 1918, 10 Nov. 1924, 2 April 1929. Can., Commission to investigate, inquire into and report upon charges preferred against certain officers and guards connected with the Stony Mountain Penitentiary, Report ([Winnipeg?], 1897). Canada Gazette, 4 Sept. 1897, 8 May 1902. Canadian annual rev., 1910, 1912. The Canadian law list (Toronto), 1906–13. Canadian men and women of the time (Morgan; 1912). Directories, B.C., 1905; Manitoba, 1888, 1890–91, 1894; Ottawa, 1866, 1870–71; Toronto, 1883; Vancouver, 1908–10, 1912; Winnipeg, 1883–84. D. J. Hall, Clifford Sifton (2v., Vancouver and London, 1981–85). D. R. Morrison, The politics of the Yukon Territory, 1898–1909 (Toronto, 1968). Newspaper reference book. C. [L.] Porsild, Gamblers and dreamers: women, men, and community in the Klondike (Vancouver, 1998). Jim Wallace, Forty Mile to Bonanza: the North-West Mounted Police in the Klondike gold rush (Calgary, 2000). Who's who in western Canada . . . (Vancouver), 1911. Winnipeg Legal Club, Constitution . . . (Winnipeg, [1884?]).
© 2005–2023 University of Toronto/Université Laval
Cite This Article
Brad R. Morrison and Christopher J. P. Hanna, "WADE, FREDERICK COATE," in Dictionary of Canadian Biography, vol. 15, University of Toronto/Université Laval, 2003–, accessed December 9, 2023, http://www.biographi.ca/en/bio/wade_frederick_coate_15E.html.
The citation above shows the format for footnotes and endnotes according to the Chicago manual of style (16th edition). Information to be used in other citation formats:
| | |
| --- | --- |
| Permalink: | http://www.biographi.ca/en/bio/wade_frederick_coate_15E.html |
| Author of Article: | Brad R. Morrison and Christopher J. P. Hanna |
| Title of Article: | WADE, FREDERICK COATE |
| Publication Name: | Dictionary of Canadian Biography, vol. 15 |
| Publisher: | University of Toronto/Université Laval |
| Year of publication: | 2005 |
| Year of revision: | 2005 |
| Access Date: | December 9, 2023 |