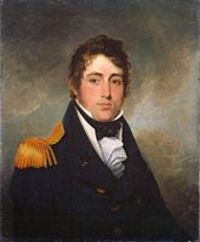 Source: Courtesy of Wikimedia Commons
WALLIS, Sir PROVO WILLIAM PARRY, naval officer; b. 12 April 1791 in Halifax, only son of Provo Featherstone Wallis, clerk to the master shipwright of the dockyard, and Elizabeth Lawlor; m. first 19 Oct. 1817 Juliana Massey, and they had two daughters; m. secondly 21 July 1849 Jemima Mary Gwynne Wilson, daughter of General Sir Robert Thomas Wilson, in Bintree, England; they had no children; d. 13 Feb. 1892 in Funtington, England.
It has been suggested that Provo William Parry Wallis was related to Captain Samuel Wallis, who circumnavigated the globe between 1766 and 1768. Whether this statement is true or not, it is evident that Wallis was raised in the traditions of the Royal Navy. He was a grandson of Provo Wallis, a naval shipwright who served in the Seven Years' War and the War of American Independence and then settled in Halifax. Provo Featherstone Wallis had followed his father into the Halifax dockyard, and through his connections in the service was able to prepare his son for a naval career at a very young age. The only record of Wallis's boyhood shows him borne on the books of several ships from the age of four, although he obviously did not go to sea. In later years he recalled that as a child he was sent to England to be educated and commented, "My real career commenced from the time I joined the Cleopatra, in October 1804."
In November 1806 Wallis was appointed acting lieutenant in the Triumph, and on 11 Nov. 1808 he was promoted lieutenant in the Curieux. For his part in actions surrounding the capture of Guadeloupe in 1810 he later received a medal. His biographer notes, "As his portrait at the age of twenty-two indicates, [he] was a strikingly handsome young man. He was also tall and well-proportioned, brave, amiable, and good-tempered." In January 1812 Wallis joined the crack frigate Shannon, commanded by Philip Bowes Vere Broke*, who commented that his new second lieutenant "seems an amiable young man." The Shannon sailed out of Halifax and Bermuda, and after the outbreak of war with the United States destroyed or captured several American vessels. Broke wished for an opportunity to avenge the series of defeats the American navy had inflicted on the Royal Navy and he constantly drilled his crew, especially in gunnery, which he had made his speciality.
On the morning of 1 June 1813 the Shannon was blockading Boston Harbor when the American frigate Chesapeake came out to engage her. As the two ships closed, lieutenants Charles Leslie Falkiner and Wallis directed the guns of the Shannon's starboard battery in an intense fire that almost disabled the Chesapeake. Broke led the boarders and the British gained control of the enemy vessel after 11 minutes. In one of the shortest and bloodiest ship-to-ship battles in naval history, Broke had his skull split open, the American captain was mortally wounded, and both frigates lost many men.
As the smoke cleared, Wallis must have been almost overwhelmed by the awesome responsibilities suddenly thrust upon him. With his captain severely wounded and the first lieutenant dead, he was left in command of two ships, close to the enemy coast and crowded with dead and wounded as well as a host of uncooperative prisoners. The Americans were manacled with the handcuffs they had brought to accommodate the anticipated British captives, essential repairs were made, and both vessels set course for Halifax. After a quiet journey – with Broke lying near death in his cabin, Wallis had ordered "Silence fore and aft" – the frigates anchored in Halifax Harbour on 6 June to a tumultuous welcome. Wallis later claimed that he felt the heavy burden of responsibility, was very anxious about the possibility of meeting an American vessel, did not take time to change his clothes, and scarcely slept during the trip.
Wallis immediately arranged for suitable care and accommodation for his wounded captain. When Broke was well enough to travel he and Wallis sailed for England in the Shannon, leaving Halifax on 11 October. Broke never went to sea again, but he kept in contact with Wallis, whose career he followed with considerable pride.
For his part in the taking of the Chesapeake, Wallis had been promoted commander on 9 July 1813. As was the case with many naval officers following the end of the Napoleonic Wars, he alternated sea duty with long periods of inactivity. He was advanced to post rank on 19 Aug. 1819, and from June 1824 to November 1826 commanded the Niemen and an experimental squadron of sloops on the Halifax station. While so engaged he was entertained at Boston in his former capacity as an officer of the Shannon.
Wallis had to wait until April 1838 to receive his next appointment, the Madagascar, which he commanded until December 1839. From 1843 to 1847 he was in the Mediterranean, winning praise for his tactful diplomacy in international disputes. On 5 Aug. 1847 he was appointed a naval aide-de-camp to Queen Victoria, a position he held until he became rear-admiral on 27 Aug. 1851. In April 1857 he hoisted his flag in the Cumberland as commander-in-chief off the southeast coast of South America, but he was recalled after a few months on his promotion to vice-admiral. This was his last service afloat; he was almost 70 and had been on active service for the better part of 54 years.
He continued to receive awards and distinctions. He was made a kcb on 18 May 1860, was promoted admiral on 2 March 1863, and served as rear-admiral of the United Kingdom between 1869 and 1870. He became a gcb on 24 May 1873 and filled the highly distinguished honorary position of vice-admiral of the United Kingdom from 1870 to 1876. On 11 Dec. 1877 he obtained his final promotion with his elevation to admiral of the fleet. He was reportedly very proud of his title of vice-admiral of the United Kingdom and regretted having to relinquish it on his promotion. Wallis received one additional honour which proved quite lucrative. In 1870 the Admiralty had introduced a new retirement scheme which included a provision to retain on the active list the officers who had commanded a ship during the Napoleonic Wars. As a consequence, Wallis received full pay until his death at the age of 100. When one considers that he was first borne on a ship's books at the age of four and began active service at 14, his career must surely have been one of the longest in naval history.
Wallis lived out his final years at Funtington, apparently "in full enjoyment of his faculties, and reading and writing with ease till a few months before the end." On his hundredth birthday Wallis received congratulations from many persons, including Queen Victoria, a number of her ministers, and the mayor of Halifax. Although he owned some land in Nova Scotia, Wallis does not appear to have retained strong attachments to the land of his birth. From the time he started school in England, and particularly from the commencement of his naval career, he became an Englishman in attitudes, loyalties, and prejudices. This development was entirely natural for his day. What set Wallis apart was his longevity and the exalted rank he reached, with the latter conditional on the former to a considerable degree.
PRO, ADM 1; ADM 2; ADM 8/100; ADM 38/4402; ADM 50; ADM 51; ADM 80; ADM 98/291–92; ADM 103; ADM 104/6–7; ADM 106; ADM 128; ADM 129; ADM 171/1 (all mfm. at NA except ADM 38/4402, photocopies at NA). Annual reg. (London), 1813 (new ed., 1823). J. G. Brighton, Admiral of the fleet, Sir Provo W. P. Wallis . . . a memoir (London, 1892). DNB. Encyclopedia Canadiana. W. R. O'Byrne, A naval biographical dictionary: comprising the life and service of every living officer in Her Majesty's navy . . . (London, 1849). W. L. Clowes, The Royal Navy; a history from the earliest times to the present (7v., London, 1897–1903), 4, 6. James Grant, British battles on land and sea (4v., London, [1884–88]). E. S. Turner, Gallant gentlemen; a portrait of the British officer, 1600–1956 (London, 1956). N. L. Wilkinson et al., The Royal Navy (London, 1907). D. C. Harvey, "Nova Scotia and the Canadian naval tradition," CHR, 23 (1942): 247–59. W. G. Perrin, "The vice-admiral and rear-admiral of the United Kingdom," Mariner's Mirror (Cambridge, Eng.), 14 (1928): 28–31.
© 1990–2023 University of Toronto/Université Laval
Cite This Article
Carl Christie, "WALLIS, Sir PROVO WILLIAM PARRY," in Dictionary of Canadian Biography, vol. 12, University of Toronto/Université Laval, 2003–, accessed June 10, 2023, http://www.biographi.ca/en/bio/wallis_provo_william_parry_12E.html.
The citation above shows the format for footnotes and endnotes according to the Chicago manual of style (16th edition). Information to be used in other citation formats:
| | |
| --- | --- |
| Permalink: | http://www.biographi.ca/en/bio/wallis_provo_william_parry_12E.html |
| Author of Article: | Carl Christie |
| Title of Article: | WALLIS, Sir PROVO WILLIAM PARRY |
| Publication Name: | Dictionary of Canadian Biography, vol. 12 |
| Publisher: | University of Toronto/Université Laval |
| Year of publication: | 1990 |
| Year of revision: | 1990 |
| Access Date: | June 10, 2023 |