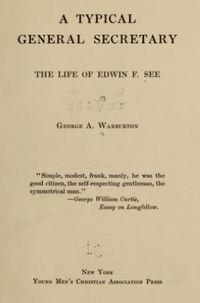 Source: Link
WARBURTON, GEORGE AUGUSTUS, YMCA official, prohibitionist, and conservationist; b. 4 Oct. 1859 in Sandford, Somerset, England, son of Samuel Warburton and Elizabeth Jones; m. October 1881 Louise H. Johnson in Port Byron, N.Y., and they had a daughter and two sons; d. 21 Feb. 1929 in Toronto.
In 1869 George Warburton emigrated to the United States with his parents. The family settled in Brockport, N.Y., where George attended school until, as a young teenager, he abandoned formal education and worked with his father, a blacksmith. Soon after, he experienced conversion and served as a Wesleyan lay preacher on weekends, becoming known as "the boy preacher of Central New York." Regretting his earlier refusal to continue in school, Warburton, a man of considerable intellectual ability, educated himself by reading widely.
Warburton's preaching brought him to the attention of the Young Men's Christian Association and he was sent to Newburgh, N.Y., for secretarial training. His long and varied YMCA career began a few months later with his 1880 appointment as general secretary of the association in Watertown. Warburton's accomplishments there soon led to a call to Syracuse, where he served as general secretary from 1881 to 1883. During these years Warburton impressed Cornelius Vanderbilt, who was looking for someone to take charge of New York City's Railroad YMCA. In 1884, at age 25, Warburton became secretary of this association, a position he held for the next quarter century.
Under Warburton's direction the association garnered widespread support from America's leading railways without ever becoming "the child of [the] companies." His efforts on behalf of railway employees included establishment of the Railroad Building and Loan Association. From 1887 to 1908 Warburton's editorship of the monthly Railroad Men (New York) extended his influence well beyond the state's boundaries.
By 1909 the board of the Toronto YMCA, which included many of the city's leading financiers and businessmen, was looking for a man who could oversee a major expansion of work in their city. Warburton's record as a fund-raiser, his ability to relate well to captains of industry, and his success in attracting strong laymen to YMCA endeavours made him an ideal candidate. About to turn 50, he was persuaded to relocate to Toronto on the condition that the plans for expansion went ahead.
Within a year of taking over as general secretary of Toronto's Central YMCA, Warburton had helped the association's directors raise over $685,000, a sum that exceeded their goal and made possible the construction of three new YMCA buildings. When the expanded scope of YMCA work in Toronto necessitated creation of a metropolitan organization in 1911, Warburton was put in charge. That same year he supported the decision of Canada's YMCAs to declare their independence from the association's North American organization and establish a separate national entity. In 1913, as the representative of the Toronto body, he was one of Canada's delegates at the World's Conference of the YMCA in Edinburgh. While Warburton served as general secretary of the Metropolitan Toronto YMCA, memberships increased by well over 60 per cent and the city's population by about 40 per cent. The YMCA's rapid expansion owed much to Warburton's fund-raising abilities, initiatives in the field of educational programming, and support for the introduction of an employment agency.
Once war broke out in 1914, Warburton volunteered in a number of patriotic causes, including the Canadian Patriotic Fund and Victory Loan drives. In 1918 he was appointed general director of the national YMCA's Red Triangle Fund campaign. This, the largest appeal the YMCA had ever made in Canada, was carried out across the country over three days in May and raised almost three and a half million dollars. A few months later the Toronto YMCA gave Warburton a four-week leave so that he could, on behalf of the Canadian government, assist in the American YMCA's campaign to raise $175,000,000 for war work. Less than a decade after his arrival in Toronto he had been selected by the federal government to help "strengthen the good relations . . . between Canada and the United States."
Warburton's philanthropic and public service during the 20 years he spent in Canada extended far beyond the YMCA. He served the broader community through his involvement in a range of religious, reform, and charitable organizations. In 1915-16 he had taken a six-month leave from the YMCA to serve as chief organizer of the Citizens' Committee of One Hundred's campaign to get the Ontario government of William Howard Hearst* to outlaw the sale of alcohol in the province, a goal achieved in 1916. Warburton was later asked to take charge of the Dominion Prohibition Committee's federal campaign but, even though the Toronto YMCA agreed to his doing so, time constraints and the "inadvisability of getting involved in political controversies" brought about his withdrawal from this fight early in 1917.
Warburton's impact on Canadian social norms did not stop when ill health forced him to resign from active YMCA service in 1922. In addition to renewed activity in the prohibition movement at the national and provincial levels, he now took on responsibilities in the fight to preserve the country's natural resources, putting his well-honed lobbying skills and networking abilities to work in this cause. A lifelong angler and long-time supporter of fish restocking programs, in 1925 he helped found the Toronto Anglers' Association, which began its operations by sponsoring a survey that documented the ill effects overfishing had already had on one of Canada's natural resources. By 1927, when he became president of the 2,500 member TAA, Warburton was convinced that the political force of a province-wide federation of anglers was needed to bring about government action and he pushed for its creation. His efforts bore fruit early the next year and delegates at the founding convention of the Ontario Federation of Anglers rewarded him with election as president. Under his direction the OFA called upon the government to hire experts to survey the state of the province's fish and wildlife populations and advise on necessary conservation measures. By the time of his death in February 1929 Warburton had alerted Ontarians about the need for conservation and mobilized public opinion in support of this cause.
George A. Warburton was a prolific correspondent and wrote poetry for family and friends. He published two books, George Alonzo Hall; a tribute to consecrated personality (New York, 1905) and A typical general secretary: the life of Edwin F. See (New York, 1908).
LAC, MG 28, I 95. Y.M.C.A. of Greater Toronto, Minute-book no.3, 1906-18. Globe, 22 Feb. 1929. W. [W.] Adair, Memories of George Warburton ([New York], n.d.). C. W. Bishop, The Canadian Y.M.C.A. in the Great War . . . ([Toronto], 1924). Canadian annual rev., 1910, 1916, 1918. Canadian men and women of the time (Morgan; 1912). J. F. Moore, The story of the Railroad "Y" (New York, 1930). M. G. Ross, "The Toronto Y.M.C.A. in a changing community, 1864-1940" (ma thesis, Univ. of Toronto, 1947); The Y.M.C.A. in Canada: the chronicles of a century (Toronto, 1951).
© 2005–2023 University of Toronto/Université Laval
Image Gallery

Cite This Article
Patricia Dirks, "WARBURTON, GEORGE AUGUSTUS," in Dictionary of Canadian Biography, vol. 15, University of Toronto/Université Laval, 2003–, accessed October 3, 2023, http://www.biographi.ca/en/bio/warburton_george_augustus_15E.html.
The citation above shows the format for footnotes and endnotes according to the Chicago manual of style (16th edition). Information to be used in other citation formats:
| | |
| --- | --- |
| Permalink: | http://www.biographi.ca/en/bio/warburton_george_augustus_15E.html |
| Author of Article: | Patricia Dirks |
| Title of Article: | WARBURTON, GEORGE AUGUSTUS |
| Publication Name: | Dictionary of Canadian Biography, vol. 15 |
| Publisher: | University of Toronto/Université Laval |
| Year of publication: | 2005 |
| Year of revision: | 2005 |
| Access Date: | October 3, 2023 |