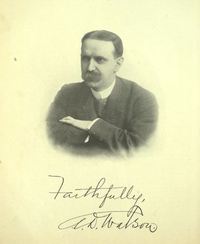 Source: Link
WATSON, ALBERT DURRANT, physician, astronomer, author, and psychical researcher; b. 8 Jan. 1859 in Dixie (Mississauga), Upper Canada, son of William Youle Watson and Mary Ann Aldred; m. 23 Sept. 1885 Sarah Anne Grimshaw Clare (d. 13 March 1937) in Toronto, and they had two daughters and five sons; d. there 3 May 1926.
Albert Durrant Watson's father and paternal grandparents emigrated from England in 1819 and his maternal grandparents did the same in 1836. According to a Canadian Medical Association obituary, Watson was "of a good family." His father was a reformer in politics and a Methodist in religion. Watson, too, would be active in the Methodist Church of Canada. He was a member of the Euclid Avenue Church in Toronto, the Toronto Conference, the General Conference, the Board of Missions, and the executive of the Methodist Social Union of Toronto, and he served as treasurer of the church's department of temperance and moral reform. He also conducted a large Bible class for young people. It would be stated in the Commemorative biographical record of the county of York (1907) that he was "prominent in the ethical and sociological work of the church." He was founder and president of the Ethological Association of Canada, president of the Canadian Purity-Education Association, "and a recognized teacher and leader in ethical ideals."
Educated first in the schools of Peel County, Watson had studied at the Toronto Normal School and taught for a short period at Malton (Mississauga) and Oakville before turning to the study of medicine. He obtained an md from Victoria College, Cobourg, in 1883. In 1890 he would receive another, ad eundem, from the University of Toronto in recognition of his graduation as a licentiate from the Royal College of Physicians of Edinburgh in 1883. He successfully practised medicine for more than four decades, serving on staff at three hospitals, including Toronto Western.
Among other pursuits, Watson was an avid amateur astronomer. His papers in this field include "The reformation and simplification of the calendar" (1896), "Astronomy in Canada" (1917), and "Astronomy: a cultural avocation" (1918). He had joined the Astronomical and Physical Society of Toronto in 1892; it would develop into the Royal Astronomical Society of Canada, which he served as second and then first vice-president between 1910 and 1915 and as president in 1916 and 1917. In addition, he had many musical and literary interests. During the early decades of the 1900s several of his poems appeared in Methodist and Presbyterian hymnals. In 1908 he wrote an alternative wording for "O Canada" which was widely acclaimed. It is still used in many churches.
In 1908 Watson published The wing of the wild-bird and other poems. It was followed by Love and the universe, The immortals and other poems (1913), Heart of the hills (poems) (1917), The dream of God (a poem) (1922), and Woman: a poem (1923). Editor Lorne Albert Pierce* of the Ryerson Press, a friend of Watson's, wrote in 1923: "We anticipate a selected edition of his poetry very soon. This ought to establish him securely among the great names of our native literature." The poetical works of Albert Durrant Watson appeared the following year. He was strongly influenced by the "confederation poets," including Charles George Douglas Roberts* and William Bliss Carman, and echoed their themes of nationalism and romanticism. Like Carman, he was also drawn to mystical subjects.
As a prose author, Watson produced several philosophical studies, including The sovereignty of ideals ([1903]), The sovereignty of character: lessons from the life of Jesus of Nazareth (1906), and Three comrades of Jesus (1919). He wrote the first volume in Pierce's Makers of Canadian literature series, on the poet Robert Winkworth Norwood* (1923). Though all reviewers were not so positive, Edwin John Pratt* wrote that the "task of interpretation has been accomplished with insight and refinement." Watson had also collaborated with Pierce in compiling the noted anthology Our Canadian literature: representative prose and verse (1922).
While he received recognition for his literary efforts, Watson achieved notoriety through his psychical research. From 1918 to 1920 a series of seances was held by medium Louis Benjamin, usually in the Watson home, with a stenographer present to record the proceedings. Among those present on at least one occasion was Flora MacDonald Denison [Merrill], like Watson a devotee of Walt Whitman. Watson became president of the Association for Psychical Research of Canada and reported on his study of the seance communications, purportedly dictated by the spirits of departed celebrities, in The twentieth plane: a psychic revelation (1918) and Birth through death, the ethics of the twentieth plane: a revelation received through the psychic consciousness of Louis Benjamin (1920).
During the first weeks of January 1919 a debate on The twentieth plane was held in Toronto newspapers. Author Lucy Maud Montgomery* described the publication in her journal that March as "the book which has made such a sensation in Toronto" (and as "absolute poppycock – utterly unconvincing" despite her own interest in life after death). Watson gained many supporters, but others publicly ridiculed him. He resigned his position as leader of the Bible class. Two years later he dissociated himself from Benjamin, declaring his scepticism about mediums (though reaffirming his belief in the spiritual world), and withdrew from his editorship of the Twentieth Plane: a Magazine of Psychic Content. He concluded his study of "spiritual laws and psychic forces" with the publication of Mediums and mystics . . . (1923), written in collaboration with Margaret Lawrence, whom he would make his literary executor.
In 1920, in the earliest days of the Baha'i community in Canada, Watson had converted to that faith (as did Lawrence the following year). In the view of Lorne Pierce, "He recognized no national, ecclesiastical or any other frontier, but searched the world through for truth. . . . He sifted the philosophies, the religions and the humanities of the world. . . . No man during this generation in Toronto ever entertained so many strange faces, tongues, sects, systems, enthusiasms, artists, poets, fanatics, sages as he did; no home was more the ante-chamber to the universe."
The literary style epitomized by Watson was eclipsed not long after his death by modern realism, but his dedication to artistic and scientific endeavours will mark his place in Canada's history.
Debra Barr and Walter Meyer zu Erpen
All of the subject's works mentioned in the text were published in Toronto, with the exception of The sovereignty of ideals, which came out in Westwood, Mass. "The reformation and simplification of the calendar" first appeared in the Astronomical and Physical Soc. of Toronto, Trans., 1896: 59–72, and was reprinted separately the following year. "Astronomy in Canada" and "Astronomy: a cultural avocation" were published in the Royal Astronomical Soc. of Canada, Journal (Toronto), 11 (1917): [47]–78 and 12 (1918): [81]–91 respectively, and were also reprinted separately in the same years. Many of these works, and additional poetical works by Watson, have been made available by the CIHM and are listed in its Reg. Watson also wrote "The doctor of the future," Canadian Journal of Medicine and Surgery (Toronto), 7 (January–June 1900): 311–18 and he published as well in the Baha'i magazine Star of the West (Chicago) in 1924 and 1926.
Among the biographical accounts of Watson are Canadian album (Cochrane and Hopkins), 1: 105; Canadian men and women of the time (Morgan; 1898 and 1912); Canadian poets, ed. J. W. Garvin ([rev. ed.], Toronto, 1926), 235–36; Commemorative biographical record of the county of York . . . (Toronto, 1907); and L. A. Pierce, Albert Durrant Watson: an appraisal (Toronto, 1923 and 1924). Obituaries appear in the New Outlook (Toronto), 19 May 1926: 26, the Canadian Medical Assoc., Journal (Toronto), new ser., 16 (1926): 991–92, and the Royal Astronomical Soc. of Canada, Journal, 20 (1926): 153–57. See also John Colombo, "The Euclid Avenue séances," in his Haunted Toronto (Toronto, 1996), 176–79; A. C. Laut, "The poetical works of Albert Durrant Watson," Christian Guardian, 26 March 1924: 22–24; L. M. Montgomery [Macdonald], The selected journals of L. M. Montgomery, ed. Mary Rubio and Elizabeth Waterston (4v., Toronto, 1985–98), 2: 312; E. J. Pratt, "A new book," Christian Guardian, 4 July 1923: 21; and W. C. van den Hoonaard, The origins of the Bahá'í community of Canada, 1898–1948 (Waterloo, Ont., 1996). Watson's will and death registration are found in AO, RG 22-305, no.54597 and RG 80-8-0-1017, no.3724. His file at UTA, A1973-0026/497(50), includes useful newspaper clippings.
© 2005–2023 University of Toronto/Université Laval
Image Gallery

Cite This Article
Debra Barr and Walter Meyer zu Erpen, "WATSON, ALBERT DURRANT," in Dictionary of Canadian Biography, vol. 15, University of Toronto/Université Laval, 2003–, accessed November 28, 2023, http://www.biographi.ca/en/bio/watson_albert_durrant_15E.html.
The citation above shows the format for footnotes and endnotes according to the Chicago manual of style (16th edition). Information to be used in other citation formats:
| | |
| --- | --- |
| Permalink: | http://www.biographi.ca/en/bio/watson_albert_durrant_15E.html |
| Author of Article: | Debra Barr and Walter Meyer zu Erpen |
| Title of Article: | WATSON, ALBERT DURRANT |
| Publication Name: | Dictionary of Canadian Biography, vol. 15 |
| Publisher: | University of Toronto/Université Laval |
| Year of publication: | 2005 |
| Year of revision: | 2005 |
| Access Date: | November 28, 2023 |