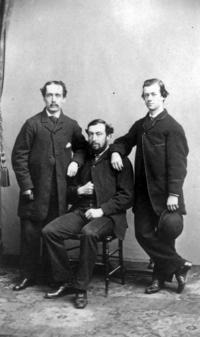 Source: Link
WENTWORTH-FITZWILLIAM, WILLIAM, Viscount Milton (an hereditary courtesy title), traveller, author, and politician; b. 27 July 1839 in London, Eng., son and heir-apparent of William Thomas Spencer Wentworth-Fitzwilliam, 6th Earl Fitzwilliam, and Frances Harriet Douglas; m. on 10 Aug. 1867 to Laura Maria Theresa Beauclerk by whom he had one son and three daughters; d. 20 Jan. 1877 at Rouen, France.
William Wentworth-Fitzwilliam was educated at Eton and at Trinity College, Cambridge. He appears to have been an intelligent, sensitive, romantic, and sociable man who was also slightly irritable and not too robust. In 1860 he visited the Red River Settlement and the trip whetted his appetite for more travel in British North America. According to a lecture he gave to a number of British scientific and literary societies in 1864, he was the initiator of a second and more important journey: "In the spring of 1862 I resolved to investigate for myself the nature of the country between the Red River Settlement and the Rocky Mountains; and to penetrate, if possible, by the shortest route to the gold regions of Cariboo . . . ." He rightly considered himself "fortunate to obtain the assistance" of a friend, Dr Walter Butler Cheadle, who proved to be the real leader of the expedition.
Lord Milton and Dr Cheadle arrived in Quebec on 2 July 1862 and travelled to Upper Fort Garry by way of Toronto, Chicago, and St Paul, Minnesota. They wintered about 80 miles northwest of Fort Carlton, hunting and trapping. Resuming their journey in the spring, they obtained at Fort Pitt the services of a new guide, Louis Battenotte, a Métis, whom they called "the Assiniboine." They crossed the Rockies via Edmonton, Jasper, and the Yellowhead Pass. Because their party was small, ill assorted, without adequate food, and lacked a guide with local knowledge, they turned aside from one of the purposes of their expedition – to find a direct route to the Cariboo – and instead followed the North Thompson River to Kamloops. Generally travelling by horse, they met with great difficulties and privations, probably managing to survive only because of the resourcefulness and strength of Cheadle and Battenotte. On the expedition Dr Cheadle aided Milton during a number of attacks, which may have been epileptic; he also gave medical assistance at many of the posts they visited.
After reaching Kamloops on 29 Aug. 1863, Milton and Cheadle went on to Victoria, and then visited the Cariboo, going inland by the Lake Harrison-Lillooet route, and returning by the Fraser Canyon. They sailed from Victoria on 20 Dec. 1863. On their way back to England, which they reached on 5 March 1864, they visited San Francisco, Panama, and New York.
In 1865 the two travellers jointly published in London an account of their journey called The north-west passage by land. It was deservedly popular and went through eight editions by 1875 and another in 1901. Although Milton's name appears before Cheadle's on the title page of the book, comparison of its text with that of Cheadle's Journal (published in Ottawa in 1931) leaves little doubt that the latter was the main author. The Journal also has much detail left out in The north-west passage by land. The latter gives a lively, sometimes humorous, and rather roundabout account of their adventures and provides a great deal of information about the Canadian west. One well-known and gruesome incident was their finding a beheaded Indian corpse in a sitting position. By contrast, Mr O'B [Eugene Francis O'Beirne*], who fastened himself to the party, provided comic relief. With its analysis of the prospects of the prairies and British Columbia, the book helped prepare opinion in both Britain and Canada for the ending of Hudson's Bay Company rule, confederation, and the inclusion of the west in the union. Its intelligent estimate of the value of the Yellowhead Pass was vindicated by the route's being chosen for the Grand Trunk Pacific.
Lord Milton was elected an mp for Yorkshire in 1865. He was a Liberal and a supporter of such causes as abolition of church-rates, extension of the franchise, admission of dissenters to the universities, and extension of education to every child in the kingdom. He was also an active supporter of the development of British Columbia and of the Canadian west, and urged improved mail service between the United Kingdom and Victoria, B.C. In 1869, while still an mp, he published, in London, A history of the San Juan water boundary dispute question . . . , which remains a valuable source.
Milton resigned his seat in the commons in 1872 and travelled with his wife to New York and then to Canada. They lived for a short time in a camp on the north shore of Lake Superior called Pointe de Meuron. Here their only son was born in July 1872. A dubious story maintains that Milton lived for a time under an assumed name as a landowner in Virginia. For most of the last years of his life he was away from England for his health.
William Wentworth-Fitzwilliam, Viscount Milton, collaborated with Walter Butler Cheadle in several works describing their journey across British North America. These include: "An expedition across the Rocky Mountains into British Columbia, by the Yellow Head or Leather Pass," Royal Geographical Society, Proceedings (London), IX (1864–65), 17–21; An expedition across the Rocky Mountains into British Columbia, by the Yellow Head or Leather Pass (London, 1865); How we crossed the Rocky Mountains into British Columbia (n.p., 1864); and The north-west passage by land: being the narrative of an expedition from the Atlantic to the Pacific . . . to British Columbia . . . by one of the northern passes in the Rocky Mountains (1st ed., London, 1865; 9th ed., London, 1901). Wentworth-Fitzwilliam also wrote A history of the San Juan water boundary dispute question as affecting the division of territory between Great Britain and the United States (London, New York, 1869).
PABC, Milton, William Fitzwilliam, Correspondence outward, 1863, 1864. W. B. Cheadle, Cheadle's journal of trip across Canada, 1862–1863, intro. and notes by A. G. Doughty and Gustave Lanctot (The Canada series, ed. F. P. Grove, I, Ottawa, 1931; repr., Edmonton, 1970). "British Columbia," Daily British Colonist (Victoria), 21 Sept. 1863. "From British Columbia," Daily British Colonist (Victoria), 23 Nov. 1863. G. E. Cokayne, The complete peerage . . . of England Scotland Ireland Great Britain and the United Kingdom extant extinct or dormant, ed. Vicary Gibbs et al. (13v., London, 1910–40), V, 525–26. Debrett's illustrated peerage and titles of courtesy, of the United Kingdom of Great Britain and Ireland (London, 1883), 276. Dod's parliamentary companion (London), 1865–73.
© 1972–2023 University of Toronto/Université Laval
Image Gallery

Cite This Article
V. G. Hopwood, "WENTWORTH-FITZWILLIAM, WILLIAM, Viscount Milton," in Dictionary of Canadian Biography, vol. 10, University of Toronto/Université Laval, 2003–, accessed September 30, 2023, http://www.biographi.ca/en/bio/wentworth_fitzwilliam_william_10E.html.
The citation above shows the format for footnotes and endnotes according to the Chicago manual of style (16th edition). Information to be used in other citation formats:
| | |
| --- | --- |
| Permalink: | http://www.biographi.ca/en/bio/wentworth_fitzwilliam_william_10E.html |
| Author of Article: | V. G. Hopwood |
| Title of Article: | WENTWORTH-FITZWILLIAM, WILLIAM, Viscount Milton |
| Publication Name: | Dictionary of Canadian Biography, vol. 10 |
| Publisher: | University of Toronto/Université Laval |
| Year of publication: | 1972 |
| Year of revision: | 1972 |
| Access Date: | September 30, 2023 |