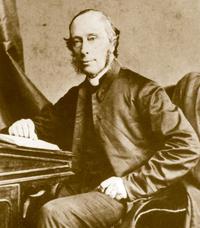 Source: Courtesy of Wikimedia Commons
WHITAKER, GEORGE, Church of England clergyman and educator; b. 9 Oct. 1811 at Bratton, Wiltshire, England, eighth child of Philip Whitaker, a farmer, and Anne Andrews; m. 22 Oct. 1844 Arundel Charlotte Burton, and they had at least eight children; d. 27 Aug. 1882 at Salisbury, England.
George Whitaker, whose parents were Baptists, was educated at Frome Grammar School and Charterhouse School. In 1829 he was admitted to Queens' College, Cambridge (ba 1833, ma 1836), becoming in 1834 fellow and in 1835 lecturer in classics. He had become an adherent of the Church of England and was ordained deacon on 4 June 1837 and priest on 27 May the following year. He left Queens' in the autumn of 1840 upon his appointment to the college living of Oakington, Cambridgeshire.
In 1851 Whitaker became the first provost and professor of divinity of the University of Trinity College, which was being built at that time in Toronto. He was chosen by a committee of four prominent clergymen in England who were requested by Bishop John Strachan* in February 1851 to find candidates for the provostship and two professorships: they should "belong to neither extreme of the Church, but . . . they should be true sons of the Church of England, not low, or what is called Evangelical, but equally distant from Romanism on the one hand and Dissent on the other." Early in November 1851 Whitaker arrived in Toronto, and his appointment was confirmed on 8 December; on this date the Reverend Edward St John Parry was named professor of classics and the Reverend George Clerk Irving professor of mathematics.
When Trinity College opened its doors to 30 students on 15 Jan. 1852, Whitaker faced immediate difficulties. Only half of the building had been completed and even by May his house, attached to it at one end, possessed neither bedrooms nor a bathroom. Whitaker decided that strict discipline was required in the college since he considered the divinity students transferring from the now closed Diocesan Theological Institution in the small town of Cobourg to be conceited. He laid down precise rules for chapel and meals; and students who ventured off the grounds were required to wear academic cap and gown and be back before evening chapel when doors were locked. Students found Whitaker dry, distant, reserved, and endowed with a "somewhat irascible temperament which, however, he usually kept under, or brought under, the control of a christian spirit and a sound judgment." In 1858 Whitaker, overcome by rage, expelled from the college George Taylor Denison* III, who had scribbled upon his notepaper while being lectured on the 30th Article. Yet his pupils came to respect him and perceive that he was a shy man whose intelligent face could light up "very pleasantly in animated conversation or in the telling or hearing of some good story." Whitaker was a solid if rather dull scholar who was faced with the difficult task of teaching in his daily morning lectures such varied theological subjects as Old Testament Hebrew, New Testament Greek, Christian doctrine, and pastoral theology. "His great forte was a painstaking, conscientious accuracy, which could not be satisfied without a minute and thorough investigation of every subject."
This conscientiousness and solidity served Whitaker well in the formative years of Trinity College. A competent administrator of a small institution, he dealt with scholarship requirements, the amending of college statutes, and discipline. He generally left financial matters to the bursar, Charles Magrath, but was closely involved in the attempts of the college council to control the Trinity College medical faculty and its dean, James Bovell*, which led to the resignation of the entire faculty on 2 July 1856.
In his capacity as the head of a Church of England college, Whitaker was also drawn into the wider controversies between the high and low church factions that had continued spasmodically since the writings of the Oxford Movement became known in Canada in the late 1830s. Benjamin Cronyn*, the evangelical bishop of Huron, was strongly offended by a motion introduced in his diocesan synod in June 1860 asking that Trinity College be more strongly supported. Subsequently Cronyn sent letters to Whitaker in which he attacked his theological teachings as being popish and subjected them to a Calvinistic critique. Whitaker made a vigorous defence, asserting that he had often said Mariolatry constituted an impassable gulf between Romanism and Anglicanism. He was opposed to prayers for the dead and thought the invocation of saints presumptuous. He used the term "sacrament" of baptism and communion only, "and I should reprove any young man under my care for applying it to any other rite." Cronyn referred to a manuscript known as "The Provost's Catechism" which, he alleged, was handed to divinity students on entering the college and contained a series of Whitaker's unorthodox doctrinal statements to be learned by them. Whitaker explained that his lectures had been copied by his pupils and handed on to others.
During this controversy Whitaker received the support of many clergy, including Edward Henry Dewar* who pointed out that neither Whitaker nor his pupils remotely approached the extremes of many Tractarians in England. Strachan's confidence in Whitaker never wavered and he rebuffed Cronyn's suggestions to the corporation of Trinity College in September 1862 that the provost be made head of the classical department and that a theology professor "acceptable to all parties" be appointed.
By September 1863 four of the five bishops of the ecclesiastical province of Canada (Cronyn was the exception) had come out in support of Whitaker, and when the corporation of Trinity College voted in the provost's favour Cronyn and his diocesan representatives withdrew from that body. But the college became the bête noire for low churchmen and the anti-Trinity feeling was central to the disputes in the diocese of Toronto during the 1860s and 1870s. Yet Whitaker, an old-fashioned high churchman, criticized ritualists such as William Stewart Darling who introduced processional hymns and shortened services at Holy Trinity Church, Toronto, and in an 1866 sermon he warned of "a violent Puritan reaction." Active in synod debates, Whitaker became a candidate in September 1866 for coadjutor bishop to Strachan. He had not sought the post and withdrew when he saw that a majority of the lay vote was going to Thomas Brock Fuller; he thus enabled high churchman Alexander Neil Bethune* to be elected.
The following years underlined Whitaker's quiet, practical, and determined approach to personal, college, or diocesan matters. Because the financial position of Trinity College remained grim after the cessation of government grants to colleges in Canada West in 1862, he helped appoint a committee in 1869 to look into affiliation with the University of Toronto. He was also instrumental in the revival of a medical faculty at Trinity College, which was re-established with Edward Mulberry Hodder* as dean in March 1871. Although Whitaker sought to give Bethune support in the violent factional battles swirling around him in the diocese of Toronto, he himself tried to avoid controversy as much as possible. In April 1873 he told his friend, the Reverend Henry Roe of Bishop's College in Lennoxville, Que.: "I confess to an uneasy dislike to argue about the Eucharist. All language seems to break down in reasoning on that subject." Yet Whitaker was still being forced to, defend himself and the college against charges of ritualism in divine service.
On 1 Oct. 1875 Whitaker, while remaining provost, was appointed by Bethune archdeacon of Toronto, despite the hostility shown him primarily by the laity. Evangelicals unsuccessfully opposed in February 1878 the holding of an election for a coadjutor to the ailing Bethune, due in England that summer for the Lambeth conference, because they feared Whitaker's probable victory. On the fifth ballot Whitaker was declared the winner, but an intervention by an evangelical layman, James Kirkpatrick Kerr, forced a new ballot on procedural grounds. When the results of the sixth ballot, in which evangelical Robert Machray* came second to Whitaker, were again considered invalid, Bethune called off the election. Whitaker described this action as "a great relief to me personally" since his position as coadjutor would have been "most embarrassing and burdensome." In the following February, after Bethune's death, Whitaker was again brought forward by his anti-evangelical supporters, this time against the Reverend Edward Sullivan*. Nineteen ballots failed to elect a candidate, with Whitaker never getting a majority from the laity. Finally, a compromise candidate, Arthur Sweatman*, a moderate evangelical, was elected bishop of Toronto on the 24th ballot.
After this third electoral rejection Whitaker concluded that his continuing presence in the diocese could not fail to bring discord to the church, and he prepared to leave Toronto for England. Unfortunately it was hard to find a successor for the college, owing to the controversy surrounding Trinity and the presence of the evangelical college, later Wycliffe College, established in Toronto in 1877. After Joseph Albert Lobley and others had declined the provostship, an Englishman, the Reverend Charles William Edmund Body, was appointed early in June 1881. Whitaker then took up a country living at Newton Toney, near Salisbury, England. He died in Salisbury on 27 Aug. 1882, a little over a year after his return to England, and was buried at Newton Toney. An obituary by Henry Roe presented Whitaker as "a man acknowledged to be for learning, eloquence, devotion, and all good gifts, the first clergyman in the ecclesiastical province."
George Whitaker was the author of: "The duty of mutual toleration by parties within the church," Dominion Churchman (Toronto), 11, 25 July, 22 Aug., 19 Sept., 17 Oct., 5 Dec. 1878; The office of ritual in Christian worship: a sermon preached at St. George's Church, St. Catharines, on Wednesday, April 4, 1866 . . . (Toronto, 1866); St. John the Baptist an exemplar to Christian ministers: a sermon preached in the chapel of Trinity College, Toronto, on Sunday, June 24, 1860 (Toronto, 1860); A sermon: preached in the chapel of Trinity College, Toronto, on Sunday, June 27, 1852 . . . (Toronto, 1852); Sermons preached in Toronto; for the most part in the chapel of Trinity College (London and Toronto, 1882); Soberness of mind; a sermon: preached in the chapel of Trinity College, Toronto, on Sunday, June 25, 1865 (Toronto, 1865); Two letters to the lord bishop of Toronto, in reply to charges brought by the lord bishop of Huron against the theological teaching of Trinity College, Toronto . . . (Toronto, 1860).
Anglican Church of Canada, General Synod Arch. (Toronto), J. W. Knight, "High church – low church controversy in the Anglican Church in the diocese of Toronto with emphasis on the episcopacy of Alexander Bethune, second bishop of Toronto" (typescript, 1971). AO, Strachan (John) papers, Letterbooks, 1839–66, 16 Feb. 1851; 1854–62, 29 Sept. 1862. Trinity College Arch. (Toronto), Beverley Jones papers; Henry Roe papers; Trinity College records, A/II/a, A/II/4. Church of England, Diocese of Toronto, Synod, Proc. (Toronto), 1861–64; Journal (Toronto), 1865–71. [Benjamin Cronyn], The bishop of Huron's objections to the theological teaching of Trinity College, with the provost's reply (Toronto, 1862). E. H. Dewar, Plain words for plain people: an appeal to the laymen of Canada, in behalf of common sense and common honesty, being a review of the 'Strictures' on the two letters of Provost Whitaker (Toronto, 1861). The judgments of the Canadian bishops, on the documents submitted to them by the corporation of Trinity College, in relation to the theological teaching of the college (Toronto, 1863). The protest of the minority of the corporation of Trinity College, against the resolution approving of the theological teaching of that institution . . . (London, [Ont.], 1864). [John Strachan], An address delivered to the clergy and lay delegates of the diocese of Toronto, on Tuesday, June 25, 1861, by John, lord bishop of Toronto, in justification of Trinity College from recent attacks made upon that institution (Toronto, 1861). C. E. Thomson, "The provost," Rouge et Noir (Toronto), 2 (1881), no.3: 4–5. Adam Townley, A letter to the lord bishop of Huron: in personal vindication: and on the inexpediency of a new diocesan college (Brantford, [Ont.], 1862). Trinity College conducted as a mere boys' school, not as a college, [ed. G. T. Denison] (Toronto, 1858). Guardian (London), 27 Dec. 1860; 3 Feb. 1864; 17 Jan., 24 Oct. 1866; 29 Jan. 1873; 26 Feb., 2 April 1879; 30 Aug. 1882. Toronto Daily Mail, 29 Aug. 1882. C. F. Headon, "The influence of the Oxford movement upon the Church of England in eastern and central Canada, 1840–1900" (phd thesis, McGill Univ., Montreal, 1974). A history of the University of Trinity College, Toronto, 1852–1952, ed. T. A. Reed ([Toronto], 1952). H. E. Turner, "The evangelical movement in the Church of England in the diocese of Toronto, 1839–1879" (ma thesis, Univ. of Toronto, 1959). M. E. Reeves, "George Whitaker (1811–1882): a forgotten native of Bratton," Wiltshire Archaeological Magazine (Devizes, Eng.), 72–73 (1980): 135–39. C. E. Thomson, "The Reverend Geo. Whitaker, m.a., first provost, 1852–1881," Trinity Univ. Rev. (Toronto), 15 (1902): 100–1.
© 1982–2023 University of Toronto/Université Laval
Image Gallery

Cite This Article
Christopher Fergus Headon, "WHITAKER, GEORGE," in Dictionary of Canadian Biography, vol. 11, University of Toronto/Université Laval, 2003–, accessed September 24, 2023, http://www.biographi.ca/en/bio/whitaker_george_11E.html.
The citation above shows the format for footnotes and endnotes according to the Chicago manual of style (16th edition). Information to be used in other citation formats:
| | |
| --- | --- |
| Permalink: | http://www.biographi.ca/en/bio/whitaker_george_11E.html |
| Author of Article: | Christopher Fergus Headon |
| Title of Article: | WHITAKER, GEORGE |
| Publication Name: | Dictionary of Canadian Biography, vol. 11 |
| Publisher: | University of Toronto/Université Laval |
| Year of publication: | 1982 |
| Year of revision: | 1982 |
| Access Date: | September 24, 2023 |