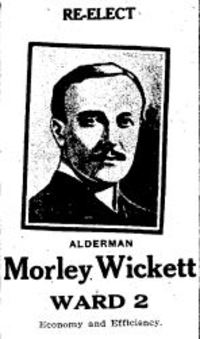 Source: Link
WICKETT, SAMUEL MORLEY, lecturer, manufacturer, author, and politician; b. 17 Oct. 1872 in Brooklin, Ont., son of Samuel Robert Wickett and Mary Margaret Cowle; m. 4 Oct. 1910 Catarzena Hidessa Daum von Daum in Toronto, and they had a son and a daughter; d. there 8 Dec. 1915.
Morley Wickett's father operated a tannery in Brooklin. After its destruction in 1881, he moved his family to Toronto and opened a new factory there. Morley graduated from the University of Toronto with a ba in 1894; at the prompting of Professor James Mavor*, he was one of the first Canadians to pursue graduate studies in economics in Europe. He attended lectures at universities in Vienna, Berlin, Paris, and Cambridge, and received a phd from the University of Leipzig in 1897. His thesis, on the Austrian tobacco monopoly, exemplified the German approach to political economy, which stressed statistical study and analysis of existing conditions as the basis for policy formation – an approach that would dominate Wickett's career.
Wickett returned to the University of Toronto, where he was the Mackenzie fellow in political science in 1897–98 and lectured in political economy until 1905. As early as 1901 he had also joined his father's tanning and manufacturing business, Wickett and Craig Limited. Following his resignation from the university, he assumed a full-time position as the firm's secretary-treasurer. Soon after his return to Toronto, opportunities had arisen to give practical expression to his academic training. He served on the executive committee of the Canadian Manufacturers' Association, and by 1900 was chairing its commercial intelligence committee. He pressed the federal government for more detailed and timely reports on imports and exports, and urged Liberal Prime Minister Sir Wilfrid Laurier to follow the lead of Germany, Britain, and the United States in the area of national trade exhibitions.
In 1902, when Canada was vying with the United States for control of trade in the Yukon, Wickett visited it on behalf of the CMA and prepared a report for the association's magazine, Industrial Canada (Toronto). This was followed by an article calling upon manufacturers and journalists to heed the growing presence of the United States in the development of Alberta and Manitoba. Much of this work made use of American census and immigration data. These statistics also formed the basis of his overview in 1906 of the distribution and occupations of Canadians in the United States. As concern over cross-border trade peaked in 1911 during the debate on reciprocity, Wickett argued that existing trade statistics were inadequate for a close analysis of either reciprocity or imperial preference, and that "the powers of the protective tariff have not been tested out." Bolting from the Liberal fold, he called for an imperial commission to investigate the larger issues associated with trade and transportation, and proposed a non-partisan tariff board staffed by experts authorized to set rates.
Wickett's involvement with the CMA was also marked by his drive to advance technical and commercial education, an issue closely linked with economic development. Canada, he believed, lacked sufficient skilled labour. As business became more specialized, the CMA lobbied Canadian universities to develop a program "which will fit men less for the learned professions alone than for general, industrial and commercial life." In 1900 Wickett represented the CMA at a conference with officials from the University of Toronto, which introduced the country's first diploma course in commerce the following year, and in 1906–7 he would chair the association's technical education committee. In 1901 he formed part of the deputation that called on the Ontario government to launch a commission to improve the level of technical education in public schools [see John Seath]. He urged a comparative review, pointing to the success of Germany's educational system in increasing industrial activity. His colleagues agreed that it was his perseverance that resulted in the federal royal commission of 1910 on industrial training and technical education. Though its recommendations were not implemented – foot-dragging by the Liberals was another factor in Wickett's disillusionment with the party – he succeeded in bringing national attention to the issue.
The emphasis upon information and efficiency that distinguished Wickett's work with the CMA dominated his approach to municipal affairs. A pioneer in Canadian urban studies and reform, he had been greatly impressed by the bureaucracies of Austrian and Prussian municipalities, particularly when compared with the corruption he saw in Toronto. In 1896 a judicial inquiry into the acceptance of bribes by Toronto aldermen had resulted in the creation of a board of control – in Wickett's view, Canada's leading contribution to the concept of municipal government. But controllers were not directly elected until 1904 and were still open to the abuses of patronage and influence that dominated ward politics, particularly in Ward 2. As Toronto's boundaries expanded through annexation, municipal debt mushroomed because of ambitious local improvements, a problem that was compounded by inefficient bookkeeping and financing arrangements, a lack of coordination between municipal departments, and unpaid property taxes. Urban life was also marked by a growing dissatisfaction with the private corporations that held franchises for utilities and street railways in Toronto, and which demonstrated greater concern for profits than for connecting a growing network of communities.
Wickett's study of civic affairs, beginning in 1899, led to the publication of City government in Canada in 1902, and an expanded work, Municipal government in Canada, in 1907. An opponent of the American models of city managers and government by commission, he advocated professional administrators who were appointed on merit, well paid, and secure from influence. Such appointments would relieve elected officials of the "infinite details" of administration and reduce the potential for the abuse of patronage.
Toronto politics gave Wickett an opportunity to implement many of his ideas. He was an alderman for Ward 2 in 1913–15 and, as a member of the group of businessmen known as the Civic Survey Committee, he played an important role in organizing the Toronto Bureau of Municipal Research in 1913. He attended its initial meetings, raised funding, and coordinated communications between New York City's bureau and municipal staff in Toronto. The reformist nature of the bureau soon became evident when it released a report criticizing the management of the Fire Department. In 1913 Wickett chaired city council's transportation committee, where his concerns provided the impetus for public ownership of transit services. As well, he was responsible for a report that called for a metropolitan council representing municipalities within a 30-mile radius. Through cooperation rather than annexation, it would be responsible for such regional concerns as electrical lines, roads, lighting, sewage, water, and parks. Although the proposal was by no means new, under Wickett it gained support in 1913 among politicians from Brampton to Whitby, only to die at the provincial level.
At the prompting of Sir Byron Edmund Walker*, president of the Canadian Bank of Commerce, Wickett paid particular attention to the disarray in Toronto's financial affairs, the result of unpaid taxes, limited bidding on debentures, poor use of the city's sinking fund, and weak financial coordination in large public works. In 1915 Wickett chronicled these problems in open letters to Toronto's politicians and ratepayers that urged the city to restore control over spending and, with others, he campaigned for the appointment of investments expert Thomas Bradshaw* to a powerful new position, commissioner of finance. Wickett would not live to witness, in Bradshaw's success, a justification of his faith in a trained bureaucracy.
During his time in municipal politics Wickett continued to run the family business, of which he had become managing director about 1910. A few years after his marriage, he and his wife took up residence in Lambton Mills (Etobicoke). He was a member of the National Club, the Royal Canadian Yacht Club, and the Lambton Golf and Country Club, but such recreational pursuits did not relieve the strain of his political activity before an election and his business load during wartime. He died suddenly of a heart attack in the early morning of 8 Dec. 1915, leaving his wife with a heavily encumbered estate.
Morley Wickett had bridged the solitudes of university and business, and both spheres benefited from his contributions. His devotion to political economy and bureaucratic efficiency made a strong impact on the municipal reform movement, which had peaked by the time of his death. The force of his ideas would be reflected in the formation of Metropolitan Toronto in 1953 and in the continuing debate over municipal affairs in the Greater Toronto Area.
Samuel Morley Wickett's doctoral thesis in political economy was published as Studien über das Oesterreichische Tabakmonopol (Stuttgart, [Germany], 1897). His translation into English of a text by Karl Bücher, the economics professor under whom he had studied in Leipzig, appeared as Industrial evolution (New York, 1901; repr. 1968).
Wickett edited and contributed several chapters to Municipal government in Canada (Toronto, 1907). His other publications include Canadians in the United States (Boston, 1906); Canada and the preference: Canadian trade with Great Britain and the United States ([Toronto?, 1911]); City government by commission ([Hamilton, Ont.?, 1912]); Memorandum re metropolitan area ([Toronto, 1913]); Open letter no.1: To the ratepayers of the city of Toronto; need of reform in our local improvement system ([Toronto, 1915]); and Open letter no.2: To T. L. Church, esq., mayor and chairman of board of control and city council and ratepayers of the city of Toronto; on the need of financial reform ([Toronto, 1915]).
AO, RG 22-305, no.31039; RG 80-2-0-30, no.18289; RG 80-5-0-408, no.4553; RG 80-8-0-550, no.6755. City of Toronto Arch., SC 3, A1 (Bureau of Municipal Research papers), box 1. Metropolitan Toronto Arch., City of Toronto, Dept. of Public Works fonds, ser.13 (water supply sect. corr.), file 211 (duplicate waterworks system, 1913–15). Daily Mail and Empire, 9 Dec. 1915. Globe, 8 Dec. 1915. World (Toronto), 23 Oct. 1913, 9–10 Dec. 1915. Canadian annual rev. (Hopkins), 1902–15. J. M. S. Careless, Toronto to 1918: an illustrated history (Toronto, 1984). Directory, Toronto, 1882–1915. Industrial Canada (Toronto), 1 (1900–1)–16 (1915–16). James Lemon, "Plans for early 20th-century Toronto; lost in management," Urban Hist. Rev. (Toronto), 18 (1989–90): 11–3l. F. P. Megan, "Morley Wickett," University Monthly, (Toronto), 16 (1915-16): 167–68. Patricia Petersen, '"Leave the fads to the Yankees': the campaigns for commission and city manager government in Toronto, 1910–1926," Urban Hist. Rev. (Concord, Ont.), 20 (1991–92): 72–84. Paul Rutherford, "Tomorrow's metropolis: the urban reform movement in Canada, 1880–1920," in The Canadian city: essays in urban and social history, ed. G. A. Stelter and A. F. J. Artibise (rev. [ed.], Ottawa, 1984), 435–55. J. C. Weaver, "The modern city realized: Toronto civic affairs, 1880–1915," in The usable urban past: planning and politics in the modern Canadian city, ed. A. F. J. Artibise and G. A. Stelter (Toronto, 1979), 39–72; "Order and efficiency: Samuel Morley Wickett and the urban progressive movement in Toronto, 1900–1915," OH, 69 (1977): 218–34.
© 1998–2023 University of Toronto/Université Laval
Image Gallery

Cite This Article
Michael B. Moir, "WICKETT, SAMUEL MORLEY," in Dictionary of Canadian Biography, vol. 14, University of Toronto/Université Laval, 2003–, accessed September 29, 2023, http://www.biographi.ca/en/bio/wickett_samuel_morley_14E.html.
The citation above shows the format for footnotes and endnotes according to the Chicago manual of style (16th edition). Information to be used in other citation formats:
| | |
| --- | --- |
| Permalink: | http://www.biographi.ca/en/bio/wickett_samuel_morley_14E.html |
| Author of Article: | Michael B. Moir |
| Title of Article: | WICKETT, SAMUEL MORLEY |
| Publication Name: | Dictionary of Canadian Biography, vol. 14 |
| Publisher: | University of Toronto/Université Laval |
| Year of publication: | 1998 |
| Year of revision: | 1998 |
| Access Date: | September 29, 2023 |