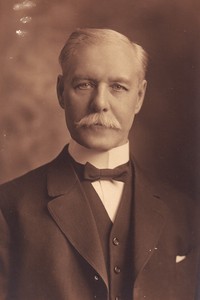 Alexander Parker Willis. Source: Photo by Notman and Son, taken 13 March 1912; courtesy of Mark W. Gallop.
Source: Link
WILLIS, ALEXANDER PARKER, teacher, salesman, merchant, and manufacturer; b. 11 May 1845 near Millsville, N.S., son of James Willis and Elizabeth Fitzpatrick; m. first 15 May 1876 Jane Burness Duncan (d. 1904) in Montreal, and they had one daughter and nine sons, two of whom died young; m. there secondly 26 June 1906 Laura Elizabeth Castle, and they had two sons; d. 14 July 1934 in Westmount, Que.
Alexander Willis was raised on a gravelly farm on Dalhousie Mountain in Pictou County, N.S. His family were the only members of the Church of England in a community of Scottish Presbyterians. James Willis, more interested in politics than in his farm, was a local magistrate, an active Conservative, and a stumper for Charles Tupper*. Alexander studied at Pictou Academy and then, starting probably in 1864 or 1865, he pursued a career as a teacher for about six years in several Pictou County communities and possibly also in Halifax. In early adulthood he assumed the middle name Parker because of his appreciation for American writer Nathaniel Parker Willis (no relation). This admiration continued throughout his life and he would later name his country property Idlewild after the author's retreat on the Hudson River, N.Y.
While a schoolmaster, Willis received a stipend from the Society for the Propagation of the Gospel for his work as an Anglican catechist and lay reader. These activities were intended as a prelude to studies for the ministry. After his ambitions were "met in rather a chilly way" in an interview with Hibbert Binney*, the Anglican bishop of Nova Scotia, Willis decided in 1871 to leave the province and embark on a commercial career. He started as a travelling salesman and headed west on foot in the company of another former schoolmaster, Daniel Miner Stearns. Taking care to ascertain the religious complexion of the homes they entered, they sold religious oleographs of the pope or Martin Luther. They parted in Saint-Jean (Saint-Jean-sur-Richelieu), Que.; Stearns went south to become a clergyman in Philadelphia and Willis continued on to Montreal, where he arrived around June 1873.
After working briefly for a bookseller, Willis was employed by William Scott, a fine-art dealer, framer, and sewing-machine agent on Rue Notre-Dame in the heart of Montreal's business district. When Scott wished to specialize in art, Willis was able to persuade Richard Mott Wanzer*, the manufacturer of the highly successful "Little Wanzer" sewing machine, to grant him the Quebec agency for the product. He obtained it in September 1877 in partnership with James E. Roy. The firm Willis and Roy grew rapidly. In 1881, after Roy left for Halifax to become the representative for Wanzer in western Nova Scotia, the business was renamed Willis and Company. Willis headed the firm, but several of his brothers, and later his sons, would work with him. Willis and Company eventually acted for Wanzer throughout the Maritime provinces and eastern Ontario.
Although Willis contributed to and benefited from the commercial success of the compact and low-priced Wanzer, by the mid 1880s growing American competition and decreased demand during the depression of that decade prompted him to broaden his product line. Starting about 1883, he added organs and later, pianos, from several manufacturers. By 1888 all references to sewing machines had been dropped. The 1890s was a period of significant prosperity for Willis, who made successive moves into increasingly substantial homes. According to the Dominion Illustrated of Montreal, in 1891 his firm's head office and showrooms on Notre-Dame comprised "two spacious and well lighted apartments, with a repair shop and tuning rooms." With a capital of $300,000 the company employed "some forty assistants in Montreal and an equal number … in various branch offices in Eastern Ontario, Quebec, Nova Scotia and Prince Edward Island." The expansion came through innovative promotions, including giveaways and purchase incentives. Instalment plans became an important method of sales. Since the Civil Code of Quebec allowed for the seizure of pianos and organs by landlords for unpaid rent even if payments were still outstanding, Willis began to lobby for amendments. In 1898 his 15-year campaign resulted in modifications to protect anyone selling household goods on instalment.
Over the decades, Willis and Company represented a number of Canadian and American piano- and organ-makers; William Knabe and Company of Baltimore, Md, was the most prominent. A Willis-brand piano first appeared in 1901, built under contract by the Compagnie Canadienne de Pianos de Sainte-Thérèse-de-Blainville, owned by Damase Lesage*. Willis and Company Limited, incorporated four years later, bought a majority share of the Lesage family firm in 1907 and thus obtained its own manufacturing facility. The Lesages worked with the Willis organization until 1911, when the business purchased their remaining interest; they established a competing factory under the name A. Lesage.
After almost a quarter century in Old Montreal, Willis moved to the new centre of commerce on Rue Sainte-Catherine Ouest, following the example of his competitors rather than leading the way. In 1911 the eight-storey Willis Building opened at the corner of St Catherine and Drummond. It would double in size in 1927. In addition to offices and salesrooms, the expanded facilities included a concert hall, providing a showcase for Willis instruments and for the talent of visiting musicians. The building would still stand at the beginning of the 21st century, with the large "Willis Pianos" sign prominent.
Factory production by Willis and Company Limited peaked during the period 1916 to 1920 with the manufacture, on average, of 2,000 pianos per year and continued throughout the 1920s with an average of 1,200 per year. The firm maintained a reputation for making pianos that ranked among the best Canadian-manufactured instruments and among the most expensive. In 1927 the firm employed over 150 workers. It was sufficiently solid to face the depression of the 1930s with limited disruption and would remain in the Willis family until January 1967.
Willis had claimed in the early 1920s that his only interests outside his family and his business were "walking and committee work." This committee work, concerned with his church and the field of education, occupied a prominent place in his life. He had become an active supporter of the Church of England and a donor at the parish and diocesan levels shortly after his arrival in Montreal. His most visible roles, those of honorary treasurer (1912–34) and vice-president (1921–34) of the Montreal Diocesan Theological College, combined both interests. After his first wife died in 1904 he endowed the college library in her name. He also sat on the boards of hospitals and other institutions, all of them Protestant. His sons were given the choice of entering the ministry or joining the Willis firm; the eldest and the youngest became clergymen.
Pianos were more than just a commercial interest for Willis; they were an extension of his early focus on education. Although it is not known if he played the piano, he viewed it as a medium of culture and, in his own phrase, as "a home builder." Suspicious of technological innovation, he vowed that he would never deal in music transmitted by artificial means, such as phonographs or radios, and he remarked in 1932 that "very little culture can come from merely listening to music – it must be self expressed." He continued as president of the company until just before his death two years later at age 89.
BANQ-CAM, CE601-S131, 15 mai 1876. FD, Anglican, Saint George (Montreal), 26 June 1906. LAC, R233-35-2, Montreal, Saint-Laurent Ward, dist.90, subdist.1, div.5: 66; R233-37-6, Hochelaga, subdist.d-7: 7. Private arch., M. W. Gallop (Montreal), J. J. Willis, "Reminiscences of the family business" (ms, n.p., n.d.); Willis and Company Limited, Minutes, 15 Oct. 1934 (typescript). Gazette (Montreal), 27 June 1906, 17 Sept. 1925, 12 May 1932, 16 July 1934. Montreal Daily Star, 18 Sept. 1877, 17 Sept. 1927, 16 July 1934. Standard (Montreal), 28 July 1934. "Celebrates his 86th birthday," Canadian Music and Radio Trades (Toronto), 32 (1931–32), no.1: 19. Directory, Montreal, 1876–1934. Encyclopedia of music in Canada (Kallmann et al.). "50th mile post of Willis and Co., Limited fittingly celebrated in Montreal," Canadian Music Trades Journal (Toronto), 26 (1925–26), no.5: 24–30, 32, 62–65. "Formal opening of new Willis store in Ottawa," Canadian Music Trades Journal, 26, no.4: 37. "In memoriam: Mr. A. P. Willis," Montreal Churchman, 22 (1934), no.8: 7. Wayne Kelly, Downright upright: a history of the Canadian piano industry (Toronto, 1991). J. P. MacPhie, Pictonians at home and abroad: sketches of professional men and women of Pictou County; its history and institutions (Boston, 1914). John Murray, The Scotsburn congregation, Pictou County, Nova Scotia: its history, professional men, etc. (Truro, N.S., 1925). The musical red book of Montreal …, ed. B. K. Sandwell (Montreal, 1907). Prominent people of the province of Quebec, 1923–24 (Montreal, n.d.). Special number of the "Dominion Illustrated" devoted to Montreal, the commercial metropolis of Canada (Montreal, 1891). The Willis family, comp. Jean Buchanan et al. ([Toronto?], 1977; copy at LAC).
© 2014–2023 University of Toronto/Université Laval
Image Gallery

Cite This Article
Mark W. Gallop, "WILLIS, ALEXANDER PARKER," in Dictionary of Canadian Biography, vol. 16, University of Toronto/Université Laval, 2003–, accessed September 22, 2023, http://www.biographi.ca/en/bio/willis_alexander_parker_16E.html.
The citation above shows the format for footnotes and endnotes according to the Chicago manual of style (16th edition). Information to be used in other citation formats:
| | |
| --- | --- |
| Permalink: | http://www.biographi.ca/en/bio/willis_alexander_parker_16E.html |
| Author of Article: | Mark W. Gallop |
| Title of Article: | WILLIS, ALEXANDER PARKER |
| Publication Name: | Dictionary of Canadian Biography, vol. 16 |
| Publisher: | University of Toronto/Université Laval |
| Year of publication: | 2014 |
| Year of revision: | 2014 |
| Access Date: | September 22, 2023 |