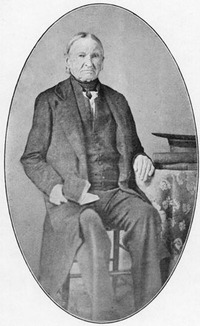 Source: Courtesy of Wikimedia Commons
WILLSON (Wilson), DAVID, visionary, religious leader, author, and hymn writer; b. 7 June 1778 in Dutchess County, N.Y., son of "poor but pious Presbyterian parents," John and Catherine Willson; m. Phebe (Phoebe) Titus and they had three sons and two daughters; d. 16 Jan. 1866 in Sharon, East Gwillimbury Township, Canada West.
From Ireland John Willson came to America in 1770 and found that in the patroon country where he settled, near Poughkeepsie on the Hudson River, land could only be rented. His son's earliest "occupation was hard labor in cultivating the soil, till . . . left an orphan . . . at the age of fourteen . . . I inclined to mechanical business in joining timber one part unto another." He also became a sailor on The Farmer, a ship owned by relatives; on its trading voyages between New York and the West Indies the crew had to defend themselves from pirate attacks. When, not long before 1800, Willson married a Quaker girl from his home county she urged him to leave such unpeaceful expeditions and in 1801 they journeyed to Upper Canada where other Quakers were settling and land was easily attainable. Shipwrecked in Lake Ontario, Willson kicked the wheel of a spinning wheel overboard, lashed his two boys to it "and the parents floated them to shore between them . . . having lost all their possessions in the wreck, and in order to save what money they had, they walked from York to their location in Sharon [then called Hope] carrying the boys . . . on their backs."
By 1805 Willson owned his land, but not contentment; "I have been separated from all flesh, religious and profane by the moving of a Spirit . . . often seeking lonely places wherein to retire and worship the Spirit that had received my soul in trust, to which I gave full credence and did obey. . . . I gained admittance [6 Feb. 1805] . . . into the society of the people called Quakers, after many years of tribulation and a rising and falling of the mind." At the end of seven years of prominent and respected, but silent, membership in the Yonge Street Meeting Willson's "Spirit" "required him publicly to testify of the being of a God." "I had thought they were as I knew I was, – feeling the movings of a Spirit on the mind." Not long before he was formally expelled from the Yonge Street Meeting on 15 Oct. 1812, Willson must have discovered that for the most part his contemporary Friends, pious, plain, reserved, austere, spiritually unadventurous, and distrustful of worship through music and art, were certainly not as he was. "I appeared to the Elders and ministers of the church as a wild man from the desert . . . I wept bitterly . . . I was commanded . . . to sit in silence. . . ." "He then retired peaceably to his own house; some few followed him, who were anxious to obtain better information. These patiently heard, weighed the subjects and found full unity and friendship with him." "Therefore we became a separate people . . . as our discipline led to peace with all people more than any one in our knowledge, we called ourselves Children of Peace, because we were but young therein."
Now according to Willson's thinking, as revealed in a long list of publications, manuscripts, hundreds of hymns, and even in the symbolism of the buildings he designed, "God is peace" and lies at the "centre" of the divine-human soul or mind; "The mind hath as many parts in it as there are in the creation, and the centre of it we wish to find." The guide to this peaceful centre in which innocence and experience, joy and misery, heaven and hell are joined is light or wisdom. Willson's passion for light, both inner and outer, can still be seen in the temple he designed as early as 1822, which the Children of Peace, led by master builder Ebenezer Doan, completed and opened 29 Oct. 1831; it "contains 2952 panes of glass and is lighted once a-year with 116 candles" on the eve of the September Harvest Feast, one of three instituted by Willson as festivals of neighbourhood unity. Like his monthly sacrifices for charity, when the congregation came by itself to the temple with their alms offerings, these feasts were accompanied by processions of women in white singing beneath marching banners, by a band of well-trained musicians, by music from pipe organs built by Richard Coates, chanted poems, meditations spoken by Willson, and all proving his belief that "It is right to be delighted with the things of God." Led unofficially by Willson, the "few hundreds" that gathered about him in Sharon followed towards the "centre" so well that without detailed or rigid doctrinal frameworks they were able to worship God practically with the fullest development of such diverse talents as music and cooking, economic cooperation ("a fund for the mutual benefit of each other"), and supporting a domestic science school for girls. One of the loveliest examples of their architecture is a study they built for Willson "composed entirely of glass" where at his writing desk he kept proving his belief that "Eden consists [not] of a certain tract of land; but . . . is known by a certain condition of the mind"; ". . . there were no poor in Sharon."
Music had been one of the reasons Willson originally quarrelled with the Quakers; the political implications of his communal experiment were, in 1837, very nearly the cause of the temple's destruction. Sharon was well known to the authorities (the Family Compact) since Willson made publicly announced expeditions down to York (Toronto) with choir and band where he once preached "that there ought neither to be masters nor servants; that all mankind are equal." Scorned, threatened with jail, or worse, in the early days of the Children, Willson later met such jibes as "village of Priapus," "Orgies," "superstition and idolatry," and "Children of Wrath." But when in 1837 he would not approve William Lyon Mackenzie's policy of violence, some of his own people called him "Tory"! And some of the Children, including two of his sons, joined Mackenzie's rebels, were arrested and imprisoned for several months; "it was with difficulty that the militia could be restrained from destroying their temple." But by 1842 this difficult turn on the road to "Peace" had been smoothed out. Willson's guidance was once more accepted and until his death Sharon flourished as never before.
There was one more turn through which one can sense Willson negotiating in his last writings: how, in such an informal organization, do you ensure that the listening to "His Spirit" continues to guide after the original listener has disappeared? His oldest son "read his father's sermons," but no new writer appeared; dark moments were the legal quarrels about the ownership of the buildings between Willson's heirs and representatives of his followers. The last illumination in the 19th century took place in September 1888. On 2 Sept. 1890 a grandson sold the temple to a stranger. Reopened, however, in 1918 as a museum, the temple still stands, well cared for, much visited and loved, a symbol of the power Willson's imagination is eventually seen as possessing, a power to bring people together towards "Peace" and to "An altar to all nations/ With forty-eight bright windows" placed – as he once wrote in 1822 – "on Ararat."
PAO, Davidite record books, 1831–71; Misc. 1803, Families of Friends (Quakers) who settled on Yonge St., 1803. UWO, Archives of the Religious Soc. of Friends (Quakers) in Can., H–7–2 (Pelham Monthly Meeting of Friends, 1799–1806), f.135; 0-11-6 (Yonge Street Monthly Meeting, 1806–18), f.150. York Pioneer and Hist. Soc. Archives (Sharon, Ont.), L 24 (notebook containing miscellaneous prose and poetry by David Willson, 1815); L 1230 (38 copies of memorial and funeral verses by David Willson, printed as broadsides); Account book containing miscellaneous prose and poetry by David Willson, including a "Memorial of David Willson – 27 Dec. 1838" ; Collection of 42 loose sheets of handwritten sermons and poetry by David Willson. There is also a copy at the York Pioneer and Hist. Soc. Archives of David Willson, The Lord's celebration (broadside, 1822). David Willson, Hymns and prayers for the Children of Sharon: to be sung in worship on sabbath days (Newmarket, [Ont.], 1846); The impressions of the mind: to which are added some remarks on church and state discipline, and the acting principles of life (Toronto, 1835); The practical life of the author, from the year 1801 to 1860 (Newmarket, [Ont.], 1860); The rights of Christ, according to the principles and doctrines of the Children of Peace (Philadelphia, 1815), a pamphlet which also contains Address to the crown of England and The pattern of Peace, or Babylon overthrown. Other writings by David Willson may be found at the MTCL and at the York Pioneer and Hist. Soc. Archives; the latter also holds other manuscript material by and relating to David Willson. In addition, a letter from Carolyn Mann to the author, 1 Feb. 1973, was very helpful. A. G. Dorland, A history of the Society of Friends (Quakers) in Canada (Toronto, 1927), repub. as The Quakers in Canada; a history ([Toronto, 1968]). Helmut Kallmann, A history of music in Canada, 1534–1914 (Toronto and London, 1960). C. E. McFaddin, "A study of the buildings of the Children of Peace, Sharon, Ontario" (unpublished ma thesis, 2v., University of Toronto, 1953). E. W. Trewhella, "The story of Sharon," Newmarket Era (Newmarket, Ont.) 14 June 1951–27 March 1952.
© 1976–2023 University of Toronto/Université Laval
Image Gallery

Cite This Article
James Reaney, "WILLSON, DAVID," in Dictionary of Canadian Biography, vol. 9, University of Toronto/Université Laval, 2003–, accessed March 30, 2023, http://www.biographi.ca/en/bio/willson_david_9E.html.
The citation above shows the format for footnotes and endnotes according to the Chicago manual of style (16th edition). Information to be used in other citation formats:
| | |
| --- | --- |
| Permalink: | http://www.biographi.ca/en/bio/willson_david_9E.html |
| Author of Article: | James Reaney |
| Title of Article: | WILLSON, DAVID |
| Publication Name: | Dictionary of Canadian Biography, vol. 9 |
| Publisher: | University of Toronto/Université Laval |
| Year of publication: | 1976 |
| Year of revision: | 1976 |
| Access Date: | March 30, 2023 |