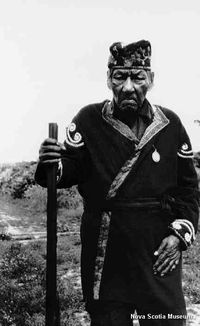 Source: Link
WILMOT, PETER, Micmac (Mi'kmaw) hunter, craftsman, and chief; b. or baptized 26 July 1824 in Fishers Grant (Pictou Landing), N.S., son of Joseph Wilmot and Madeleine (Madeline) Dinian; he had three or four wives and nine children; d. 27 Dec. 1932 in Truro, N.S.
Peter Wilmot, a Roman Catholic, had "church records" which, he said, proved that he had been born 26 July 1826. (In fact, his son said that he had been born two years earlier.) He was born or baptized on St Anne's Day, formerly the day when many Micmac baptisms and marriages were performed and then recorded in church registers. With few Roman Catholic priests to minister to the Micmac (Mi'kmaq), the sacraments could rarely be celebrated except when the Micmac came together on the feast day of their patron saint.
Wilmot loved the forest life. When he was 14 he killed his first moose, at which time his coming-of-age feast would have been held. In 1844, on a list compiled for Nova Scotia's commissioner of Indian affairs, Wilmot was recorded as being at River John, and as having received five shillings in government assistance. The list for 1855 notes that he was living alone at Fishers Grant. Little is known about Wilmot's family. His first wife had one child, who died young. His second marriage was to an Acadian woman, and they had eight children.
Wilmot was an excellent craftsman in wood. In the collection of the Nova Scotia Museum is a cross made of hundreds of interlocking pieces, which he created at the age of 15. Some of his work was entered in an exhibition held in London in the mid 1880s (possibly the 1886 Colonial and Indian Exhibition), and he won a medal. Wilmot retained his skill to the end of his life: when interviewed by journalist Clarissa (Clara) Archibald Dennis on 26 July 1932, he had just come in from the forest with wood he had cut, carried home, and intended to use for making bows and arrows.
Wilmot served as chief of the band at Fishers Grant in the 19th century (a reserve was established there in 1865). He was proud that he had met many famous men, including Premier Joseph Howe* and Sir Charles Tupper*. In his later years he was famed as the eldest living Nova Scotian and was pleased to receive, in 1932, a letter of congratulation from Premier Gordon Sidney Harrington*. Wilmot told Dennis, "I have never taken a doctor's medicine in my life.… I always use my own barks and herbs."
Until the age of 50 he lived in wigwams, but towards the end of his life his home was a small shack on the Millbrook Reserve near Truro, where his son Charles lived with his wife. (Charles's sister Mary Anne was living in the state of New York.) Wilmot explained to Dennis, "I was the first Indian to come here. I came from Pictou with my wife 80 years ago, and my mother." Initially they located at Bible Hill, near Truro, where his mother died. He then moved to Millbrook. "There were no other Indians here. Later maybe one family and so on came. This Truro was just a little village, was all one big wood." He told Dennis that the one thing he wanted, at 106, was a "decent house" of his own. "I have been for years in this shack. The Government promised to build me a house. As I do not expect to live another hundred years, I hope they'll soon get at it."
Wilmot established a small hunting camp near Sunny Brae, Pictou County, where, even as a centenarian, he spent time alone. From here he made an epic journey, taken when he was well over 100 years old. He walked through forests from Sunny Brae to Guysborough in Guysborough County and back again, a distance of more than 100 miles. His purpose was to revisit all the sites of his past hunting expeditions. He estimated that he had killed during his lifetime about 300 moose and many bears, and he was famed for taking the last caribou ever seen in Nova Scotia. "I have had an outdoor life, hunting all the time in the woods and trapping. I shot a moose when I was over 100 years old. It weighed 600 pounds." During his great journey to Guysborough, in a burnt clearing, he met three bears. They looked at him, but did not attack, perhaps sensing that his hunting days were over.
When Dennis interviewed Wilmot on his birthday in 1932, he had a special request. "I want you to take my picture with my seventy-year-old gun." She described the scene: "He rose, took down a spectacularly beaded coat and cap from a nail and donned them both. The moccasins on his feet were made by himself. Then with the face lined and seamed with the care of over a century, he faced the camera."
Less than six months later Dennis wrote in his obituary, "And now Peter Wilmot has been gathered to his fathers, the 'first' citizens of North America. One hundred and six years he lived in Nova Scotia. The fragile frame could not hold the spirit any longer."
Photographic portraits of Peter Wilmot are found in "The Mi'kmaq portraits coll.," comp. R. H. Whitehead et al.: novascotia.ca/museum/mikmaq (consulted 18 Oct. 2013). The wooden cross made by Wilmot was sold to the Nova Scotia Museum (Halifax) (Acc. 1937.54) by his son Charles after his death.
N.S. Museum Library, mss, Piers papers, "Micmac Indian hunters and guides of the old days, according to Lewie Newell McDonald of Enfield, N.S." NS, MG 15, vol.5, no.69; "Nova Scotia hist. vital statistics," Colchester County, 1932: www.novascotiagenealogy.com (consulted 11 Feb. 2013). Halifax Herald, 26 July, 27 Oct., 29 Dec. 1932. N.S., House of Assembly, Journal and proc., 1844, app.50. The old man told us: excerpts from Micmac history, 1500–1950, comp. R. H. Whitehead (Halifax, 1991).
© 2013–2023 University of Toronto/Université Laval
Cite This Article
Ruth Holmes Whitehead, "WILMOT, PETER," in Dictionary of Canadian Biography, vol. 16, University of Toronto/Université Laval, 2003–, accessed September 30, 2023, http://www.biographi.ca/en/bio/wilmot_peter_16E.html.
The citation above shows the format for footnotes and endnotes according to the Chicago manual of style (16th edition). Information to be used in other citation formats:
| | |
| --- | --- |
| Permalink: | http://www.biographi.ca/en/bio/wilmot_peter_16E.html |
| Author of Article: | Ruth Holmes Whitehead |
| Title of Article: | WILMOT, PETER |
| Publication Name: | Dictionary of Canadian Biography, vol. 16 |
| Publisher: | University of Toronto/Université Laval |
| Year of publication: | 2013 |
| Year of revision: | 2013 |
| Access Date: | September 30, 2023 |