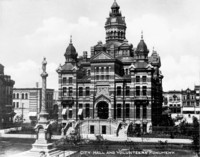 WOOD, EDMUND MARTER, lawyer, politician, and office holder; b. 20 April 1858 in Brantford, Upper Canada, son of Edmund Burke Wood*, a lawyer, and Jane Augusta Marter; m. first 4 Aug. 1880 Georgianna Gove (d. 31 May 1921) in St Andrews, N.B., and they had three sons, two of whom survived infancy; m. secondly 10 Nov. 1923 Nina Emmaline (Emily) Macdonald in Winnipeg; they had no children; d. there 26 Jan. 1936.
Edmund Marter Wood received his early schooling in Brantford and at Upper Canada College in Toronto before moving to Manitoba when his father was appointed chief justice in March 1874. He probably started to article in the law office of John Farquhar Bain and Sedley Blanchard shortly after arriving in Winnipeg. While a student, he was a member of the Prairie City Baseball Club in 1877–78; he served as secretary of the Winnipeg Amateur Literary and Dramatic Association, taking part in a number of performances in 1877; and he was a founder of the Law Students' Society and its treasurer (1877–78). He was called to the Manitoba bar on 6 Sept. 1879.
Almost immediately, Wood entered into a partnership with his cousin Samuel Clarke Biggs. In addition to its legal work, the firm handled investments in Manitoba real-estate securities. Biggs and Wood were solicitors for the Manitoba South-Western Colonization Railway, which had negotiated with the City of Winnipeg for permission to cross the Red River and for other authorizations. Some citizens therefore expressed concern when Wood secured the position of city solicitor in January 1880. An anonymous commentator in the Daily Tribune noted that Wood was "an estimible young man," but implied that he was the "inside man" for the railway. Although the issue of the railway crossing had been settled by Ottawa and Winnipeg politicians during the spring of 1879, readers were no doubt concerned about any future influence he might be able to exercise. As solicitor, Wood was responsible for drafting by-laws, writing contracts, and dealing with the city's legal matters.
During 1880–82 Winnipeg experienced an important land boom associated with the arrival of the Canadian Pacific Railway. The city tripled its population in three years and expanded geographically as well. In 1881 Wood built one of the first large houses in the community of Fort Rouge, which would be annexed to Winnipeg the following year. The home, costing almost $6,000, was located on nearly an acre of landscaped property and was heavily mortgaged. In April 1882, prior to its annexation, Wood became a municipal councillor in Fort Rouge. At the death of his father in early October, his mother, brothers, and sisters were left in difficult circumstances. Having no inheritance, and coming from a family accustomed to a luxurious lifestyle, Wood began to use the funds entrusted to his care as solicitor.
In 1883 Wood obtained a second mortgage on his Fort Rouge residence from the city's sinking fund. Few were aware of the transaction since, as solicitor, he handled the paperwork. At some point he obtained a mortgage from the same fund for the Chateau de Glenmore, a known brothel briefly owned by him in 1882, but at the time of the mortgage the property of his brother, Melville Burke, a local liquor dealer and rake. In addition to these irregular transactions, Wood habitually deposited city moneys transacted through his office into his firm's account; municipal officials would describe his bookkeeping methods as "exceedingly loose and unbusinesslike," but would not initially accuse him of misappropriating funds. His behaviour, which was likely caused by his inability to finance his expensive way of life, was exposed in August 1884 when auditors reported on Winnipeg's finances.
Wood's handling of accounts had led to the dissolution of Biggs and Wood in 1882, and when the scandal became known his cousin publicly denounced him. The Winnipeg City Council voted to fire him as solicitor; the dismissal was to take effect on 1 September, but Wood resigned on 31 August. Charges of embezzlement were subsequently filed against him and he fled to the United States. In November, in St Paul, Minn., he was interviewed by a reporter from the Winnipeg Daily Sun and blamed his actions on "friends" who had "done him up" by using him as a "tool" and a "cat's paw."
Wood remained in the United States for a year and a half, moving from city to city. In January 1886 he wrote to the Winnipeg City Council from New York, offering to repay the nearly $15,000 he owed if the charges were dropped. The offer was accepted, and according to the Daily Manitoban, Wood, who returned in March, was met by "a warm welcome" from his friends. He resumed his legal career the following month, but it was short-lived. Evidently, his reputation was tarnished. By February 1887 he was struck from the rolls of the Law Society of Manitoba for non-payment of fees. Unable to practise and using all his assets to repay his debt, Wood was briefly engaged as a returning officer in Kildonan during the election of 11 July 1888, but was close to destitution by the end of the summer. He unsuccessfully approached Liberal premier Thomas Greenway* for help in obtaining a post with the Northern Pacific and Manitoba Railway. Later, citing his father's service to the "country and the liberal party," he beseeched Greenway for a "paltry little position" that would mean "bread for my wife and children this winter." Greenway got him a job as a sessional writer for the Legislative Assembly, where among other tasks he worked on the consolidation of the provincial statutes, and subsequently found employment for him in the offices of the Department of Provincial Lands and the municipal commissioner.
On 28 Oct. 1889 Wood was appointed chief clerk in the office of the municipal commissioner for Manitoba; he had been there since August. He reported directly to commissioner James Allan Smart*, who was also minister of public works, and Wood's position was probably equivalent to that of a deputy minister. He became an archetypal bureaucrat, a hard-working expert whom no one noticed, in sharp contrast to the former city solicitor with the lavish lifestyle. During the next four decades, he was known as an authority on municipal legislation. In 1911 the Winnipeg Tribune stated that "his knowledge of municipal affairs is so wide and comprehensive that his opinion in such matters commands the greatest esteem and attention." Wood was named deputy municipal commissioner on 9 Feb. 1904, a position he would hold until his retirement. He also served as railway commissioner for Manitoba from 1900 to 1922, and as secretary of the Provincial Board of Health from 1894 to 1927. He drafted at least 13 important bills, including those passed as the Act to amend "The Assessment Act" (1891), the Act respecting a sanatorium for consumptives (1904), the Motor Vehicle Act (1908), the Public Health Act (1911), and the Good Roads Act (1912). His pioneering legislation was often used as models for the provinces of Saskatchewan and Alberta. He also played a key role in establishing the tuberculosis sanitarium in Ninette.
By 1900, when he purchased the house in Fort Rouge in which he had been living since 1896, Wood had probably recovered financially. Then, as in the 1880s, the property was held in his wife's name. In 1909 the Woods built a new home next to that of Robert Rogers on prestigious Roslyn Road. After Georgianna's death in 1921, Wood auctioned the contents, sold the property, and moved into the luxurious Royal Alexandra Hotel, where he would reside for the remainder of his life. At his retirement on 31 Oct. 1930, he was honoured for his long service. Municipal commissioner Duncan Lloyd McLeod stated that Wood's relationship with municipal authorities had been paternal in nature. "The officials of municipalities all over the province have looked to Mr. Wood for guidance and advice which had never been withheld." McLeod added that Wood had played an important part in the development of the province. In an interview given to a reporter from the Manitoba Free Press on his last working day, Wood reflected on the past four decades, during which he had served five different administrations; the government of Sir Rodmond Palen Roblin had been his favourite. A month later, the Union of Manitoba Municipalities paid its respects to Wood at its annual meeting. The "tall and slender white-haired gentleman" then passed into private life. In his final years, Wood was in poor health; he died on 26 Jan. 1936.
AM, AMLJH, P 1350; GR 1662, 881, 15 Aug. 1881; 911, 21 Aug. 1888; 1158, 22 Oct. 1888; 1268, 28 Nov. 1888. City of Winnipeg, Arch. and records control branch, Assessment rolls, 1897, 1901; City Council, communications, 1880, no.1805; 1886, no.27. Man., Dept. of Tourism, Culture, Heritage, Sport and Consumer Protection, Vital statistics agency (Winnipeg), nos.1921-023051, 1923-047109, 1936-008114. Daily Manitoban (Winnipeg), 2 Feb., 22 March, 22 April 1886. Daily Sun (Winnipeg), 8, 12, 24 Sept., 13, 18 Nov. 1884. Daily Tribune (Winnipeg), 29 Jan. 1880. Manitoba Free Press, 16, 20 Jan., 24 March, 25 Aug., 2 Oct., 12 Dec. 1877; 8 Jan., 11 Feb., 20 May 1878; 4 July, 6, 9 Sept. 1879; 27 Jan., 3, 13 Aug. 1880; 30 June 1881; 26 April 1882; 26–29 Aug., 1, 2, 9, 11 Sept. 1884; 22 March 1886; 12 July 1888; 1 June 1921; 1, 3 Nov. 1930. Manitoba Gazette (Winnipeg), 9 Nov. 1889, 17 March 1894, 17 March 1900, 20 Feb. 1904. Manitoba Sun (Winnipeg), 22 April, 7 July 1886. Winnipeg Evening Tribune, 24 Sept. 1921, 10 Nov. 1923. Winnipeg Tribune, 10 Feb. 1911, 27 Jan. 1936. Directory, Winnipeg, 1911–36. Man., Treasury Dept., Public accounts of the province of Manitoba (Winnipeg), 1888, 1889, 1922. David Spector, "The 1884 financial scandals and establishment of business government in Winnipeg," Prairie Forum (Regina), 2 (1977): 167–77. Vital statistics from N.B. newspapers (Johnson), 53, no.1362; 64, no.1074. Western Municipal News (Winnipeg), 26 (January 1931): 8, 10. Winnipeg, Manitoba, and her industries (Chicago and Winnipeg, 1882).
© 2015–2023 University of Toronto/Université Laval
Image Gallery

Cite This Article
Randy R. Rostecki, "WOOD, EDMUND MARTER," in Dictionary of Canadian Biography, vol. 16, University of Toronto/Université Laval, 2003–, accessed September 30, 2023, http://www.biographi.ca/en/bio/wood_edmund_marter_16E.html.
The citation above shows the format for footnotes and endnotes according to the Chicago manual of style (16th edition). Information to be used in other citation formats:
| | |
| --- | --- |
| Permalink: | http://www.biographi.ca/en/bio/wood_edmund_marter_16E.html |
| Author of Article: | Randy R. Rostecki |
| Title of Article: | WOOD, EDMUND MARTER |
| Publication Name: | Dictionary of Canadian Biography, vol. 16 |
| Publisher: | University of Toronto/Université Laval |
| Year of publication: | 2015 |
| Year of revision: | 2015 |
| Access Date: | September 30, 2023 |