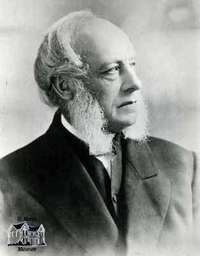 Source: Link
RICE, SAMUEL DWIGHT, Methodist minister and educator; b. 11 Sept. 1815 in Houlton, Maine, son of Samuel Rice, a physician, and Elizabeth Putnam; m. in 1843 Fanny Lavinia Starr of Halifax, N.S., and they had three daughters and five sons; d. 15 Dec. 1884 in Toronto, Ont.
Samuel Dwight Rice moved with his family in 1819 to Woodstock, N.B., where he received his early education. For two years he pursued a business career for which he had had some training, but the profound experience of his conversion to Methodism in 1834 eventually turned him from business to the Christian ministry. He was received on trial in the Wesleyan Methodist Church in 1837. His ordination four years later led to six years of pastorates in New Brunswick under Enoch Wood, including a year spent collecting funds to establish a Wesleyan academy in Sackville (later Mount Allison University) [see Humphrey Pickard]. In 1847 Rice accompanied Wood to Canada West, settling in a pastorate in Toronto where he was associated with Ephraim Evans*. He served in 1849 as the first governor at the Mount Elgin Industrial Institution, an industrial school for Indians at Muncey, before accepting a three-year pastorate in Kingston. He then moved to Victoria College, Cobourg, where he acted as treasurer in 1853 and as "moral and domestic governor" from 1854 to 1857. Serving next at Hamilton, he held various administrative posts from 1857 to 1862 before beginning his active involvement with the Hamilton Wesleyan Female College from 1863 to 1878. Following two years at St Marys he left Ontario and spent 1880–82 in Winnipeg. He returned to Toronto in 1883 as president of the General Conference of the Methodist Church of Canada and on 5 September was elected general superintendent of the Methodist Church, effective the following July when the four Methodist churches in Canada were officially united under the latter name. Rice favoured the union, believing it a means of forwarding the important doctrines and polity of Methodism, with greater opportunities for missionary work, for education, and for more general participation in the administration of the church's affairs.
Throughout his 47 years with the church Rice served as a pastor from Cape Breton Island to Winnipeg, held numerous administrative offices, acted as a delegate to many conferences, and displayed an on-going interest in education. Although he was a fine preacher his greatest gift was church administration and he held all but four of the major offices in the church. As Charles Bruce Sissons* noted, "he was the type of minister who built churches rather than filled them." Believing the church to be "responsible for the intellectual as well as the moral and religious culture of the people," he felt that education was the means by which Methodists could rise from the lower strata of society. While he was serving as governor at Victoria College his business experience eased the financial tensions somewhat but his strict discipline must have caused problems with President Samuel Sobieski Nelles and Rice "withdrew from the College in 1857." Two years before his departure a letter in the Christian Guardian had asked: "How Long Shall the Education of the Daughters of Canada Be Neglected?" Rice, who had been interested in the state of women's education at Victoria, answered this question by bringing to fruition a plan by which the Wesleyan college in Hamilton was established in 1861. After serving as its governor from 1863, Rice succeeded Mary Electa Adams* as principal in 1868, a post he held until 1878 when he was elected vice-president of the General Conference of the Methodist Church of Canada. During his tenure at the college he received an honorary dd from Victoria in 1867. Even in his last years his interest in education continued and he was a member of the board of education in Winnipeg in 1880–81.
Methodist journalist and author William Henry Withrow* likened Rice to Egerton Ryerson, and he was described as a "tall and commanding figure, with a strong and intellectual face." Withrow also spoke of Rice's "large-hearted catholicity of spirit" towards other Christian churches while still remaining "a true and progressive Methodist." Confident, assertive, and conservative, Rice was able to change his views in the interest of the church's well-being. His faith was characterized by conviction rather than emotion; his preaching was evangelical, but its substance was "the doctrine of the Gospel," at a time when doctrine was being diluted and preaching was becoming more and more anecdotal. To Rice's logical mind true faith enjoined conversion of the heart, but, going deeper, he referred to the one power that "can touch the human conscience . . . the Spirit of God." The basis of the church was holiness, the sense of God's reality and presence, not organization or political method. He believed "the doctrines and discipline of the Church" were essential and had built the Methodist Church to its strength and influence.
Without a doubt Rice saw the needs of Methodism more clearly than most of his contemporaries; in his view the church's life was in jeopardy. There was a subtle deterioration of both doctrine and polity, a certain carelessness in a time of expansion and progress, a loosening of the joints of Methodism. A champion of the purity of high Methodism, Rice became aware of the effects of the 1884 union of the four Methodist churches, at least two of which had no real doctrine of ordination and practised a charismatic worship amounting to little more than revival meetings. The church, the ministry, and the sacraments were theoretically accepted but they were overshadowed by a strong emphasis on personal salvation. Even conversion had become less exacting. Finally, a wave of liberal thought was to be followed by a tide of social emphasis, which a dozen Rices could not have stemmed.
Samuel Dwight Rice was the author of "The person and work of the Holy Spirit," Canadian Methodist Magazine, 7 (January–June 1878): 168–70.
Methodist Church (Canada, Newfoundland, Bermuda), Toronto Conference, Minutes (Toronto), 1885. Canadian Methodist Magazine, 21 (January–June 1885): 178–81; 24 (July–December 1886): 1–10. Christian Guardian, 17, 31 Oct. 1855; 17 June 1874; 18, 25 June, 2 July, 17, 24 Dec. 1884; 7 Jan. 1885; 10 Feb. 1904. New Outlook (Toronto), 17 Dec. 1930. Cornish, Cyclopædia of Methodism. Dominion annual register, 1885. The Putnam lineage . . . , comp. Eben Putnam (Salem, Mass., 1907). J. E. Sanderson, The first century of Methodism in Canada (2v., Toronto, 1908–10). C. B. Sissons, A history of Victoria University (Toronto, 1952).
© 1982–2023 University of Toronto/Université Laval
Image Gallery

Cite This Article
Arthur G. Reynolds, "RICE, SAMUEL DWIGHT," in Dictionary of Canadian Biography, vol. 11, University of Toronto/Université Laval, 2003–, accessed September 29, 2023, http://www.biographi.ca/en/bio/rice_samuel_dwight_11E.html.
The citation above shows the format for footnotes and endnotes according to the Chicago manual of style (16th edition). Information to be used in other citation formats:
| | |
| --- | --- |
| Permalink: | http://www.biographi.ca/en/bio/rice_samuel_dwight_11E.html |
| Author of Article: | Arthur G. Reynolds |
| Title of Article: | RICE, SAMUEL DWIGHT |
| Publication Name: | Dictionary of Canadian Biography, vol. 11 |
| Publisher: | University of Toronto/Université Laval |
| Year of publication: | 1982 |
| Year of revision: | 1982 |
| Access Date: | September 29, 2023 |