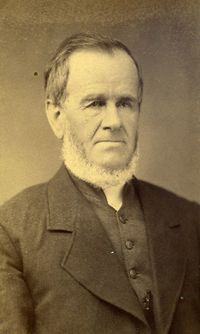 Source: Link
PICKARD, HUMPHREY, Methodist minister, educator, and journalist; b. 10 June 1813 at Fredericton, N.B., son of Thomas Pickard and Mary Burpee; m. first 2 Oct. 1841 Hannah Maynard Thompson*, and they had two sons who died in early childhood; m. secondly 5 Sept. 1846 Mary Rowe Carr (d. 1887), and they had two daughters; d. 28 Feb. 1890 at Sackville, N.B.
Humphrey Pickard was the son of a Methodist businessman of New England descent. The religious influence of his home, and especially of his mother, was reinforced by his attendance from 1829 to 1831 at the Wesleyan Academy, Wilbraham, Mass., whose principal, Wilbur Fisk, was a leading figure in the Methodist Episcopal Church in the United States. In 1831 Pickard followed Fisk to the new Wesleyan University in Middletown, Conn. He returned to Fredericton to become a businessman after completing his first year of studies. Converted while a student and greatly influenced by Fisk's example, he decided in 1835 to become a Methodist minister and began by assisting Albert Des Brisay* in New Brunswick. After one year as a probationer, in Miramichi and in Fredericton, he returned to Wesleyan University in 1837, graduating in 1839.
Following his graduation, Pickard was stationed in the New Brunswick District of the British Wesleyan Conference, a missionary district administered by the Wesleyan Methodist Missionary Society. As an offshoot of the British conference, Methodism in the Maritime provinces was evangelical yet conservative, dominated by ministers sent from England, and dependent in its outlook. In 1841, after serving two years in Miramichi, Pickard was appointed to Saint John. He was ordained the following year and became editor of the British North American Wesleyan Methodist Magazine, the Methodist organ in the eastern colonies. The first years of his career coincided with the gradual emergence of a self-reliant attitude among his brethren, to which the parent conference would eventually respond. His first letter to the missionary society is characterized by an independent spirit, which in his case was nourished by the society's policy of according a lower status to ministers recruited in the colonies than to those secured in Britain.
Fortunately for Pickard, in January 1839 Charles Frederick Allison*, a prominent Methodist in Sackville, offered to build and endow a school in which "Pure Religion is not only taught, but Constantly brought before the youthful mind." This proposal was accepted eagerly by the missionaries who were determined to provide Methodist children with "an Education on Wesleyan Principles." In January 1843 the Mount Allison Wesleyan Academy, a preparatory school for boys, opened in Sackville, with Humphrey Pickard as its first principal. In his inaugural address of 29 June 1843 he defined education as "that instruction and discipline which are necessary to prepare man for the duties and enjoyments of existence"; in effect, it should raise man "from indulgence in gratification merely animal," and "lead him to seek acknowledged connexion and realized communion with God." To this end the curriculum would include classical literature, science, and philosophy. The Bible, however, he considered "our most valuable text book."
The academy, designed from the outset to diffuse knowledge and to form disciplined and moral characters in a Wesleyan atmosphere, proved to be highly successful and in 1848 the Methodists decided to establish a ladies' academy, which opened in 1854, also with Pickard as principal. The two academies provided instruction to the college matriculation level and a new institution, Mount Allison Wesleyan College (which later became Mount Allison University), opened its doors in 1862; Pickard was its president from 1862 to 1869.
In addition to his duties as founder and promoter of the principal Methodist educational institutions in the Maritimes, Pickard held numerous important posts. He was a major figure in the Wesleyan Methodist Conference of Eastern British America, an autonomous body established by the missionary society in 1855, and he served as its secretary from 1857 to 1860, its president in 1862 and 1870, and as a delegate to the British conference in 1857, 1862, and 1873. From 1869 to 1873 he was editor of the Wesleyan (Halifax), a Methodist newspaper, and book steward of the conference. Wesleyan University conferred a dd on him in 1857. When he retired from the active ministry in 1877 the conference in which he had served acknowledged his success in restoring several of its endeavours to sound financial positions.
After his death the Wesleyan commented that he had "an indomitable will and an immense capacity for work. . . . He was positive in speech and irresistible in debate; especially on all constitutional questions, and matters pertaining to the economy, discipline, or policy of the Church. For long years to come the presence of Dr. Humphrey Pickard will be missed from our council fires." An austere but sensitive man, he devoted himself with great tenacity and determination to the promotion of Methodism and higher education in a Christian context. His legacy was the academies and college in Sackville, and the great number of laymen and clergy whose minds were shaped by him as a teacher and minister.
Humphrey Pickard's "An inaugural address, delivered at the opening of the Wesleyan Academy, Mount Allison, Sackville, New Brunswick" was published in the British North American Wesleyan Methodist Magazine (Saint John, N. B., and Fredericton), 3 (1843): 281–92.
Methodist Missionary Soc. Arch. (London), Wesleyan Methodist Missionary Soc., Corr., Canada, 1837–47 (mfm. at UCA). United Church of Canada, Maritime Conference Arch. (Halifax), Joint meeting of Wesleyan Methodist missionaries from Nova Scotia, New Brunswick and Newfoundland districts, 12 July 1839; Wesleyan Methodist Church, New Brunswick District, Minutes, 1836, 2 Nov. 1842 (mfm. at UCA). Methodist Church (Canada, Newfoundland, Bermuda), New Brunswick and Prince Edward Island Conference, Minutes (Saint John), 1890. Methodist Church of Canada, New Brunswick and Prince Edward Island Conference, Minutes (Halifax), 1877. Edward Otheman, Memoir and writings of Mrs. Hannah Maynard Pickard; late wife of Rev. Humphrey Pickard, A. M. . . . (Boston, 1845). Wesleyan Methodist Church of Eastern British America, Minutes (Halifax), 1858; 1862; 1869–70. Christian Guardian, 19 March 1890. Wesleyan (Halifax), 1869–73, 1890. Cornish, Cyclopædia of Methodism. Cyclopædia of Canadian biog. (Rose, 1888), 140–42. G. [S.] French, Parsons & politics: the rôle of the Wesleyan Methodists in Upper Canada and the Maritimes from 1780 to 1855 (Toronto, 1962). D. W. Johnson, History of Methodism in eastern British America, including Nova Scotia, New Brunswick, Prince Edward Island, Newfoundland and Bermuda . . . ([Sackville, N.B.], n.d.). T. W. Smith, History of the Methodist Church within the territories embraced in the late conference of eastern British America . . . (2v., Halifax, 1877–90). David Allison, "Humphrey Pickard (1812–1890)," Christian Guardian, 9 March 1904.
© 1982–2023 University of Toronto/Université Laval
Image Gallery

Cite This Article
G. S. French, "PICKARD, HUMPHREY," in Dictionary of Canadian Biography, vol. 11, University of Toronto/Université Laval, 2003–, accessed November 28, 2023, http://www.biographi.ca/en/bio/pickard_humphrey_11E.html.
The citation above shows the format for footnotes and endnotes according to the Chicago manual of style (16th edition). Information to be used in other citation formats:
| | |
| --- | --- |
| Permalink: | http://www.biographi.ca/en/bio/pickard_humphrey_11E.html |
| Author of Article: | G. S. French |
| Title of Article: | PICKARD, HUMPHREY |
| Publication Name: | Dictionary of Canadian Biography, vol. 11 |
| Publisher: | University of Toronto/Université Laval |
| Year of publication: | 1982 |
| Year of revision: | 1982 |
| Access Date: | November 28, 2023 |