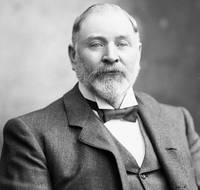 Source: Courtesy of Wikimedia Commons
CARGILL, HENRY, businessman, breeder, politician, and office holder; b. 13 Aug. 1838 in Nassagaweya Township, Upper Canada, son of David Cargill and Ann ; m. 11 March 1864 Margaret Davidson (d. 1913), and they had one son and three daughters; d. 1 Oct. 1903 in Ottawa and was buried in Walkerton, Ont.
In 1824 David Cargill emigrated from County Antrim (Northern Ireland) to Nassagaweya Township in Halton County. Recognizing the potential of the local stands of timber, he entered the lumber business in addition to farming and running an inn. Henry Cargill was educated at local schools and spent two years at Queen's College, Kingston, before he took over his father's lumber business. Overcoming some initial financial problems, he eventually built a large and successful operation: two sawmills and a shingle-mill. One of the sawmills, which Cargill held in partnership with David Wheelihan, was the largest in the township, employing 12 men and producing 25–30,000 board feet per day. Cargill also had a small farming operation at his home in Nassagaweya as well as extensive holdings of timberland.
The turning-point in Cargill's life occurred in 1871, when the province of Ontario decided to sell a large piece of crown land in Bruce County called the Greenock Swamp. Containing over 8,400 acres, it had potentially lucrative supplies of hardwood and softwood, but its boggy nature had handicapped development. Cargill was one of seven men who purchased part of the swamp at public auction in 1871 for an average cost of $4.66 per acre. Over the next few years he acquired more of the swamp from the other purchasers and leased a sawmill in Chepstow to process some of the timber, leaving his Nassagaweya interests in the hands of his partner. Cargills big move came in 1879 when he bought all of Charles Mickle Sr's original parcel – more than 4,000 acres – and the sawmill, grist-mill, boardinghouse, and workers' houses that Mickle had built. Cargill financed this purchase by dissolving his partnership with Wheelihan and by taking a large mortgage from Mickle.
Cargill now faced the task of developing the swamp. The first step was to construct corduroy roads into the area and dig canals, which allowed logs to be floated out and helped to drain the land. The latter function was important because the cleared land could then be sold as farmland. The logs were taken via the Teeswater River to the mill complex Cargill had purchased from Mickle. Originally called Yokassippi and later Mickle Station, this small village, which was situated on a division of the Great Western Railway, was soon renamed Cargill. The extensive manufacturing base built up by Cargill included a planing mill, a stave-mill, and a heading mill; he also operated a general store and opened a woollen mill. His aim was not only to utilize the full resources of the swamp but also to provide long-term employment. Cargill's concern for the local people was also reflected by his provision of a waterworks, fire equipment, a powerplant to provide electricity, and a school; he was generous too in helping to pay for the construction of local churches (Cargill himself was a Presbyterian). The village, which had a population of 200 in 1885, was labelled by the Farmer's Advocate and Home Magazine "one of the most prosperous in the Province" and Cargill was hailed for establishing a model of labour relations and capital development.
Cargill's enterprises flourished and he soon became a wealthy man, free to pursue other concerns. One of his most passionate interests was farming. Eventually he owned and operated over 900 acres of good land at Cargill and was famous for his herd of imported Scottish Shorthorns, which helped to improve greatly the class of cattle in that part of the province. Operated under the name of Henry Cargill and Son, the farm also raised and sold Percheron, Clydesdale, and Standardbred horses and Oxford Down sheep. Cargill was active in many associations and companies, among them the Dominion Shorthorn Breeders' Association, the Dominion Life Assurance Company, the Canadian Mutual Mining and Development Company, the Ontario Trotting and Pacing Horse Breeders' Association, the Saugeen Valley Railway Company, and the Irish Protestant Benevolent Society of Walkerton.
Politics was a lifelong interest of Cargill's. He served as a councillor in Nassagaweya in 1866 and as reeve of Greenock Township for three years (1884–86). He was postmaster of Cargill from 1880 to 1887. Prime Minister Sir John A. Macdonald* supposedly recruited Cargill, a Conservative, for federal politics; he was first elected to the House of Commons in February 1887 for the riding of Bruce East. Forced to resign because he held a crown appointment (the postmasters hip), he was returned at a by-election in April. His election in 1891 was also difficult: defeated at the polls in March, he filed a successful protest and won the subsequent by-election in February 1892. In the elections of 1896 and 1900 he maintained his seat. Perhaps the most interesting aspect of his otherwise undistinguished parliamentary career is that he died in the commons. After speaking to a point on 1 Oct. 1903, Cargill was taken ill. Although attended by two doctors who were also members, he died "at 10:50 almost simultaneously with the bell in the corridor announcing the adjournment of the House." He was survived by his wife, their son, Wellington David, who continued his father's business, and two daughters, one of whom had married Wilson Mills Southam, a prominent Ottawa journalist.
AO, RG 22, ser.358, nos.1192, 3078. Bruce Land Registry Office (Walkerton, Ont.), Abstract indexes and deeds for Brant and Greenock townships. NA, RG 31, C1, 1861, 1871, Nassagaweya Township; 1881, 1891, Greenock Township. QUA, Queen's Univ., Registrar's Office, student reg., 1, no.173. Town of Walkerton Cemetery, Burial records and tombstone inscription. Farmer's Advocate and Home Magazine, 1883–1901. Globe, 2 Oct. 1903. Paisley Advocate (Paisley, Ont.), 1885–1903. Telescope (Walkerton), 9 Oct. 1903. Canadian directory of parl. (Johnson). Canadian men and women of the time (Morgan; 1898). CPG, 1897. Cyclopædia of Canadian biog. (Rose and Charlesworth), vol.2. Greenock Township history, 1856–1981, ed. L. M. Gateman et al. (Cargill, Ont., 1981). The history of the township of Brant, 1854–1979, ed. L. M. Gateman (Elmwood, Ont., 1979). Illustrated atlas of the county of Bruce, containing authentic maps of the townships (Port Elgin, Ont., 1970), originally pub. as "Bruce supplement" to Illustrated atlas of the Dominion of Canada . . . (Toronto, 1880). Illustrated historical atlas of the county of Halton, Ont., comp. J. H. Pope (Toronto, 1877; repr. Port Elgin, 1971). Norman McLeod, The history of the county, of Bruce and the minor municipalities therein, 1907–1968, province of Ontario, Canada (Owen Sound, Ont., 1969) [issued as a companion vol. to Norman Robertson's history (cited below), which covers the period up to 1906]. D. M'L. Marshall, Shorthorn cattle in Canada ([Toronto], 1932). Nassagaweya centennial, 1850–1950: an historical volume of Nassagaweya Township in Halton County . . . including "The early history of Nassagaweya" as written by the late Joshua Norrish, an early settler ([Brookville, Ont., 1949]). Newspaper reference book. Norman Robertson, The history of the county of Bruce, and of the minor municipalities therein, province of Ontario, Canada (3rd [ed.], Owen Sound, 1971).
© 1994–2023 University of Toronto/Université Laval
Cite This Article
Susan L. Bennett, "CARGILL, HENRY," in Dictionary of Canadian Biography, vol. 13, University of Toronto/Université Laval, 2003–, accessed October 2, 2023, http://www.biographi.ca/en/bio/cargill_henry_13E.html.
The citation above shows the format for footnotes and endnotes according to the Chicago manual of style (16th edition). Information to be used in other citation formats:
| | |
| --- | --- |
| Permalink: | http://www.biographi.ca/en/bio/cargill_henry_13E.html |
| Author of Article: | Susan L. Bennett |
| Title of Article: | CARGILL, HENRY |
| Publication Name: | Dictionary of Canadian Biography, vol. 13 |
| Publisher: | University of Toronto/Université Laval |
| Year of publication: | 1994 |
| Year of revision: | 1994 |
| Access Date: | October 2, 2023 |