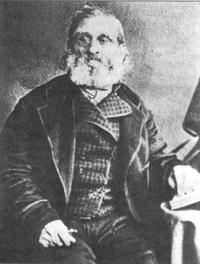 Source: Courtesy of Wikimedia Commons
ABBOTT, WILSON RUFFIN, businessman; b. 1801 in Richmond, Virginia, son of a Scotch-Irish father and a free Black mother; d. 6 Nov. 1876 in Toronto, Ont.
Wilson Ruffin Abbott was in his youth apprenticed as a carpenter but left home at 15 to work as a steward on a Mississippi River steamer. Seriously injured when cord wood fell on him, he was nursed by a Boston traveller's maid, Ellen Toyer, whom he later married. He then moved to Mobile, Alabama, where he opened a general grocery store. The Abbotts were indignant when the city required all free Black people to provide bonds signed by two white men pledging their good behaviour. In 1834, upon receiving an anonymous warning that his store was to be pillaged, he withdrew his savings, put his wife and two children aboard a steamer for New Orleans, and slipped away alone on the night his store was attacked. After a brief sojourn in New York, the Abbotts moved to Toronto in late 1835 or early 1836, one of hundreds of Black American families who sought a greater degree of freedom in Upper Canada at this time.
After a false start as a tobacconist, Abbott became a dealer in properties and increasingly made his mark in real estate; although he could not read until his wife taught him, he was known for an unusual ability to do complex calculations in his head. By 1871 Abbott owned 42 houses, five vacant lots, and a warehouse, most of which were in Toronto, with others in Hamilton and Owen Sound. He helped purchase freedom for fugitive slaves, kept his wife's sister, Mary, as a housekeeper on wages, and aided another sister-in-law, Jane, who married Adolphus H. Judah in Toronto.
As the Abbotts' fortunes improved, the family took an increasing interest in public affairs. Abbott served in the militia during the rebellion of 1837; later, he would be active in George Brown's Reform party. He ran for a seat on city council in 1847 but lost the election in St Patrick's ward to Robert Brittain Denison. On 25 Oct. 1858 he represented St John's ward at the city's Municipal Reform Association meeting and rose to nominate Adam Wilson* for mayor.
The Abbotts directed some of their energy and influence towards improving the condition of Black people. Wilson, one of the six men who had established the Colored Wesleyan Methodist Church in 1838, aided in purchasing property for the building. A supporter of the Reverend Michael Willis's Anti-Slavery Society of Canada, he sat on its governing committee. He was a leader in opposing the Common Schools Act prepared by Malcolm Cameron in 1849 for its proposal to permit racial segregation in Canada West's schools. A decade later he is listed as a trustee of the Association for the Education and Elevation of the Coloured People of Canada, at the time the organization was seeking incorporation in the colony's legislature. In 1840 Ellen Abbott helped organize the Queen Victoria Benevolent Society to aid indigent Black women, and in later years she was active in the British Methodist Episcopal Church.
Abbott was also committed to the Elgin Association, which he served as a director. Established by the Presbyterian minister William King* to provide land and religious guidance to Black people escaping enslavement in the United States, the settlement at Elgin (also known as Buxton) was one of four such communities in the colony's southwest region that were terminals on the Underground Railroad [see Harriet Ross*]. The association managed the community's secular affairs, issued annual reports, and lobbied members of the legislature. Among its Black stockholders, Abbott took a leading role.
The Abbotts had four sons and five daughters. One son, Anderson Ruffin*, would become the first Canadian-born Black person to receive a licence to practise medicine. Through him, the Abbott family would be linked with another of Toronto's distinguished Black families, the Hubbards, and it would be Anderson who, remembering his father's run for city council, would urge William Peyton Hubbard* to enter politics.
Wilson Ruffin Abbott was unusual in being a successful Black businessman in the late 19th century. Toronto, and Ontario, had once had a substantial Black population, but it had fallen off after the American Civil War until there were perhaps not more than 2,000 Black residents in the city, where once there had been three times as many reported. By the latter part of the century, prejudice against Black people had expressed itself in a variety of ways in the province, and most went to segregated schools and separate churches. In Toronto, however, the virus of anti-Black prejudice spread less deeply: the city's schools were never segregated, Knox Presbyterian Church would place a visiting Black minister in the pulpit, and on occasion Black men would achieve at least modest successes in business. While Abbott's success suggests he encountered less prejudice than other Black businessmen in the province, his experience was not a typical one.
MTCL, Hubbard-Abbott collection. Evening Telegram (Toronto), 17 May 1911. Globe (Toronto), 11 Dec. 1847. R. W. Winks, The blacks in Canada; a history (Montreal, 1971). D. G. Hill, "Negroes in Toronto; a sociological study of a minority group," unpublished phd thesis, University of Toronto, 1960; "Negroes in Toronto, 1793–1865," Ont. Hist., LV (1963), 73–92.
Bibliography for the revised version:
The original version of this biography stated that Wilson Ruffin Abbott was elected to represent St Patrick's ward on city council, an assertion that appears in various secondary sources. According to several contemporaneous newspaper reports, however, he ran in the 1847 contest but lost. The DCB/DBC is grateful to Mark Maloney for pointing out this error and to Karolyn Smardz Frost for information about relevant corroborating sources.
Ancestry.com, "Ontario, Canada, deaths and deaths overseas, 1869–1948": www.ancestry.ca (consulted 11 Feb. 2022). Library and Arch. Can. (Ottawa), R233-35-2, Ont., dist. Toronto (134), subdist. St Patrick Ward (H), div. 1: 120. British Colonist (Toronto), 14 Jan. 1848. Globe, 12, 14, 15 Jan. 1848; 13 Nov. 1849; 25 June 1850; 27 Feb. 1851; 26 Oct. 1858; 9 Nov. 1859. London Enquirer (London, [Ont.]), 12 Jan. 1850. Documentary history of education in Upper Canada (Hodgins), XIV: 149. Elgin Assoc., Annual report (Toronto), 1851.
© 1972–2023 University of Toronto/Université Laval
Notes
This biography was first published with terms that were regarded as appropriate at the time and are now considered offensive. These terms have been amended.
Image Gallery

Cite This Article
Robin W. Winks, "ABBOTT, WILSON RUFFIN," in Dictionary of Canadian Biography, vol. 10, University of Toronto/Université Laval, 2003–, accessed October 4, 2023, http://www.biographi.ca/en/bio/abbott_wilson_ruffin_10E.html.
The citation above shows the format for footnotes and endnotes according to the Chicago manual of style (16th edition). Information to be used in other citation formats:
| | |
| --- | --- |
| Permalink: | http://www.biographi.ca/en/bio/abbott_wilson_ruffin_10E.html |
| Author of Article: | Robin W. Winks |
| Title of Article: | ABBOTT, WILSON RUFFIN |
| Publication Name: | Dictionary of Canadian Biography, vol. 10 |
| Publisher: | University of Toronto/Université Laval |
| Year of publication: | 1972 |
| Year of revision: | 2022 |
| Access Date: | October 4, 2023 |