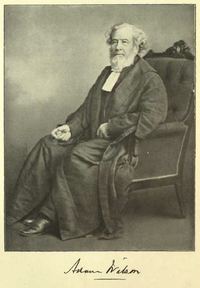 Source: Link
WILSON, Sir ADAM, lawyer, politician, and judge; b. 22 Sept. 1814 in Edinburgh, son of Andrew Wilson and Jane Chalmers; m. 1 May 1841 Emma Dalton, daughter of Thomas Dalton*, and they adopted a daughter; d. 28 Dec. 1891 in Toronto.
Adam Wilson immigrated to Upper Canada in 1830 and went to work for his uncle George Chalmers, the owner of a mill and store in Halton County. Young Wilson moved to Toronto in 1834 and became a pupil of Robert Baldwin Sullivan* in the Baldwin law firm. Called to the bar in 1839, he was made a partner the following year. With Robert Baldwin*, he shared an interest in political reform, and as Baldwin grew increasingly absorbed by politics much of the firm's work fell to him. He became known as a leading barrister. In 1850 he was elected a bencher of the Law Society of Upper Canada and was granted the title of qc.
Wilson's reform sympathies drew him into municipal politics. The civic elections of 1855 saw him chosen alderman for St Patrick's Ward, and on council he was leader of a group who objected to the excessive influence that railwaymen such as Casimir Stanislaus Gzowski had over the local government. Wilson headed a commission of inquiry that looked into the way in which Gzowski and his associates had obtained a highly favourable contract for construction of the Esplanade, a landfill project on the harbour. The commission eventually succeeded in having the contract cancelled, but in the mean time Wilson had temporarily left municipal politics for other duties. He returned late in 1858 when he accepted the nomination for mayor offered by George Brown*'s Municipal Reform Association. The election, held on 3 and 4 Jan. 1859, was the first direct popular vote for mayor. Wilson, who denounced previous city councils for allowing railway interests to take advantage of them, won easily over former mayors John George Bowes* and William Henry Boulton*. He was successful again in 1860 but did not run in 1861.
Although Wilson opposed the excessive public subsidization of railways, he did not oppose railways per se. With Allan Macdonell* and others he was a founding director of the North-West Transportation, Navigation and Railway Company, which was chartered in 1858 to provide a rail and water route west from Lake Superior. This attempt to enhance communications with the Red River settlement was ahead of its time and in 1860, without any construction having been undertaken, its charter expired.
Wilson had not confined his interest in politics to the municipal sphere. In 1858 the "double shuffle" in the Liberal-Conservative cabinet had outraged Canadian Reformers. Wilson initiated a lawsuit against John A. Macdonald and two other ministers for holding their seats in violation of the law, but Chief Justice William Henry Draper* ruled in favour of the defendants. In 1860 Wilson ran successfully for the Legislative Assembly in a by-election for York North, and in the 1861 general election he contested both that seat and Toronto West. He lost the latter to John Beverley Robinson but managed to hold York North. In May 1862, along with William McDougall* and two other Reformers, he entered the ministry of John Sandfield Macdonald* and Louis-Victor Sicotte*. Like his three colleagues he had been a prominent advocate of representation by population, but like them he did not insist on government commitment to it when he joined the cabinet. This concession brought the wrath of George Brown down on them all. Wilson held the post of solicitor general for Upper Canada until he was dropped from the cabinet the next year, when Brown forced a realignment and the government headed by Sandfield Macdonald and Antoine-Aimé Dorion came into being.
On his resignation in May 1863 Wilson was appointed a judge of the Court of Queen's Bench. He switched to Common Pleas in August. In 1868 he returned to Queen's Bench, and he was still there in 1876 when he involved himself in a public fight with Brown by asserting that Brown's famous "big push" letter of 1872 in support of the Liberal election campaign had been written "for corrupt purposes." The Globe labelled Wilson's words "insolent and slanderous." A court case ensued, but the two judges disagreed in their findings and nothing came of the matter. In 1878 Wilson was made chief justice of the Court of Common Pleas. He became chief justice of Queen's Bench in 1884 and remained in that position until his retirement in 1887 when he was created kb.
Wilson was an advocate of mild law reform. In 1856 he had been appointed by the government of Étienne-Paschal Taché* and John A. Macdonald to a task force of five lawyers, including John Hillyard Cameron*, Oliver Mowat*, and David Breakenridge Read*, to revise and consolidate the statutes that would become the Public General Statutes of the Province of Canada. He was named to the Ontario Law Reform Commission in 1871. Although he was not able to take an active political role, it is significant that while Wilson was chief justice the Ontario Judicature Act of 1881, which revolutionized the court structure of the province, was passed by Oliver Mowat's government.
Wilson spent his 24 years on the bench in a golden age of litigation. Such legal giants as Robert Alexander Harrison*, D'Alton McCarthy, John Hillyard Cameron*, and Zebulon Aiton Lash* regularly appeared before him. The period saw a great variety of legal issues, although much of the work was commercial. The law of evidence was being freed from rigid procedural constraints; the etiquette of the legal profession was coming under scrutiny; the conduct of juries was examined in a new light; married women's rights were considered by the courts, although they were not fully recognized; the validity of a slave's marriage was tested. And there were numerous disputes about the conveyance of land and contested elections.
Wilson's judicial career was not marked by groundbreaking decisions. He is probably best remembered as an appellate judge in the case of Patrick James Whelan*, the assassin of Thomas D'Arcy McGee*. He was a prolific writer of judgements. His style was lucid but tended towards a gluing together of precedents, with little evidence of broad-ranging synthesis. On the other hand he dissented more frequently than other judges, was not averse to citing American law, and occasionally showed his independence from the domination of English law. At a time when judges were not known for their radicalism or for their frank expression of opinion, it is refreshing to find Wilson in his second year as the most senior judge in Ontario saying, "The Judges ought to be curious and subtle to invent reasons and means to make acts effectual according to the just intent of the parties."
Adam Wilson wrote one book, The constable's guide; a sketch of the office of constable (Toronto, 1861). His decisions as a justice of the courts of Common Pleas and Queen's Bench of Upper Canada appear in the official reports of those bodies. Significant cases in the Upper Canada Common Pleas Reports (Toronto) include Coulson v. O'Connell, 29 (1878): 341–46, and Elliott v. Douglas, 30 (1879): 398–409. Noteworthy cases in the Upper Canada Queen's Bench Reports (Toronto) include the following: R. v. Jerrett and Myers, and Leslie v. Ball, 22 (1863): 499–511 and 512–19; Campbell v. Linton, 27 (1868): 563–80; Whelan v. R., (1868) and (1869), 28 (1868–69): 2–107 and 108–86; Wright v. Garden and Wife, (1869), 28: 609–25; Harris v. Cooper, (1871), 31 (1871–72): 182–200; Re Judge of County Court of York, (1872), 31: 267–73; and Dougherty v. Williams, 32 (1872): 215–21. A thorough description of the Whelan trial and appeals is found in T. P. Slattery, "They got to find mee guilty yet" (Toronto and Garden City, N.Y., 1972).
J. A. Macdonald, The letters of Sir John A. Macdonald . . . , ed. J. K. Johnson and C. B. Stelmack (2v., Ottawa, 1968–69), 1: 347, 350. L. J. Burpee, The Oxford encyclopædia of Canadian history (Toronto and London, 1926). The Canadian legal directory: a guide to the bench and bar of the Dominion of Canada, ed. H. J. Morgan (Toronto, 1878). Cyclopædia of Canadian biog. (Rose and Charlesworth), vol.1. DNB. Wallace, Macmillan dict. J. M. S. Careless, Brown of "The Globe" (2v., Toronto, 1959–63; repr. 1972). P. G. Cornell, "The alignment of political groups in the Province of Canada, 1854–1864," Upper Canadian politics in the 1850's, ed. Ramsay Cook et al. (Toronto, 1967), 69–84. J. C. Dent, The last forty years: Canada since the union of 1841 (2v., Toronto, [1881]). G. P. de T. Glazebrook, The story of Toronto (Toronto and Buffalo, N.Y., 1971). W. J. Rattray, The Scot in British North America (4v., Toronto, 1880–84). V. L. Russell, Mayors of Toronto (1v. to date, Erin, Ont., 1982– ).
© 1990–2023 University of Toronto/Université Laval
Image Gallery

Cite This Article
Graham Parker, "WILSON, Sir ADAM," in Dictionary of Canadian Biography, vol. 12, University of Toronto/Université Laval, 2003–, accessed December 7, 2023, http://www.biographi.ca/en/bio/wilson_adam_12E.html.
The citation above shows the format for footnotes and endnotes according to the Chicago manual of style (16th edition). Information to be used in other citation formats:
| | |
| --- | --- |
| Permalink: | http://www.biographi.ca/en/bio/wilson_adam_12E.html |
| Author of Article: | Graham Parker |
| Title of Article: | WILSON, Sir ADAM |
| Publication Name: | Dictionary of Canadian Biography, vol. 12 |
| Publisher: | University of Toronto/Université Laval |
| Year of publication: | 1990 |
| Year of revision: | 1990 |
| Access Date: | December 7, 2023 |