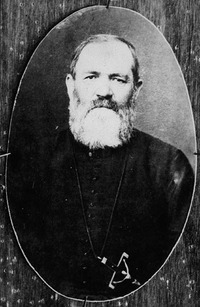 ANDRÉ, ALEXIS, Roman Catholic priest, Oblate of Mary Immaculate, and missionary; b. 6 July 1832 at Kergompez, near Guipavas, France, son of Gouesnou André and Annette Guevel; d. 10 Jan. 1893 in Calgary.
Alexis André studied at the Petit Séminaire de Pont-Croix from October 1851 to August 1856, and then at the Grand Séminaire de Quimper. On 15 Feb. 1859 he entered the Oblate noviciate in Nancy and one year later took his perpetual vows. He was ordained priest on 14 July 1861. André was sent immediately to the missions of the Red River settlement (Man.) and the Dakota Territory.
After a short stay at St Boniface (Man.) he was posted to the mission of St Joseph at Pembina (N.Dak.). While there he served as an official delegate of the American army in an unsuccessful attempt to quell a Sioux uprising [see Tatanka-najin*]. In 1864 he was named to the parish of St Charles (Man.) and the following year he was appointed to the Métis settlement of St Albert (Edmonton), with responsibility for Saint-Paul-des-Cris at Brosseau. The mission of St Joseph at Carlton House (near Batoche, Sask.) was attached to Saint-Paul-des-Cris in 1868. André frequently visited Carlton House where, by reason of his great energy, he aroused a more Christian spirit among the Métis. In 1871 he decided to found a separate mission among a group of Métis who wished to settle near the trading-post. The following year he established a residence at nearby St Laurent (St-Laurent-Grandin). His project met with the approval of Bishop Vital-Justin Grandin*, who visited the site in the spring of 1873. In 1876 André celebrated the first mass in Prince Albert (Sask.). That year he began construction of a chapel at Duck Lake, after which he went on to Battleford. At Sandy Lake, which had a substantial Cree population, he established the mission of Our Lady of the Sacred Heart. In 1879 he founded the mission of St George in Prince Albert. He stayed there until he was replaced in 1881 by Father Valentin Végreville, only to return in October 1882.
André thus spent most of his sacerdotal career ministering to the scattered Métis populations of the west, and he occasionally acted as their spokesman to government authorities. Under his guidance the Métis of St Laurent formed a provisional government for themselves on 10 Dec. 1873 and established laws and regulations governing the hunt, the protection of property and individuals, the observance of the Sabbath, and other matters. A president, Gabriel Dumont*, and eight councillors were elected for a one-year term. Vigorous, hardy, and outspoken, André occasionally used his stocky physique to keep order among his parishioners. He frequently followed the Indians and Métis on their bison hunts, including one of the last, in 1878. Three years earlier he and North-West Mounted Police commissioner George Arthur French* had urged the federal government to exercise tighter control over these hunts so as to prevent the extermination of the bison.
In June 1881 André presented a petition to Lieutenant Governor David Laird* and the Council of the North-West Territories setting forth problems connected with the registration of Métis land claims. Two years later he presented another decrying the two different methods of survey used in the northwest: Prince Albert had been laid out according to the Métis tradition in long strips with a narrow river frontage and St Laurent was parcelled into square townships that the Métis refused to recognize.
By 1884, with a number of problems, including the land question, still unresolved, the Métis and other settlers concluded that they needed a leader to spearhead their protests to the government of Canada. Despite the reservations of the Roman Catholic clergy, Louis Riel* was invited back to the northwest. André was initially impressed with Riel's peaceful attitude though he remained perturbed by the growing unrest of the people. By September the Métis accused the church of failing to support their cause and André of being in the pay of the government. Discussions were sometimes bitter and the clergy, including André, urged the government to remove Riel.
In February 1885 André reported to Lieutenant Governor Edgar Dewdney* that the Métis were upset over the government's continued silence with respect to their petitions and expressed his fears that violence would erupt. Riel confronted André on 2 March with a request that he support the formation of a provisional government. André refused and an argument followed. The engagement on 26 March near Duck Lake between the NWMP and Métis heralded the outbreak of rebellion. André, in his journal, describes the utter confusion in Prince Albert following this initial Métis success, but he was not close to the subsequent events of the rebellion.
André was asked to attend Riel after his trial and to prepare him for execution. This close association greatly changed his opinion of Riel, who, although retracting utterances that contradicted Catholic doctrine, maintained that his mission was divinely inspired. The priest spent hours in conversation with the Métis leader and was impressed with Riel's sincerity, yet convinced of his insanity. André grew tense under the strain of his duties, but Bishop Alexandre-Antonin Taché of St Boniface requested that he remain with Riel in Regina. Finally, on 16 November the sentence of hanging was carried out and Andre's task ended.
In 1887 André was appointed to the mission at Calgary, where he served on the episcopal council of the diocese of St Albert and was assistant to Father Hippolyte Leduc. In 1892 his health began to fail and on 1 Jan. 1893 he celebrated mass for the last time. He died nine days later and was buried in Calgary. Later his remains were transferred to the Oblate cemetery in St Albert.
AD, Finistère (Quimper), État civil, Kergompez, 7 juill. 1832. NA, MG 27, I, J7. Calgary Herald, 11 Jan. 1893. Gaston Carrière, Dictionnaire biographique des oblats de Marie-Immaculée au Canada (3v., Ottawa, 1976–79), 1: 26–27. [J.-P.-A.] Benoît, Vie de Mgr Taché, archevêque de St-Boniface (2v., Montréal, 1904), 1. Jules Le Chevallier, Batoche: les missionnaires du nord-ouest pendant les troubles de 1885 (Montréal, 1941); Saint-Laurent de Grandin: une mission et un pélérinage dans le nord-ouest de l'Amérique (Vannes, France, 1930). Stanley, Birth of western Canada; Louis Riel. L. H. Thomas, The struggle for responsible government in the North-West Territories, 1870–97 (Toronto, 1956). M. B. Venini Byrne, From the buffalo to the cross; a history of the Roman Catholic diocese of Calgary (Calgary, 1973). Robrecht Boudens, "La mission conciliatrice du P. Alexis André auprès des Sioux, 1863–1865," Études oblates (Ottawa), 18 (1959): 404–14. Gaston Carrière, "Une mission de paix: le père Alexis André, o.m.i., et les Sioux (1863–1865)," Rev. de l'univ. d'Ottawa, 39 (1969): 24–93. Louis Pfaller, "The peace mission of 1863–1864," N.Dak. Hist. (Bismark), 37 (1970): 292–313.
© 1990–2023 University of Toronto/Université Laval
Image Gallery

Cite This Article
D. F. Robertson, "ANDRÉ, ALEXIS," in Dictionary of Canadian Biography, vol. 12, University of Toronto/Université Laval, 2003–, accessed September 24, 2023, http://www.biographi.ca/en/bio/andre_alexis_12E.html.
The citation above shows the format for footnotes and endnotes according to the Chicago manual of style (16th edition). Information to be used in other citation formats:
| | |
| --- | --- |
| Permalink: | http://www.biographi.ca/en/bio/andre_alexis_12E.html |
| Author of Article: | D. F. Robertson |
| Title of Article: | ANDRÉ, ALEXIS |
| Publication Name: | Dictionary of Canadian Biography, vol. 12 |
| Publisher: | University of Toronto/Université Laval |
| Year of publication: | 1990 |
| Year of revision: | 1990 |
| Access Date: | September 24, 2023 |