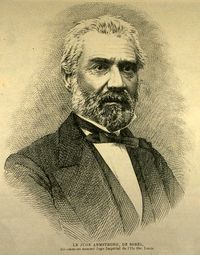 Source: Courtesy of Bibliothèque et Archives Nationales du Québec / 52327/2070825
ARMSTRONG, JAMES SHERRARD, lawyer and judge; b. 27 April 1821 at Sorel, Lower Canada, son of Captain Charles Logie Armstrong and Marjory (Margery) Ferguson; m. probably in 1847 Marie-Anne-Charlotte Olivier, niece of François Boucher, seigneur of Carufel and of part of the seigneury of Maskinongé; d. 23 Nov. 1888 at Sorel.
James Sherrard Armstrong descended from loyalists who had settled at Yamachiche, Que., in the autumn of 1778 [see Conrad Gugy*]. Called to the bar on 12 Feb. 1844, he practised law in Montreal for four years, and was soon interested in landed property. On 22 Sept. 1848 he bought the sub-fief of Hope (Saint-Didace, Que.) and rented from Charles Edward Dunn, owner of the seigneury of Lanaudière, the manor-house and mills in the concession of Crête-de-Coq (Sainte-Ursule, Que.). He went to live there at the end of 1848 but in 1857 decided to move to Sorel, where he remained for the major part of his career as a lawyer. In 1864 he was appointed deputy public prosecutor for the attorney general in the district of Richelieu, and in 1867 he formed a law partnership with Charles-Ignace Gill, who later became a judge of the Superior Court.
Legal practice did not keep Armstrong from a continuing interest in landed property. In addition to the Hope fief, which he retained until his death, in 1871 he bought the rights to cens et rentes from the Sorel seigneury, and in 1885 the same rights for the Gentilly seigneury. He sold these rights on 15 July 1886. For several years he was also president of the Montreal-Sorel railway.
His career, as sketched thus far, was not spectacular. It was that of a rural lawyer who had made the usual progress in his profession. Then, in November 1871, Armstrong was appointed chief justice of St Lucia in the West Indies. A former French colony ceded to Great Britain in 1803, St Lucia had kept a legal system derived from the custom of Paris. However, it lacked a civil code, and the modifications in the custom of Paris effected under Louis XVI as a result of republican pressures had not been adopted. The English judges appointed to St Lucia after the cession of the island had no knowledge of French laws. Thus at the time of Armstrong's appointment, the colony was in a state of legal chaos. With the help of Sir George William Des Vœux, the administrator of St Lucia, Armstrong set to work to adjust the French civil laws of the province of Quebec for the island. He adapted the English version of the civil code of Lower Canada, and also drew up a code of procedure based on that of Lower Canada with minor modifications required by the local situation.
But Judge Armstrong had personal ambitions in Canada. After receiving the assurance of Prime Minister Sir John A. Macdonald* that he would obtain a similar post in Canada, he resigned as chief justice in December 1881. But Macdonald did nothing, and Judge Armstrong expressed his bitterness to some close friends, although he did not publicly show his dissatisfaction. In the end, loyalty to the Conservative party was partially rewarded by his appointment on 7 Dec. 1886 as chairman of the Royal Commission on the Relations of Capital and Labor in Canada.
Nothing in his background had prepared Armstrong to chair this commission of inquiry, one of the most important in the 19th century. His rural ancestry, his interests in the Montreal-Sorel railway, and his dependence on the Conservative party were scarcely conducive to objectivity, let alone an understanding of the problems of the urban proletariat and the beginnings of industrialization. Consequently he had difficulty in imposing his authority on the two factions into which the commissioners had split at the outset of the public hearings. The 16-member commission, set up by Macdonald, included a group of journalists and representatives of the business world on the one hand, and a group of representatives of the working-class milieu and of the Knights of Labor on the other. The latter, pro-worker faction accused the other one, which leaned towards liberalism, of favouring employers.
During the hearings there was open conflict on several occasions. Judge Armstrong, supported by commissioners Augustus Toplady Freed, a journalist and the editor of the Hamilton Spectator since 1881, and Michael A. J. Walsh, clashed with the secretary of the commission, Alfred H. Blackeby, and a member, Patrick Kerwin, at the sessions held in Montreal and Quebec. The confrontations were taken up by the press. Conservative newspapers such as La Justice and La Vérité sided with Armstrong, whom they regarded as an impartial judge. On the other hand, papers such as the Montreal Canadian Workman and the Toronto Canadian Labor Reformer vehemently attacked the chairman, accusing him of showing partiality to employers.
During the inquiry Armstrong attempted to moderate antagonism by personal intervention, doubtless fearing that employers especially might be attacked so that the displeasure of both the business world and Macdonald's Conservative government would be aroused. He was not to complete his term of office as chairman of the commission, for he died suddenly on 23 Nov. 1888. He was replaced by Freed. In February 1889, unable to reach agreement, the two factions of the commission presented parallel but quite similar reports.
Armstrong's contribution to the work of the commission is difficult to evaluate, but it does not seem to have been a decisive one. Jules Helbronner* and some of the other commissioners made contributions of much greater significance, particularly in the drafting of the appendices to the commission's report. A conservative both politically and ideologically, Armstrong was violently criticized by the English-language working-class newspapers of Montreal and Toronto for favouring employers. Furthermore, at the beginning of 1888, a libel action was brought against him by the Hochelaga Cotton Manufacturing Company, for having made statements alleging immorality among their female workers, which by implication impugned the conditions in their factory. The incident is an illustration of the reactionary attitudes then held by employers concerning labour issues.
James Armstrong was the author of A treatise on the law relating to marriages, in Lower Canada (Montreal, 1857), and of Laws of intestacy, in the dominion of Canada (Montreal, 1885).
AC, Richelieu (Sorel), État civil, Anglicans, Christ Church (Sorel), 27 April 1821, 23 Nov. 1888. PAC, MG 26, E, 7: 3158–61, 3175–77; MG 30, D1, 11: 424–28, 432. Can., Commission royale sur les relations du capital avec le travail, Rapport (5v. en 6, Ottawa, 1888–89), Québec, [II]. Canadian Labor Reformer (Toronto), 25 Feb., 10 March 1888. Canadian Workman Newspaper (Montreal), 18 Feb. 1888. Gazette (Montreal), 17 Feb. 1888. La Minerve, 26 nov. 1888. La Presse, 24 nov. 1888. La Vérité (Québec), 17 mars 1888. Cyclopædia of Canadian biog. (Rose, 1888), 325–26. "Références biographiques canadiennes," BRH, 48 (1942): 155–56. P.-G. Roy, Inventaire des concessions en fief et seigneurie, fois et hommages et aveux et dénombrements, conservés aux Archives de la province de Québec (6v., Beauceville, Qué., 1927–29), II: 272. Fernand Harvey, Révolution industrielle et travailleurs; une enquête sur les rapports entre le capital et le travail au Québec à la fin du 19e siècle (Montréal, 1978), 44–46. Duvern [Richard Lessard], "L'arrière-fief Hope," BRH, 33 (1927): 307–9; "James Armstrong, 1819–1888, juge," L'Écho de Saint-Justin (Louiseville, Qué.), 28 nov. 1940: 1.
© 1982–2023 University of Toronto/Université Laval
Image Gallery

Cite This Article
Fernard Harvey, "ARMSTRONG, JAMES SHERRARD," in Dictionary of Canadian Biography, vol. 11, University of Toronto/Université Laval, 2003–, accessed September 28, 2023, http://www.biographi.ca/en/bio/armstrong_james_sherrard_11E.html.
The citation above shows the format for footnotes and endnotes according to the Chicago manual of style (16th edition). Information to be used in other citation formats:
| | |
| --- | --- |
| Permalink: | http://www.biographi.ca/en/bio/armstrong_james_sherrard_11E.html |
| Author of Article: | Fernard Harvey |
| Title of Article: | ARMSTRONG, JAMES SHERRARD |
| Publication Name: | Dictionary of Canadian Biography, vol. 11 |
| Publisher: | University of Toronto/Université Laval |
| Year of publication: | 1982 |
| Year of revision: | 1982 |
| Access Date: | September 28, 2023 |