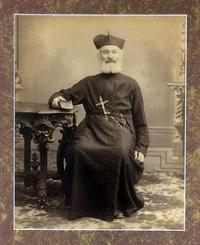 Source: Link
BAXTER, RICHARD (in later life he sometimes signed Richard Xavier Baxter), Roman Catholic priest and Jesuit; b. 28 March 1821 in Carlisle, England, second son of Samuel Baxter and Mary Anne Bennis, both natives of Ireland; d. 8 May 1904 in Montreal.
Richard Baxter's father worked as a military tailor in England and Ireland, and after the family immigrated to Barrie, Upper Canada, around 1830, he likely continued his trade as a civilian. In Barrie he and the four children converted to Catholicism, the religion of his wife. Love of reading and piety characterized the Baxter home. Young Richard, who had begun his education in Ireland, attended school in Toronto before enrolling in classical studies at the Séminaire de Saint-Sulpice in Montreal, where his extracurricular activities included contact sports such as boxing. Upon graduation in 1845 he entered the newly established Jesuit noviciate in Montreal on 17 September as the order's first English-speaking novice in Canada.
In 1847 he was sent to New York City. After taking his first vows there, he taught grammar and French for four years at a boys' school opened by Father John Larkin*. He then studied theology at St Francis Xavier College until his ordination to the priesthood on 15 Aug. 1854. Two years of teaching at St John's College, now Fordham University, ended his academic career (except for further study in Montreal in 1859–60). He would take his final vows in the order on 15 Aug. 1861.
Father Baxter's pastoral career began in 1856 at Troy, N.Y. Seven years later he was posted to the Jesuit mission at Garden River, Upper Canada [see Frederic Baraga*]. His large size, physical stamina, driving energy, and ready wit made him well suited for the frontier, as did his fluency in English and French and his familiarity with Ojibwa. Except for visits to Troy and to Guelph, Ont., in 1871–72 and in 1878–79, he would spend the rest of his working life in the Georgian Bay and Lake Superior region. At his first missionary posting he celebrated mass, taught catechism, and performed baptisms, marriages, and funerals for settlers there and at Bruce Mines, Serpent River, and Sault Ste Marie, Mich. Travelling usually by boat or on foot, he always wore the voluminous black cassock of his order and carried packsacks containing a portable altar, vestments, altar cloths, candles, and other necessities.
In June 1872 Baxter was transferred to his second posting, Thunder Bay, where he would remain until 1893. Before his arrival in the district, the small group of Catholics at Prince Arthur's Landing (later Port Arthur and now Thunder Bay, Ont.) had been served by occasional visits from Father Dominique Du Ranquet, a Jesuit posted to the Indian mission of the Immaculate Conception on the Kaministiquia River [see Nicolas-Marie-Joseph Frémiot*]. Baxter himself spent a good deal of his time until 1876 at Silver Islet, which was becoming an important mining centre, and from there visited neighbouring mining communities such as Isle Royale (Mich.), Silver Harbour, and Vert Island. He ministered regularly at Prince Arthur's Landing, saying mass at the house of engineer Simon James Dawson until a church was erected. Named St Andrew's in honour of a group of Scottish Catholic workers on the Dawson Road who had contributed $100 toward its construction, the church was dedicated in 1875 and rebuilt in 1881 after a fire. Baxter helped found a convent for the Sisters of St Joseph, who came to Prince Arthur's Landing in 1881 to teach school and three years later opened St Joseph's Hospital.

With the onset of railway construction in 1875, Baxter had begun the ministry that would earn him the sobriquet Apostle of the Railway Builders. He shared their hardships, following them from camp to camp, and brought them potatoes to prevent scurvy. After the completion of the railway he travelled by train to serve communities between English River and White River, covering a distance of about 420 miles. Several churches were built in the area during his incumbency, including St Rose of Lima at Silver Islet in 1873, St Patrick's at Fort William (Thunder Bay) in 1882, and the Church of the Nativity and St Agnes at Fort William West in 1884. His accounts of life along the line frequently appeared between 1876 and 1878 in the Thunder Bay Sentinel, edited by the Catholic layman Michael Hagan*.
Although he was expected to retire in 1893, at the age of 72, he transferred instead to serve as pastor at Sault Ste Marie, Mich., until 1897, and then back in Port Arthur until 1900. His last years were spent at the Hôtel-Dieu du Sacré-Cœur de Jésus in Montreal. He suffered from a progressive mental disorder and in 1903 was moved to Hôpital Saint-Jean-de-Dieu, where he died the following year.
Father Baxter not only acted as a catalyst in the development of northwestern Ontario's Catholic institutions, but he demonstrated the practical workings of Christianity to everyone he met. Essentially a man of the people, he was renowned for his great generosity and his sense of humour. Official recognition came in 1978 when a provincial plaque was erected in his memory at St Andrew's Catholic Church, Thunder Bay.
An undated letter addressed by Richard Baxter to the mission procurator has been published under the title "Requirements for a mission" in Martyrs' Shrine Message (Midland, Ont.), 31 (1967), no.1: 22–23.
An obituary article by Edward James Devine*, Baxter's successor as railway missionary in the Thunder Bay area, appeared in the Canadian Messenger of the Sacred Heart (Montreal), 15 (1905): 259–67, and was reprinted, with the exception of a brief introductory note, in Woodstock Letters (Woodstock, Md), 34 (1905): 167–72.
ASJCF, BO-5-2; BO-19-16; BO-19-19. Church of the Immaculate Heart of Mary (Garden River, Ont.), Diary, 1868–92; RBMB, 1856–87. NA, RG 31, C1, 1861, Barrie: 22. Private arch., Elinor Barr (Thunder Bay, Ont.), Fort William Mission, diary, 1874–82 (photocopies). St Andrew's Roman Catholic Church (Thunder Bay), RBMB, vol.1 B. Sisters of St Joseph of Sault Ste Marie Arch., St Joseph's College (North Bay, Ont.), "Father Richard Baxter, s.j.," in Sister Mary Evarista Walsh, "The annals of the Sisters of St Joseph, 1881–1939" (typescript). Soc. of Jesus, Upper Canada Prov. Arch., Regis College (Toronto), B-B-9 (Richard Baxter file). Daily Times-Journal (Fort William [Thunder Bay]), 13 May 1904, 14 Dec. 1929. Weekly Herald and Algoma Miner (Port Arthur [Thunder Bay]), 26 May 1893. R. J. Baxter, The Baxter family history (Pembroke, Ont., 1981). Dictionary of Jesuit biography: ministry to English Canada, 1842–1987 (Toronto, 1991). Michael Nash, "Reminiscences of Father Michael Nash," Woodstock Letters, 26 (1897): 268–82. F. J. Nelligan, "Catholic beginnings at Port Arthur," Canadian Messenger of the Sacred Heart, 67 (1957): 384–93, 437–46, 516–21, 594–600. St. Andrew's Catholic Church centennial, 1875–1975 (Thunder Bay, [1975]). S. [C.] Young, "The life and work of Father Richard Baxter, missionary," Thunder Bay Hist. Museum Soc., Papers and Records, 11 (1983): 49–52.
© 1994–2023 University of Toronto/Université Laval
Image Gallery

Cite This Article
Elinor Barr, "BAXTER, RICHARD," in Dictionary of Canadian Biography, vol. 13, University of Toronto/Université Laval, 2003–, accessed September 28, 2023, http://www.biographi.ca/en/bio/baxter_richard_13E.html.
The citation above shows the format for footnotes and endnotes according to the Chicago manual of style (16th edition). Information to be used in other citation formats:
| | |
| --- | --- |
| Permalink: | http://www.biographi.ca/en/bio/baxter_richard_13E.html |
| Author of Article: | Elinor Barr |
| Title of Article: | BAXTER, RICHARD |
| Publication Name: | Dictionary of Canadian Biography, vol. 13 |
| Publisher: | University of Toronto/Université Laval |
| Year of publication: | 1994 |
| Year of revision: | 1994 |
| Access Date: | September 28, 2023 |