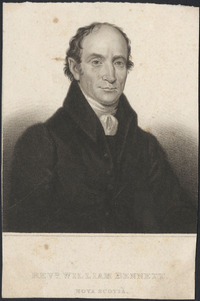 BENNETT, WILLIAM, Wesleyan Methodist minister; b. c. 1770 in or near Manchester, England; m. first 20 Feb. 1806 Elizabeth Allison (d. 1825) in Horton, N.S.; m. secondly 12 Oct. 1826 Sophia Sargent (d. 1839) in Barrington, N.S.; m. thirdly c. 1840 a Mrs Grant of Liverpool, N. S.; he had 11 children; d. 7 Nov. 1857 in Halifax.
Little is known of William Bennett before 1800 when he was received by the British Wesleyan Conference on probation and sent as a missionary to Nova Scotia. In a letter written in 1804 he mentioned that he had become a member of the Manchester Society in 1794, a class leader in 1796, and a local preacher in 1798. He evidently had attended good schools and gained a thorough knowledge of Wesleyan theology and polity. With three other recruits, including Joshua Marsden*, he sailed from Liverpool in late August 1800. The weather was stormy and he suffered much before landing in Halifax on 4 October.
He soon appeared in Liverpool, where he preached twice in the Methodist chapel. Simeon Perkins* heard him and wrote, "He is a good Speaker, is very Distinct, and methodical. . . . His doctrine Sound, & Scriptural." Bennett spent the winter at Shelburne, where conditions were not encouraging. Many of the loyalist settlers had left and he had to make long journeys by boat or on foot to minister to little groups along the coast. Back in Liverpool in April 1801 he seemed to enjoy a good year, though lack of heat in the chapel in winter and trips as far west as Sable River must have been irksome.
At the Nova Scotia District meeting in 1802 it was decided that Bennett would go to New York for ordination. His next ten years were spent on most of the circuits in Nova Scotia and New Brunswick, where a great deal of travel was called for and living conditions were most primitive. About 1804 he was made secretary of the district, a new position which enabled him to share the work of Superintendent William Black*. When Black retired in 1812, Bennett was made superintendent of all the Wesleyan Methodist work in eastern British America. In addition to his circuit duties he was required to keep in touch with the preachers and to visit missions with problems. In 1814 he crossed to Charlottetown where he arranged for the retirement of James Bulpit and the building of the first chapel. Returning from Montreal in 1815, he was nearly shipwrecked. His most important assignment was his attendance in 1816 along with Black at the American general conference in Baltimore where an effort was made to settle the jurisdiction of preachers from the United States and England in the Canadas. This matter took him again to Montreal the following year, where he almost died of pleurisy and liver trouble. Severely weakened, he was forced to seek retirement, which was granted in 1821.
Bennett purchased a farm near Avondale, N.S., with funds left to his wife, and continued to assist in local and district work as he was able. As a special honour, the British Wesleyan Conference financed his return to England in 1840 and welcomed him at its gathering. After this trip, he moved to Halifax and served for a time as chaplain of the provincial penitentiary. Following a painful illness he died in 1857 "in perfect peace" and was buried in Camp Hill Cemetery.
Bennett is regarded as one of the most dedicated and helpful workmen of his day in leading people to Christ. He was thorough in all he did, and to the end of his days felt that those trained in English institutions were superior to native sons. He believed wholeheartedly in the Methodist Church and saw it grow to a great power in the Maritimes. His running feud with the missionary committee over a better deal for married preachers with families bore fruit not only for him but in various amenities for all ministers. As an admirer, Matthew Richey*, put it, his "name will be transmitted to posterity as one of the most faithful missionaries that ever laboured in the Provinces."
Six letters written by William Bennett between 1809 and 1821 are preserved in the MCA, five in the Duncan McColl papers and one, addressed to the members of the Methodist Church in St Stephen's, in the William Black papers; microfilm copies of both collections are available at the UCA. Some 65 further letters, written to the Wesleyan Methodist Missionary Society between 1802 and 1821, are among the North American correspondence in the SOAS, Methodist Missionary Soc. Arch.; these are also available on microfilm at the Maritime Conference Arch. and the UCA. A few of them were edited and then printed in the organ of the Wesleyan Methodist Church in Britain, the Methodist Magazine (London), 25 (1802)–44 (1821).
A portrait of Bennett appears opposite page 120 of the British North American Wesleyan Methodist Magazine (Saint John, N.B.), 1 (1840–41), accompanied by a short biographical note on page 160.
MCA, Halifax Methodist Soc., reg. of baptisms and marriages, 20 Feb. 1806; Wesleyan Methodist Church, Eastern British America Conference, minutes, 1812–21; Nova Scotia and New Brunswick District, minutes, 1804–21. William Croscombe, "The late Rev. W. Bennett," Provincial Wesleyan (Halifax), 19 Nov. 1857. "The late Rev. Wm. Bennett," Provincial Wesleyan, 12 Nov. 1857. Joshua Marsden, The narrative of a mission to Nova Scotia, New Brunswick, and the Somers Islands; with a tour to Lake Ontario . . . (Plymouth Dock [Plymouth], Eng., 1816; repr. New York, 1966). Simeon Perkins, The diary of Simeon Perkins, 1797–1803, ed. C. B. Fergusson (Toronto, 1967). Matthew Richey, A memoir of the late Rev. William Black, Wesleyan minister, Halifax, N.S., including an account of the rise and progress of Methodism in Nova Scotia . . . (Halifax, 1839); A sermon on occasion of the death of Rev. William Bennett, preached at Halifax, N.S. on Sunday Dec. 27 [1857] (Halifax, 1858; copy at PANS). Wesleyan Methodist Church, Minutes of the conferences (London), 2 (1799–1807)–5 (1819–24), minutes for 1800–21. The Barrington Sargents, comp. H. L. Doane (typescript, Truro, N.S., 1916; copy at PANS), 23. L. A. Morrison, The history of the Alison, or Allison family in Europe and America, A.D. 1135 to 1893; giving an account of the family in Scotland, England, Ireland, Australia, Canada, and the United States (Boston, 1893). E. A. Betts, Bishop Black and his preachers (2nd ed., Sackville, N.B., 1976). French, Parsons & politics. G. O. Huestis, Memorials of Wesleyan missionaries & ministers, who have died within the bounds of the conference of Eastern British America, since the introduction of Methodism into these colonies (Halifax, 1872). D. W. Johnson, History of Methodism in Eastern British America, including Nova Scotia, New Brunswick, Prince Edward Island, Newfoundland, and Bermuda . . . ([Sackville], n.d.). T. W. Smith, Hist. of Methodist Church.
© 1985–2023 University of Toronto/Université Laval
Image Gallery

Cite This Article
E. A. Betts, "BENNETT, WILLIAM," in Dictionary of Canadian Biography, vol. 8, University of Toronto/Université Laval, 2003–, accessed September 25, 2023, http://www.biographi.ca/en/bio/bennett_william_8E.html.
The citation above shows the format for footnotes and endnotes according to the Chicago manual of style (16th edition). Information to be used in other citation formats:
| | |
| --- | --- |
| Permalink: | http://www.biographi.ca/en/bio/bennett_william_8E.html |
| Author of Article: | E. A. Betts |
| Title of Article: | BENNETT, WILLIAM |
| Publication Name: | Dictionary of Canadian Biography, vol. 8 |
| Publisher: | University of Toronto/Université Laval |
| Year of publication: | 1985 |
| Year of revision: | 1985 |
| Access Date: | September 25, 2023 |