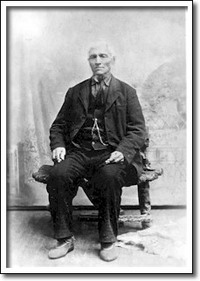 Source: Link
BRELAND (Berland), PASCAL, fur trader, farmer, jp, judge, politician, and office holder; b. 15 June 1811 in the Saskatchewan River valley, son of Pierre Du Boishué, dit Berland, and Louise (Josephte) Belley; d. 24 Oct. 1896 in St François Xavier, Man.
Pascal Breland probably spent his early years along the fur-trade routes of the Saskatchewan River valley, where his father appears to have been a hunter and free trader. Although there is no record of his schooling, the various government appointments he later received and the documents associated with those posts bear witness to his literacy. By 1828 the Breland family was engaged in agriculture at the heart of the Red River settlement (Man.). Four years later Pascal, his widowed mother, and his younger siblings moved to Grantown (St François Xavier), where his older brother Alexandre had been residing for some time. There in 1836 he married Maria Grant, the 15-year-old daughter of the settlement's founder, Cuthbert Grant*. They raised a large family – six boys and nine girls, including Patrice, the eldest son, who was to share his father's interest in politics and public affairs.
Breland became one of the more prosperous farmers in Grantown, gradually acquiring his father-in-law's land. In 1875 he held just over 376 acres. By 1880 he is said to have owned Grant's entire domain. He also owned an unusually large number of horses, oxen, and Red River carts, an indication of his involvement in the fur trade, which included illegal activity outside the official monopoly held by the Hudson's Bay Company.
Breland spent much of his time on the western plains, primarily in the vicinity of Wood Mountain, Cypress Hills, and Fort Pitt (Sask.), where he conducted his business affairs. His extensive involvement in the fur trade, as both trader and middleman, brought him wealth and social prestige. His nickname, "le Roi des traiteurs," most likely given to him by the Métis and also used on occasion by French Canadian and Scottish fur traders, probably attests to both his fortune and his rank. According to his descendants he occupied an important position in the Métis's semi-annual buffalo-hunting expeditions, possibly replacing Grant as captain of the hunt following the latter's death in 1854.
Breland's earliest involvement in the political affairs of the settlement occurred when he joined the Métis protest against the HBC's fur-trade monopoly at the trial of Pierre-Guillaume Sayer* in May 1849. He was subsequently selected to sit on a committee set up by Louis Riel* Sr to express the Métis's grievances against the HBC and Adam Thom*, the recorder of Rupert's Land. Over the next two decades Breland was to occupy several important positions within the Red River settlement's administrative structure. He sat on its governing body, the Council of Assiniboia, from 19 Sept. 1857 until 10 Aug. 1868 and the council appointed him magistrate (1850, 1861), petty judge (1851), and census-taker (1856), all for the district of White Horse Plain, and member of the board of public works (1856). Appointments such as these for members of the Métis "power group," although indications of blatant favouritism, were nevertheless awarded to individuals whose wealth and social prominence may have made them "natural leaders." Some authors have argued that Breland and others like him "would have been elected by popular vote, had that machinery existed."
Having manifested his leadership qualities in the politics of Red River, Breland was conspicuous by his absence during the insurrection of 1869–70. In the summer of 1869 he and other Métis had organized a meeting of those opposed to the Canadians under Lieutenant-Colonel John Stoughton Dennis* who had begun to survey the settlement. However, by the time the first incident of the 1869–70 drama had occurred, Breland, Salomon Hamelin, and their families had begun their annual trek to the Qu'Appelle valley. Breland's reasons for avoiding the Métis uprising may have been economic and political self-interest, an unwillingness to accept the leadership of Louis Riel*, or a genuine fear of witnessing the divisive effects of the events upon his family and friends. He was labelled unpatriotic and a traitor by the resistance leaders, but his lack of participation did not seem to compromise his political popularity. He was elected to the first Legislative Assembly of the newly created province of Manitoba, representing St François Xavier East from 1870 until 1874. Although he was defeated in a bid for the federal riding of Marquette in 1872, on the establishment of the Council of the North-West Territories later that year he was appointed councillor, a position which he held for four years.
During his first two years on the council Breland played a significant role as commissioner to the Indian tribes of the west. Indications of unrest among them and the threat of a Sioux uprising led the council to send Breland to investigate conditions in the spring of 1873. Chosen for this goodwill mission because of his reliability and "extensive acquaintance" with the Indians, Breland appears to have satisfied the authorities with his investigation. In the fall of 1873 he set out again on behalf of the council, this time to pave the way for treaty negotiations between the Plains Indians of what is now southern Saskatchewan and the federal government. He returned the following year to notify Cree chiefs of the meeting at Fort Qu'Appelle (Sask.) which was to culminate in the signing of Treaty No.4 [see Paskwāw*]. He was also entrusted with the investigation of two series of murders involving various Indian bands, including that of Assiniboin chief Hunkajuka*, for the purpose of bringing the guilty parties to justice. By all accounts Breland's diplomacy enabled him to represent the governmental authorities adequately while winning the confidence of the natives he encountered. Although he was reappointed by popular demand to a new, smaller Council of the North-West Territories in 1878, his advanced age, his imperfect knowledge of English, and the distance from his home in St François Xavier to the meetings at Battleford (Sask.) limited his attendance and involvement in council affairs during these later years.
Breland was a moderate Métis politician. Reluctant to clash with the established authority over Métis issues, he none the less enjoyed the respect and confidence of the people of St François Xavier and of the native population of the west, who looked to him for leadership and representation.
Arch. de la Soc. hist. de Saint-Boniface (Saint-Boniface, Man.), Dossier famille Breland; Dossier Saint-François-Xavier. Manitoba Culture, Heritage & Recreation, Hist. Resources Branch (Winnipeg), Lynne Champagne, "Pascal Breland, 'Le Roi des traiteurs"' (unpublished research paper, 1978). PAM, MG 2, B3; MG 7, D6, reg. of marriages, 8 Feb. 1836; MG 12, B1; B2; HBCA, B.63/a/9–10; E.5/1–6. Canadian north-west (Oliver). Le Manitoba (Saint-Boniface), 28 oct. 1896. CPC, 1872–73. A.-G. Morice, Dictionnaire historique des Canadiens et des Métis français de l'Ouest (Québec et Montréal, 1908). Isaac Cowie, The company of adventurers: a narrative of seven years in the service of the Hudson's Bay Company during 1867–1874 . . . (Toronto, 1913). Marcel Giraud, The Métis in the Canadian west, trans. George Woodcock (2v., Edmonton, 1986). Robert Gosman, The Riel and Lagimodière families in Métis society, 1840–1860 (Parks Can., National Hist. Parks and Sites Branch, Manuscript report, no.171, Ottawa, 1977). Stanley, Louis Riel​.
© 1990–2023 University of Toronto/Université Laval
Cite This Article
Lynne Champagne, "BRELAND, PASCAL," in Dictionary of Canadian Biography, vol. 12, University of Toronto/Université Laval, 2003–, accessed October 4, 2023, http://www.biographi.ca/en/bio/breland_pascal_12E.html.
The citation above shows the format for footnotes and endnotes according to the Chicago manual of style (16th edition). Information to be used in other citation formats:
| | |
| --- | --- |
| Permalink: | http://www.biographi.ca/en/bio/breland_pascal_12E.html |
| Author of Article: | Lynne Champagne |
| Title of Article: | BRELAND, PASCAL |
| Publication Name: | Dictionary of Canadian Biography, vol. 12 |
| Publisher: | University of Toronto/Université Laval |
| Year of publication: | 1990 |
| Year of revision: | 1990 |
| Access Date: | October 4, 2023 |